Crystal Lake Central's Jonathan Tegel turned in a remarkable junior track and field season when he returned seven months after surgery to repair his right ACL.
Tegel won the Fox Valley Conference Meet 110-meter high hurdles title, and won the high and 300 intermediate hurdles at the McHenry County Meet.
Tegel qualified for the IHSA Boys Track and Field State Meet in both Class 3A races, but came up just short of the finals in each race (11th in the 110s, 12th in the 300s).
After an offseason of lifting weights and running cross country, to improve his endurance for the 300s, Tegel is headed back to Eastern Illinois University's O'Brien Stadium this weekend hoping for big things in both races.
The Class 1A schools have qualifying heats and flights Thursday, with Class 2A and 3A competing Friday. On Saturday, finals are held in all three classes.
"When I'm on the start line, I always want to run my own race and not get dragged in with the other guys. You can make mistakes in hurdles. I try to have blinders on and run my best race."

—  Jonathan Tegel, Crystal Lake Central senior
"My goal is to win both of them. Do my best," Tegel said. "When I'm on the start line, I always want to run my own race and not get dragged in with the other guys. You can make mistakes in hurdles. I try to have blinders on and run my best race."
Tigers coach Brian Seaver said he simply wants Tegel to have his best races.
"If he runs his two best races, I'll be happy," Seaver said. "He's got as good a chance as anybody else to win. The highs, for the season, he has the second-best FAT time. I don't know what his best (race) is yet."
Tegel is seeded fifth in the 110 hurdles and 11th in the 300s. Crystal Lake South hurdler Carter Alvarado, with whom Tegel has had close races the last three years, beat him at the DeKalb Sectional in the 300s in 39.18, the third-fastest seed time.
Like Tegel, Alvarado hit the weights hard in the offseason and used a fall sport, soccer, to help with endurance. He saw the benefits during the indoor season, when he started off running times from the end of last outdoor season.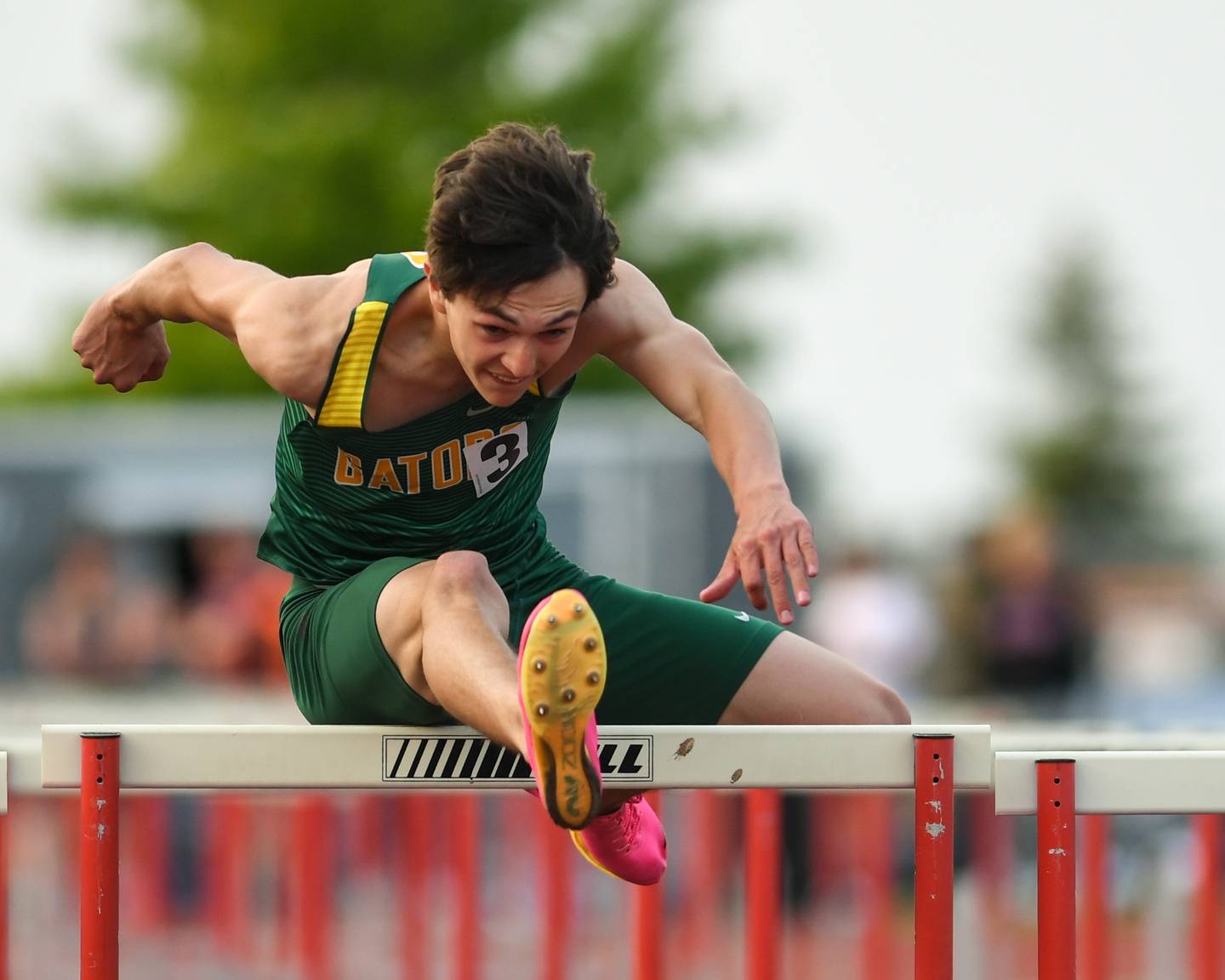 "It's still kind of crazy. Last year I wasn't anywhere close to where I'm at now," said Alvarado, who will run at NCAA Division II Tampa University next year. "It doesn't really feel real. Looking back at that meet and seeing 39 it's just, 'Man, I actually ran that.'
"I remember watching state last year in the stands and thinking how fast those guys are moving. Now I'm going to be one of them and it's crazy."
Gators coach Ryan Felz said Alvarado has done everything the right way.
"When you do put in the work on the weekends, go a little bit longer in practice to work on things, chip away and chip away, those small things will add up to something big," Felz said. "That's basically what he's done. He sets an example for the younger guys. Confidence breeds more confidence and success."
Tegel and Alvarado appreciate having each other around.
"He's always had me in the 110s, but 300s, I'm always two steps behind him every single time," Alvarado said. "It's always fun having another person in conference where I know I have to be at my best. It's like having a sectional every week."
Tegel feels the same way.
"We talk after every race about what happened and what we did," he said. "The last three years we're always neck-and-neck. We're always pushing each other to do better. I feel like we feed off each other. I want to beat him, he wants to beat me."
In Class 3A, Cary-Grove's Reece Ihenacho threw 55.85 meters (183-2 3/4) at the Batavia Sectional, which was the second-best throw out of sectionals. Ihenacho also is seeded ninth in the shot put.
Dundee-Crown sprinter Henry Kennedy will close out his standout career competing in four events. Kennedy is in the 100, 200, 4x100 and 4x200. The Chargers' 4x200 team of Kennedy, Carson Shonukan, Terrion Spencer and Kali Freeman is seeded third. Kennedy, Freeman, Spencer and Christian Roder are seeded seventh in the 4x200.
In Class 2A, Burlington Central's Nolan Milas is seeded fourth in the 100. Woodstock's 4x800 relay team with two sets of brothers – Aryan and Ishan Patel, and Cohen and Ellery Shutt – is seeded sixth.
BOYS TRACK AND FIELD STATE MEET
Class 2A Local Qualifiers
Burlington Central: Nolan Milas (100, 200, 4x100, 4x200), Nick Nuno (SP), William Metz (PV), Dylan Isola (4x100), Aaron Jenkins (4x100), Jimmy Crosby (4x100, 4x200), Farooq Kusi (4x200), Szymon Placzek (4x200), Adam Hinkleman (4x800), Logan Karottu (4x800), Jayden Beecroft (4x800), Leighton Dietz (4x800).
Richmond-Burton: Joe Miller (400), Sean Rockwell (4x100, 4x200, 4x400), Jack Martens (4x100, 4x200, 4x400), Ethan Hile (4x100), Dan Kalinowski (4x100, 4x200, 4x400), Max Loveall (4x200), Oscar Bonilla (4x400).
Woodstock: Ishan Patel (1,600, 4x800), Aryan Patel (4x800), Cohen Shutt (4x800), Ellery Shutt (4x800), Jared Kniola (110HH, 300IH), Dylan Hanson (3,200), Tyler Moon (SP).
Woodstock North: Giovanni Young (110HH), Landan Creighton (PV).
Class 3A Local Qualifiers
Cary-Grove: Reece Ihenacho (SP, discus), Logan Abrams (discus).
Crystal Lake Central: Jonathan Tegel (110HH, 300IH), Jackson Hopkins (800, 4x800), Karson Hollander (4x800), James Durcan (4x800), Mason Alvarez (4x800).
Crystal Lake South: Carter Alvarado (300IH), Ryne Salas (discus).
Dundee-Crown: Henry Kennedy (100, 200, 4x100, 4x200), Kali Freeman (4x100, 4x200), Carson Shonukan (4x100), Terrion Spencer (4x100, 4x200), Christian Roder (4x200).
Hampshire: Bryce Bannerman (400, 4x400), Owen Cuplin (4x400), Joel Jones (4x400), Carlos Gerez Acuna (4x400), Vince Scott (TJ), Shamar Allwood (TJ).
Huntley: Tommy Nitz (3,200), McHale Hood (HJ),
Jacobs: Matt Andreano (800, 4x800), Adam Lakeman (4x800), Aidan DeMuth (4x800), Devan McTeague (300IH), Isaac Pepin (4x800), Max Sudrzynski (4x800).
McHenry: Hayden Stone (HJ), Zeke Galvicius (PV).
Prairie Ridge: Will Gelon (1,600),