It's the end of the year, and staff and volunteers with the Land Conservancy of McHenry County are ready to light a fire.
At least, they're ready to remove invasive brush — that includes buckthorn, honeysuckle, and mulberries — with controlled burns in an effort to help preserve and maintain oak trees.
In this specific instance, it means saving two large oaks in Harvard.
Saturday morning the conservancy held this year's New Year's Eve Oak Rescue at Irish Oaks Nature Preserve.
Several dozen staff and volunteers came out to help saw away the brush and manage the fires.
The goal is to help the oaks on the western edge of the preserve to thrive and regenerate, and even to allow for more trees to grow, conservancy staffers said.
The invasive plants "are weedy and shading out what we want to grow," said restoration ecologist Megan Oropeza. "Oaks reproduce under certain conditions: they need a lot of light and space."
In addition to the oaks, the conservancy wants native grasses and flowering plants to grow as ground vegetation, Oropeza said. Those species also need plenty of light, she said.
The oak restoration day, which has been a New Year's Eve tradition since 2008, is one of the staff's favorite events of the year, said Lisa Haderlein, the conservancy's director.
One regular participant in the oak rescue days, volunteer Dick Maguire of Hartland Township, said he was a "happy camper with a chainsaw in my hand" and said the camaraderie brings him back.
"There's a lot of friends here," Maguire said. "It's a wonderful project. Everybody is learning, even the novices."
Maguire did note that the fires and heavy equipment meant that participants needed to be careful and be well trained.
"It can be a dangerous undertaking," Maguire said. "Everybody has to know where everyone else is."
One of the youngest volunteers, 9-year-old Kennett Ducci of Woodstock, said he learned not to walk on the ice at the adjacent pond. Ducci said he relished the opportunity to explore nature.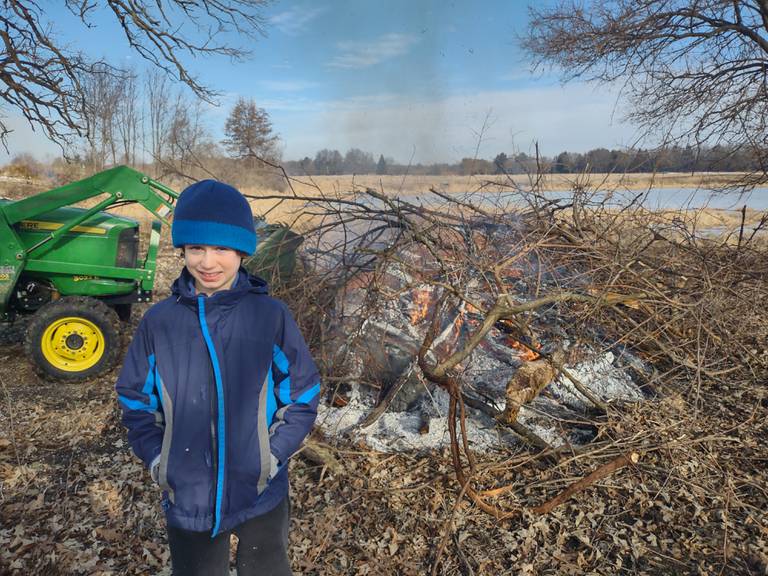 The yearly oak rescue rotates between conservancy locations, often focusing on a handful of specific oaks, as part of the organization's overall efforts to help restore and preserve native species around the county, Haderlein said.
"These oaks are gorgeous," Haderlein said. "In the spring or summer we will come back out and add seed. See what comes up. Sometimes things surprise us."