1. A Crystal Lake brewery and a Woodstock chocolate shop are teaming up to offer a Chocolate, Whiskey & Craft Beer Pairing event Thursday evening.
The event will take place 7 to 9 p.m. at Ethereal Confections, 140 Cass St. in Woodstock.
It will include three pairings of stouts with whiskey and chocolate. They will feature Crystal Lake Brewing's Boathouse Reserve beers, which are barrel-aged, and a beer made with Ethereal Confections' cocoa nibs.
Tickets are $45 and can be bought at bit.ly/WoodstockPairings.
2. Woodstock Willie won't take center stage until early Wednesday morning, but the city of Woodstock is kicking off its Groundhog Day festivities with the welcoming of the groundhog at 6 p.m. Friday at the Opera House.
This year marks the 30th anniversary of the making of the classic "Groundhog Day," starring Bill Murray as a TV weatherman who, after covering the groundhog Punxsutawney Phil's emergence from his burrow, relives the same Feb. 2 over and over again. The movie was filmed mostly in Woodstock.
"Groundhog Day" trivia will follow the welcoming at 6:30 p.m. at the Opera House, 121 W. Van Buren St., and also starting at 6 p.m. Friday is the Groundhog Day Dinner Dance at the Woodstock Moose Lodge No. 1329, 406 Clay St., where there will be a meal served and live music from 8 to 10 p.m. for $24 a person. Tickets for entry into the dance portion of the event are $10.
On Saturday, there will a bags tournament, the normal walking tour of filming sites, a Groundhog Day bingo game and a pub crawl.
Plus, local storyteller Jim May will share family-friendly tales at 7 p.m. Monday at Stage Left Cafe, and Classic Cinemas' Woodstock movie theater will have showings of the 1993 film throughout the week leading up to Wednesday.
Tours of the "Cherry Street Inn" also will be available 11 a.m. to 3 p.m. Friday through Wednesday. The Cherry Tree Inn B & B is located at 344 Fremont St.
Wednesday will be when Willie makes his prognostication – the week's main event – which will start at 7 a.m. in the historic Woodstock Square.
Polka music will accompany the prognostication, and, starting at 7:30 a.m., attendees can head to the Woodstock Public House, where, in the movie, Murray and Andie MacDowell "drink to world peace."
Those who toast to world peace can get a souvenir shot glass, and the Moose Lodge is hosting the official Groundhog Day breakfast following the prognostication from 7:30 a.m. to 9 a.m.
For information, go to realwoodstock.com.
3. The McHenry Moose Lodge is hosting an open mic night from 6 to 11 p.m. Friday.
Dinner will be available for purchase 5 to 8 p.m. and there will be a full bar. All proceeds go to Moose Charities. The McHenry Moose Lodge Post 691 is located at 3535 N. Richmond Road in Johnsburg.
Musicians are welcome to bring their own instruments though a drum set will be available on site. Bands are encouraged.
For information, go to bit.ly/MooseMicNight-128.
4. The 8th annual Community High School District 155 art show – SPARK – is wrapping up Friday at the Dole, 401 Country Club Road in Crystal Lake.
Featuring artwork curated by District 155 art teachers and created by students from Crystal Lake Central, Crystal Lake South, Cary-Grove, Prairie Ridge and Haber Oaks, the galleries are open 9 a.m. to 5 p.m. Monday to Friday.
A closing reception is set for 5 to 8 p.m. Friday.
During the week, the galleries doors are sometimes closed, but the Dole staff can open the doors if asked.
5. Norge Ski Jump's 117th Winter Tournament this Saturday and Sunday will offer a chance to Olympians from around the world compete at the oldest operating ski jump in the country.
The tournament will take place noon to 4 p.m. each day with gates opening at 11 a.m.
Saturday will feature the Junior Small Hills and Junior National Qualifier competitions with the U.S. Cup and International 5-Hills Competition following on Sunday, according to the Norge Ski Club's website.
Brats, hot dogs, pizza, popcorn, pop, beer, wine and Jägermeister will be available to buy. Attendees can bring blankets and lawn chairs.
Admission buttons can be bought online for $15 at norgeskiclub.org or at certain businesses in Fox River Grove, Cary, Crystal Lake, Barrington, McHenry and Island Lake. For a list, go to norgeskiclub.org.
Buttons bought at the gate cost $20.
Children 12 and younger can attend for free.
Free shuttle buses will run 11 a.m. to 5 p.m. from the Metra train station in Fox River Grove and the Stonehill Shopping Center parking lot, located at Northwest Highway, which also is Route 14, and Route 22.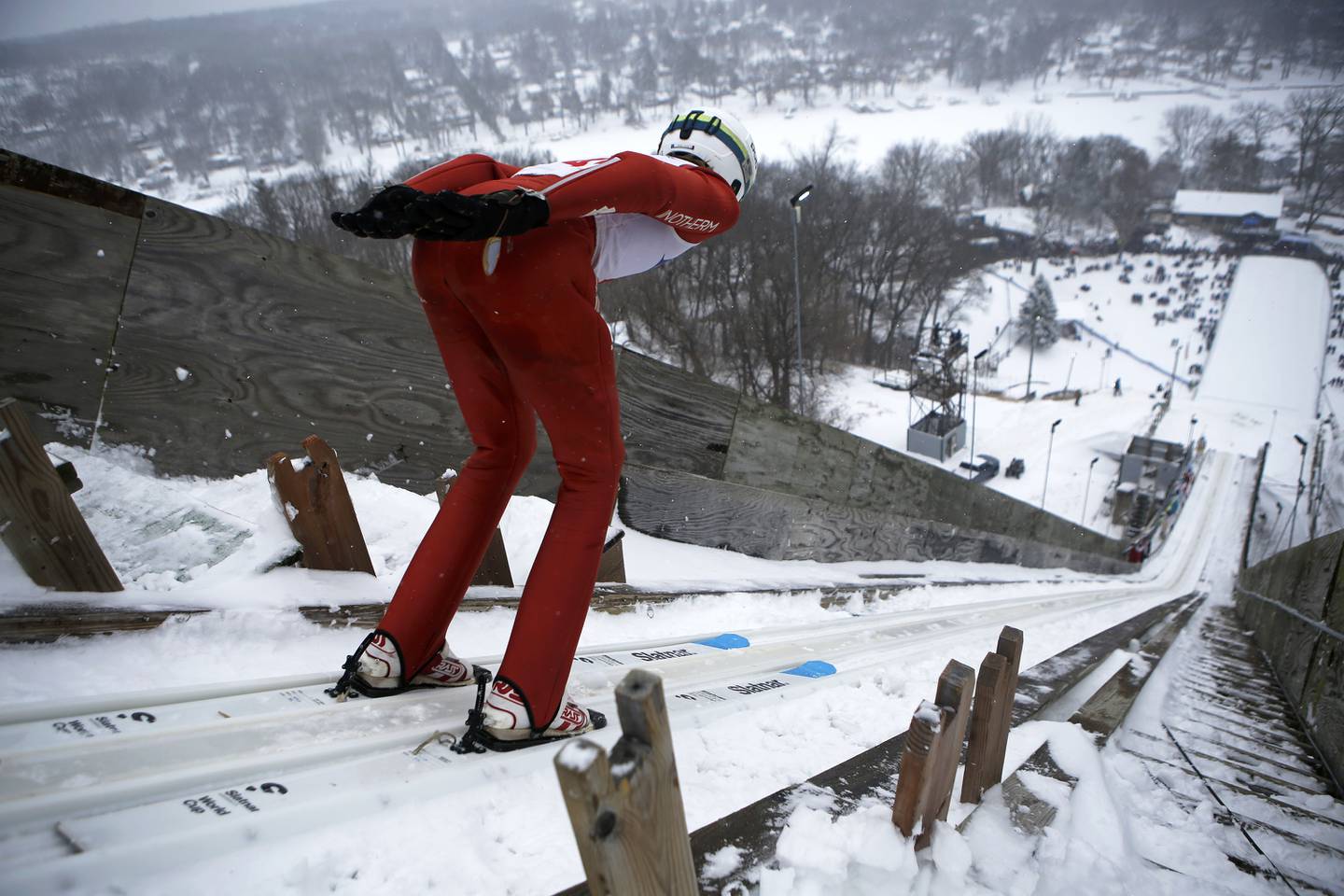 Would you like your event featured in this weekly feature? The first step is submitting your events to the Northwest Herald's community calendar at shawlocal.com/northwest-herald/local-events/ where they are then considered for inclusion in this feature.