When Woodstock resident Alissa Borck heard aircraft going over her house Tuesday afternoon, she ran outside to see what was going on.
It turned out they were going to McHenry County College in Crystal Lake, where President Joe Biden is scheduled to speak Wednesday.
She took her 6-year-old son, Barrett Gebhard, and tried to see if they could catch a glimpse of the helicopters, which were situated in a field near the college's campus.
Barrett was even gifted a special patch by one of the people handling the aircraft.
"It's truly one of the [coolest] things we've ever gotten to do," Borck said. "You don't see [that] every day by any means."
Many McHenry County residents and officials were enthused at the prospect of President Joe Biden visiting Crystal Lake the day before his highly anticipated arrival, with some saying it could be among some the biggest events to happen in the county. As different aircraft with United States of America on them flew by the McHenry County College Tuesday, a group gathered to watch.
"I'm just stunned," Borck said. "This was really cool. I have goosebumps. Even if it's a practice run, to know that we get to see some of the stuff, that's not an everyday thing."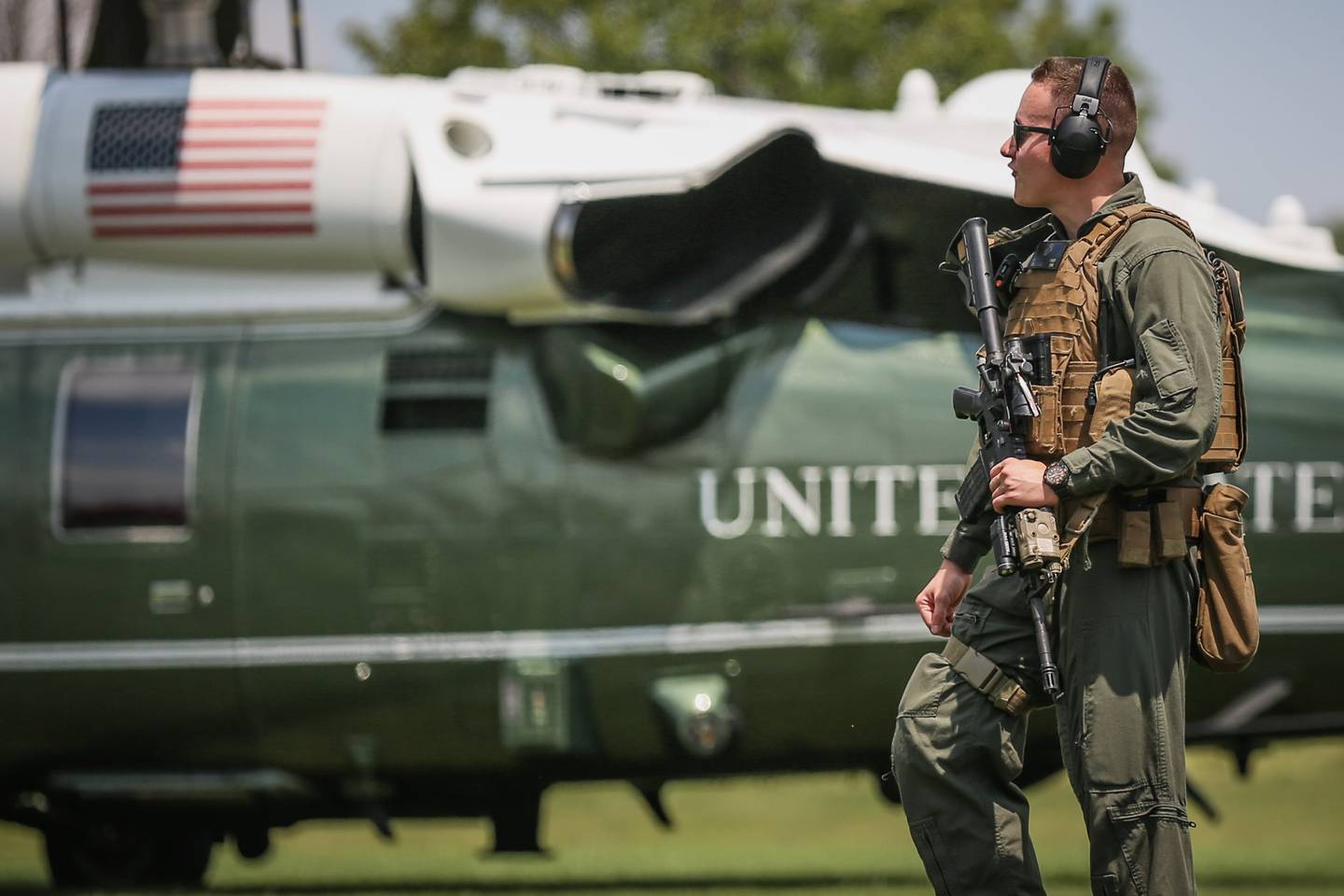 Matt Hill, Biden's senior associate communications director, first announced the president was headed to Crystal Lake with a tweet Saturday evening.
Biden is expected to speak about the American Families Plan, which the White House said has provisions to help make education more affordable, provide economic security for families, and expand tax credits for workers and families, according to a White House briefing.
The president will tour the college as well, Hill tweeted Tuesday evening.
"After, he will deliver remarks on how his economic recovery plans will deliver for working families across the country," Hill wrote.
TOMORROW >> @POTUS travels to Crystal Lake, Illinois to tour @mcc_edu and see firsthand how his #BuildBackBetter agenda will help students and educators. After, he will deliver remarks on how his economic recovery plans will deliver for working families across the country.

— Matt Hill (@MattHill46) July 6, 2021
While the American Families Plan isn't a huge health care bill, it has been on Crystal Lake's Family Health Partnership Clinic's radar, said Suzanne Hoban, the clinic's executive director.
The Family Health Partnership Clinic helps people in McHenry County who are uninsured and underinsured.
U.S. Rep. Lauren Underwood was instrumental in bringing health care provisions to the American Rescue Plan, some aspects of which have been extended through the American Families Plan, Hoban said.
"We are watching it," she said. "There are some very important provisions in there."
One of these provisions is making health insurance premium reductions – which were part of the American Rescue Plan, a $1.9 trillion COVID-19 recovery package – permanent, which the White House said will save families an average of $50 a month.
Biden signed the American Rescue Plan Act into law on March 11, 2021, which lowered premiums for most people who have a Marketplace health plan and expanded access to financial assistance for more consumers, according to the Centers for Medicare and Medicaid Services.
Through the American Rescue Plan, eligibility for Affordable Care Act health insurance subsidies was extended for people over 400% of the poverty line buying their own health coverage on the marketplace.
"We have found that our patients tend to to fall through the cracks," Hoban said. "They either make too much to qualify for Medicaid but they don't make enough to where the subsidies will actually be able to be affordable to some of them, so they fall in some of these gaps. And so I think that the American Families Plan may help plug some of those gaps."
Kathy Kothera, of Marengo, was just driving her car with nothing to do, when she saw the aircraft landing at McHenry County College.
"I'm like, I'm going to drive out to the college just to see,'" Kothera said. "This is very big. I don't remember anything this big happening."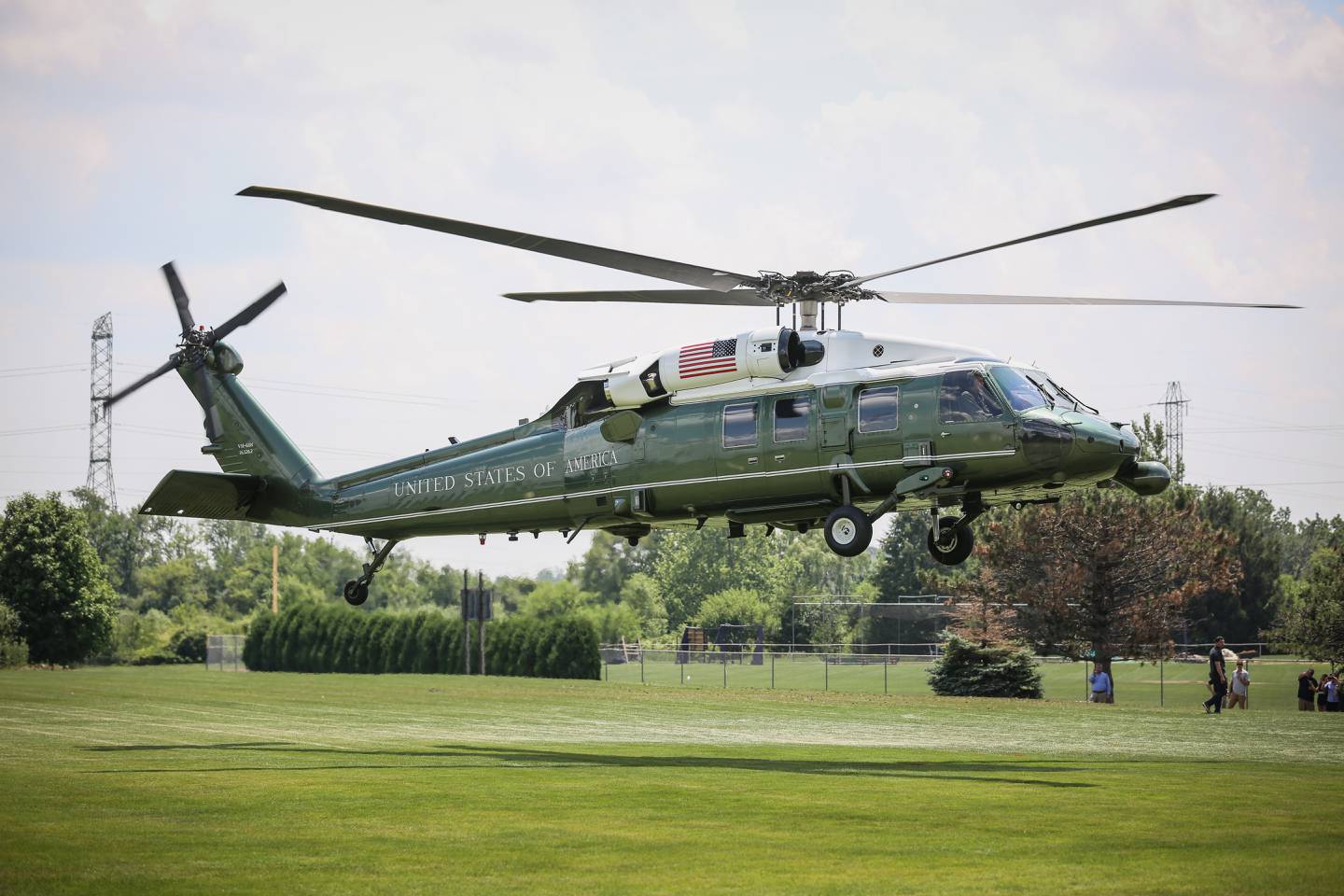 Like McHenry County where 50.2% of voters favored former President Donald Trump in November, Kothera's own family is divided between political parties. Some of her six siblings voted for Trump, while others voted for Biden.
But they're all excited to see a sitting president to come to McHenry County. The only other person Kothera knows who's seen a president is a great aunt from Cleveland back in the early 1900s.
Donald Trump Jr., son of President Donald Trump, visited Woodstock in October ahead of the 2020 election to speak at a Trump rally at Bull Valley Golf Club.
Having the president come to Crystal Lake means a lot to everybody in their own way, Kothera said.
"I hope it brings unity and peace among everybody," she said. "I really think we need to bring peace back in this world and not argue and fight so much to see who's right."
Self-proclaimed "airplane geek" Gregg Duvin, a Lake in the Hills resident who works at O'Hare International Airport, also hopes Biden's trip will bring people together.
"It's exciting," he said.
For Crystal Lake Mayor Haig Haleblian, this visit puts the city on the map, and highlights the community and its partnership with McHenry County College.
"[Biden] is the first sitting president to ever visit Crystal Lake," Crystal Lake Mayor Haig Haleblian said. "How cool is that?"
Haleblian had several interviews with television stations regarding Biden's planned arrival in Crystal Lake, and local business owners have also been buzzing about the news.
"They think it's going to be a good thing for us to be able to talk to the president, if, in fact, we're going to have that opportunity," said Haleblian, who owns Exceed Floor and Home in Crystal Lake. He added the visit would be a good way to show how business owners have been able to "weather the storm" of the COVID-19 pandemic.
To McHenry County College student Oscar Martinez, Biden couldn't have picked a better place to go.
"It's going to motivate every student," Martinez said. "Out all the places he could have picked, he picked the right place."