Ideally, teams would load up a mini-bus and travel to another school to compete, just like the other teams in their high school.
Their competition is different, requiring strategy and knowledge over speed and brawn. But there still is camaraderie among teammates, there are friendly rivalries and there is great satisfaction after victories.
Some of that is lost this year, but the best thing about high school chess is that it's an activity that has proven to be COVID-19-proof. Member schools in the Northern Illinois Chess League have adapted and forged through their regular season part of the schedule, playing matches online instead of face-to-face.
The NICL Tournament will be played on Saturday, Jan. 16, IHSA sectionals will be on Jan. 30 and the state tournament will be played on Friday, Feb. 12 and Saturday, Feb. 13.
"Online chess is a thing," NICL president Erik Czerwin said. "It's really not that hard to get someone to sit down and play. I had to create a virtual scoresheet, so players can report back to their coach and there's a virtual paper trail.
"They're not playing their best chess (online), not thinking like (they would) in an over-the-board game. Sitting at a physical board, the way you see the game is different. They've adapted well. They want to get back in person. Part of the fun is getting on the bus and interacting with other teams."
McHenry senior Zachary Martin, the team captain, concurs with Czerwin's assessment.
"You definitely don't get the same kind of connection with your opponent," said Martin, who has five wins and a draw in competition. "Oftentimes I find it easier to visualize my strategy and my next move looking at a physical board. But I'm greatly appreciative that we're able to do it online. It's much better than not being able to do it at all."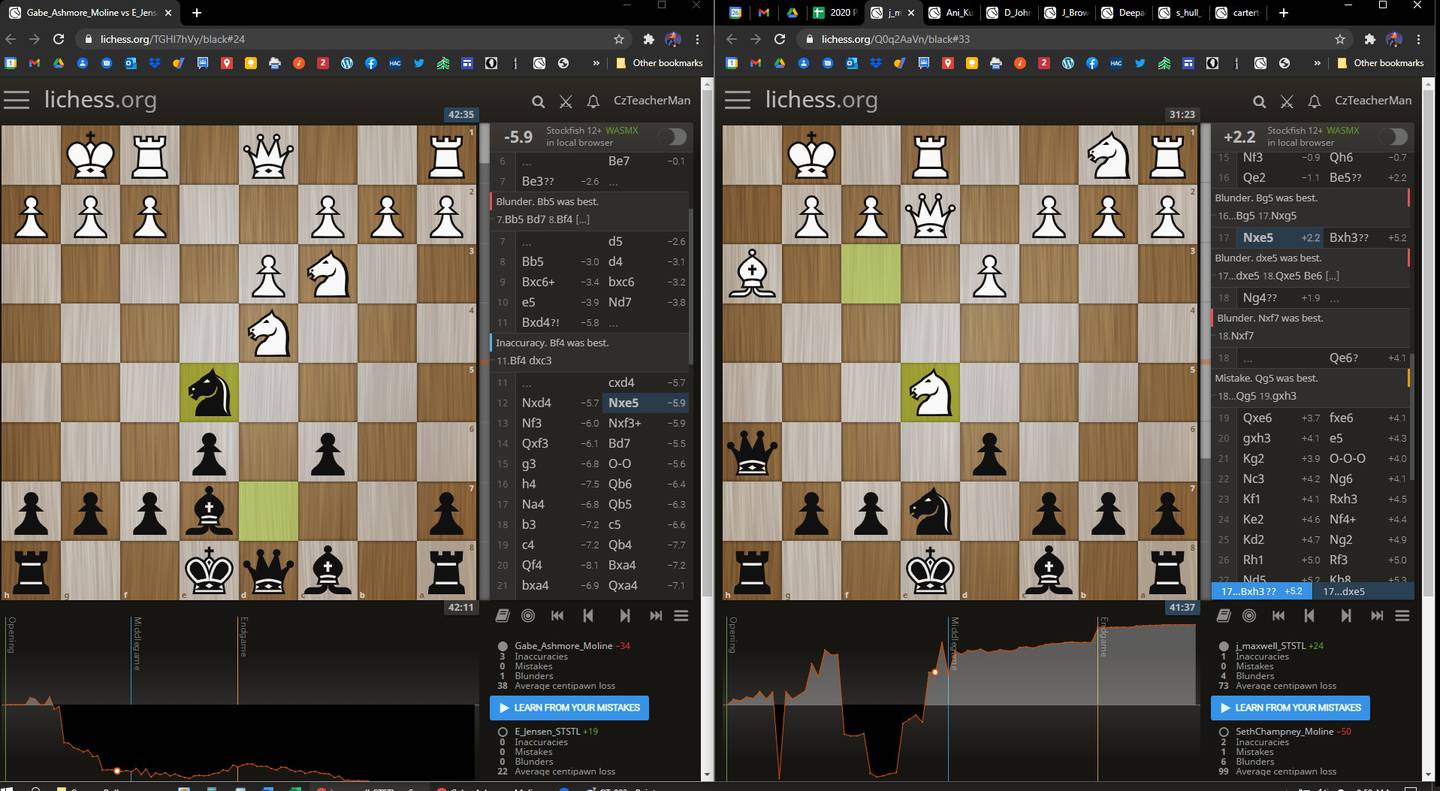 Huntley junior Bryan Davis, who plays the team's Board 2, enjoys playing online, but said players sometimes have to be cautious making moves.
"It's different. I wouldn't say it's worse (than playing on a physical board), it's just different," Davis said. "It hasn't affected me that much. There is one thing that is a little bit annoying with online chess. If you make a misclick, it could completely ruin your entire game. If your mouse slips and you move to the wrong square, that could cost you the game."
THE TOUGHEST YEAR
The COVID-19 pandemic has produced hardships with nearly everything involving schools. Teachers have to try to connect with students mainly online, students rarely see friends they used to see daily and activities of all sorts have been suspended or canceled.
Over the summer, the IHSA adjusted its sports year from three seasons to four, hoping to get all athletes a chance to compete at some point during the season. The fall season went off without football, volleyball and boys soccer (all moved to the spring season, slated to run Feb. 16 through May 1). But it also finished without many problems for low-risk sports of cross country, golf, girls tennis and boys swimming (the only indoors sport among the four).
Then, the rise in positive coronavirus numbers in November put all winter sports on hold indefinitely. The IHSA recently stated it hoped to begin some sports again in January if it can meet Illinois Department of Public Health guidelines.
While sports are in a holding pattern, chess, recognized by the IHSA as a competitive activity, presses on.
Jeff Varda is a retired McHenry teacher who taught social science, worked as a truancy officer and was a counselor. He coached golf much of his career and also coached the chess team.
"Of all the things I coached, chess is what I've had the most fun at," Varda said. "We play with clocks, these are timed matches. The IHSA tournament is the largest scholastic tournament in the U.S. There are 1,000 kids in a ballroom at the Peoria Civic Center.
"It's really grown at the IHSA level. Now we have to have sectionals. It used to be if you met participation numbers, you were in. It's capped at 120 teams. I have a feeling they will have an IHSA event. This is one (activity) that it seems like it will make sense that they can do."
No fall sports culminated with their regular state finals. But if chess is played online, there is no travel, no staying overnight and no crowds.
HOW IT'S DONE
Czerwin became obsessed with chess during the semester he student taught in college. He and a friend just got hooked on the game and have played ever since. He taught at Marengo in 2008, where he started the chess club. He took a job at Guilford and now coaches chess at that school.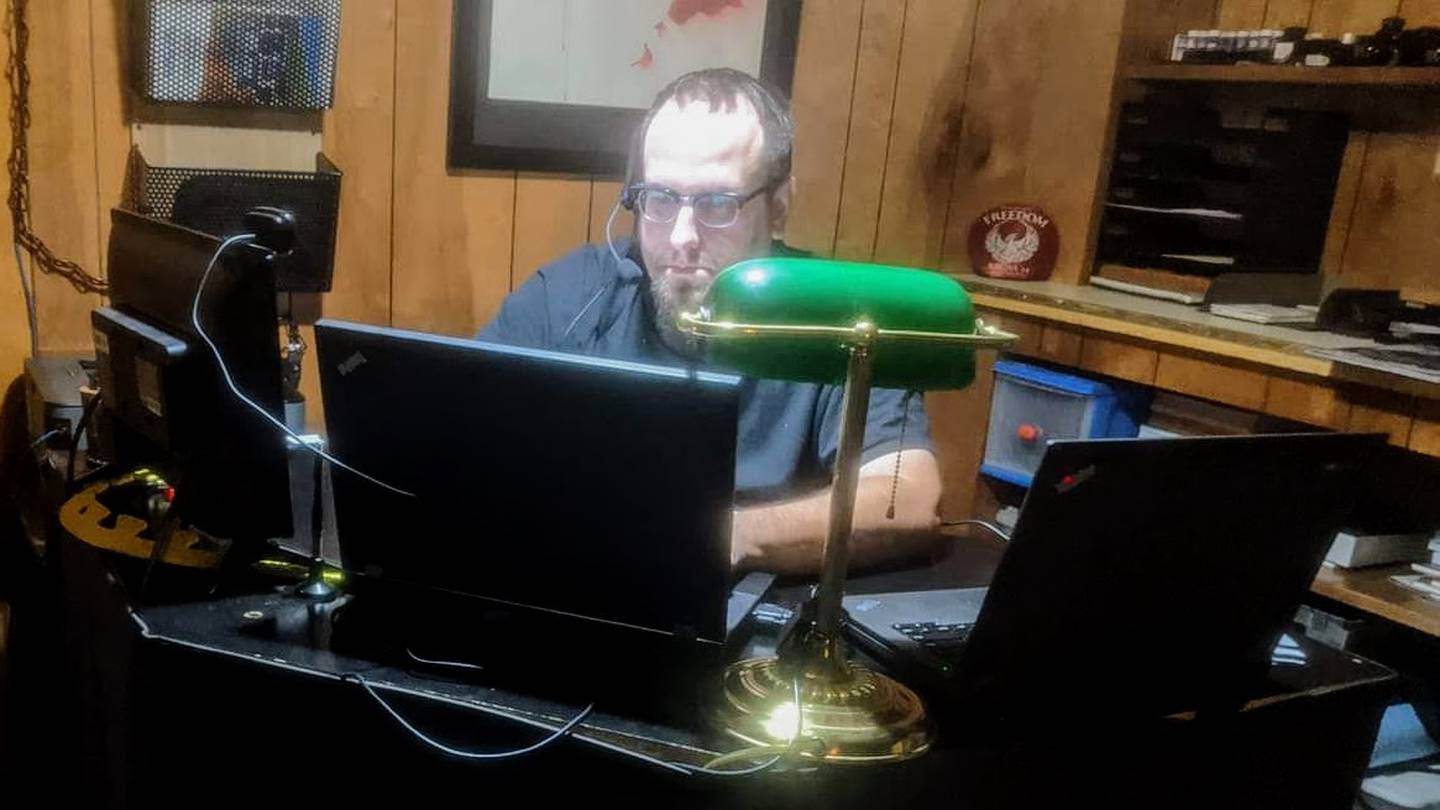 Czerwin has set up the NICL in two divisions – eight-board and five-board – to accommodate teams who don't have as many players. Scores are weighted to reward the better players, so the No. 1 players match is worth 12 team points, No. 2 is worth 11 and so on down to five for the eight-board teams.
Playing face-to-face is preferred and produces better matches, however online chess has its advantages.
This season, each individual game has its own URL, so coaches can set up their computer to click back and forth and watch each of their players.
"It's really cool online," Czerwin said. "I put up a display, all the links are there and I can record the games. Some coaches have tabs and can pull up all eight games. In person, you sit behind and can't talk. (A player and I) can watch someone else's game (if they're done) and talk about it live. That's an advantage of something we could never do in person."
Cary-Grove coach Dori Chianakas was a chess novice when she took over six years ago, but has learned from her players.
"I set up a Google meet, they go play their game and tell me if they won or lost," Chianakas said. "The excitement is over the top. They're so excited about who they're playing and what they did. They teach each other, they learn moves from each other.
"I love the group of kids who go out for chess. They are so into it. They really have good analytical skills."
INTERNET-PERFECT
Players can go to chess.com or lichess.org and find live games, puzzles and exercises to enrich their minds. Czerwin also has several exercises set up on the NICL website, sites.google.com/view/thenicl/nicl.
Martin said McHenry, which finished first at 5-0 in the five-board division, usually practices twice a week. Players have a Zoom meeting with coach John Leon and then break off into groups to play.
"There are a lot of puzzles and lessons you can go through online," Martin said. "The rest of the day, we expect people to spend a little bit of their day practicing their chess and trying to get better."
Players can go back and review their games, see where they did well and where they can improve, because it is all recorded on the website.
Davis has 15 full days logged into lichess.org to hone his skills.
"I go on lichess.org and to puzzles that help me learn tactics," Davis said. "I play games on there to practice my new opening or whatever I'm practicing."
One potential drawback to online chess, Varda said, is that someone, not in their opponent's sight, could have another computer searching for the right moves.
Martin has not found that to be a problem.
"People try to be honorable," he said. "We're all trying to have fun, play the game. I haven't encountered anyone I thought was using a computer."
McHenry, Stillman Valley, Byron, Freeport, Harvard and Indian Creek are in the five-board division. Cary-Grove, Huntley, Guilford, Kaneland, Marian Central and Sterling are in the eight-board division. Kaneland won the eight-board division with a 5-0 record, Huntley was second at 4-1. McHenry won the five-board division at 5-0.
Netflix released the miniseries "The Queen's Gambit," the story of a chess prodigy, on Oct. 23. Czerwin thinks it might produce an uptick in players joining teams next year when teams start recruiting new players.
"The players I know enjoyed it, but it didn't do much for them superficially," Czerwin said. "The existing players have taken on a sort of haughty 'I was playing chess before it was cool' kind of space mentally. They're certainly willing and open to new players. It's not entirely a bad thing, it's definitely the first time that the chess team was considered 'cool.'"