A Crystal Lake Republican serving on the McHenry County Board will be the running mate of Republican candidate for Illinois governor Paul Schimpf, he announced Tuesday.
At a campaign event at the Raue Center for the Arts in Crystal Lake Tuesday, Schimpf touted McHenry County Board Vice-Chairwoman Carolyn Schofield's record of community service and ability to understand regular voters as the reason for choosing her as his running mate.
"Together our experience at all levels and our service to the state is what makes us the best ticket for this race," Schofield said. "And Illinois right now needs this type of leadership."
Schofield has served on the McHenry County Board since 2012, and most recently as the vice-chairwoman, a position her fellow County Board members elected her to in December 2020. She is also a board member for the Chicago Metropolitan Agency for Planning and previously served on Crystal Lake City Council.
Schofield said her candidacy for lieutenant governor means she will not run for another term on the McHenry County Board this year.
"The lieutenant governor's role has not historically been a great one," Schimpf said. "That is really up to the governor. When I was looking for a lieutenant governor, I was looking for somebody that would be a full partner in solutions. Carolyn is going to be an equal partner. She is somebody I am going to look to to help unify our state."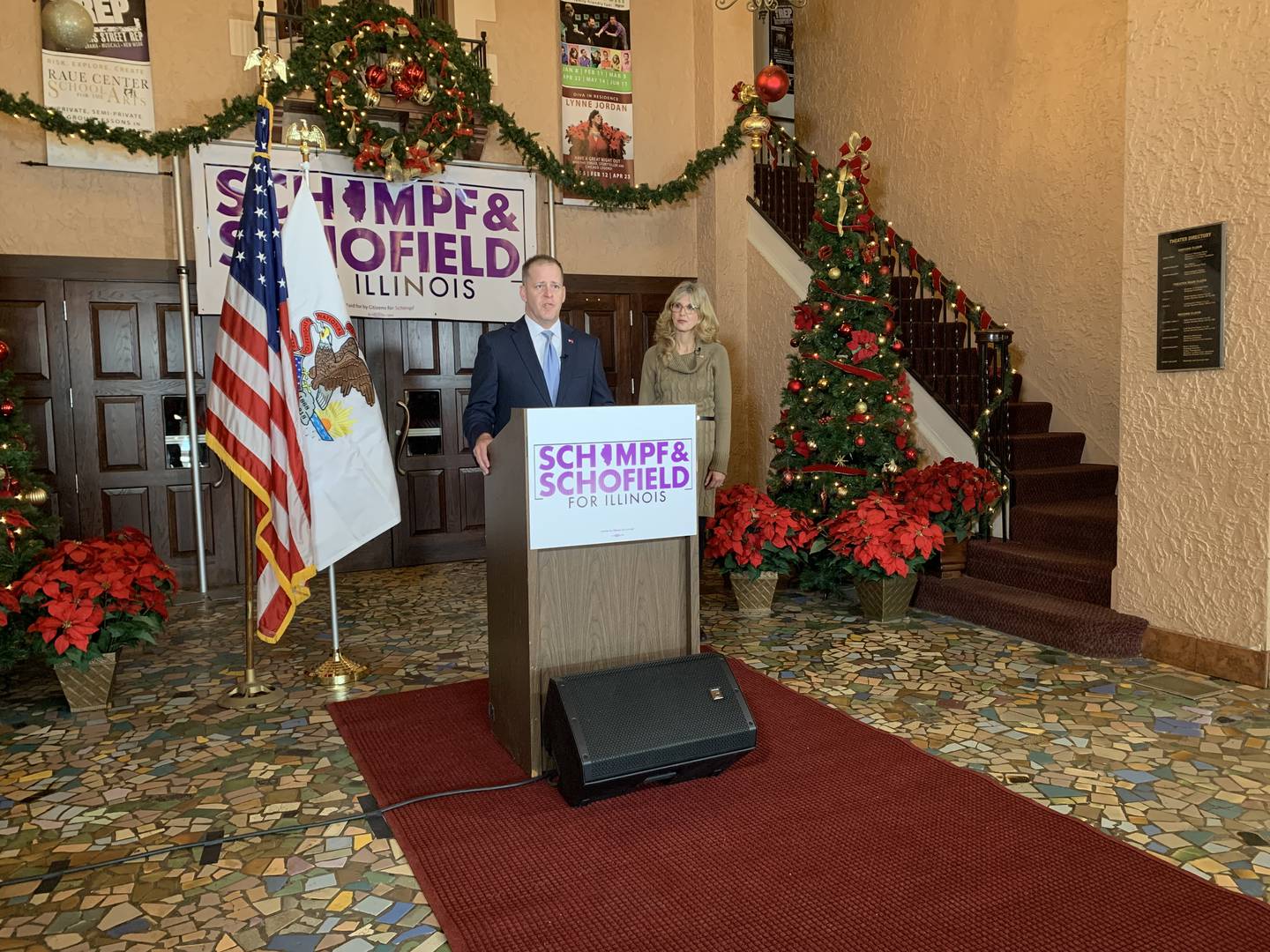 County Board Chairman Mike Buehler said he is excited for Schofield's new opportunity. He said she will be missed by the county but thinks she will do well if elected to statewide office.
"She has been instrumental in my success and first year in office," Buehler said. "We accomplished many things and we will continue to do so, but it's hard to pass up an opportunity like this for her."
Schimpf is a resident of Waterloo, a town near St. Louis, and served one term in the Illinois Senate from 2017 to 2021. He is a Marine Corp veteran who served as the lead advisor to Iraqi prosecutors in the trial of Saddam Hussein, according to his campaign.
The 2022 election marks Schofield's latest run for office above the County Board level. She previously challenged incumbent Republican State Rep. Allen Skillicorn in 2020, but lost to him in the Republican primary.
"Once you get to know [Schofield], you may say, I wish she was at the top of the ticket instead of Paul," Schimpf said. "And I'm fine with that. If that's reaction you have, that means I made the best choice."
In this campaign, Schofield and Schimpf said they will focus their message on parental rights, public safety and trust in government.
"The truth is not afraid of transparency," Schimpf said. "What I mean by that is a solution requires partnering, it requires legislative oversight. When we become governor and lieutenant governor, the days of an executive branch going it alone and not working with the Illinois General Assembly are over."
Schimpf said he knows he is facing an uphill battle in the Republican primary in some ways by facing two wealthy candidates in businessmen Gary Rabine of Bull Valley and Jesse Sullivan of Petersburg, and along with state Sen. Darren Bailey, R-Louisville. Republicans are also waiting for conservative Chicago billionaire Ken Griffin to endorse a candidate, an endorsement Schimpf said he is open to receiving himself.
Illinois State Board of Elections records Tuesday showed Schimpf had the least amount of cash on hand of the four candidates for governor at the end of September when funds were last reported.
"The advantage our campaign has is you will not find another team with the experience and the solutions that we have," Schimpf said, adding he thinks the campaign for the GOP nomination is still in the "preseason."
Schimpf defeated former Democrat Lt. Gov. Shelia Simon in the 2016 state senate race, his only electoral victory. He lost the 2014 Illinois attorney general race to Democrat Lisa Madigan.
"We won that [2016] race by talking about what unifies us, not what divides us," Schimpf said.
That's the message Schimpf said he believes him and Schofield bring to the race that other candidates don't and will be the choice voters have this year.
"They can choose outrage or winning elections or losing lawsuits," Schimpf said, a reference to lawsuits filed by both Rabine and Bailey challenging COVID-19 policies. "That's the choice the people of Illinois are going to have."
Bailey spokesman Joe DeBose said Bailey is the conservative choice in the race.
"He stood up and took action when few would and continues to stand up for working families, taxpayers, law enforcement, parents and students, and the freedoms of Illinoisans across the state," DeBose said.
The Republican primary will be held on June 28 before the General Election on Nov. 8 where the Republican nominees will face incumbent Democrat Gov. JB Pritzker and his running mate, Juliana Stratton.