Despite making up 5.5% of Algonquin-based Community School District 300′s student population, Black students make up 24% of the district's out-of-school suspensions.
The disparity is one of the reasons, Superintendent Susan Harkin said this week, a closer look at what District 300 is doing regarded diversity, equity and inclusion is needed.
"We know we have an opportunity to look into what is behind that and what we can be doing differently to support our students to make sure that our out-of school suspensions are comparable against all groups in relationship to their total percentage of the population," Harkin said at a school board meeting Tuesday.
To further address these inequities, the district now is gathering information for an equity audit.
The audit will consist of 36 focus groups, where an auditor will interview students, staff, parents, community groups and alumni for one hour about their experiences at District 300, as well as student, staff, parent and community-member questionnaires, said Adrian Harries, the district′s director of diversity, equity and inclusion.
Using the audit's findings, the district will develop with an "equity action plan" at the end of the year. The aim is to have concrete ways to make District 300 more inclusive, Harries said.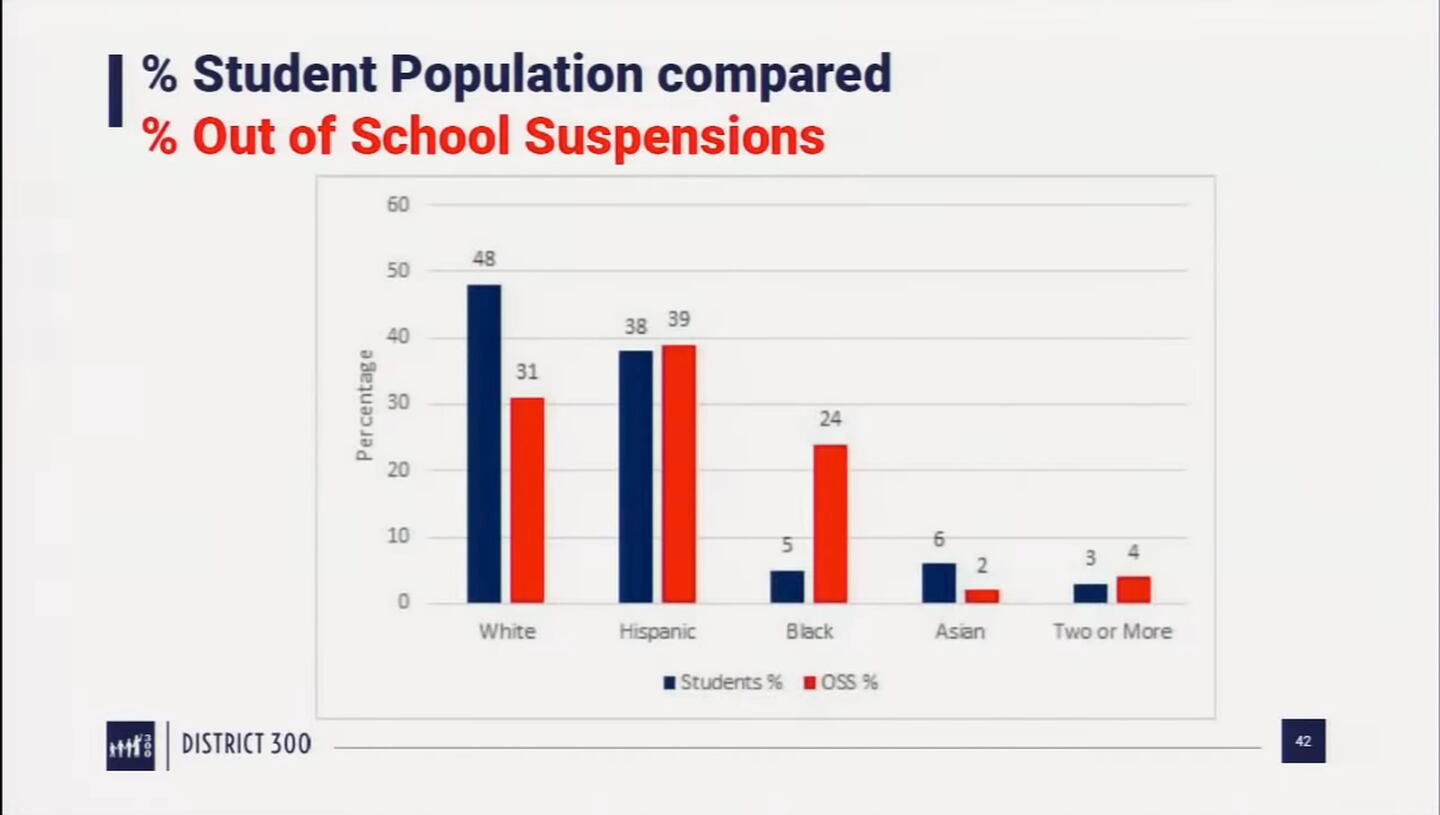 An introductory letter, with a Google Form attached for those interested in signing up for focus groups, was sent out by the district Wednesday. The survey will close Oct. 29.
Nobody is required to take the survey, Harries emphasized at Tuesday's meeting. It will be posted on District 300′s website and translated into the four primary language spoken by the District 300 community.
"If you want your voice heard, it's a great opportunity for you to have your voice included in the equity audit," Harries said.
During the equity audit process, the student performance and out-of school-suspension data Harkin presented Tuesday will be analyzed and compiled into one big report, Harries said.
"One of the reasons why we are surveying students is we want to make sure that our students are represented," Harries said. "Those are the people going through our educational system, we want to know how to best support and meet them, not only from a curricular standpoint, but also in terms of climate: What are they looking for, in terms of our buildings, professional learning and family and community aid?"
Inclusion and equity are fundamental to the district's mission of educating kids, Harkin said.
"Equality focuses on giving every student the same resources and opportunities regardless of their individual needs," Harkin said. "Equity in education is focused on valuing individual students providing structures and environments and resources that each student needs to reach their maximum potential."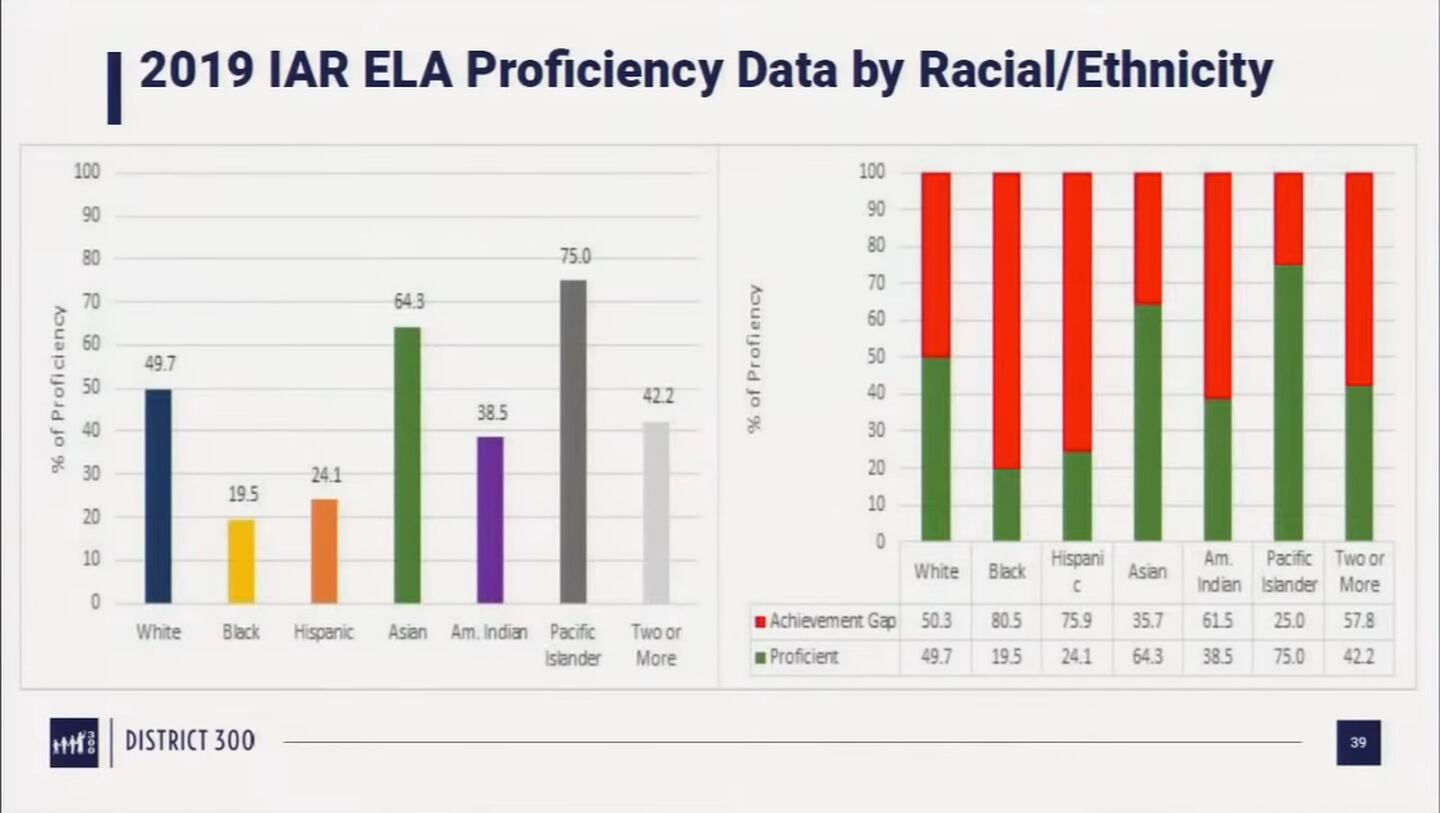 Inclusion, Harkin said, is about providing equal access to opportunities and resources to groups whose voices might not be heard otherwise.
"Our goal is not to promote one viewpoint or ideology over another, and our intention is not to provide perspectives counter to any family's values," Harkin said. "In fact, the district believes that families play an absolutely crucial role in shaping their children's beliefs and values, and they can work in concert, not conflict with the district."
Part of this equity and inclusion work involves looking at barriers that prohibit a student from reaching their full potential and removing these roadblocks, Harkin said. When looking at data like the out-of-school suspension statistics, Harkin said, the district can see to see if it is providing resources correctly or if barriers are hindering student success.
District 300′s student population is 46.3% white, 39.4% Hispanic, 5.5% Asian, 5.1% Black, and 3.4% two or more races, according to Harkin's presentation. However, white students make up 31% of the out-of-school suspensions.
District 300 serves almost 20,000 kindergartners through high school seniors, according to state enrollment data.
The district's discipline data shows where the district has an opportunity and where the District 300 school system has barriers that aren't allowing students to be successful, Harkin said.
Out-of-school suspensions and expulsions were an issue tackled at the state level in 2015 with the passage of Senate Bill 100. This bill mandated that teachers get professional development training on culturally responsive disciplinary action and use positive intervention before excluding a student from the classroom.