An Algonquin eye doctor who had been awaiting trial in the 2019 murder of his girlfriend, and who was investigated in his wife's suspicious demise eight years earlier, has died of COVID-19 complications.
Anthony Prate, 57, died Dec. 17 at Palos Community Hospital in Tinley Park. His cause of death was listed as hypoxemic respiratory failure due to pneumonia brought on by COVID-19, Cook County Medical Examiner's Office spokeswoman Natalia Derevyanny said.
Prate was charged with first-degree murder in the stabbing death of Malgorzata "Margaret" Daniel, 48, of Schaumburg on Nov. 23, 2019.
Prate, who pleaded not guilty to the murder charge, had been out of jail since January 2020 and on house arrest living at his mother's home in Tinley Park wearing an ankle monitor. He had posted $300,000, 10% of his $3 million bond.
Cook County authorities alleged that Prate killed Daniel by stabbing her almost 30 times.
Prosecutors said in a Rolling Meadows courtroom at one of Prate's initial appearances that he had become angry during a dinner at Daniel's home with another couple present. Prosecutors said he was triggered when the conversation turned to the topic of death and he was asked how his wife died.
Amanda Marrazzo, a reporter with more than 25 years of experience, spent years reporting on this case, reviewing hundreds of documents, including police reports and autopsies, and interviewing dozens of people connected to the case.
Sometime after the other couple left the home, Prate made a call to 911 asking for help because he said he and his girlfriend had had a fight with a knife, she had stabbed him and he stabbed her back. She now lay on the floor "gravely wounded," he told the dispatcher.
But before Prate made the 911 call, he made at least three other phone calls, court records show. Prate waited at least 20 minutes before calling 911, Cook County Assistant State's Attorney Glendon Runk said in court, adding that in that time, he did not try to give her CPR or help her.
Prate suffered cuts to his hands and wrists, for which he underwent surgery, said Sam Amirante, Prate's attorney at the time of his bond hearings in 2020. Amirante described his wounds as "defensive."
Daniel was stabbed 27 times with a "butcher knife," Runk said. She suffered wounds to her arms, hands and each leg and had 15 stabs to her torso and seven in her upper back between her shoulder blades, Runk said.
After Prate was charged with first-degree murder in Daniel's death, McHenry County State's Attorney Patrick Kenneally and Lake in the Hills police announced in a joint statement that they would reexamine the circumstances of Prate's wife's death in 2011. She was pronounced dead upon arrival at an Elgin hospital after a car crash in Lake in the Hills, according to hospital documents.
In the statement released in December 2019, the officials wrote that they would "continue to evaluate incoming information for any bearing it may have on the tragic death of Bridget Prate in 2011."
But that process, which included new interviews of people close to the Prates, did not lead to charges in connection with her death.
"Dozens of prosecutors have reviewed this case across two administrations and over the course of many years," Kenneally said in a statement Friday. "Unfortunately, all have come to the same conclusion that there is just not enough evidence, and the evidence available is too contradictory to come anywhere close to proof beyond reasonable doubt."
Learning of Prate's death left Daniel's oldest daughter, Patrycja "Tricia" Daniel, 29, "surprised," she said.
"I was just stunned," she said. "And like, obviously, it just wasn't expected that it would [end] this way."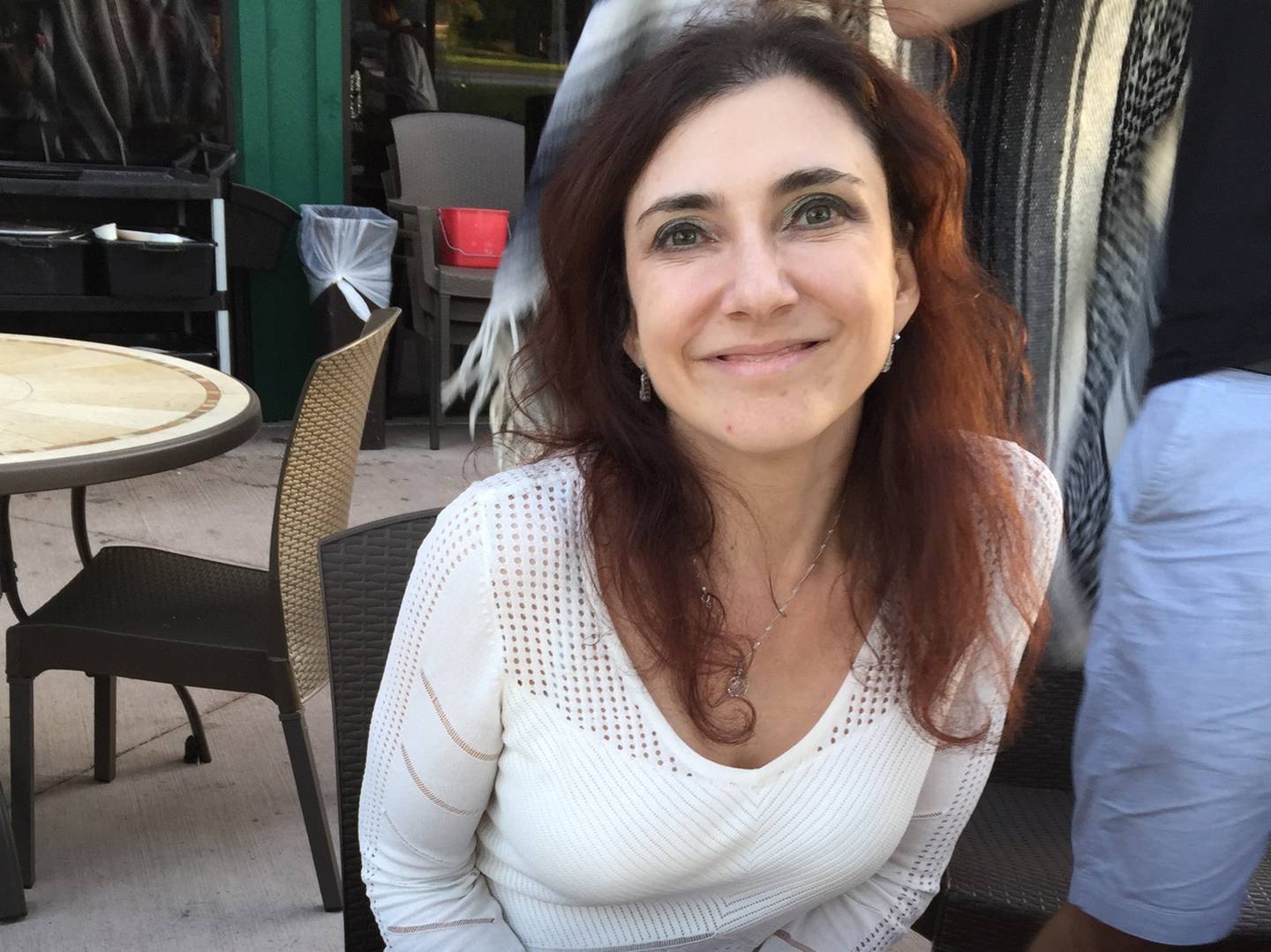 After bearing the stress of a potential upcoming trial for more than two years and wading through the obstacles that the pandemic had put in the way of seeing any kind of justice, Patrycja Daniel said she would just like to move on with her life now.
"I think he got very lucky, for sure," she said. "I feel like he's had a lot of luck on his side. … He's had a lot of things turn in his favor."
Dominika Daniel, 27, echoed her older sister's reaction upon hearing the news of Prate's death.
"I was stunned," she said. "I didn't really know how to react. Part of me, I guess, was like, 'This is all over now.' Then another part of me was, 'I'm not gonna get a lot of answers to the questions I have.' The biggest question is 'Why?' "
At the time of Prate's death, he was being represented by Bedi and Singer LLP, a Chicago-based law firm. In an earlier interview, Jonathan Bedi said he had planned on taking Prate's case to trial and had confidence that they would win. When reached by phone this week, his partner Dena Singer declined to comment and asked that the Prate family not be contacted.
During initial bond hearings, Anthony Prate's friends and family – including his mother, Donna Palma; sister Dona Meyer; teenage children; and an ex-girlfriend – were present to support him. They along with Amirante described him as "loving," "a role model," "mild mannered" and "docile."
At a later bond hearing, the prosecutor argued to revoke Prate's bond and send him back to Cook County jail to await his trial.
Runk acknowledged those statements made by Prate supporters and countered by saying this case is what "no bail" is intended for. He described Prate as "a violent man, a violent offender" and said "a docile person does not stab another person ... 27 times."
A stabbing
Margaret Daniel, a nurse anesthetist at AMITA Health St. Alexius Medical Center in Hoffman Estates described by family and friends as "kind," "caring" and "loving," met Prate on Match.com, an online dating website, about four months before her death, friends and family said.
At least six of Daniel's friends said that in the weeks before Daniel's death, she spoke of breaking up with Prate. In November, about a week before her death, she brought Prate to a work party.
At that party, he told Daniel's friends how much he loved her, that he was planning a tropical vacation for the two of them, that she was "the one" and that she was the first woman he had dated since his wife's death years earlier, Katherin "Kaie" Aoki of Streamwood recalled.
Aoki and others who met Prate at that party said they were astonished when they later learned their friend had been killed and that it was Prate – the man they had just met who vowed to adore her – who was charged with the crime.
"I couldn't believe it," Aoki said, breaking into tears. "He said, 'She was the one.' How could he do this?"
Aoki, Daniel's daughters and others said they were taken aback when they saw pictures of Bridget Prate and her likeness to Daniel, and when they learned of the investigation surrounding the car crash Bridget Prate reportedly died in.
Aoki recalled inquiring at the party about Bridget Prate's death. She said Anthony Prate told her he remembered very little – just that he walked away from a burning car. Police records show the car never caught on fire.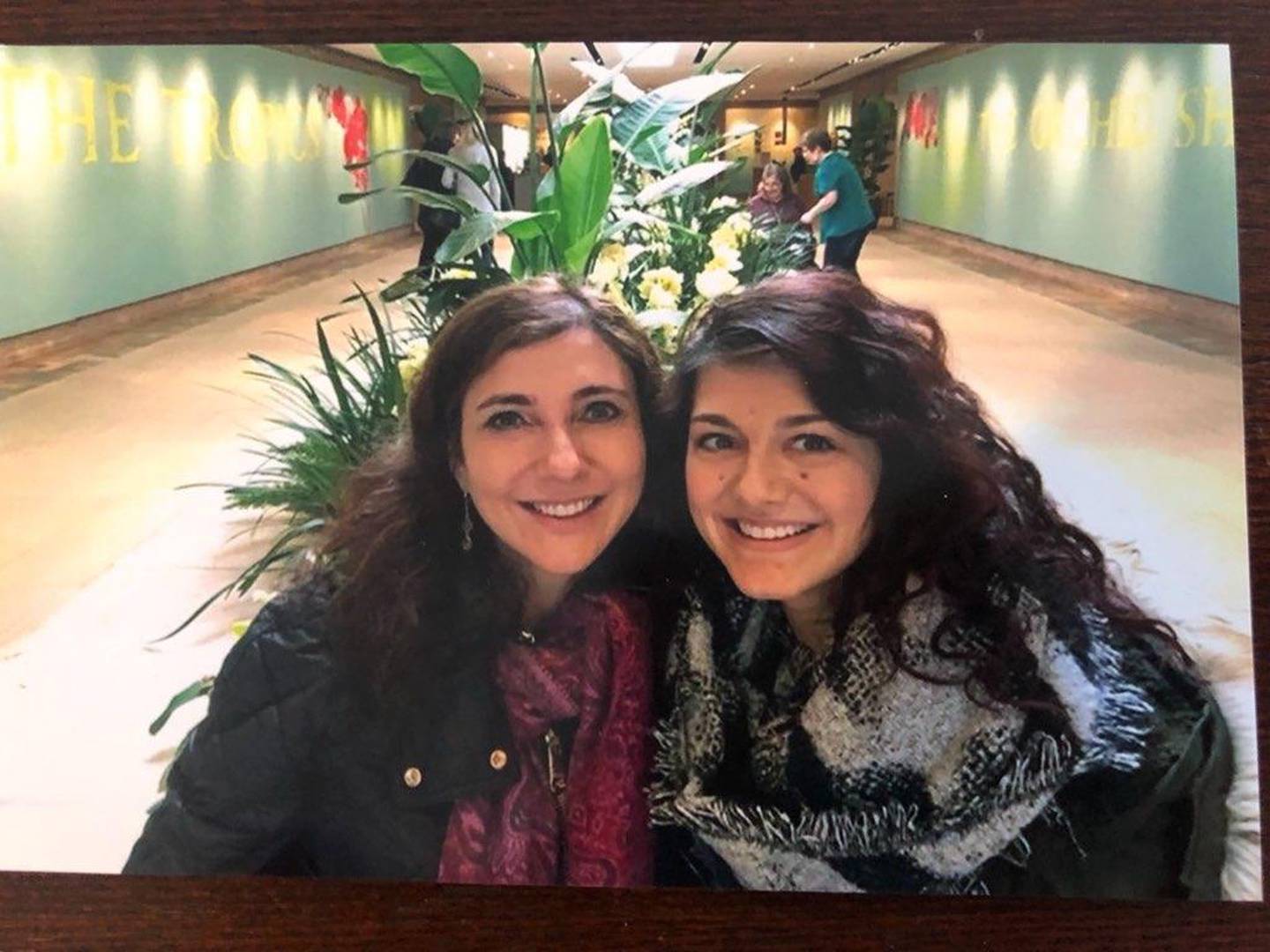 Daniel's daughters and many friends attended Prate's first few court dates until the pandemic limited in-person court proceedings and appearances moved to Zoom. Many still attended via Zoom.
Hearing that Prate had died before standing trial for their friend's murder left her friends and family with mixed emotions.
"I can't help but feel that Margaret had a hand in this," co-worker and friend Nathan Kimes said. "I don't think she wanted us to go through that terrible night (she was killed) in court. I want to think she quietly, but effectively, turned it over to God so that we can move forward and she can finally rest in peace."
Susan Peluchiwski of Medinah, another of Daniel's longtime friends and a co-worker who shared a birthday and a love of peony flowers with Daniel, said Prate "did not suffer" in the same way he was accused of making Daniel suffer.
"But I'm not the final judgment," Peluchiwski said. "Perhaps with the imperfections in our extraordinarily liberal justice system this was the best guarantee of his death."
A car crash eight years earlier
In 2011, Anthony and Bridget Prate had been married for almost 20 years, had two children and lived in a sprawling home on a quiet, rolling, tree-lined street in Algonquin's picturesque Gaslight Terrace West.
Anthony Prate was an eye doctor and partner at two Eye Works Ltd. locations, one in Barrington and the other in Lake Zurich.
Bridget Prate, 45, described by friends and family as "private," "beautiful" and "loving," worked as an occupational therapist for Centegra Health Systems and Rehabilitation in Huntley.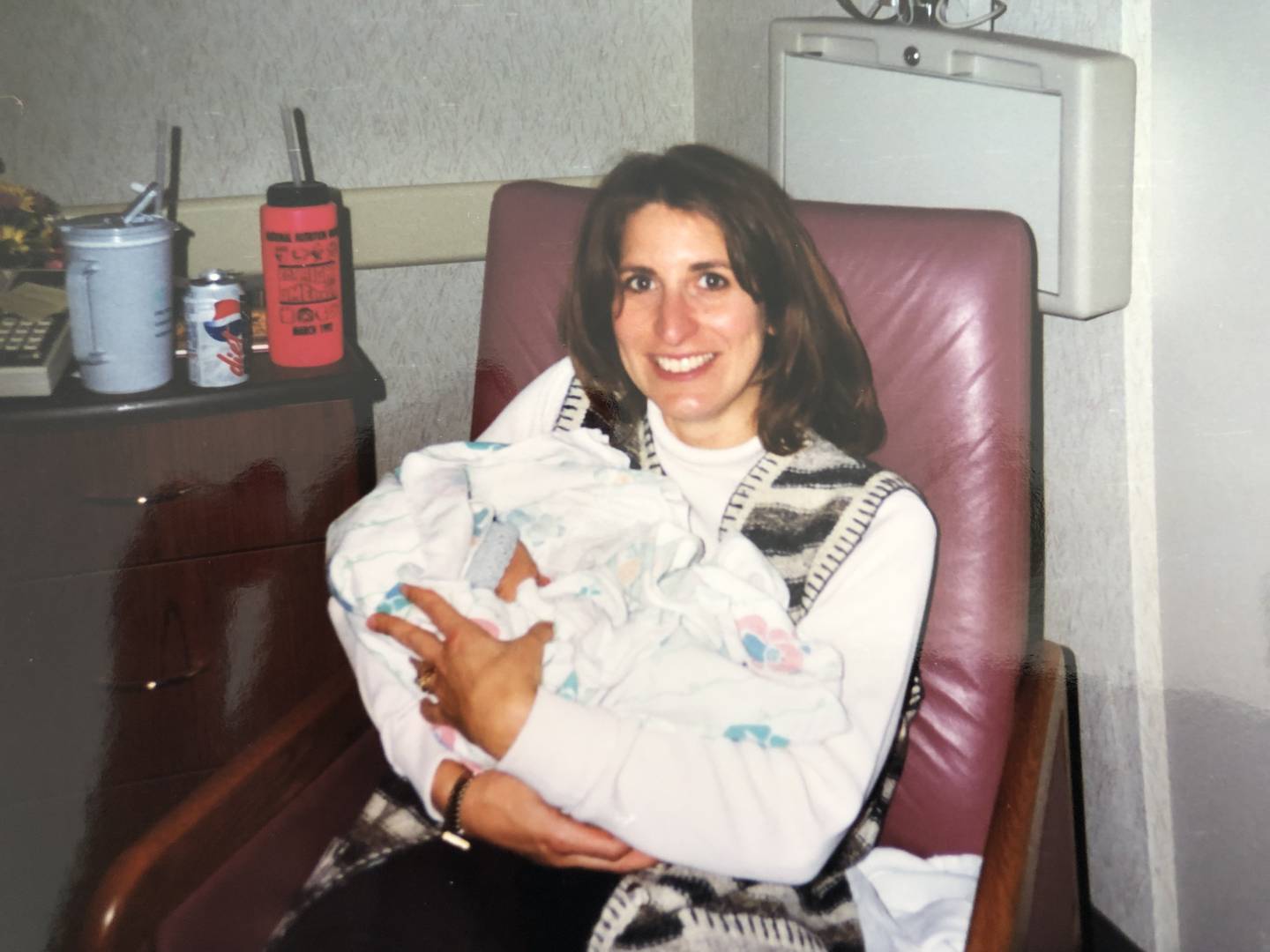 After dinner on March 1, 2011, Bridget and Anthony Prate left their two children, ages 9 and 11, at home to buy a TV at Best Buy in Crystal Lake and then headed to the nearby Nissan dealership, Anthony Prate told Lake in the Hills police, according to police reports.
As Bridget Prate's Nissan Murano, driven by her husband, was traveling north along Pyott Road in Lake in the Hills, it collided with a Chevrolet Suburban traveling south, according to Lake in the Hills police reports.
The Murano went into a ditch, through a fence and hit a tree at what then was Somerset Sporthorse Equestrian Facility, according to witnesses including the Suburban's driver William "Bill" Hinde and Lake in the Hills police reports.
Hinde told police that the Murano hit him in a "split second."
According to witness statements taken by Lake in the Hills police, those first at the scene, including two off-duty paramedics, said Bridget Prate's lower body was under the dashboard on the passenger side, her head lying face-up on the edge of the seat. All airbags except hers had deployed, witnesses and first responders said. Those first at the scene said she had no pulse and was not breathing, according to police reports.
There was "no damage to the [Murano] that would seem to be consistent with a fatal accident," according to Lake in the Hills police reports.
Two responding Algonquin-Lake in the Hills Fire Protection District paramedics later told police that Bridget Prate's condition was "warm to the touch, blue in color" and she had "no pulse and [was] not breathing."
Within moments of hearing a "loud bang," Holly McCann, then Holly Fishburn, said she ran from inside the barn on the equestrian property to the Murano.
Anthony Prate, McCann said, was giving mouth-to-mouth resuscitation while still seated and belted in the driver's seat. McCann checked for a pulse, did not feel one and began giving compressions. She recalled that Prate kept repeating, "Is she breathing?"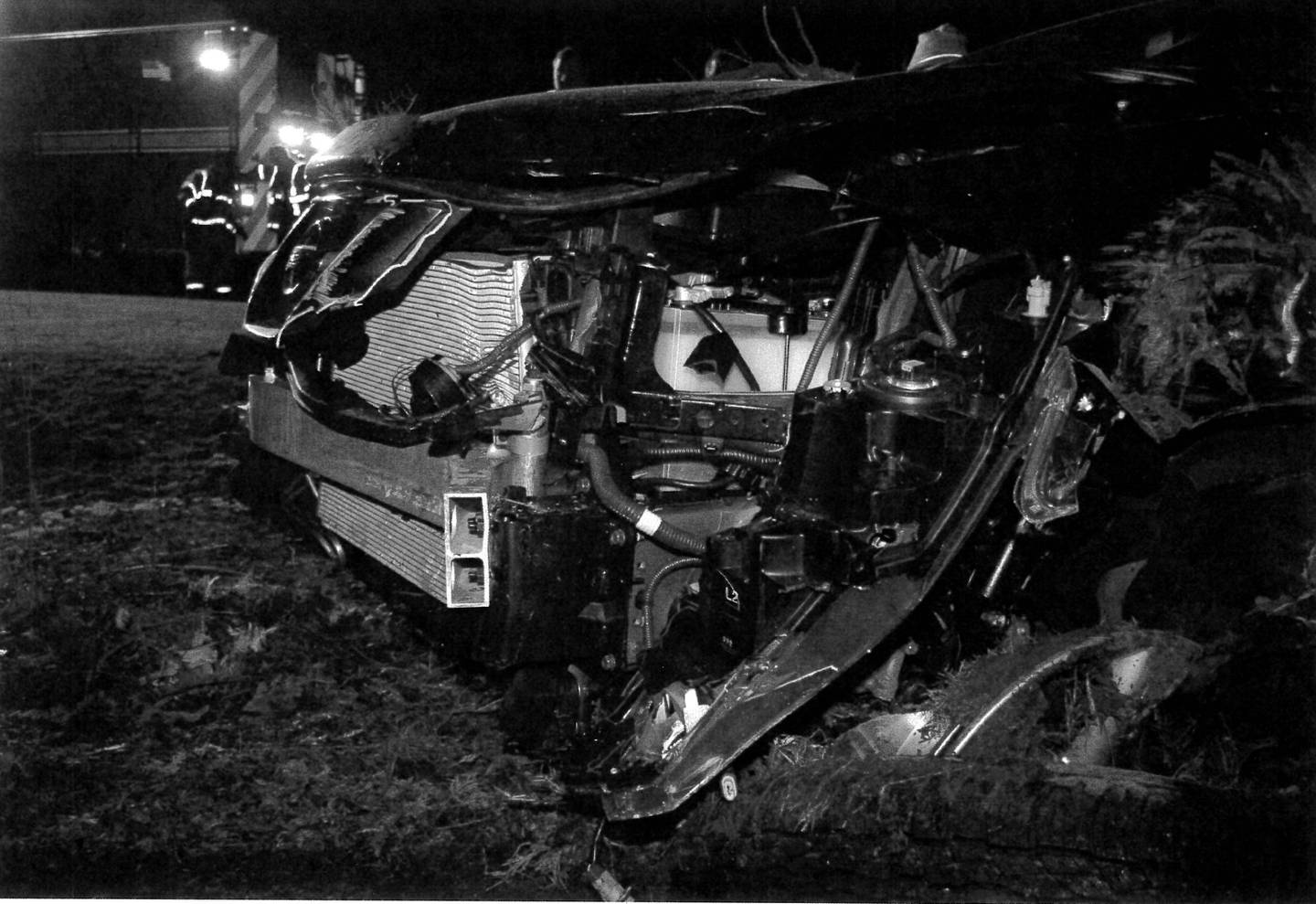 Hinde, the driver of the Suburban, said he gave several interviews to police at the time of the crash. The idea that a woman may have died in a crash that he was involved in troubled him for years, he said.
Hinde had worked as a long-haul truck driver for 16 years and said he witnessed many fatal crashes. But the initial collision with his car, at best, seemed like more of a "fender bender" in which each side would exchange insurance information and move on, he said, adding that he didn't understand why the Murano ended up in the ditch.
In describing to police what occurred inside the car before the collision, Anthony Prate said his wife had turned around, with her knee up on the center console, to grab a water bottle from her purse from the backseat. She was turned around facing backward when he swerved into the oncoming lane, he told police.
Anthony Prate was taken to a hospital in McHenry, treated for minor injuries and released, according to police records.
Bridget Prate, who had a cut on the bridge of her nose, a cut on her left eyebrow and bruising on her left knee, was pronounced "dead on arrival" at Sherman Hospital in Elgin, according to hospital records.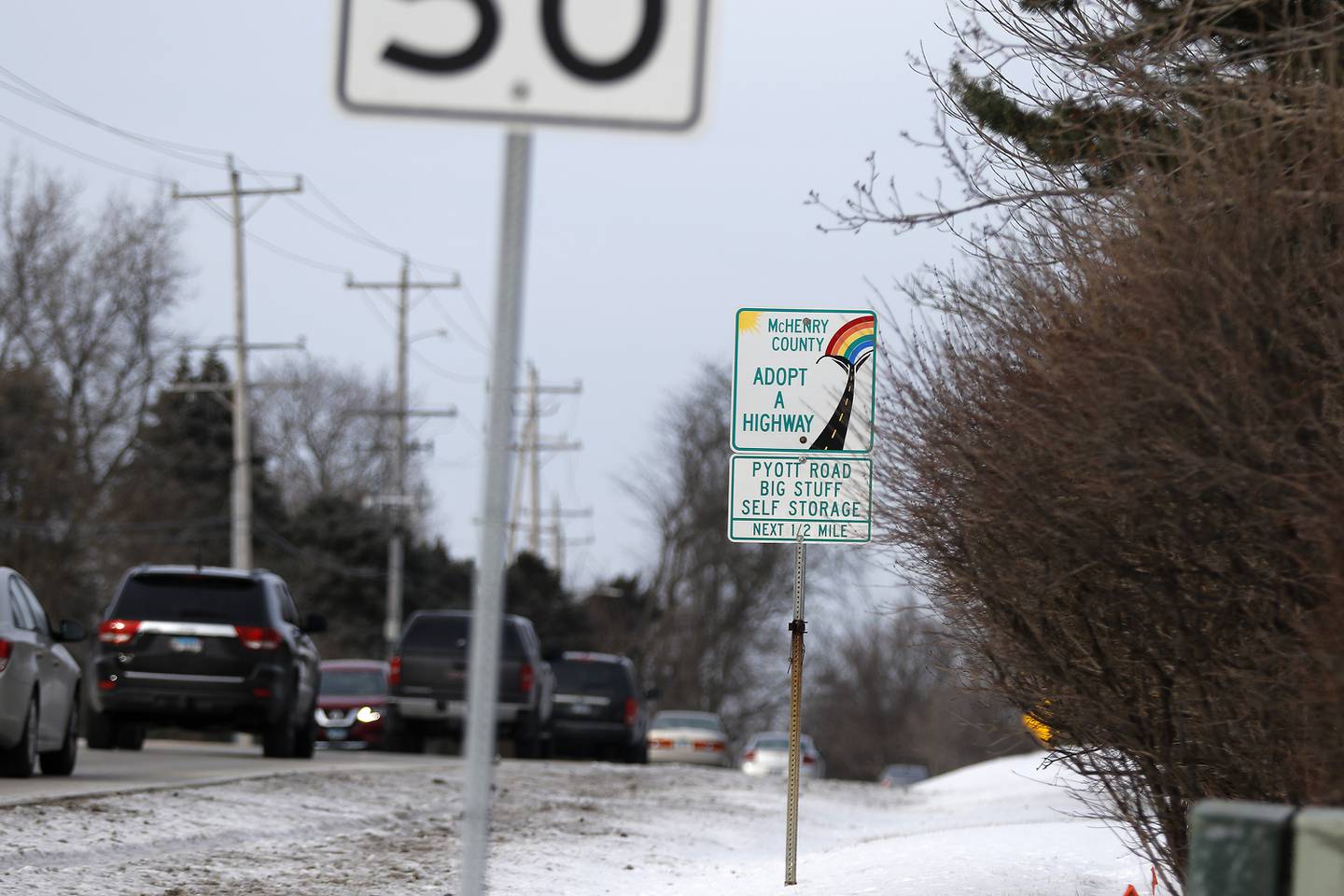 During the investigation, Lake in the Hills police learned about a "domestic trouble" call at the Prate home days before the crash, which prompted them to order an autopsy of Bridget Prate's body, according to police and coroner's reports. Kane County Coroner Charles West initially had said an autopsy was not needed because of spinal injuries.
Anthony Prate made the domestic call to Algonquin police the afternoon of Feb. 24, 2011. He told police that after arriving home, he heard his wife and another man talking in the kitchen, so he hid in a nearby bathroom for about 20 minutes and listened.
He told Algonquin police that his wife and the man, whom he had known as his wife's friend, were planning his death. He said he overheard a statement about who would own their home upon his death, adding that he then confronted the two and an argument ensued.
Anthony Prate told police he became fearful of the man and dialed 911. Police arrived and interviewed each person present. Bridget Prate told police it was a misunderstanding and that she only was helping her friend study for a real estate exam, according to Algonquin police reports.
No arrests were made, according to an Algonquin police report.
That weekend, Anthony Prate called the Algonquin Police Department asking that his wife take a lie detector test, according to an Algonquin police report. He also called Bridget Prate's father and told him they were going to counseling, according to a Lake in the Hills police report.
Bridget Prate called a divorce attorney, although she did not leave a message, according to a Lake in the Hills police report.
Lisa Knecht-Sabres, Bridget Prate's longtime friend, said she called her that weekend and left messages saying how tumultuous things were between her and Anthony. Knecht-Sabres recalled Bridget saying how things had never been that bad and how she needed to leave.
Knecht-Sabres, who made statements to Lake in the Hills police, as well, said she was away in Michigan, out of cellphone range that weekend and didn't hear the messages until it was too late. She called Bridget Prate's number back, but she never answered. When Knecht-Sabres reached her friend's family, she learned she was dead.
Dr. Mark Witeck, the Kane County forensic pathologist who examined Bridget Prate's body, wrote in his report that her body did not show any bruises, contusions or broken bones that would be significant in a fatal car crash. Her organs showed no signs of significant trauma, and there were no signs of disease that would prove to be fatal.
In noting a fracture in the C2 vertebra, he wrote there was "very minor hemorrhage" in the area, indicating it was a postmortem fracture. He also wrote that the fracture was not a displaced break that would have caused her death, according to his autopsy report.
Witeck also reported to a Lake in the Hills officer that "upon further examination of the area around Bridget's spine at the C2 vertebra where the fracture occurred he did not locate any inflammation of tissue that would have occurred if she was alive at the time her neck was fractured. ... Dr. Witeck advised that it is his belief that Bridget was dead prior to the time of the accident," according to the Lake in the Hills police report.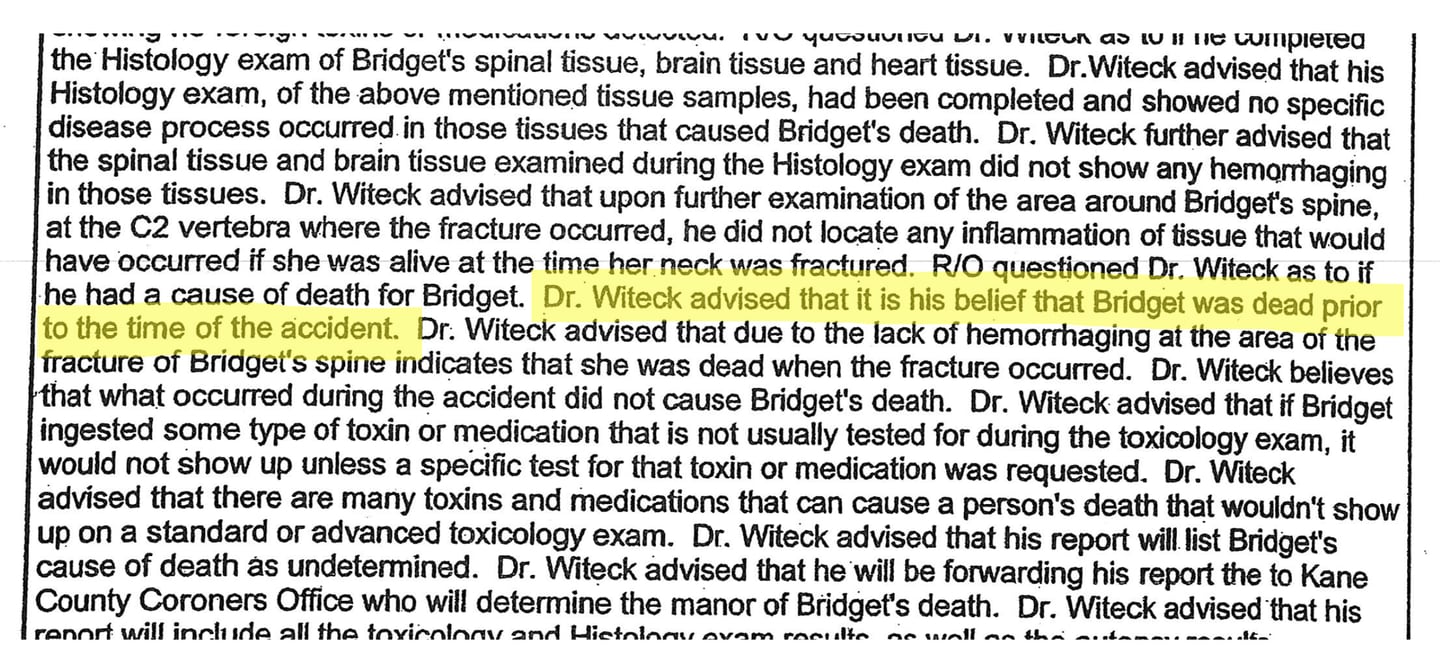 However, he could not find an exact cause of death and ruled her cause and manner of death as "undetermined," according to Witeck's report and Lake in the Hills police reports.
Authorities requested a second autopsy, which was performed by Dr. Larry Blum. Blum indicated that although he could not provide a definite reason for her death, he noted the C2 vertebra fracture as a "probable" cause for her death.
"Dr. Blum's opinion is that Bridget died as a result of the crash," a Lake in the Hills police officer wrote in a report. "While Dr. Blum admits there is no clear cause of death, he feels that the asphyxiation or concussion to her spinal cord are [the] probable cause of her death."
After Daniel's death, Blum – reached by phone in Arizona, where he said he retired – declined to comment, and Witeck did not return emailed requests for comment.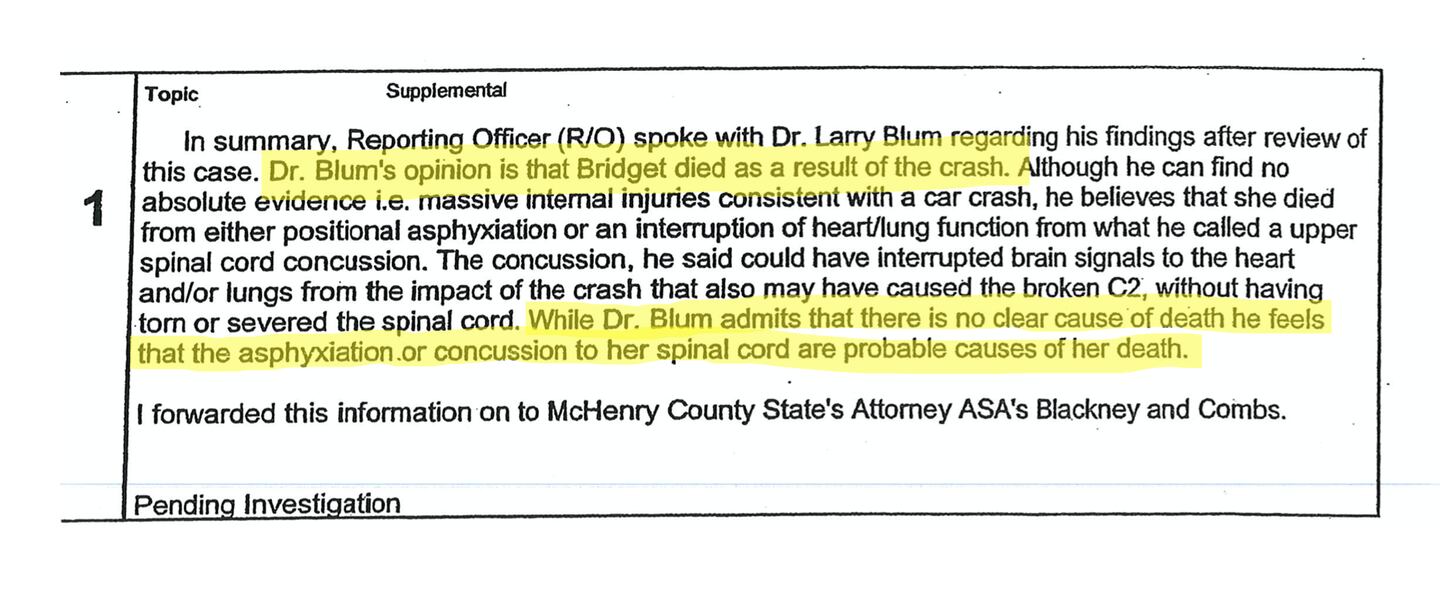 Stalled investigation
During the investigation into his wife's death, Anthony Prate hired Amirante, who is best known for his representation of serial killer John Wayne Gacy. Amirante also represented Prate during almost the first two years in the Daniel case.
At least three attempts by a McHenry County judge and prosecutors to interview the Prate children were unsuccessful, according to McHenry County court records and emails between prosecutors and police.
After Blum provided his opinion of Bridget Prate's death, efforts to interview the children ceased and the investigation halted, according to McHenry County court documents.
According to emails between the McHenry County State's Attorney's Office and Lake in the Hills police during the 2011-12 investigation, prosecutors said they could not secure a conviction based on the evidence presented.
Former Assistant State's Attorney Michael Combs wrote in an email dated Jan. 13, 2012, that he was reluctant to interview the Prates' two children, as the experience could be traumatic and still not lead to charges.
"I have to take a realistic look at this case, and given all that we now know, I don't see any evidence of a crime," Combs said in a separate Jan. 17, 2012, email.
Mary Frake, who at the time was chief of support services at the Lake in the Hills Police Department and now is the department chief, responded to Combs that she was "shocked" by his statement that criminal charges could never be filed.
"What is gained by interviewing the children is contained within our responsibility to conduct a thorough investigation," Frake said in a Jan. 13, 2012, email.
Combs said this week that the final decision not to move forward ultimately rested with then-McHenry County State's Attorney Lou Bianchi.
In the years that followed, the case was revisited by Illinois State Police and Bruce Johnson, a private investigator and former Illinois State Police master sergeant. Johnson, who investigated many fatal crashes during his career with the state police, opined that Bridget Prate did not die in the crash. Lake in the Hills police reviewed it again in 2015, as well as in the months after Daniel's death.
Charges never were filed against Anthony Prate or anyone else in his wife's death.
"Our department, along with the McHenry County State's Attorney's Office, did conduct a thorough investigation into Bridget's death," Frake said in an email last week. "The Illinois State Police review of the case in 2015 and our reopening of the case in 2019 did not provide any additional information. If the death of Mr. Prate now provides any new information, we will absolutely evaluate it."
Kane County Coroner Rob Russell said he questions the circumstances of Bridget Prate's death and soon will review her death with his cold-case team. This review, he said, could include retesting her body tissues and fluids with new scientific research not available 10 years ago and a crash reenactment.
Russell said knowing exactly why and how Bridget Prate died still is important.
"Justice never dies," he said.