After the sun went down and prayers were called, the food came out.
First, by tradition, Muslims take a drink of water and eat dates to break the daily Ramadan fast, said Farzana Nasaruddin, a board member and the social event chairwoman at the American Muslim Community Organization in Lake in the Hills.
But the communal meal there – and at many American mosques – reflects the diverse background of its members with American classics such as pizza and burgers for the teenagers, sliced fruit and fruit juice, and culinary specialties from the many countries represented by the congregation, she said.
The Lake in the Hills congregation draws members originally from India, Palestine, Pakistan, Egypt, Turkey and many other Middle Eastern countries.
The scene is similar to any Sunday afternoon church potluck; adults stand near the food and talk while the children scurry off to eat with their friends.
The breaking of the fast – once before sunrise and once after sundown – is part of Ramadan. According to McHenry County Muslim leaders, the Islamic faith's month is more importantly a time of reflection, worship, understanding, charity and fellowship – in addition to prayer and fasting.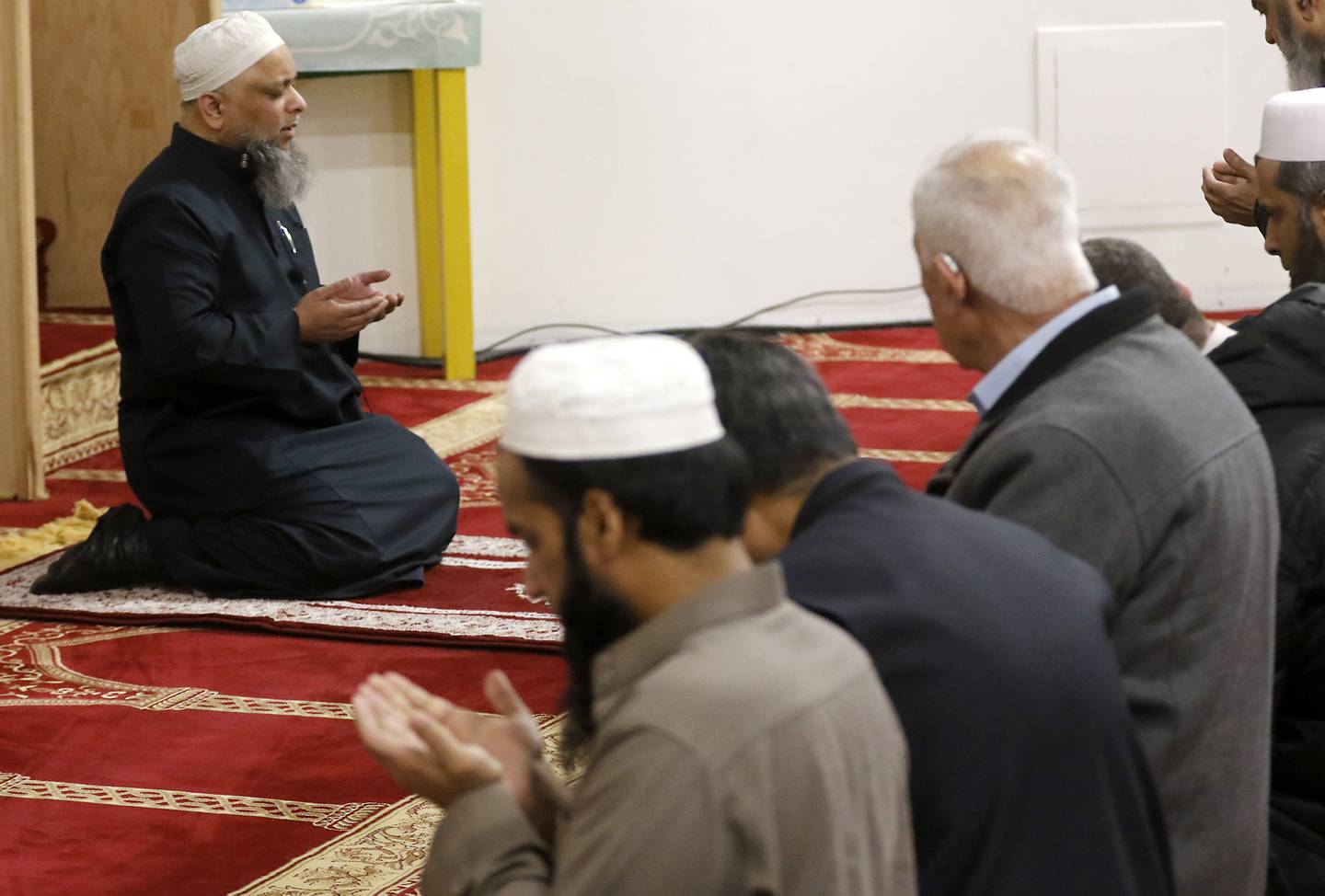 Ramadan, the ninth month of the Muslim year, began March 22 and continues for 30 days. Each year, because Ramadan is observed on a lunar cycle, its dates change, said Jamil Azzeh, president of the Lake in the Hills mosque.
Ramadan is one of the pillars – fundamental practices – of Islam. During the month, which tradition holds is when the Quran was first revealed to the prophet Muhammad, Muslims fast during daylight hours.
Some of those leaders gathered Tuesday at the Lake in the Hills mosque to break their fast together. Once the meal is done, the final prayers of the night began. Another 150 congregants arrived for that part of Ramadan's observance, which can go on for another hour or two.
This month is a month of reflection, to better ourselves and better everyone around us.

—  Lake in the Hills' American Muslim Community Organization spiritual leader Syed Hashmi Alquadri.
"This month is a month of reflection, to better ourselves and better everyone around us," Syed Hashmi Alquadri said. He is both the mosque's spiritual leader and its Sunday school director.
"It is about faith, but not just as individuals, but also what makes us part of a human society," Alquadri said.
There are two local mosques - the Lake in the Hills center and the Islamic Center of McHenry County in Crystal Lake. Both are hosting events for their congregants as part of their observation and invite those who may want to learn about the faith and customs to contact them.
"That may be a way to start more valuing and respect to each other, if we talk to each other" about the tenants of their respective faiths, Crystal Lake mosque community leader Farhan Rehman said.
"That is a good source to find respect – mingle first, to understand each other. In my mind we have to invite each other" to open those lines of communication, Rehman said.
Rehman and the Crystal Lake mosque often start with inviting non-Muslims to Friday prayers. "They can come and sit with us" to learn about Muslim traditions, he said.
This is a time for their faith community to join together, Nasaruddin said.
Prayers are offered at the mosques five times each day, as prescribed by the religion. During Ramadan, "there are a lot who try to come every day, two or three times a day," Nasaruddin said, with more coming to the center on weekends.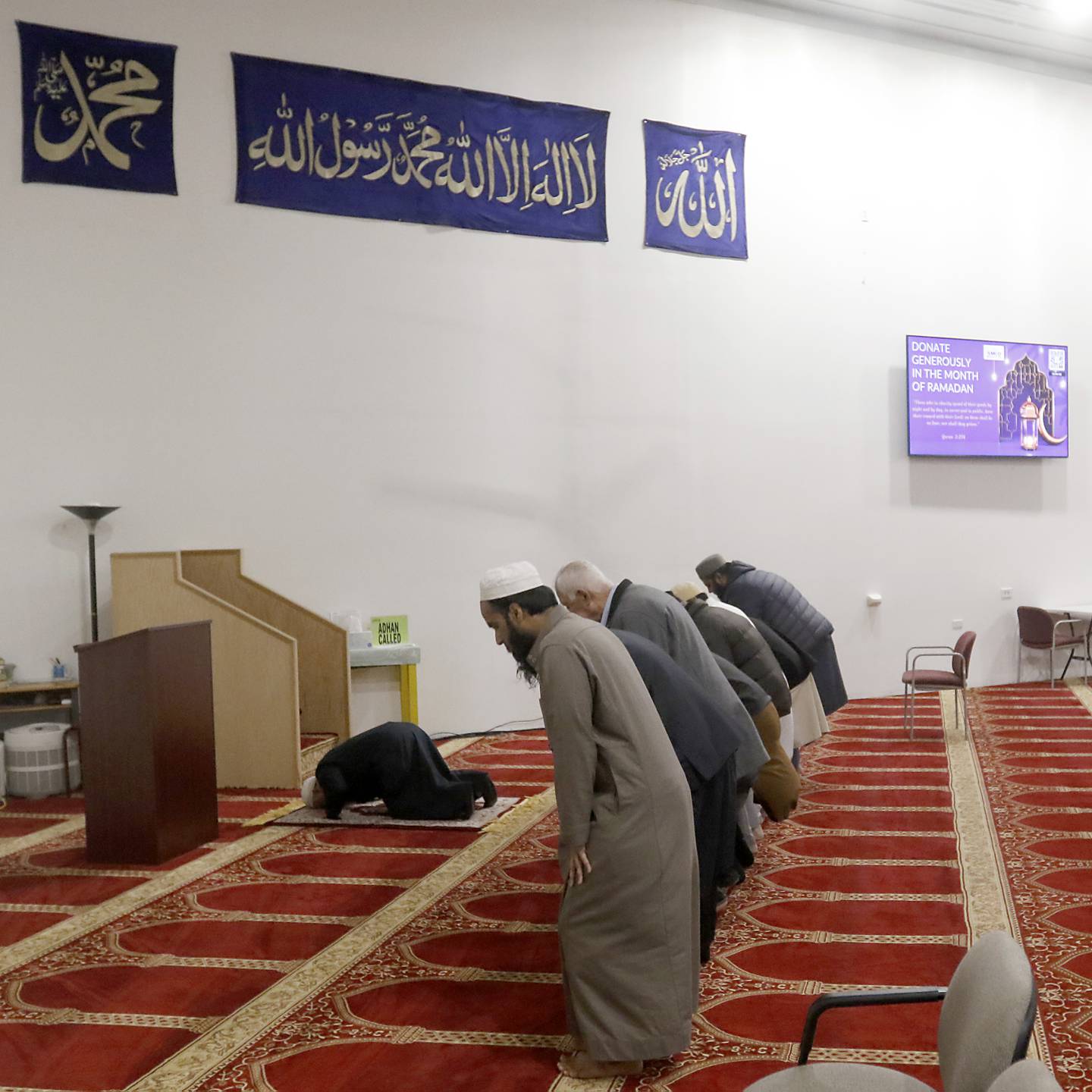 Events like Tuesday's, where food was offered before prayers, are not an everyday occurrence during Ramadan, she said. Some adults come to gather with friends. Many more children were there, meeting their friends in the mosque's school as they broke their fasts together.
"All of our families and friends gather together" for the late meal either at home or at the mosque, Nasaruddin said. Following that meal comes prayers and reciting a chapter of the Quran.
Other special events, including packing food boxes for those experiencing food insecurity, are part of their observance, said Ghazala Alam. Those boxes then are distributed to the community, irregardless of faith.
Charity also is one of the five pillars of Islam.
"This is us investing into the community and those who are unfortunate to not have what they need," Alquadri saud.
Eid al-Fitr marks the end of the month and the fasting. It is a celebration, and for the Lake in the Hills mosque often at an event venue to accommodate the 1,000 to 1,200 people from the Muslim community expected to attend.
Those are the details of Ramadan, Alquadri said, but not the reason for it, or the goal.
"At a micro level, it is an individual obligation. At a macro level, it is our contribution to the rest of the world" by focusing on others during it, he said.