Ann Painchaud remembers when the U.S. Supreme Court decided Roe v. Wade in 1973, and it was a "momentous occasion," she said Saturday.
Growing up in rural North Carolina, Painchaud, who now lives in Algonquin, said she remembers when her mother and friends would whisper about neighbors carrying out an abortion procedure on their own, sometimes with coat hangers. The landmark Roe v. Wade changed that – guaranteeing a woman's ability to get an abortion in the U.S.
While abortion remains legal in Illinois, the U.S. Supreme Court in June overturned the Roe v. Wade which had previously legalized abortion nationwide.
"You don't have to be pro-abortion to be pro-women's health," she said. "We need to stand up for women's rights."
It was this belief that brought Painchaud out to a pro-choice rally held in Algonquin Saturday, which saw north of 50 people show up.
The rally, held by Standing Up Against Racism – Woodstock, the McHenry County Citizens for Choice, and McHenry County NOW, took place at the intersection of Algonquin and Randall roads.
Residents, as well as local political candidates made their way out to hold up signs and draw attention to passing traffic. Throughout the event, cars honked to show their support. The organizations hosting it provided signs to those in attendance.
Others brought their own signs, some of which had coat hangers taped to them. Others had written remarks such as "Keep your laws off my body," and "My body, my choice."
Susan Labaj of Crystal Lake said she's become more active in politics since 2016. Following the decision to overturn Roe in June, Labaj said her activities saw another uptick. She, too, remembers when Roe was decided in 1973.
"I'm very concerned," she said. "It's an astounding move backwards from so many aspects."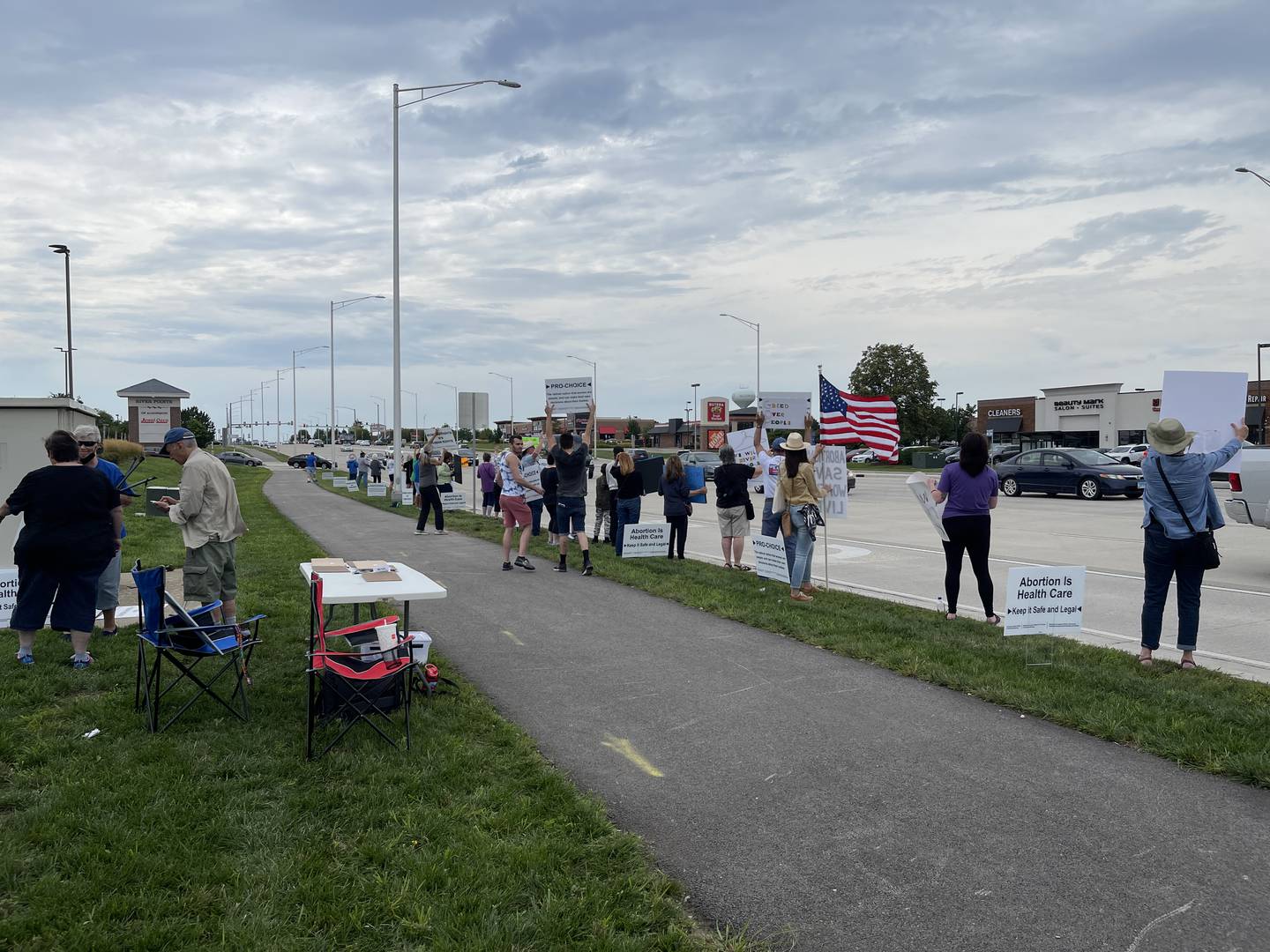 Several McHenry County Board members and candidates, Democratic candidate for McHenry County Treasurer Amin Karim were among the politicians that showed up Saturday.
"I think it's a woman's right, and men have nothing to do with it," Karim said. "Pregnancy is something that we men don't understand."
Despite this, the topic of men participating was something several attendees discussed.
Specifically, women in attendance, such as Painchaud, said it was important to get men to take responsibility.
Roger Fraser of Rolling Meadows was one of the men in attendance. He said the issue of abortion was one of several things that brought him out on Saturday. He said in general, it's important for everyone to stand up for those he described as oppressed.
"We need to stand for reproductive rights," he said. "We need to stand for any oppressed minority, because there's a lot of them, both racial and sexual."
Saturday's rally was one of many that has been held in the area following the U.S. Supreme Court's June decision, which leaves it up to the states to decide abortion access.
In a joint statement about the rally, the three organizations involved gave examples of various issues that restricting access to abortion can cause. They also criticized Republican gubernatorial candidate Darren Bailey, who is challenging Gov. JB Pritzker in November and has been vocally opposed to abortion. Pritzker supports abortion rights.
"We will not go back to a time where others get to dictate what we do with our bodies," according to the statement. "We are here to tell everyone that abortion is health care and a human right."