More than 40 years after its founding, the Clayworkers' Guild of Illinois has a home it can call its own.
The guild moved locations in Woodstock this past March after spending about 30 years hosting its sales and products out of the Old Courthouse and Sheriff's House in downtown Woodstock.
Now at its new location at 220 Main St., the group hopes to expand its capabilities with a storefront, called Artisans on Main, already set up for multiple artisans and a basement that could allow the group to host various workshops.
But even with the change, much will stay the same. The group has traditionally always been located on the historic Woodstock Square. The new location sits just off the area, which will help them retain some consistency, its leaders said.
"We really lucked into a wonderful location," Vice President Patricia "Trish" Vollkommer said. "And we're just off the Square so that helps."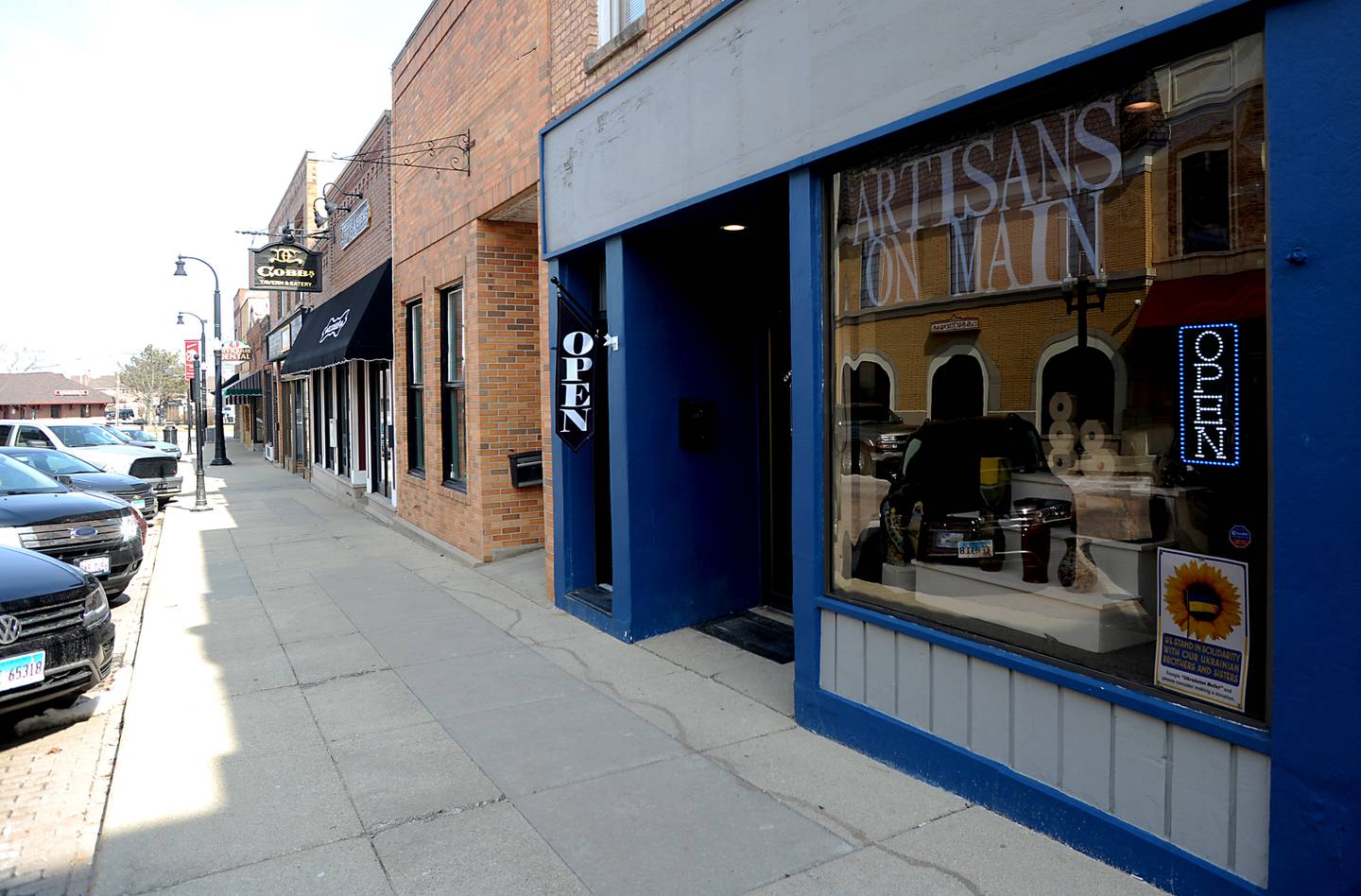 What began as an organization dedicated to building support and clout for potters now hosts more than 50 members, mostly from the area, with a wide range of skills and specialties, including painters and potters working with glass and jewelry, President Anne Marie Whitmore Lenzini said.
The goal is to become more inclusive to other types of mediums, Lenzini said. She said learning from other artists is the "pinnacle" of what they do and helps expand their craft.
Susan Clough, of Crystal Lake, has been a member since 2008 and currently is the guild's member chairman. She said inviting different mediums into the group is something she loves as well.
"I'm so excited for the direction that we're going that we're being a little more inclusive in our membership," Clough said.
The guild also began looking for a new space ahead of the planned renovation of the Old Courthouse, Lenzini said.
While Creative Woodstock, an arts center planned for the Old Courthouse once it's completed, could act as an option for the guild, Lenzini said they felt it was important to take the initiative themselves and find a landing place.
Enter the new location, just across from the Classic Cinemas Woodstock Theater, which has both a storefront and a 1,400-square-foot basement that Lenzini and Vollkommer hope will allow them to host workshops.
"It's pretty rough and basic," Lenzini said. "We still have a lot of work to do in the basement area."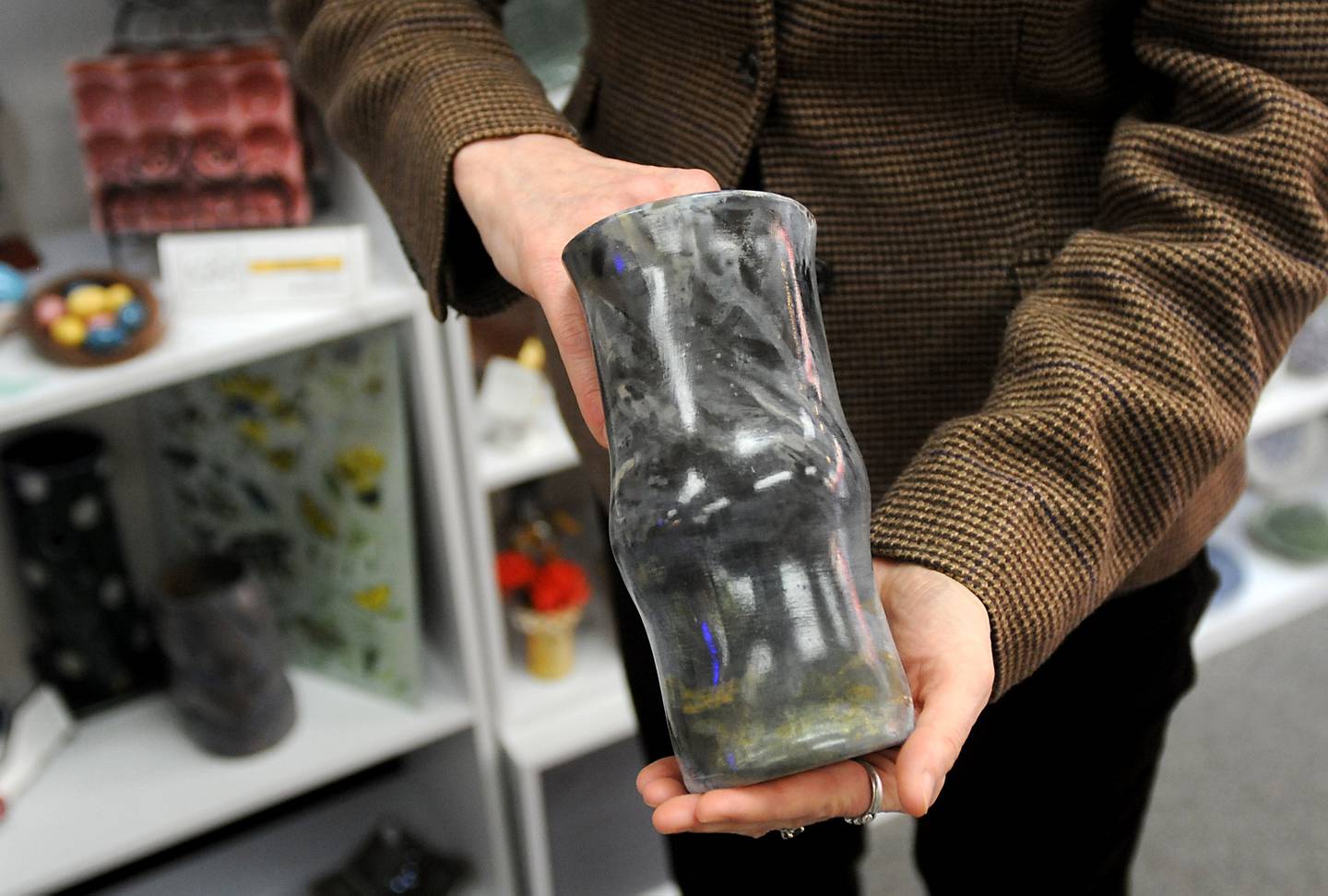 The main floor of the site currently has a couple dozen artists working out of the store, Lenzini said. The artists have their own stands set up, which they each pay for. Some split a spot, but the guild is ultimately member-funded, Vollkommer said.
Clough has her own stand, which she didn't have plans for at first, she said. To get the space ready was a lot of work, with Clough saying they put in a lot of "sweat equity."
"I saw the space and got so excited about it," she said. "I didn't want to miss this opportunity. ... It's such a beautiful building."
It's been a long journey to a home of its own, both Lenzini and Vollkommer said. When the guild started, they were working out of each other's homes, and then eventually hosted shows out of libraries, Vollkommer said.
The next step, along with hosting its sales out of the Old Courthouse, was for many of the members to enroll as students at McHenry County College, which more than two dozen are currently. Under the tutelage of Tom Vician, the college's ceramics instructor, Lenzini and Vollkommer said the guild has constant access to both new technology and techniques within the craft.
Some of that includes a new sandblasting machine and a device that amounts to a 3D printer, but for pots, Lenzini said.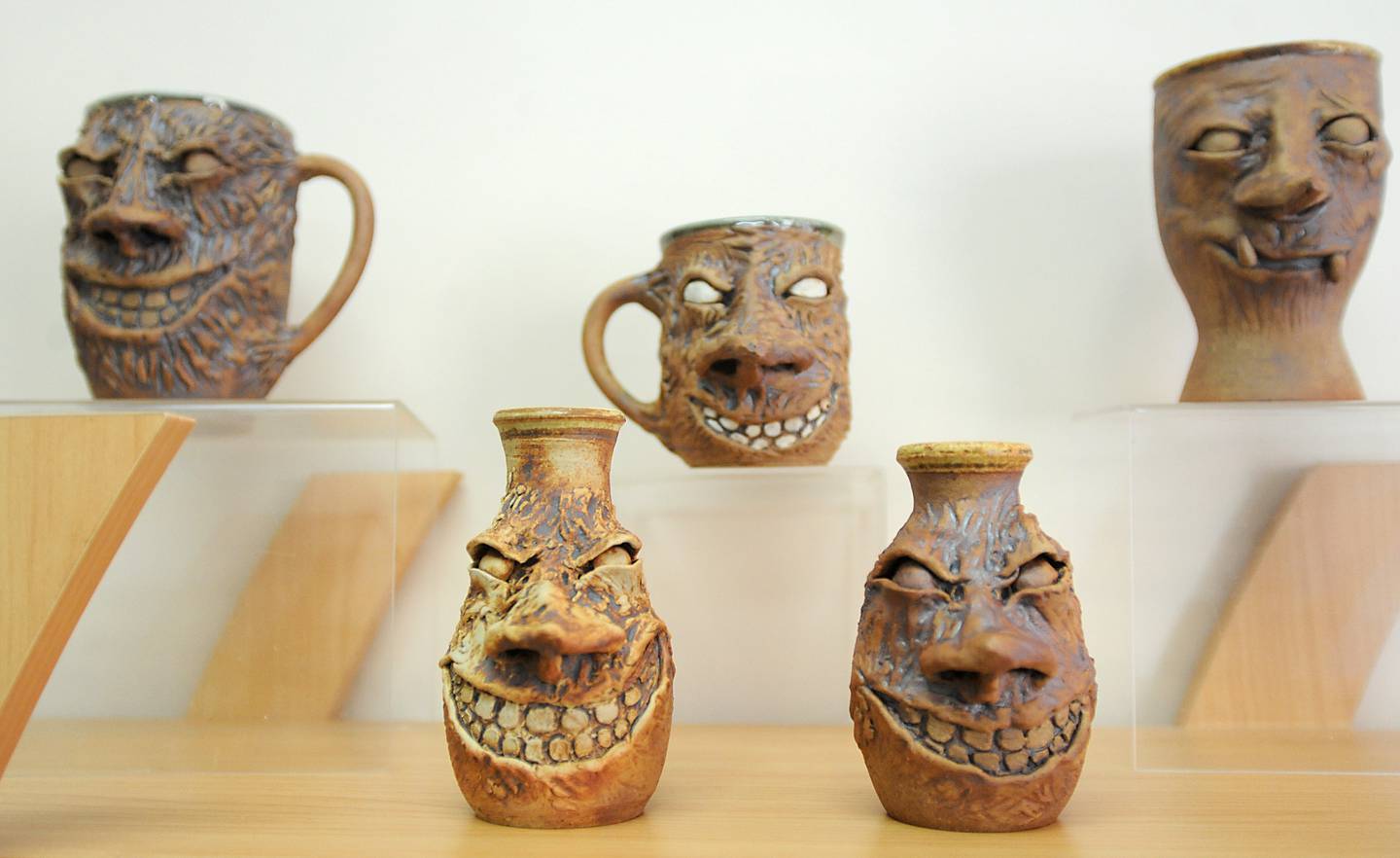 "The things that we're learning, just so many different techniques keep us on the cutting edge of the arts," Lenzini said.
While they won't completely depart from the college, Lenzini and Vollkommer said the new space and its basement will allow the group to hold its own workshops. This also will allow them to expand the workshops' access to those who may not be able to attend classes at MCC, they said.
Workshops have been a massive component in general for the guild. Clough, a lifelong lover of art, said it was through a workshop she decided to join the guild.
"In the beginning, I was hesitant because I wasn't a professional," she said. "But they assured me you didn't have to be a professional to join."
That, in turn, also helps grow the guild's reputation.
Vollkommer, who has been with the guild for more than 30 years, said they have held workshops with the "biggest names in pottery" over the years, including the late international pottery teacher Robin Hopper, Australian-based artist Brian Gartside and New Jersey-based artist Louise Wheeler, the latter of whom did one with them over Zoom because of the COVID-19 pandemic.
"They've heard our standards," Vollkommer said. "We're very happy we're on the rise."