HUNTLEY – After getting hard-fought wins against Boylan, Palatine and St. Viator to start the season, the Huntley girls basketball team continued its hot start Tuesday and showed why it won't be an easy matchup for anyone in the Fox Valley Conference, too.
Holding Prairie Ridge to 10 points or fewer in three of four quarters, Huntley defeated the Wolves, 53-38, in the FVC opener for both teams.
"I'm just proud of how we responded when they faced some adversity," Huntley coach Steve Raethz said. "At some point we knew Prairie Ridge was going to make a run. They've got some great players. They did a great job of cutting into our lead, and our players did a great job of responding.
"This is really a good group of kids and they work extremely hard. It's a really fun group to coach."
The Raiders (4-1, 1-0 FVC) led, 37-19, with 3:29 remaining in the third quarter, but a 9-2 run by the Wolves (3-2, 0-1) cut their lead to 39-28. Prairie Ridge however, would not get any closer than nine points the rest of the way.
FVC girls hoops: Huntley 11, Prairie Ridge 4, end of 1st. Raiders with great ball movement here and Jessie Ozzauto hits her second 3 of the quarter. pic.twitter.com/yKw3xpBKJZ

— Alex Kantecki (@akantecki) December 1, 2021
Wolves coach Tim Taege said his team didn't do a good job of handling the Raiders' defensive pressure in the first half while their offense wasn't clicking from the start. The Wolves had only four points through the first 11 minutes of the game and trailed, 17-4.
"If you can just sit in and play with some poise and play strong with the basketball, you're going to give yourself opportunities," Taege said. "You don't and you get hesitant, then you don't make plays.
"In that third, they showed a lot of fight, ran our offense and did some good things to get us back in the game. I think we scored 16 in the quarter. That is fantastic against a Huntley team. That gave us a chance. We were one missed bunny from making it [a seven-point deficit], which puts you right in it."
Karsen Karlblom, last season's area-leading scorer, finished with a game high-17 points and three 3s. Huntley junior guard Sammi Campanelli followed the Wolves senior all over the court for the first 2 1/2 quarters before getting into foul trouble in the third.
Karlblom had 14 of her 17 points over the final 10 minutes.
"We've been preparing for that the whole week," Campanelli said of guarding Karlblom. "We were ready. With the help of my teammates, it was really just effortless because I didn't have to worry about getting beat. They always had my back."
Raethz said it was a collective team effort defensively, but Campanelli is someone they trust against anybody.
"She's a really good player on both ends," Raethz said. "She brings such great toughness, we can always count on her to guard the best perimeter player on the other team. She welcomes that challenge and does a great job with it.
"All of kids have answered the bell and done a good job of playing great team defense."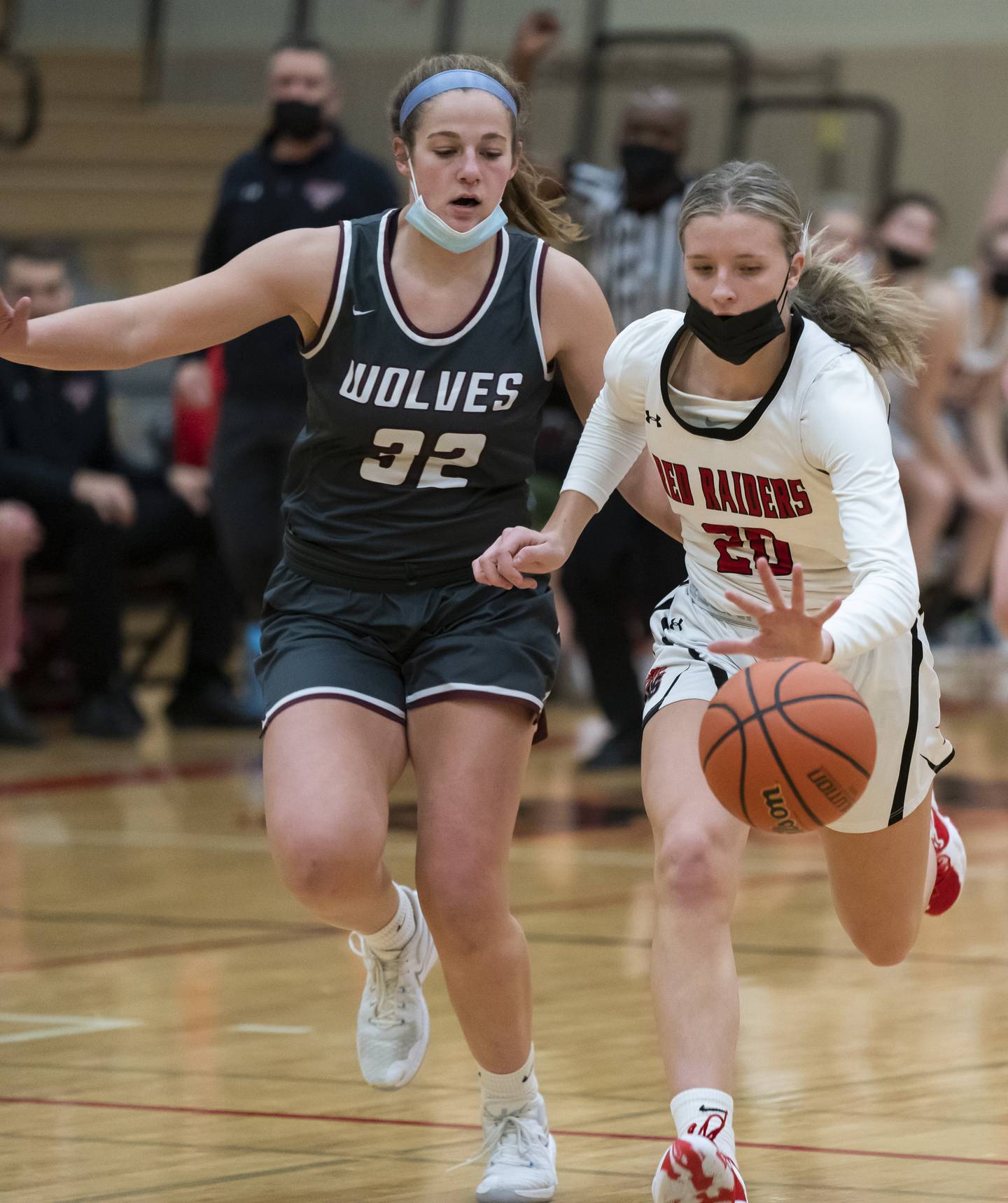 Jessie Ozzauto led the Raiders with 15 points and three 3s, Jori Heard recorded 12 points and 15 rebounds, and Campanelli had 10 points and four assists. Morgan McCaughn (five assists) and Nicole Flaherty both added five points.
Elani Nanos scored 12 points for Prairie Ridge. Kelly Gende had four points and three steals.
Ozzauto said the Raiders believe they have the right makeup to contend for an FVC title. Huntley took runner-up to Burlington Central, which didn't lose a game in conference play during the regular season and the FVC tournament last spring.
"I think we just work so well together, and we all trust each other," Ozzauto said. "Defensively is where it starts because it leads to offense, and we're strong with the ball. We know the right decisions to make, we trust each other with our passing and shooting, and it all connects.
"We really focus on defense because that's what wins games. It's what we take pride in."