With no postseason for any basketball teams this COVID-shortened season, Burlington Central and Huntley made the best of their season finale Friday night.
Meeting in the Fox Valley Conference tournament championship game at Burlington, the Rockets allowed visiting Huntley to bring fans. Combined with the back-and-forth action on the court, Burlington Central's hard-fought 52-46 win definitely gave both teams a taste of postseason basketball everyone is missing.
"It was almost normal-ish," is how Burlington Central coach Collin Kalamatas described it.
"It was a great atmosphere tonight," Huntley coach Steve Raethz said. "I'm so proud of (my players) and happy for them not only to have a season but be able to play in this game and play for a conference tournament championship and be playing for something in their last game."
After a rough start that saw the teams combine to make just 3 of 24 shots with Huntley leading 5-4 after the first quarter, the pace picked up the final three.
The teams traded the lead eight times in the second quarter, the Red Raiders (10-4) getting the final one when Kamsi Nwogu swished a 3-pointer with 10 seconds left for a 19-17 halftime lead.
The Rockets (13-2), who didn't lose a game in the FVC this year after finishing second last season, stayed within two points at half despite missing all 11 of their first-half 3-pointers.
They quickly heated up in the third quarter. Elana Wells hit the first one, then Taylor Charles connected, tying the game at 23.
"If our shot is not falling we don't stop shooting," Wells said. "Luckily our shots were falling in the second half, not just me but some other girls hit big-time shots too."
Rylie DuVal made one of them, making it 29-29 before Wells drained her third 3 of the third quarter, a deep one, to put the Rockets ahead to stay, 36-33. Lauren Knief capped the quarter by driving for a basket and a 38-33 lead.
"It's hard to hold down a team like that and really good players like that for a full game," Raethz said. "Elana showed why she is such a good player to knock down some of those 3s from 24, 25 feet, you have to tip your hat and give her credit. That really swung things in their direction in the third quarter."
The Rockets pushed their lead to 46-35 in the fourth on DuVal's two free throws. Wells left the game briefly with a cramp in her left leg but returned to close out her four standout years with one last driving basket, giving her 17 points to tie Charles for the team-high.
"I can't say enough about Elana Wells and what a special player she is to put the team on her back in the third quarter," Kalamatas said. "I continue to be impressed by that kid every game she plays."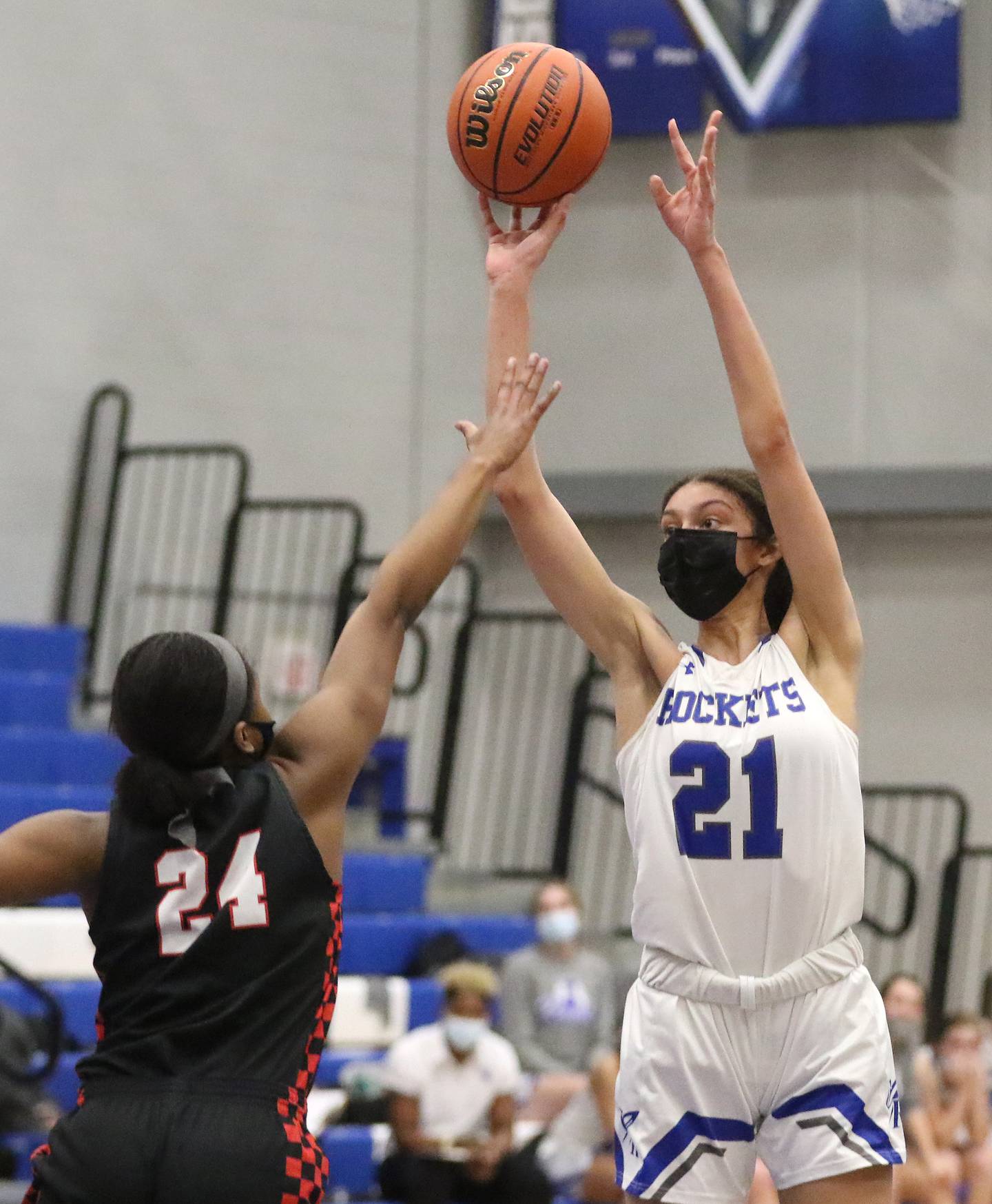 Charles nearly had a triple double with her 17 points plus 12 rebounds and nine blocked shots, a strong finish for the junior transfer from Montini.
"I loved every single second of it," Charles said of the season. "I'm sad it was cut short. I'm so happy here. We live for moments like this."
"To see her break through in a big game, that's exactly the Taylor Charles we were expecting this year," Kalamatas said.
DuVal scored all eight of her points in the second half for the Rockets. Sophomore Samantha Origel hit a corner 3 early in the fourth quarter to extend the lead.
Nwogu paced all scorers with 18 points. She's one of seven seniors Raethz credited with getting his program back on the right track the past two years.
Carley Faulkner and Jessie Ozzauto both added seven points.
"I really loved coaching this team the last six weeks; would have loved to have an opportunity to coach them the last four and a half months," Raethz said.