HUNTLEY – Huntley senior outside hitter Michael Przybylski raced to the back line to save what looked like a sure point for St. Charles North, launched his body at the ball and passed it backward to a teammate.
The Red Raiders went on to earn the point against the North Stars as part of a 6-2 run late in the second set, grabbing their first lead since winning the opening point of Monday's nonconference match.
Sometimes a slow starter, Huntley has made a habit of working its way back into sets and matches against sometimes more experienced teams throughout the course of a record-breaking season.
"A lot of teams come out and know they can beat us," said Raiders coach Gerry Marchand, who helped start the boys volleyball program at the school. "The first game goes by, and we realize that we can hang with them. We make a few adjustments, I tell the guys what they're doing to us that maybe they have never seen before.
"If they work on those things that we talk about between games, it usually goes pretty well for us."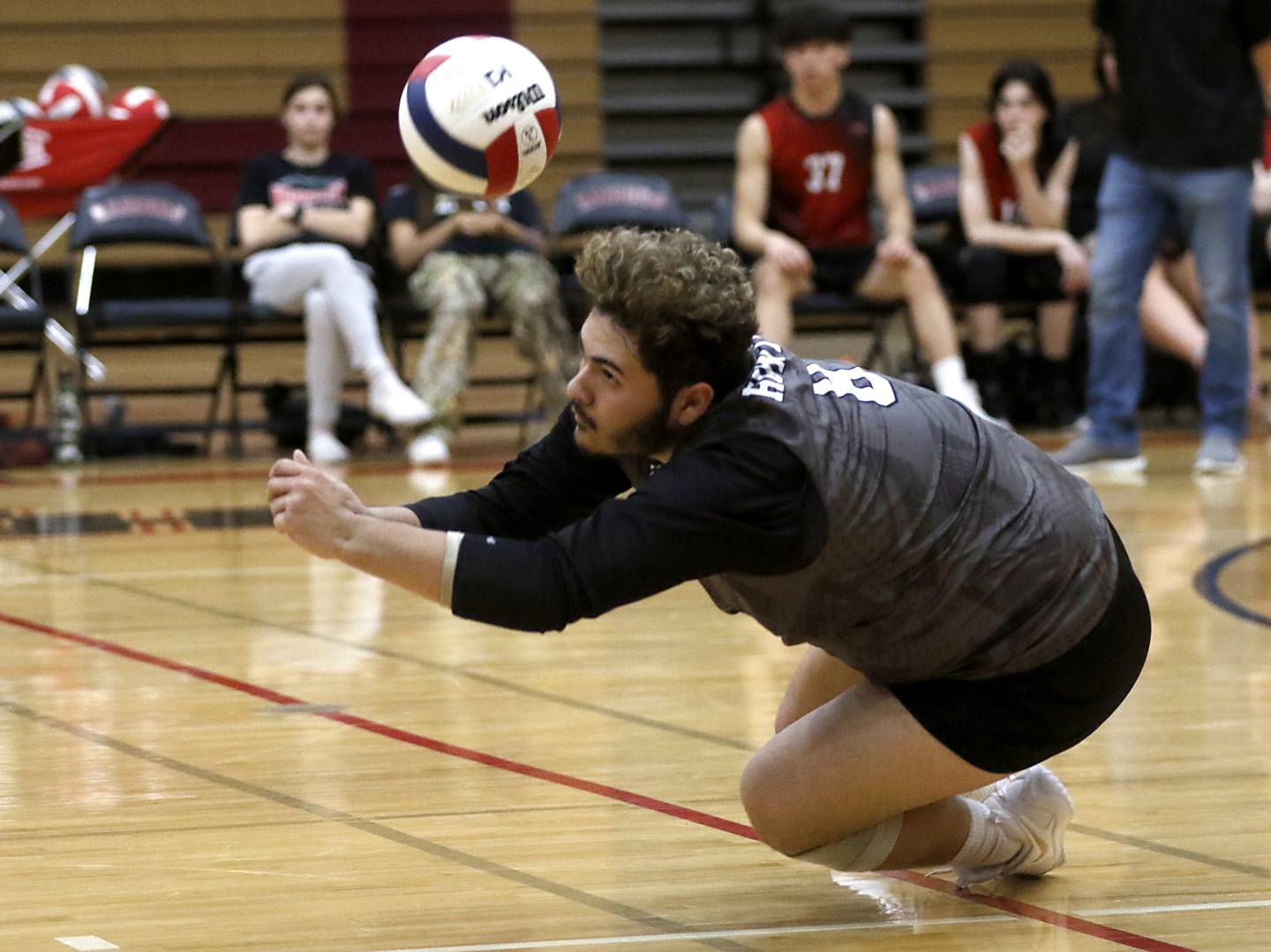 Huntley, at least on Monday, was unable to hold onto its second-set lead against St. Charles North, which received 12 kills and an ace from senior outside hitter John Jakaitis in an eventual 25-15, 25-21 win.
Despite Monday's loss, Huntley (12-11) is enjoying its most successful season after going a combined 11-39 over the past two seasons. Before that, the Raiders had a four-win season and two winless seasons.
St. Charles North coach Todd Weimer remembers going up against Huntley during the Raiders' first varsity season in 2016.
"It was rough," said Weimer, in his 14th season with the North Stars. "It was ugly, and you just kind of felt bad. It was dead silent in the gym. But [Marchand] has really grown the program. I think he might have more players in their program than we do now. He's developed a really competitive team."
St. Charles North (11-15) was sending three players to block Huntley's top player, senior outside hitter Jayden Bell, who finished with a team-high six kills. Four of his six kills came in the first set. Bell had to leave in the second set because of a band commitment.
Marchand said he has never had a player from his team demand so much attention.
"Teams know about him, and that's the first time we've ever had teams recognize who the star player is for us, having to stop somebody in order to beat us," Marchand said. "It's kind of fun. Jayden can play any position on the court, and he can be the best player at that position."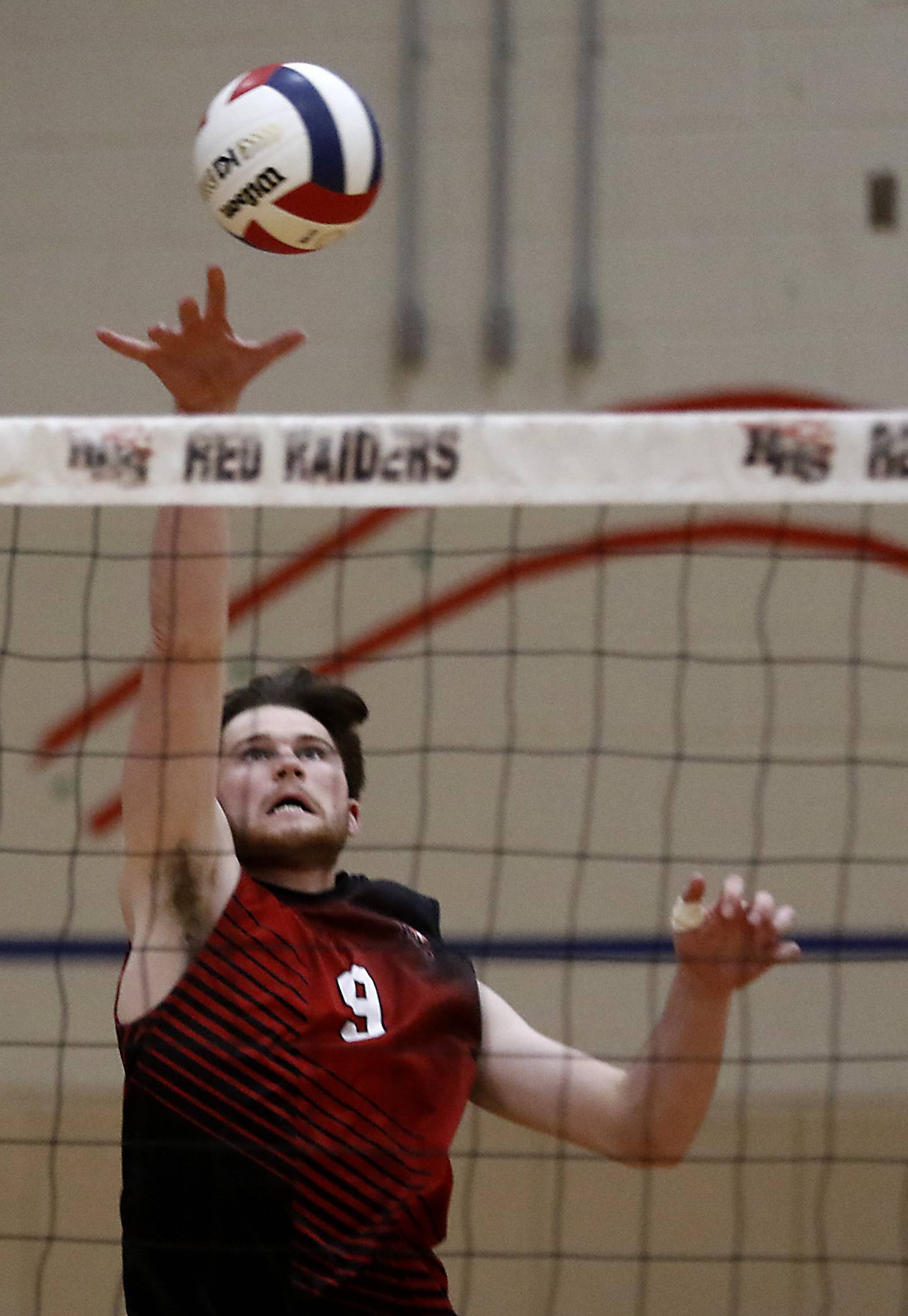 Huntley sophomore setter Matthew Leith said the team started the season with regional title aspirations. The Raiders will play Grant, a team they beat earlier in the season, in a first-round postseason match.
Huntley, however, would have to see top-seeded Barrington down the road.
"We're trying to be regional champions so we can get something on the board," said Leith, pointing at the banners on Huntley's East Gym walls. "At the beginning of the season, we were very confident in ourselves, and I think we're starting to get that confidence back.
"I would like to say that is because of one player, Adrian [Martinez]. He's very instrumental in our team's success. When he's positive, the entire team is positive, and that's when we shine the most."
Martinez, a junior libero, is one of a few club players for Huntley. He said the Raiders are still figuring out how to be consistent over the course of a match.
Huntley started the season 4-1.
"We definitely started off very strong this season, but I feel like it's a big mental game for us," Martinez said. "You need that skill level to be competitive, you need the strength and all that stuff, but a big part is you have to be engaged at all times."
Marchand said his program is getting close to hanging a banner.
"I remember the first year I started teaching here 17 years ago and I was asking around, 'What about boys volleyball?' " Marchand said. "The response was, 'No. Nobody's going to want to do that. It's not going to happen.' I just put it on a back burner, and then couple kids in my science class asked, 'Can we start a team?' and it's gotten bigger and better since.
"If we don't hang a banner this year, I hope next year we can do it. I'll keep dangling that carrot. They're getting close."