JOLIET – For most of the spring, McHenry produced hits aplenty and scored runs at will.
But in the last week of the season, the Warriors' bats have gone silent.
Mundelein right-hander Bennett Musser's steady diet of breaking balls was hardly McHenry's remedy to get better. The junior fired a one-hitter at the Warriors for a 12-0 victory Friday in their Class 4A state semifinal at Duly Health & Care Field.
Cooper Cohn ripped a hard single up the middle for McHenry's lone hit. The Warriors (30-9) will face Brother Rice (35-6) at 3 p.m. Saturday for third place. Mundelein (29-5) will play Edwardsville (33-4) later for the championship.
"[Musser] threw three pitches for strikes," McHenry coach Brian Rockweiler said. "Anytime you can throw fastball, breaking ball and changeup for strikes, it's tough to hit, and he was really tough."
McHenry, which averaged more the eight runs a game this season, had one hit through 10 innings in Tuesday's 2-1, 11-inning win against York in the Northwestern Medicine Field Supersectional. The Warriors managed to get four hits in the 11th for a dramatic win.
Junior left-hander Lleyton Grubich was strong early for the Warriors and finished with nine strikeouts over five innings. But McHenry could not solve Musser.
"They had a good scouting report," McHenry shortstop Kyle Kaempf said. "I didn't see a single fastball for a strike. It was all changeups, they knew our lineup pretty well, a lot of off-speed pitches. He was tough, probably one of the best pitchers we've seen this year. Props to him."
Right fielder Ricky Powell concurred.
"We didn't get a lot of fastballs in the zone, and we're mainly a fastball-hitting team," Powell said. "We hunt fastballs. When we get them we normally hit them and there weren't a lot in the zone. It's hard to hit offspeed when you're trying to hunt fastballs."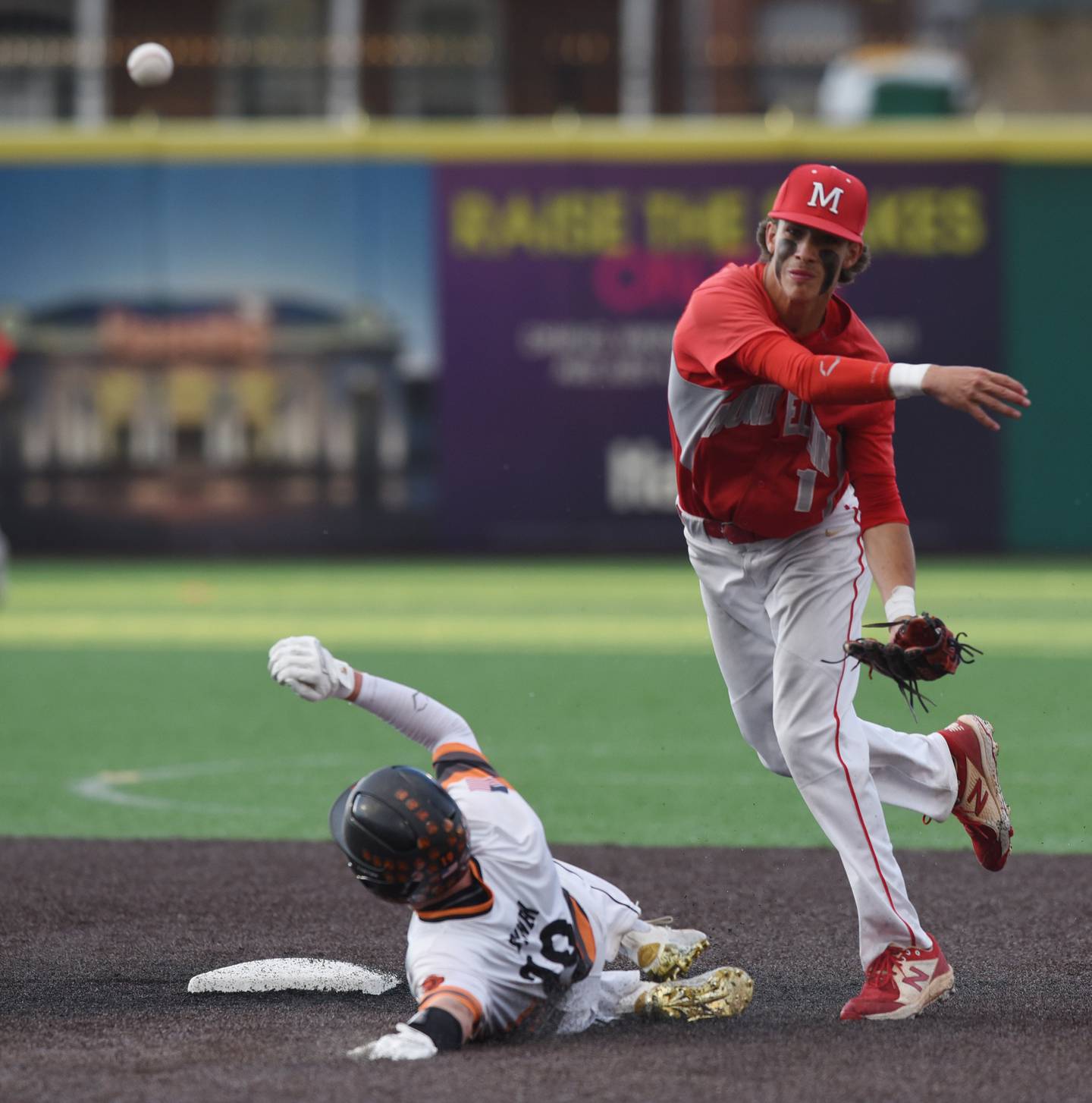 Mundelein got two runs off of Grubich in the third inning, but the fifth was the one that hurt worse as the Mustangs added four more, three of which were unearned.
The Warriors were almost out of the inning on a hard grounder to third baseman Cole Kersten, who blocked the ball and scrambled to pick it up and get a forceout at third, but could not find the handle.
"We didn't have a hit at that point and then you start pressing a little more," Rockweiler said.
After four consecutive one-run wins to reach the semifinals, Mustangs coach Randy Lerner appreciated some more offense. So did Musser.
"We didn't have to have any late-inning heroics today," Lerner said. "Bennett's been doing that most of the season, keeping us in games and letting guys work behind him."
Musser (6-1) struck out four, walked three and did not get hit hard by many batters.
"When I throw my best is pitching to contact and have all three pitches working, getting a lot of ground balls, weak contact," Musser said. "That's when I usually have a good game. And it's a lot easier when you get some runs."
Musser did not give up a hit until Cohn's single with two outs in the sixth.
"I made my pitch and he hit it," Bennett said. "I know the kid and he's a good hitter. He hit it, whatever. I liked the pitch. We got the win, that's all that matters."
McHenry committed four errors, leading to six unearned runs. Rockweiler did not feel the performance was indicative of his team.
"These guys have nothing to be ashamed of," Rockweiler said. "They should be proud, first time in school history they've made it this far. A lot of people are proud of them. Lleyton threw the ball pretty well today, they were better. Give credit to Mundelein, they executed at the plate."