McHenry did not look at all like itself for 10 innings.
York pitchers Tommy Van Daff and Max Hansmann had a lot to do with that in Tuesday's Class 4A Northwestern Medicine Field Supersectional. But still, a team hitting .316 and averaging 8.1 runs a game being no-hit for 10 innings was rare.
Finally, in the 11th inning, the Warriors more resembled the offensive club they had been all season, recording four hits for a thrilling 2-1 victory to advance to the Class 4A state semifinals against Mundelein at Joliet's Duly Health & Care Field.
Game time is set for 5 p.m. Friday, but with two Class 3A and one 4A semi before, it will likely start later than that.
McHenry (30-8) has never been this far before in school history. The Warriors had not won a sectional before they defeated Huntley, 4-3, last Saturday.
Now, with a chance at a state title, they need their bats to reawaken.
"It was very weird," leadoff man Kyle Kaempf said. "We've had moments when we came out flat or something, but in a supersectional game, you know we're not coming out flat.
"It was weird to see our at-bats change. We didn't have the same at-bats we had all playoffs. It was weird for sure."
McHenry has seven starters hitting higher than .300 and six with 29 or more RBIs, which made the work of Van Daff and Hansmann all the more remarkable.
"It was hard. We knew their pitching would be tough," Warriors coach Brian Rockweiler said. "I guess I thought at some point we would start hitting. It was definitely difficult.
"It wasn't like we were striking out a ton. I think we had seven through the first seven innings. Still a lot but pitching was good. We didn't have a lot of solid contact though, which was a bit concerning."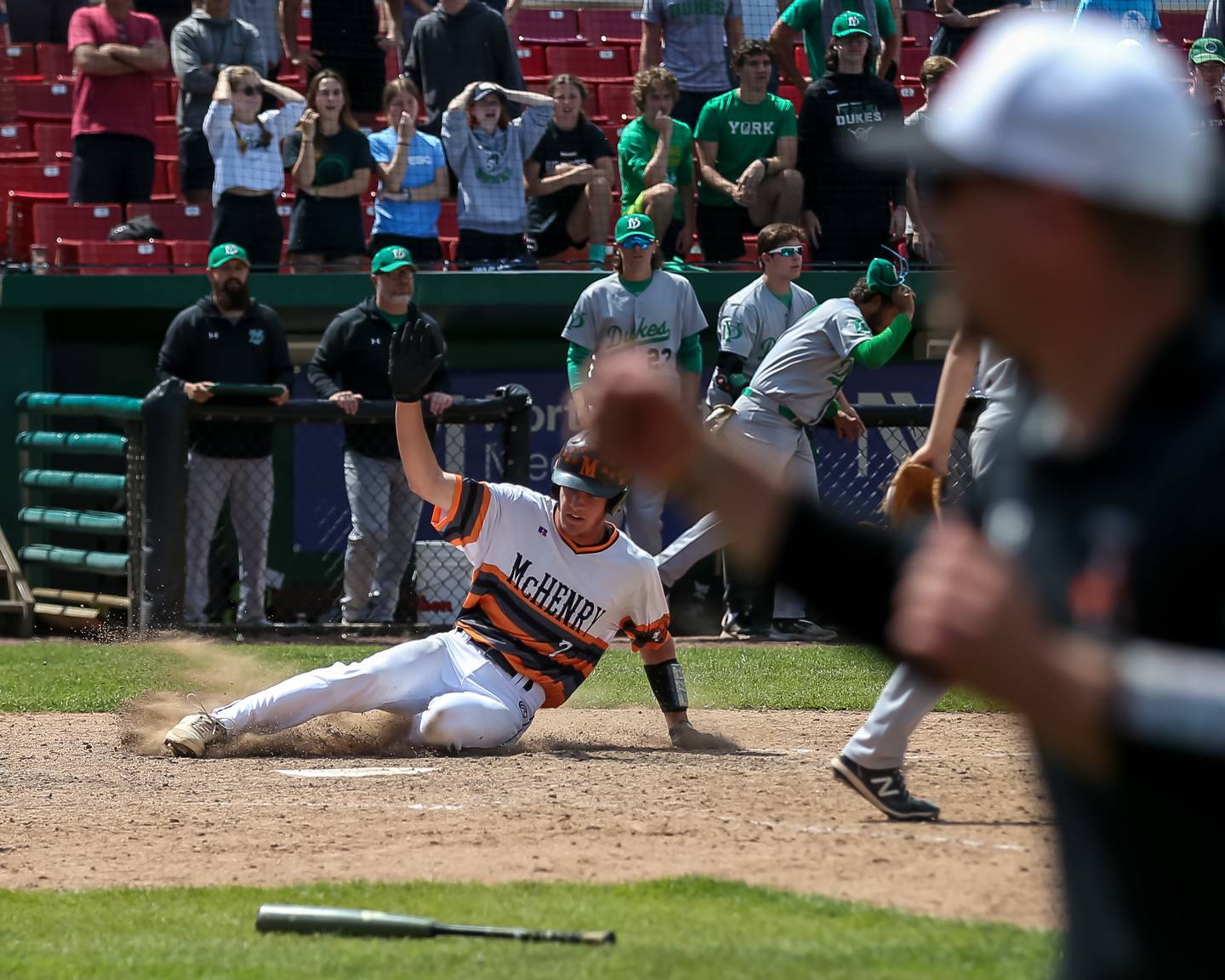 The Warriors went through one 15-game stretch in the season in which they scored double-digit runs in 12 games. They scored less than five runs only nine times.
"They were throwing well," said Ricky Powell, whose two-out, two-RBI double saved the season in the bottom of the 11th against York. "They didn't walk many guys. It's hard to string hits together, especially when balls were dying in the outfield. We hit a lot of balls in the air that normally carry and (Tuesday) wasn't the day for that. It was hard to score runs for us."
In the 11th, Kaempf singled for McHenry's second hit, but was forced at second. With one out, Cole Kersten's ball ticketed for right field hit pinch runner Jack Stecker for the second out.
Then, Connor Rodgers singled to right on a 2-2 count and Powell, facing a 1-2 count, looked at two pitches just outside, fouled off two more pitches and delivered the hit of his life.
"I saw Connor not stopping and I knew we'd won," Powell said. "When I hit first I knew that was the game."
McHenry will have junior lefty Lleyton Grubich (6-2, 1.98 ERA, 67 strikeouts in 53 innings) on the mound against Mundelein (28-5). The Warriors lost their first game of the season to the Mustangs, 4-0, but it was after several rainouts had kept them from playing.
Rodgers (.421, 37 RBIs), Eddie Synek (.342, 40 RBIs), Powell (.310, 37 RBIs), Cooper Cohn (.316, five homers, 31 RBIs), Kaempf (.316, 16 RBIs), Kersten (.337, 29 RBIs), Logan Wirtz (.323, 20 RBIs) and Grubich (.283, 29 RBIs) lead the offense.
"I definitely hope the bats come alive Friday," Rockweiler said. "I think they will. Our kids believe in each other and want to do well for each other. They are playing with a lot of confidence. I don't think any of them thought we were going to lose at any point Tuesday. It's a special group."