CRYSTAL LAKE – Crystal Lake South's Ryan Skwarek called it three months ago.
The junior third baseman-pitcher told senior Mark DeCicco the Gators would end their season in the Class 3A State Tournament Final Four.
"I knew we would be here," Skwarek said. "I said it before the season that we had a legitimate chance at winning this thing. I told Mark DeCicco before the season started that we had this. Our group is different than other guys. It's a family, everyone gets along, everyone knows everyone very well."
The Gators (19-13) will make a family trip Friday to Joliet's Duly Health & Care Field, where they will take on Nazareth (32-7) at noon in the second 3A semifinal. It is South's third trip to the Final Four in school history. The Gators won the Class 4A state championship in 2017.
South started the postseason one game over .500 and has developed a knack for winning close games. The Gators have outscored their opponents, 23-10, in the tournament, getting by with strong pitching and defense and just enough hitting.
"They're staying cool and calm and trusting each other that we're going to make plays and execute pitches," Gators coach Brian Bogda said. "It's a matter of if we're going to be able to get the runs across to do it or not."
South finished last in the tough, 10-team Fox Valley Conference last season at 4-14, but bounced back to an 8-10 record and sixth place this season. The Gators were the No. 6 seed in their subsectional of the Grayslake Central Sectional.
"We have been going out with the mentality we have nothing to lose, like we're not supposed to be here right now," DeCicco said. "We're going out there with everything we got and having fun with it."
South took down Carmel (3), Grayslake Central (2) and St. Viator (1), the top three sectional seeds, then held off Fenwick on Monday in the Schaumburg Boomers Supersectional. Skwarek got South out of a bases-loaded, no-out jam with minimal damage in that game, then the Gators scored three runs to take an 8-6 lead in the bottom of the sixth.
Rain and thunderstorms suspended the game, which eventually was ruled a final since both teams had batted the same number of times.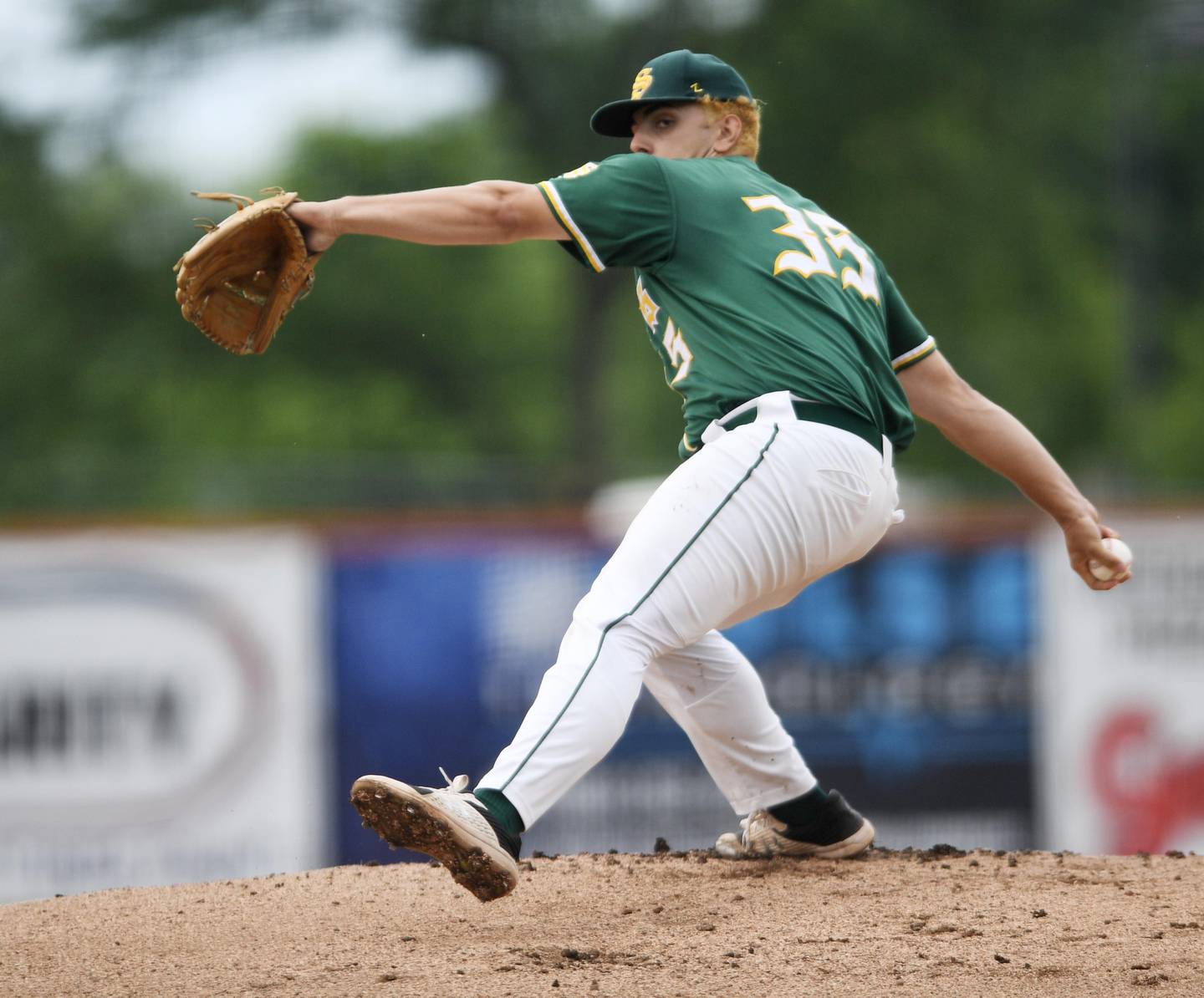 Pitcher Ysen Useni, who will pitch at Illinois-Chicago next season, sees a team that has grown together through the season.
"We needed to come together and believe we can do it," Useni said. "It didn't start off that way, but as the season went on we became a family, and that's tougher to beat than talent.
"It's a team effort. If one guy doesn't have it, two other guys have his back. We're all picking up each other."
DeCicco likely will get the start against Nazareth, with Useni starting Saturday. James Allie and Skwarek have been strong out of the bullpen.
The 2017 team finished 34-5 with a prolific offense. Skwarek's brother Scott started at second base on that team and now is an assistant on Bogda's staff. Luke Dunham, a pitcher on the 2017 team also is on the staff.
"I see a lot of similarities in having that fight to win every single game," Scott Skwarek said. "Dying their hair [blond] and the things they do for each other like we did in 2017 is really cool.
"Just having that fighter mentality and having a lot of different guys contribute. Some that we didn't really expect to have big roles on the team, and everyone's ready to go and always pulling with each other."
Second baseman Mason Struck, who will continue wearing a facemask in the field after suffering an injury May 7 while sliding into second base headfirst, had a close connection with the 2017 team.
Struck and Ryan Skwarek played together since they were 7 years old, so Struck knew Scott Skwarek well. When Scott Skwarek homered in the 2017 McHenry Sectional semifinal against DeKalb, Struck waded waist-deep into a pond to fetch the ball for him.
"We've been real good communicating with each other, defensively, offensively. It's good to know your team's there for you at all times," Struck said. "It gives me, personally, a hunger to go do it again and make [the 2017 team] proud."