WOODSTOCK – Richmond-Burton outside hitter Maggie Uhwat grew frustrated when a scrappy Woodstock defense kept getting in the way in the first set.
In the second set, the Rockets senior was determined to change that.
"In the middle of the first game, I kept getting blocked, they kept touching my stuff, and that was really annoying," said Uhwat, an NCAA Division I Central Michigan commit. "I just got really mad basically and tried to put the ball away every single time. I put my anger in the ball."
Uhwat had a much more productive second set, smashing eight of her team-high 12 kills as the Rockets defeated the Blue Streaks 25-20, 25-21 in a key Kishwaukee River Conference match Monday at James M. Shipley Memorial Gymnasium.
The victory kept R-B (19-5, 10-0 KRC) undefeated in KRC play as it looks to win its first conference championship since 2016. Woodstock (18-8, 8-2), meanwhile, fell two wins behind the Rockets with four matches left.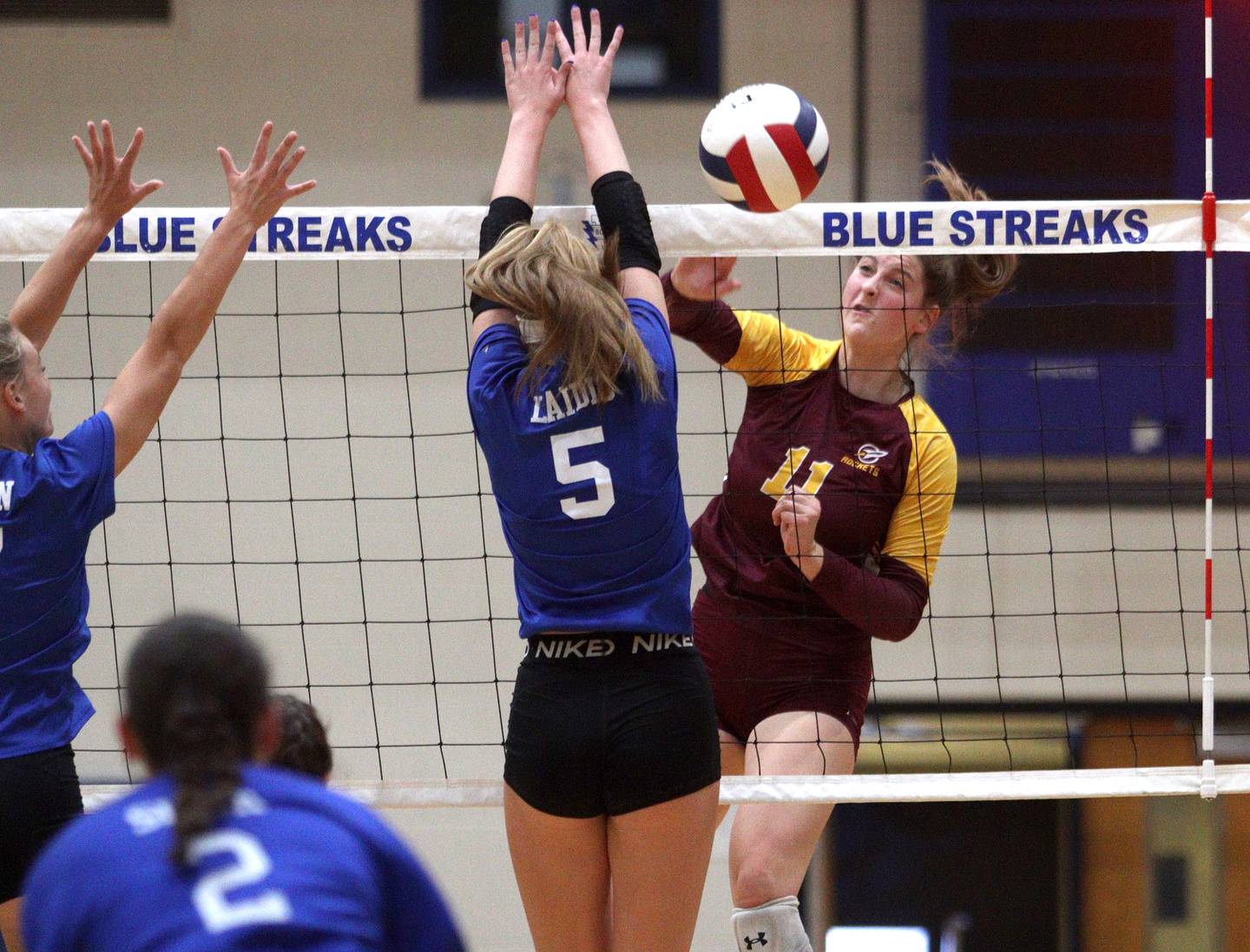 The Rockets also beat the Streaks in their first meeting 25-18, 27-25 on Aug. 30.
Woodstock didn't make things easy on R-B, which trailed 19-14 in the first set before going on a 6-0 run.
With the ball not falling for Uhwat, freshman middle blocker Dani Hopp stepped up and had the last four kills in the opening set. The Rockets also got five aces, with freshman libero Lanee Cooley (14 digs) and freshman Zoe Freund (five blocks) each getting one late to complete the first-set comeback.
Uhwat added two aces in the match for R-B, and junior Elissa Furlan had 17 digs and two blocks.
"I just got really mad basically and tried to put the ball away every single time. I put my anger in the ball."

—  Maggie Uhwat, Richmond-Burton senior
Kamholz said Hopp (seven kills) also played a key role in the Rockets' first win over the Streaks. She was set up on six straight plays in the first set Monday, with junior setter Alex Hopp (21 assists, two aces) finding her sister at the net.
"The last time we played them, they couldn't stop Dani," Kamholz said. "For some reason, we forget that. So I told Alex, 'They couldn't stop her the last time, let's do it again.' That changed the momentum and opened up the outsides."
Hopp found her groove and didn't hold back.
"Once you get one, you just feel more pumped up each time," Hopp said. "We were all really building up for this moment, and I think we did a good job of executing and staying together."
Woodstock senior outside hitter Hallie Steponaitis, who entered Monday with 64.2% of her team's kills this season, finished with a match-high 18 kills.
The Rockets tried all different ways to slow down the Division I Jacksonville State commit.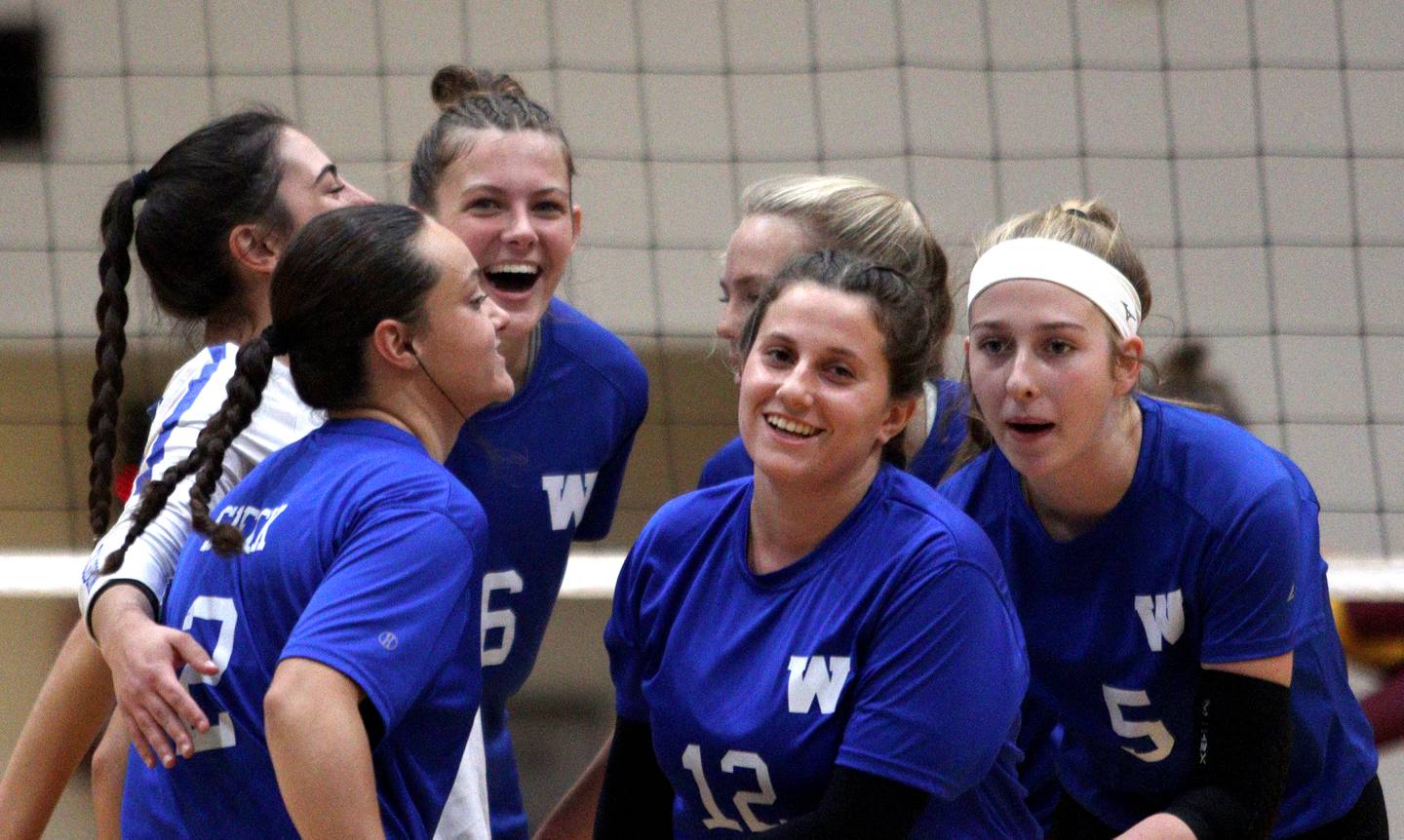 "We cheated the blocks a little bit," Kamholz said. "We brought in our middles and right sides and made sure we identified where she was at. We tried triple blocks out of the back row, just trying anything. You know you're not going to stop a hitter like Hallie ever. "It's just, 'Can you slow her down at times?' And I think we did a pretty good job."
Woodstock coach Jimmy Neill felt his team had an uncharacteristic night.
"Missed serves and serve receive killed us," Neill said. "We had Hallie in the front row, and we just couldn't get her the ball enough. I think once we got up a little bit, we figured we could coast, and we can't because we're not that team.
"We were complacent, and our service game was awful. Normally, we serve a whole lot better."
The Rockets held an impromptu practice before getting on the bus and traveling to Woodstock, knowing the importance of Monday's match. R-B is hoping to win out and get the KRC title all to itself.
"We were prepared, and I thought we played with a lot of energy," Uhwat said. "We don't want to tie with anyone."