Woodstock North had a noticeable disadvantage on most days in a sport historically ruled by players who are tall and long.
With only two players taller than 5-foot-8, and many more playing out of their normal position, the Thunder overcame it all and had their most successful season.
Leading the charge for North was Kylie Schulze, a four-year varsity setter who routinely put her teammates in position to succeed.
Schulze was asked to do a lot more as a senior, becoming a bigger offensive weapon, and put together her best season with 626 assists, 186 kills, 64 aces and 302 digs.
Schulze surpassed 2,000 career assists in her final year and led the Thunder to their third consecutive Kishwaukee River Conference title and first 30-win season in program history. North won its third Class 3A regional championship by beating crosstown rival Woodstock and battled St. Francis, the eventual 3A third-place finisher, in a 25-21, 18-25, 25-14 loss in the sectional semifinals.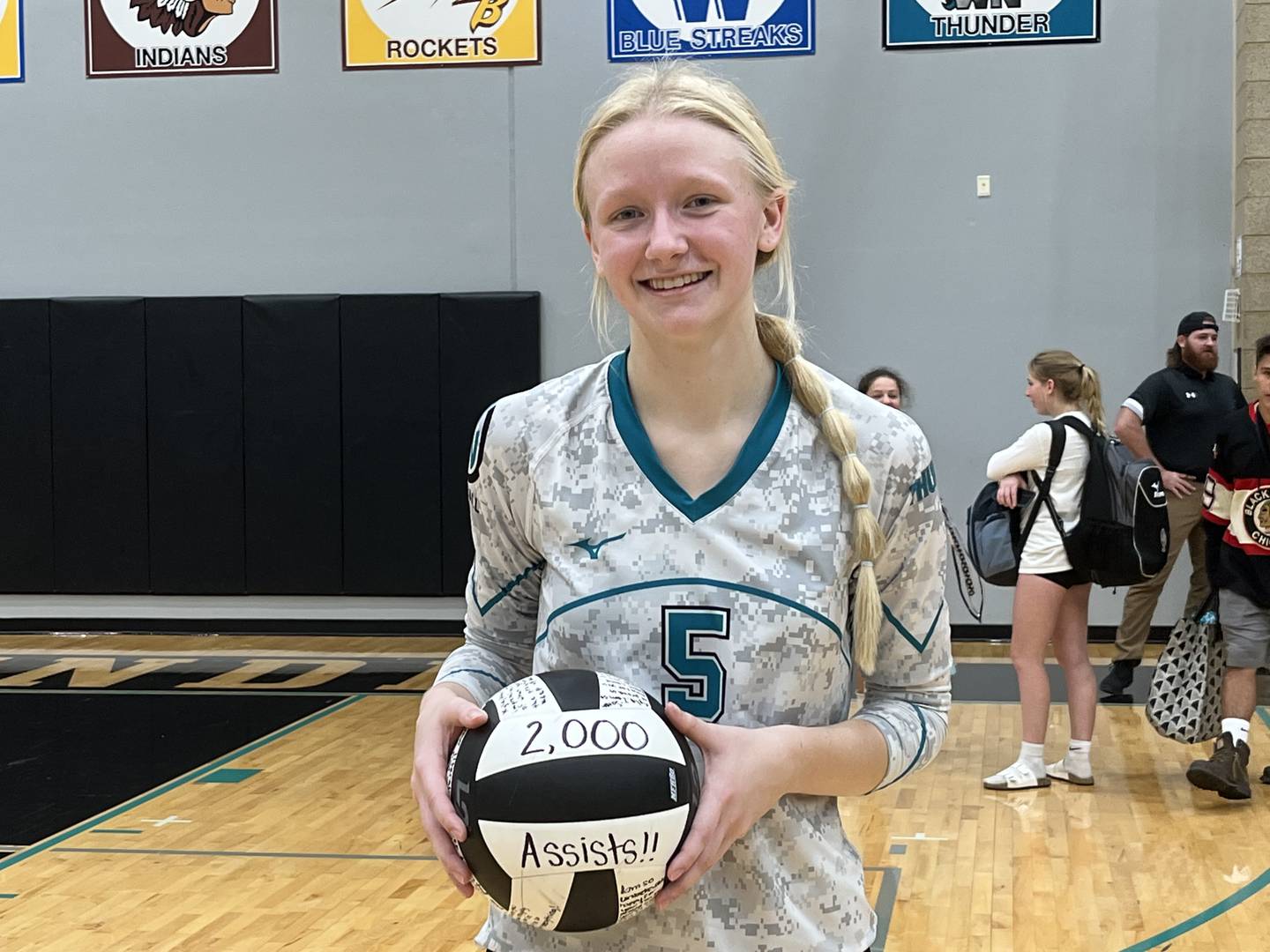 Schulze's standout season also landed her a spot on the American Volleyball Coaches Association All-America Team, an honor given to only 300 players in the country.
"Her ability to put her teammates in a position to be successful is special," said Thunder coach Eric Schulze, Kylie's dad. "She understood she needed to adapt her game to put the team in a position to win and did so be stepping up her offensive game."
For her accomplishments, Kylie Schulze was voted the 2022 Northwest Herald Girls Volleyball Player of the Year by the sports staff with input from area coaches. Schulze, who will play next year at Loyola, is the first Thunder player to win the award. Huntley senior setter Maggie Duyos also was strongly considered.
Schulze talked to sports writer Alex Kantecki about her proudest sports moments, becoming a setter, having her dad as a coach and more.
How did you get your start in volleyball?
Schulze: So, actually, I never really wanted to play volleyball. I played soccer for 10 years. My dad was coaching volleyball and all my cousins were playing. One of my cousins asked me to be a partner for beach volleyball. I played one year, I loved it and went right into the club season.
How did you become a setter?
Schulze: I didn't know any of the positions because in beach volleyball there really aren't any. I think my dad just said, 'You're going to be a setter because I don't think you're going to be tall, but you'll be tall enough.'
What other position would you be good at?
Schulze: When all of us are at practice, I always say I would like to hit, but I don't actually think I'd be a great hitter. I'd probably play libero if anything.
Who is the best athlete in your family?
Schulze: My mom will be upset if I don't say her, but my dad was also a really good athlete in high school. I'm just going to say my sister [Devynn, a sophomore libero] because I think she's a stud. She's been doing really well and getting a lot better.
Have you ever had a big argument with your dad on the court?
Schulze: Oh, we've had plenty of big arguments. A lot of it is if he didn't think I was carrying myself well or being a great teammate. When you set, it's a super important position, it's like the quarterback of the volleyball team, basically. You have to call all the plays, and you have to know everything that happens, which takes a lot of communication with your teammates. If you're not being a good leader, everything starts to fall apart. That was a lot more my sophomore year.
Which teammates inspires you the most?
Schulze: Definitely Kaitlyn Wickersheim. She went from playing outside for a a few years to making a very smooth transition to libero and being a stud there. We're about to be club teammates for the first time in a few years, so she's going to be my libero again. I'm just super excited to play with her because her mentality toward the game is crazy. This past year she's improved like crazy. It was awesome to see.
Who is your favorite professional athlete?
Schulze: Lindsey Berg. She's a setter who used to play for the U.S. national team. She had a huge impression on me. My dad gave me a book called "Short Setter's Handbook" when I first started setting so I could learn how to be a good setter. It was a book she wrote. She was 5-foot-8 as well, and that's so rare to see. She's always been super inspiring.
What was the most challenging part about this season?
Schulze: Honestly, it was the easiest season ever. I think the hardest part was realizing that I was leaving and not coming back for another year. We as seniors had to leave something behind, and we weren't sure what it was going to be. We've had such amazing classes come through.
What are you most proud about from this season?
Schulze: Definitely disproving the stigma about what a successful volleyball team should look like. We didn't have many people above 5-foot-8. Our two middles were a little taller, but not by much. Our last game, we were competing against a setter that was nine inches taller than I was. We had Lexi Hansen, our 5-4 outside, going against a 6-3 and 6-4 block. It was crazy to actually be able to compete with teams like that.
How did your team overcome that height disadvantage?
Schulze: We're very athletic. We've always been a super athletic and scrappy team. Scrappy meaning a ball will not touch the floor on our side without bodies hitting the floor with it. When you're a lot taller, it's a slower reaction time. If you don't have the height, you have to be trained to be quicker, be faster and be better at the specific skills than the person on the other side of the net.
Who is your funniest teammate?
Schulze: Daniela Medina is so cute because every time she does something, she has to apologize and say sorry right away, and it's so funny. I also think Sarah Meade is really funny. She makes us laugh all the time.
What's something that people outside your family or team wouldn't know about you?
Schulze: I'm probably the pickiest eater anyone would meet, especially as an athlete. I eat a solid three meals consistently. I'll eat steak and potatoes all the time to get carbs in, maybe some corn, but I only like maybe three vegetables.
What will you remember most about your time at Woodstock North?
Schulze: Definitely how competitive we were. We've built such a strong winning culture these past few years. We had to overcome a lot of things and did things that people on the outside wouldn't expect. I'm definitely going to miss being around the competitiveness of our gym all the time.