When news of a new variant of COVID-19 began spreading this winter, Kelli Freeman went looking for a booster shot for herself and her daughter.
The Algonquin Township project manager was able to find an appointment in Elgin but couldn't book one in McHenry County for at least two weeks. She decided to try to bring more options to McHenry County residents.
Freeman got in contact with the Illinois Department of Public Health, which arranged for a series of pop-up clinics at the township's Crystal Lake office, she said. IDPH staff handled everything, from the check in for people where they give basic screening information to administering the vaccines and boosters.
"[The Illinois Department of Public Health] provides everything," Freeman said. "You just need to supply the space with tables and chairs."
The clinic was available in both January and February from 10 a.m. to 4 p.m. the days it was open. The times might not have been ideal for everyone who would want a vaccine or booster, she said, but many of the attendees were people bringing their children after school for the shots.
"[We did] them exactly three weeks apart, so you get that second shot about three weeks later," Freeman said.
Adolfo Chagoya, a McHenry County resident, brought his three children into the clinic Monday to receive their second dose of the vaccine.
"I was motivated to bring my kids here because I wanted my kids to be safe and secure in the future in case they're in contact with other people," Chagoya said. "At least I know that they're safe because of the vaccine."
Chagoya discovered the clinic through social media and said it was a challenge to make the time to bring his children, but he made it work.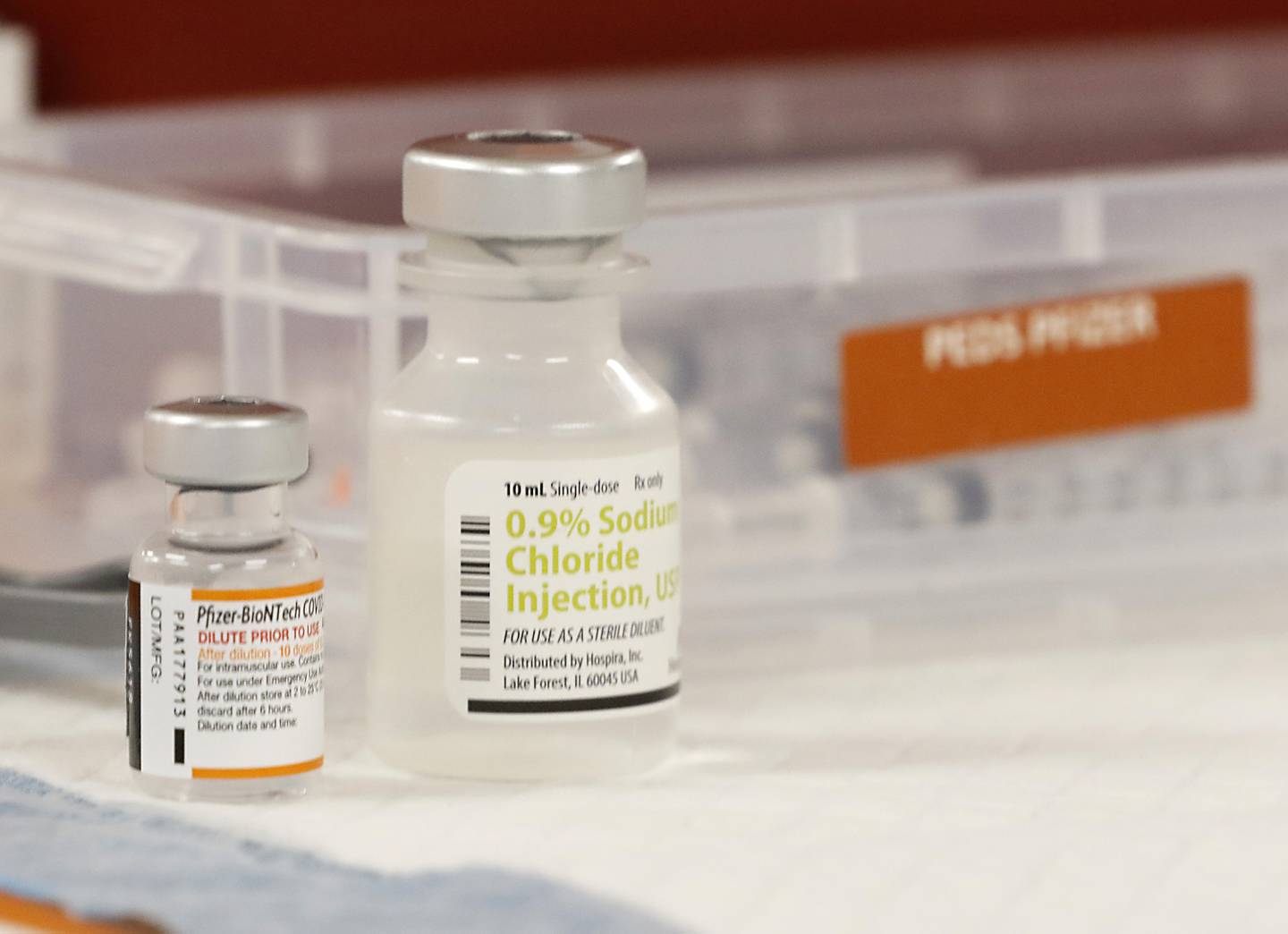 The clinic began with 250 total vaccines and 300 boosters on Jan. 24 and had about 50 vaccines remaining as of Monday. The vaccines that remain available are for anyone 5 years or older.
About 40% of those who received vaccines were children with the remaining 60% adults, Freeman said. Children were primarily receiving the initial two-dose regiments while adults were typically seeking the booster.
Attendance was sparse some days, not reaching more than 10 people coming in. Monday saw only two families come in in the first four hours the clinic was open.
In total, the clinics served more than 50 people across six clinics in the months of January and February. Some of the low attendance was attributed to poor winter weather, Freeman said.
"We have been seeing a decline in the number of vaccines administered in Illinois since about mid-January, which follows the decreasing trend in cases and hospitalizations since the peak of the omicron wave in the first half of January," IDPH spokeswoman Melaney Arnold said in an email.
Statewide, about 10.1% more Illinois residents are fully vaccinated Wednesday over the week of Nov. 24, which was when news of the omicron variant began spreading.
McHenry County saw five ZIP codes with see more growth than the state overall. They included Harvard's 60033 with 11.9%, Hebron's 60034 with 11.1%, Barrington's 60010 with 10.9%, Crystal Lake's 60012 with 10.5% and Lake in the Hills' 60156 with 10.3%.
A few ZIP codes had particularly low increases in the fully vaccinated rate over that time period: Union's 60180 with 6.5% and Richmond's 60071 with 7%
As of Wednesday, about 64.23% of McHenry County's population was fully vaccinated compared to 58.5% on Nov. 24, according to IDPH data. About 101,000 boosters have administered in McHenry County.
The seven-day rolling average of vaccines administered was 317 as of Wednesday, down from about 1,770 in early December, according to the IDPH.