Before the COVID-19 pandemic, Kristy Jones' work as a bedside nurse typically involved patients who were relatively stable. Now, her floor assists patients in need of oxygen and care as they battle COVID-19.
Doctors are with patients for only a few minutes in person before resuming their work remotely, the Cary native said, leaving nurses and other staff to care for the patients the rest of the time.
"[You're] just feeling like you're the ones stuck with these people that are so weak," Jones said. "They're just suffocating, and there's not a whole lot you can offer them."
A shortage of health care workers, in particular nurses, nationwide has led to a 300% and 400% increase in demand for international nurses since the pandemic began, the hiring of traveling nurses in some places and the loosening of restrictions on nursing programs, the Associated Press reported.
Northwestern Medicine has been fortunate in this pandemic in terms of retaining its health care workers, said hospital's vice president and chief nurse executive, Kim Armour
. She was unable to provide specifics on how turnover now compares with pre-pandemic, but said the reasons it is hearing from leaving employees are a desire to relocate to warmer climates, taxation concerns at the state level and a preference for traveler assignments.
The vaccine mandate did not seem to be a driver, Armour said. Currently, 99% of the Northwestern's staff is vaccinated and those who are not have either a medical or religious exemption.
Advocate Aurora Health did not comment on its turnover levels specifically but Mary Roesch, the chief nursing officer at Advocate Good Shepherd Hospital, said the latest COVID-19 wave took "a toll on our hardworking team members who have cared for our communities so skillfully and compassionately throughout the pandemic."
"We are committed to supporting our team members well-being and have invested significant resources in a variety of programs and services, including competitive pay programs, hiring agency staff for extra support, reassigning low census team members, referral bonuses and peer-to-peer support programs," Roesch said in a statement.
Northwestern Medicine Huntley Hospital has adopted strategies aimed at improving employees' well-being as well, Armour said.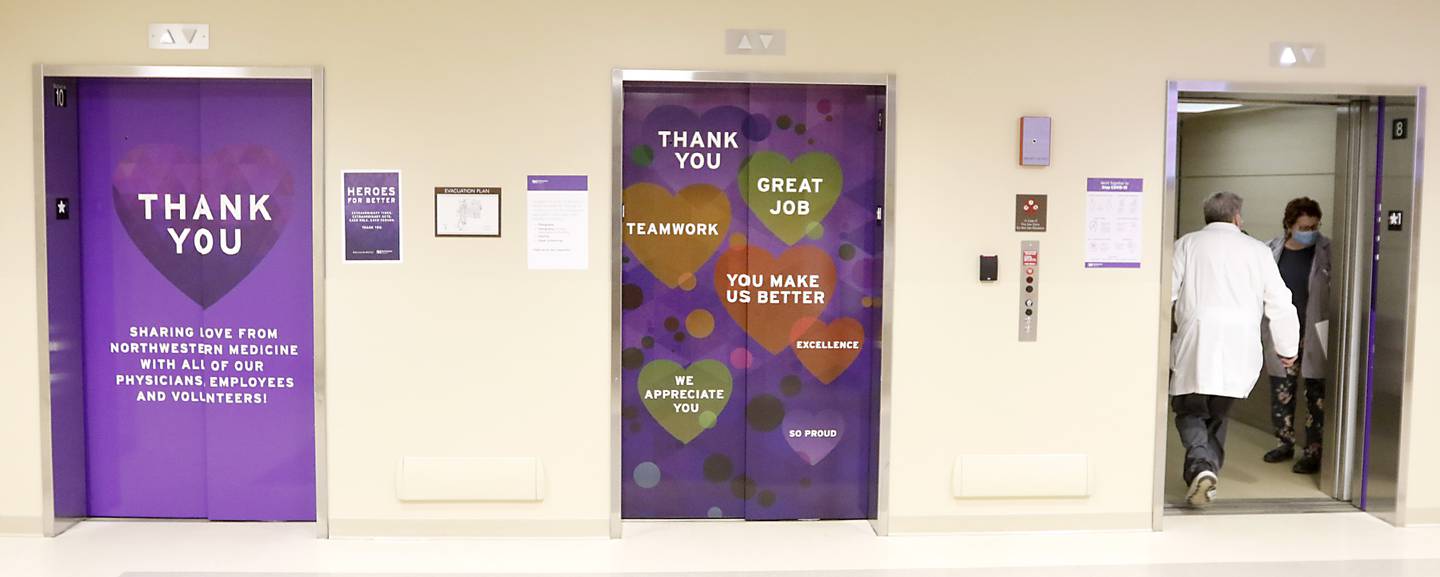 "We lead what we call a meaningful or mindful moment at the beginning of our meetings," Armour said. "We will open up a meeting by saying, we're going to have a meaningful moment now everyone."
Some days it can be something as simple as a breathing exercise to let go of pent up emotions.
The hospital also offers numerous tele-health opportunities and a new program called the Calm Hospital, she said.
The Calm Hospital began as a program to help children with disabilities or behavioral challenges by preaching mindfulness at the beginning of each day, Armour said, but three years ago, the program shifted toward health care providers, including nurses, physicians and social workers.
Regardless, Armour said her staff is exhausted now, two years into the pandemic.
"This is two years of a war we've been fighting, and a year ago, we all were so hopeful that everybody would get vaccinated," Armour said.
The overwhelming majority of COVID-19 patients in Northwestern Medicine's McHenry County hospitals have been unvaccinated, hospital officials said.
"The misinformation that we're hearing from patients based on media or even online sites that have no accuracy or premise of science and research behind them is pretty significant," Armour said.
"I would tell you that we continue to speak to the science and the research, and we continue to try to help people understand, the premise of the fact that the vaccine is not a cure. It is here to keep your condition at bay," she said.
The number of breakthrough hospitalizations and deaths statewide remain low, Illinois Department of Public Health reported.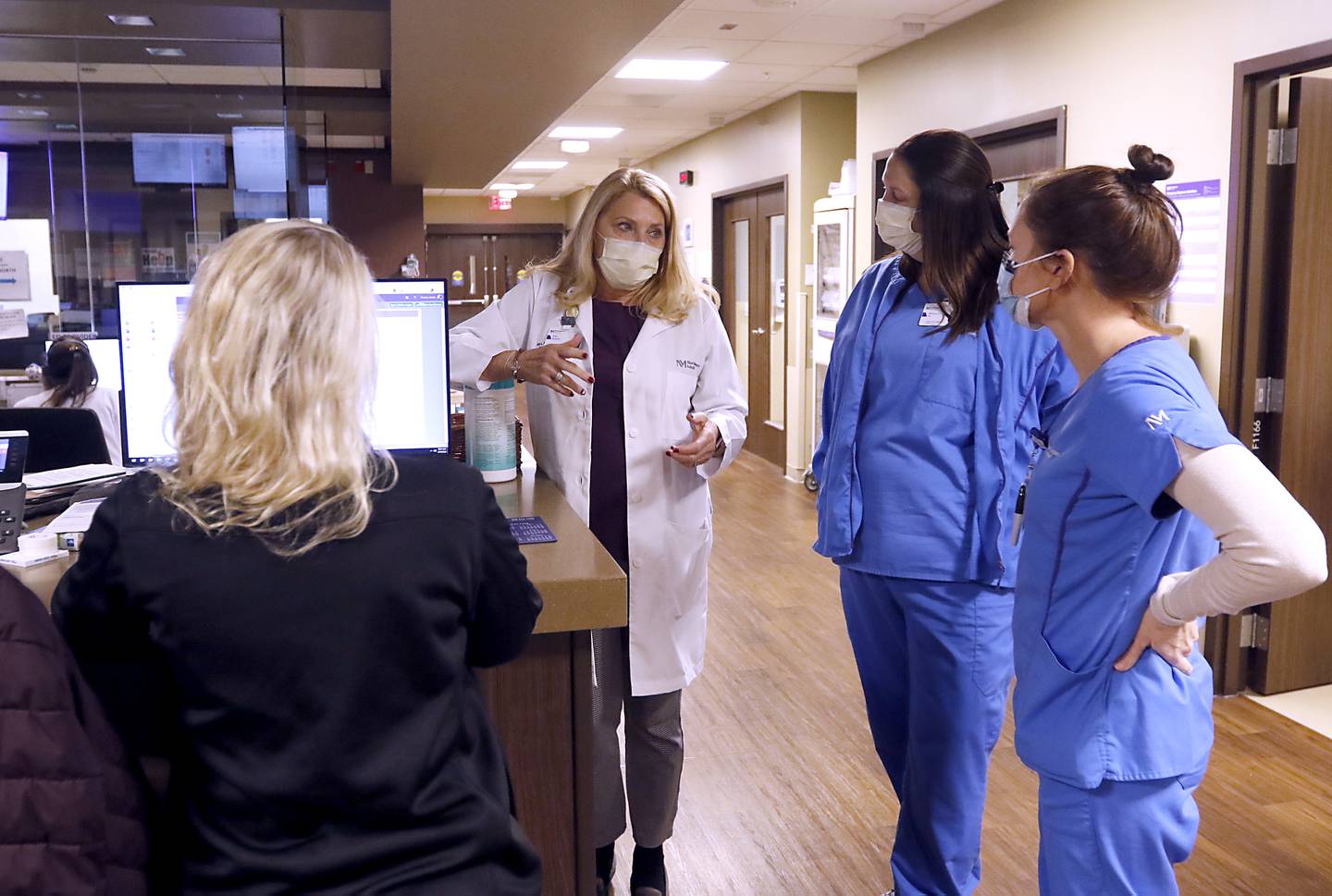 Statewide, 9,569 fully vaccinated Illinoisans have ended up in the hospital, according to state data, which was first reported in mid-April but contains earlier data. The state has seen 3,358 were deaths among the fully vaccinated out of 10,527 total deaths since mid-April.
The rate of new COVID-19 cases and hospitalizations have been steadily declining statewide and in the region that includes McHenry County, IDPH data shows. The share of intensive care unit beds available across McHenry and Lake counties hit 20% for the first time in more than 50 days this week.
But in McHenry County, vaccination rates did not see a boost following the surge driven by the omicron variant.
Vaccination rates were at their highest during the spring when the shots were new, falling steadily into the summer, state data shows. They climbed again in the fall when booster shots were approved and COVID-19 shots for children 5 to 12 years old became available.
"We strongly encourage people to get vaccinated and get a booster shot," Roesch said. "Vaccination helps immensely to prevent you from being hospitalized or dying from COVID-19, and it's becoming clearer that a booster shot adds significant protection – even from the omicron variant.