In the light of an FBI raid on a suburban-based COVID-19 testing company that had sites – now closed – in McHenry and other counties, how can people tell if a testing site is legitimate?
Local community testing sites are listed on the Illinois Department of Public Health website, dph.illinois.gov, where local hospitals refer patients.
"We don't refer people to specific testing providers, but rather encourage them to schedule a test at one of our immediate care centers," spokeswoman Kristen Johnson for Advocate Good Samaritan Hospital in Barrington said in an email. "Or call our 24-hour hotline at 866-443-2584 or find a local community testing location at dph.illinois.gov."
Hospital systems, such as Northwestern Medicine, list their own sites.
Other companies offer testing as well, but even those not affiliated with the under-investigation Center for COVID Control have been the subject of complaints and concerns about their legitimacy, McHenry County Department of Health records show.
The McHenry County health department does not regulate or oversee testing sites, McHenry Public Health Field Staff Supervisor Kristy Hecke said in an email to a complainant.
The IDPH also does not have authority over sites that collect specimens for COVID-19, but the state regulates the laboratories that do the testing.
"Persons administering COVID-19 tests are not required under Illinois law to be licensed health care professionals," according to the IDPH website.
Complaints about a laboratory's operation can be made to the the Centers for Medicare & Medicaid Services Central Office, Division of Laboratory Services, CLIA, at 410-786-3531 or 877-267-2323 ext. 63531.

Complaints about a testing site can be made to the Illinois Attorney General at ilag.gov.
Lawrence Goldstein, a co-owner of COVID Testing Centers of America, said Monday that his company is not affiliated in any way with Center for COVID Control, the suburban testing company under investigation by the Illinois Attorney General's Office. His company has four locations, including two in McHenry County: 3202 Northwest Highway, Suite A, in Cary, and 1193 S. Eastwood Drive in Woodstock.
COVID Testing Centers of America's site had been listed on the Center for COVID Control's website, despite owner Goldstein's efforts to get them to take it down, he said.
"We demanded they take us off their site," Goldstein said. "I am not part of Center for COVID Control."
Goldstein said he got into the COVID-19 testing business in August 2021 after the death of a friend from the virus.
At that time, Goldstein said, he did have a contract with Center for COVID Control but only for two weeks.
"We provided them with five tests. We never got test results back, [and] we terminated our agreement with them," Goldstein said. "We want our business 100% above board."
The company, located in his former vape shop, L2 Made / No Leaf Vapor & CBD on Northwest Highway in Cary, did garner some emails to the McHenry County Department of Health that questioned the site's legitimacy, alleging a delay in testing results and no one was wearing masks, according to records obtained in response to a Freedom of Information Act request.
One email regarding a Dec. 23 test at the site alleged that it took two calls to the company's lab to get the results of a PCR test, the most sensitive coronavirus test which takes a day or two, sometimes longer, to receive results.
Goldstein said there was a time late last year when the lab his company was using had late results.
"It went to 24 hours to 72 hours to five days to 14 days," Goldstein said. "We were never able to get lab results for them. … We immediately switched to a better lab."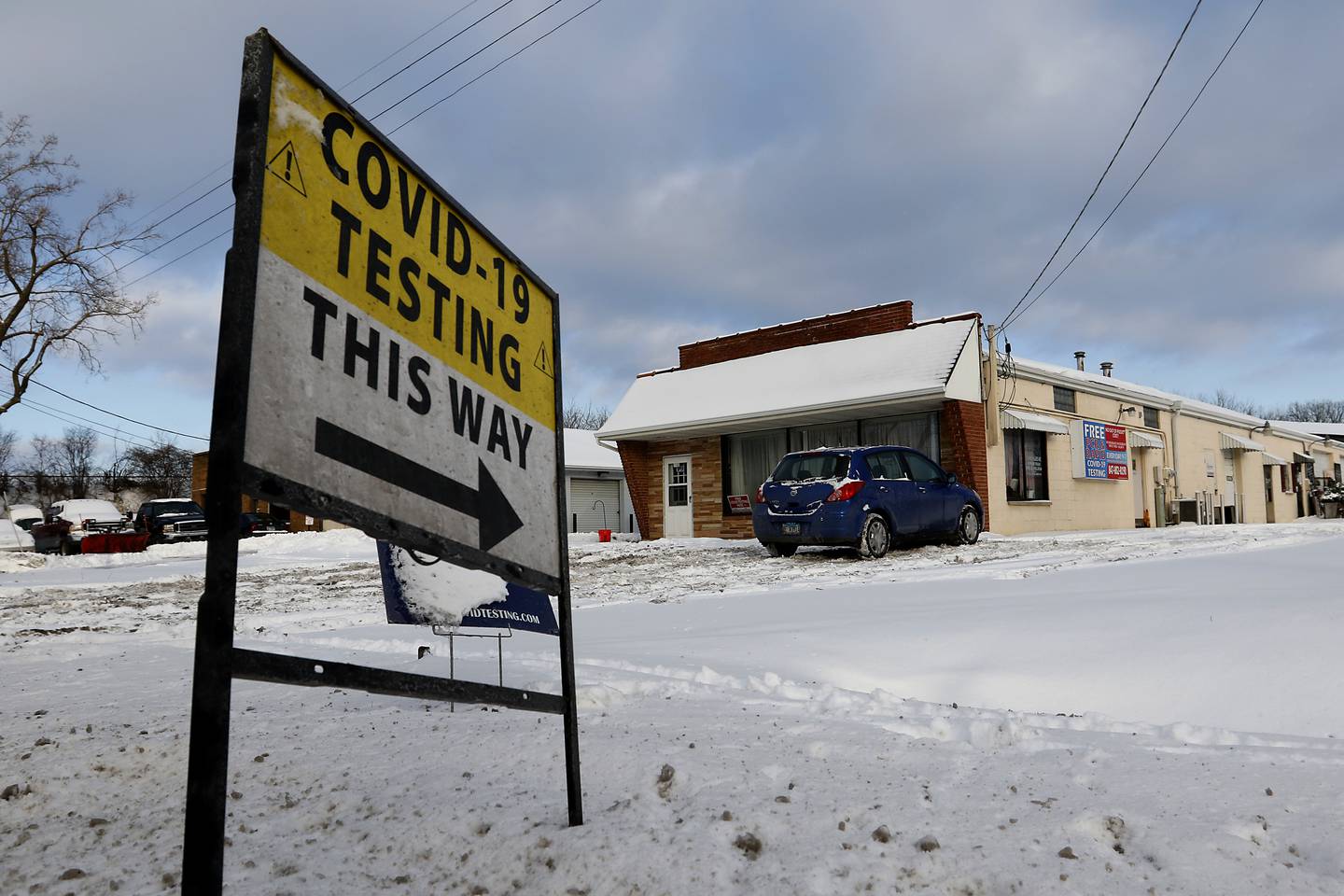 After changing labs, Goldstein said, his company is averaging 48 hours right now.
Goldstein said all of his employees wear masks and started wearing gloves when the guidelines changed.
"Myself, I sit far enough back so I'm not near customers," Goldstein said to explain why he doesn't wear a mask.
The three other complaints the McHenry County Department of Health fielded involved other testing companies.
A Dec. 31 emailed complaint to the McHenry County Health Department referred to a testing site in Fox River Grove, but did not provide an address other than Northwest Highway or a company name with a location in Fox River Grove.
The email cited complaints on a Facebook page regarding that location and people not receiving test results.
"They are also giving people the false impression that they are negative [for COVID-19] when, in fact, they are testing positive and they are transmitting the virus to friends, family members and others along the way," the email stated.
According to a Dec. 26 email complaint about Free Covid Testing Site, or FCTS, 11609 Catalpa Lane, Woodstock, on Dec. 24 only one person was on duty and he did not trust the results given because the address and phone number on the document provided were not his.
No one answered the phone at the site on Tuesday afternoon.
A Dec. 28 email complaint referred to a testing site with a trailer, spotlights and a generator set up at the corner of Virginia Road and Pyott Road and Main Street in Crystal Lake.
"I work in a doctor's office and our co-worker tested positive," according to the email. "I took the test yesterday, December 27, 2021, 12:55 p.m. Was told I would get results within a couple of hours. Never did receive a text, phone call or email."