In iambe theatre ensemble's fourth production, "Into the Breeches," contemporary playwright George Brant has juxtaposed Shakespeare with a World War II setting. Based on the true story of the Cleveland Play House, the comedy revolves around women moving from the sidelines to center stage in more than one way.
The title is a clever pun on Henry V's famous line, "Once more unto the breach, dear friends." And, as the Alabama Shakespeare Festival noted, "Into the Breeches" focuses on women who are the theatrical versions of Rosie the Riveter.
The plot? Oberon Play House's director and leading men are all off fighting the war; the 1942 season is about to be canceled. Determined to prevent closure of the theater, the director's wife, Maggie, sets out to produce and direct an all-female version of Shakespeare's "Henriad" (the history plays of "Richard III," "Henry IV," parts one and two, and "Henry V"). The president of the board wants the women to just go home and roll some bandages for the war effort. But with a can-do spirit, Maggie assembles an unexpected team "united in desire if not actual theater experience." As the show must go on, the theatrical company delivers with persistence and collaboration – a definition, I might add, of iambe theatre ensemble itself.
Doreen Dawson of Geneva, iambe's co-producer, said she and partners Shannon Mayhall of Cary and Liz Recht Johnson of Riverside selected "Into the Breeches" because the play is "sweet, tender, funny and female-forward, which is in keeping with our mission to represent women." They appreciated the solidarity that developed among the play's characters. It's exciting to note that playwright Brant gave them some extra leeway – allowing them to change the play's locales to Chicago and Illinois settings. He happens to hail from Park Ridge.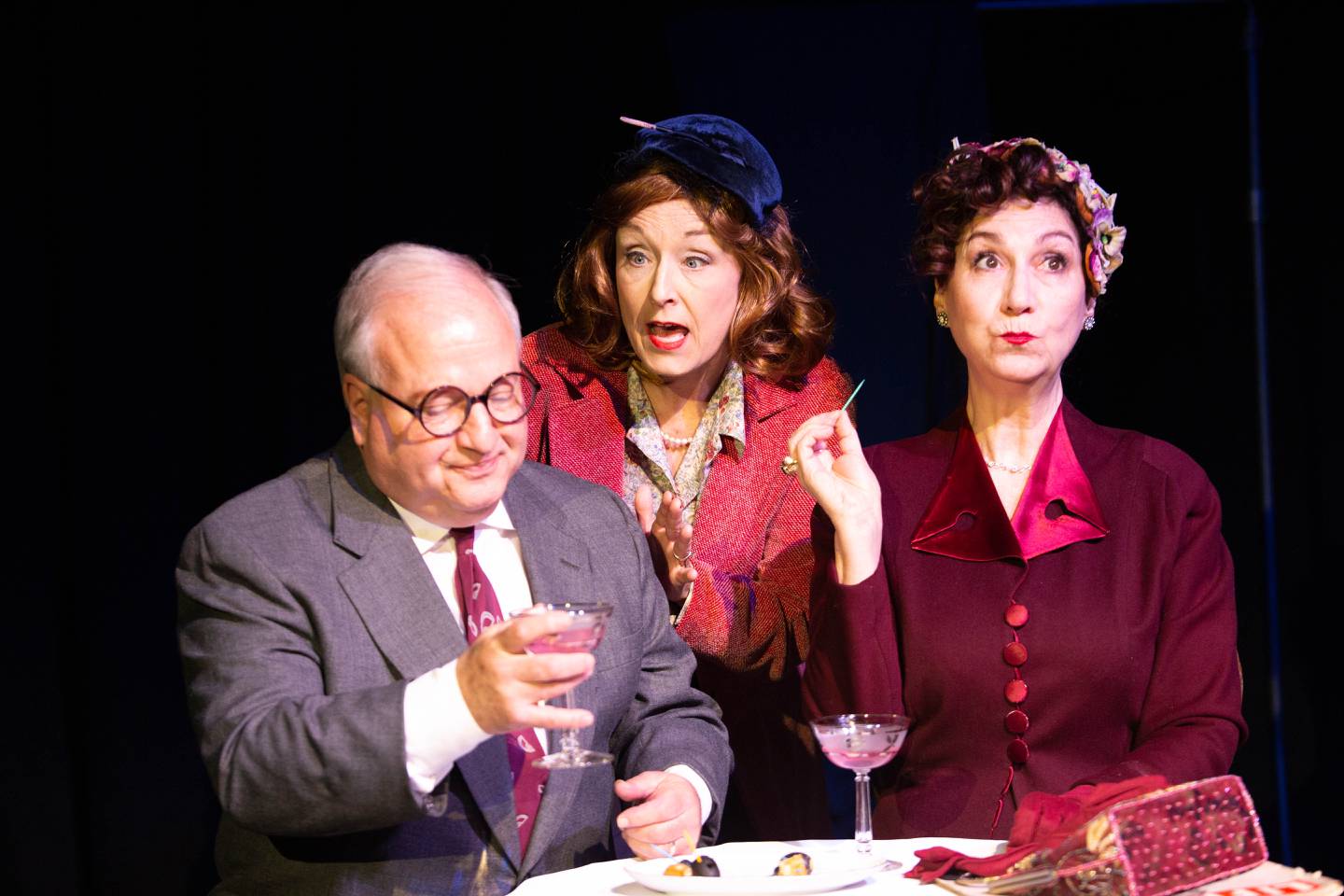 A sparse set furnished by the iambe members suggests Oberon's backstage area; the cast appears in appealing vintage and character-appropriate costumes furnished by Sue Lewis, Tish Lyons, Kathy Bruhnke and the College of DuPage theater department. Lighting design by Jim Van De Velde of Villa Park helps build the different moods and tones. Albeit brief, the fight choreography by Deb Swinford looks, sounds and feels convincing in physicality and accuracy.
Director Lisa Dawn of Elgin has cast extremely well, clearly understanding the purpose of Brant's play. The scenes are well-paced and effective. Dawn has utilized a small stage with skill, and draws nuanced performances from her cast of eight.
And what a cast! From the minute Kelli Walker steps onstage as Maggie, we know she's a force to be reckoned with. Walker conveys a determined passion to keep the theater alive, a worry that her letters to her husband explaining the progressive changes she's incorporating are "torpedoes headed his way," and a newly discovered talent as an untested director despite a certain actress' continual digs about her ability.
Walker is a delight in her interpretation, maintaining vigor, maturity and exquisite facials and posturing, not to mention her hilarious scenes with Ken Kaden's very engaging character Ellsworth Snow, the befuddled, stubborn businessman and board president. They possess an unlikely chemistry: she with her perseverance and creativity in persuading him to keep the theater open and he with his capitulating approval if certain conditions are met. Kaden as Snow consistently worries about losing money, the theater's reputation, and tomatoes being thrown opening night because of the scandal of women performing as men.
They are only upstaged by the marvelous Shannon Mayhall as Celeste, the perennial leading lady of the Oberon Play House. Celeste is a tailor-made role for Mayhall, who pulls off the lovable diva with humor, grace and credibility. She also gets to deliver some of the play's best lines. When asked to portray a man, she replies: "to temper my femininity is an enormous undertaking." She lectures Maggie about the blasphemy of defacing Shakespeare, yet also serves as a catalyst regarding the issue of women being compensated in pay. Mayhall is the definitive performer, continually sparkling onstage.
Doreen Dawson is an exquisite scene-stealer as socialite Winifred, Ellsworth Snow's beloved wife. She only landed a role in the "Henriad" in a deal to appease Snow. She is a horrible actress with only one past acting experience, reviewed as "rounding out the cast." Dawson provides much of the comic relief; just watch that expressive face of hers and great imitation of Groucho Marx. A superb character actress, Dawson radiates charm.
Portraying one of the two Oberon theater newcomers is Taylor McWilliams-Woods. She is delightful as the flighty, enthusiastic, eager young June. She also goes all out for the war effort, lobbying anyone who will listen to donate blood and scrap metal, to knit socks, and bake pies – truly a patriotic housewife. McWilliams-Woods is a buoyant and energetic actress.
Amanda Fisher is Grace, a newcomer to town and Oberon. Fisher convincingly portrays Grace as initially self-conscious and self-doubting. Her husband has never been fond of her acting; she is intimidated by Celeste, but Grace is a natural and exquisite actress – and so is Fisher.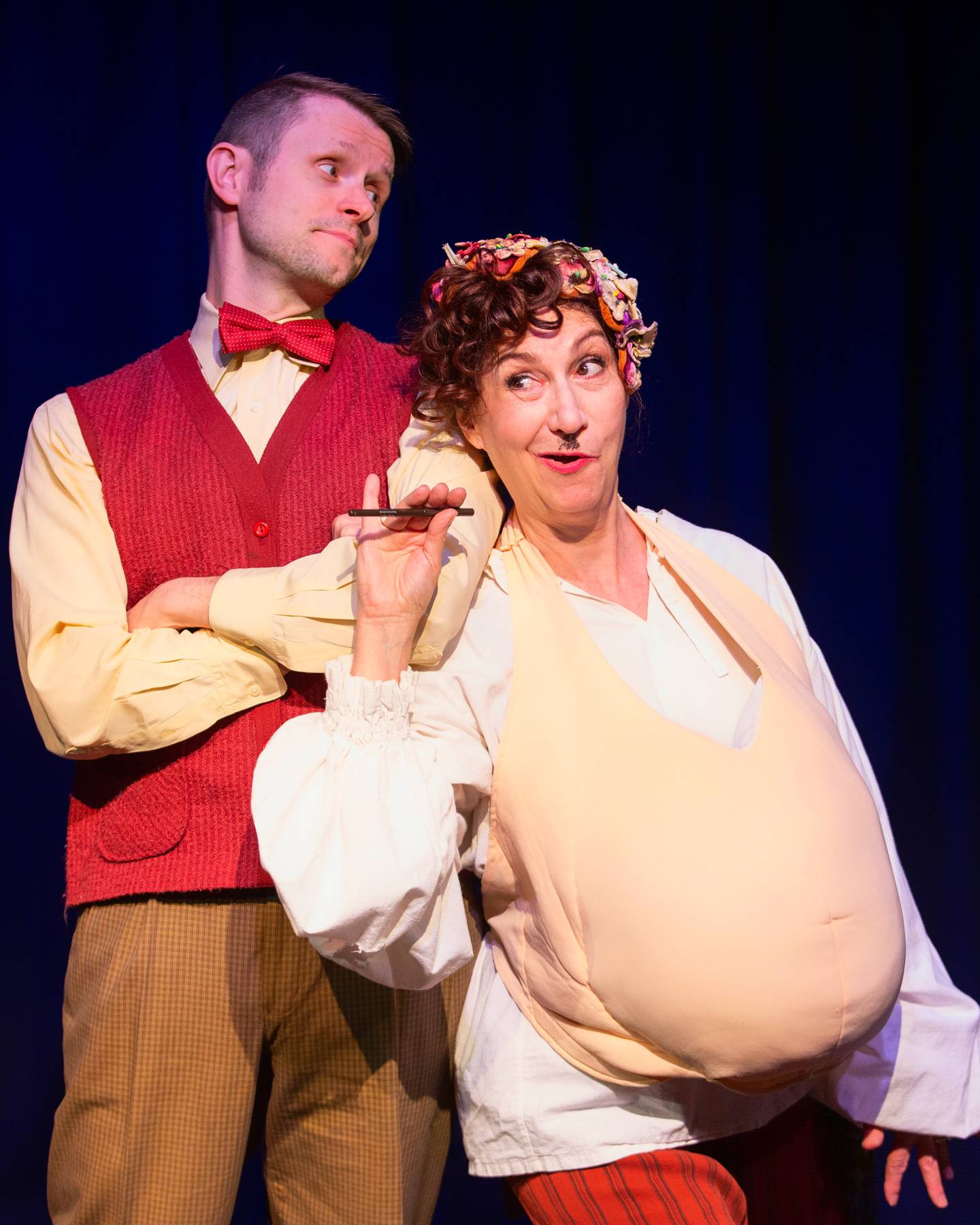 Garrett Ard is Stuart, the humble stage manager and only male of the theater group. One of Maggie's staunchest supporters, Ard has a heartfelt emotional scene in Act Two, which he delivers beautifully and genuinely.
Another member of Maggie's support system is Ida, the Oberon costumer. As portrayed by Amber Cartwright, Ida is brainy, brave, creative – she is tantalizing as the impulsive Hotspur, and Oberon's first Black actor. Cartwright's accounting of Ida's trip to the local blood bank is delivered with distinguished intensity. Cartwright and Ard have deep understanding of conveying chemistry between friends.
The "Into the Breeches" characters make their progress through rehearsals, going past the ever-present artistic differences such as "walking like a man" (and wait till you see Celeste and Ida's "weight of manhood" solution) to dealing with receiving word from the men at the front. And, as does truly happen with most theater companies, they become a family.
"Into the Breeches" is a charming, disarmingly effective comedy with subtle but strong themes and commentary; perplexing that 81 years since its setting, we're still dealing with issues of women's rights, age, gender and race. "Into the Breeches" is also a sincere love letter to the theater, backstage camaraderie, the universality of William Shakespeare's work and how, even in the darkest times, we can find insight and inspiration. This show and iambe's very existence fill me with a great deal of optimism for the future of small theater and superb quality productions. "Once more unto the breach … "
• Although Regina Belt-Daniels has never portrayed a man on stage, she has acted in several Shakespearean productions, and served on several theater boards. The retired Reading Recovery and special education teacher, when not traveling with her husband, can be found onstage, backstage, in the audience and writing theater reviews somewhere.
IF YOU GO
WHAT: "Into the Breeches"
WHERE: Marquee Theatre, 619 W. Main St. (Route 64), St. Charles
WHEN: 7:30 p.m. Fridays and Saturdays, and 2 p.m. Sundays through June 11
COST: $22; cash, Zelle, Venmo at the door
INFORMATION: Tickets at tinyurl.com/iambe-breeches