In 1926, "Chicago, The Play" premiered at the Sam Harris Theatre on Broadway. A "succès de scandale" directed by George Abbott, it ran for 172 performances and then toured the country for more than two years. It was the impetus for Bob Fosse's 1975 Tony Award-winning Broadway musical, and the six-time Academy Award-winning 2002 film. The revival continues to run to this day, and holds the record as the longest-running American musical in Broadway history.
"Chicago, The Play," while fictional, is based on two unrelated 1924 court cases involving "beauty of the cell box" Beulah Annan (the inspiration for the character Roxie Hart ) and twice-divorced cabaret singer Belva Gaertner (the inspiration for Velma). The playwright, Maurine Watkins, who covered the courthouse beat for the Chicago Tribune, believed both "jazz babies" to be guilty even though they were acquitted by the jury. Ironically, Watkins initially refused Fosse the rights to her play due to her remorse – believing her reporting helped two guilty women escape justice. It wasn't until her death that her estate granted Fosse development rights.
Elgin Theatre Company's producer and President Richard Grieger said the company selected "Chicago, The Play" after reading Director Julie Prices's proposal; another advantage was the play's public domain status, being no longer subject to copyright. Price adapted Watkins' play, putting her own spin on it by enhancing the characters' stories.
The plot is an uncomplicated one. It's April 1, 1928. A black-and-white, film noir-style video introduces us to the murder of married lover Casely – shot by fame-obsessed paramour Roxie Hart. Why? He has told her he's through with their relationship. By the way, Casely happens to be number 36 in Roxie's diary of trysts, and she tries to coerce her husband, Amos, into taking the blame for the shooting. But Roxie is put on trial for the murder.
Price benefits from a collaborative team beginning with costume designer Elizabeth Kubis De Vries' appropriate jazz era confections; she also provides beautiful offstage singing as Chi Town Cindee, accompanied by talented pianist Akul Sharma. Assistant directors and stage managers Erin Calhoun and Kristin Cerer keep the dedicated and capable ensemble of 18 ordered and running on a simple, effective set designed by Price that utilizes the eighth-floor venue's space well, and is consistent with the 1920s. A special nod goes to those jail-bar pieces and the Cook County courtroom.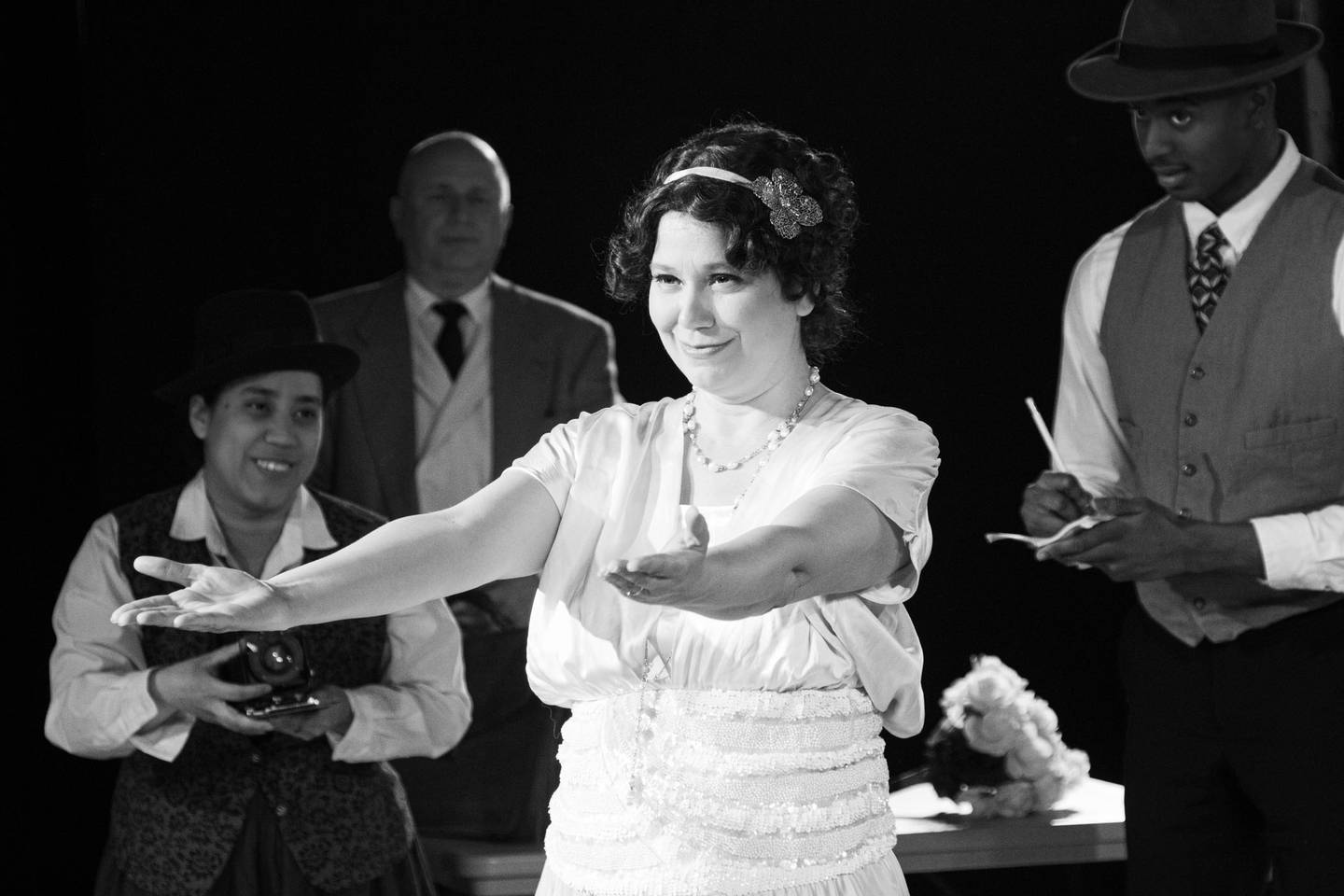 Making her Elgin Theatre Company debut, Jocelyn Adamski is an enchanting Roxie, definitely the bee's knees! She's got the voice, marvelous facials, and is adept with physical posturing. "Chicago, The Play" definitely rests on Adamski's shoulders, and she carries the show from beginning to end with her masterful comedic timing, those fluttering eyelashes, and the magnificent delivery of all those lines.
Amber Dow is another force to be reckoned with. As Matron Mama, she is an amazing actress: strong and consoling, kindly, wise with experience. Dow has a natural range of talents, and can show you the other side of Matron in a flash: angry, fierce and enamored of that monetary extra padding.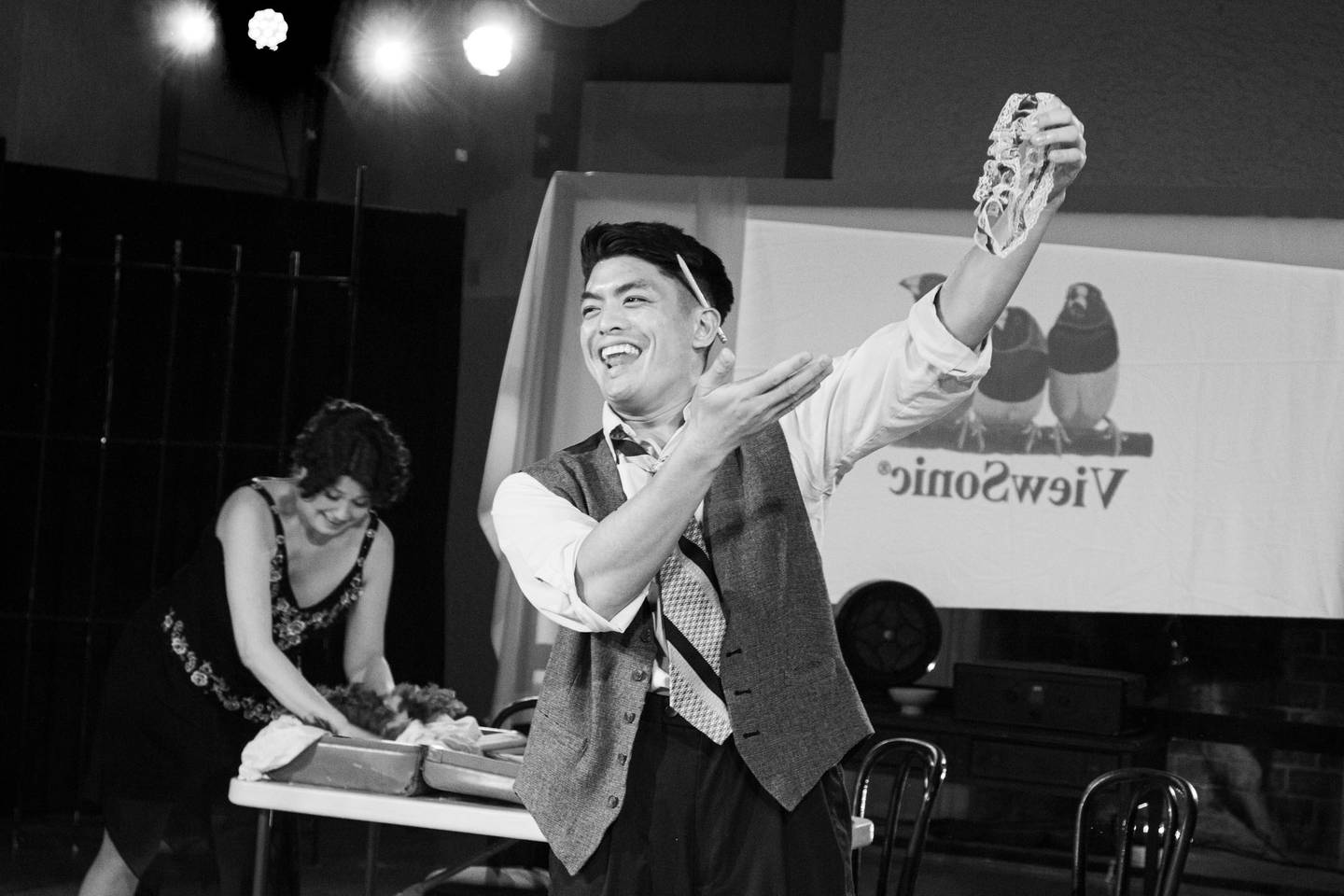 Josh Dizon's Jake is the perfect reporter; with a rakish tip of his fedora and his dance moves, Dizon exhibits an easy, smooth compatibility with his role. A vibrant actor, Dizon has an expressive face and clear articulation of that journalistic slang of the fourth estate. ("Dames don't swing in Cook County.")
As assistant state's attorney Harrison, Gabor Mark portrays a frustrated, intelligent ace prosecutor, who even in Chicago believes in justice and society. It is fascinating to watch Mark's body sag in desperation, and his face reflect the knowledge he's been railroaded away from his interests. He has an antagonistic chemistry with William Athow's Billy Flynn, Roxie's cigar-chomping defense attorney with his $5,000 fee. Athow's coaching scenes are comedic, but he conveys confidence, arrogance and a slick Southern gentlemanliness as he works his charms for jury approval. He creates Roxie's defense, and tells her to "cut out God – stick where you're better acquainted." Mark and Athow have a wonderful nemesis relationship.
But recognition must be given to the notable performances of Devon Ortiz's hapless auto mechanic husband Amos ("I'm not as dumb as I look"); Carol Brown's very credible and touching portrayal of crazy inmate Liz, who delivers one of the best thought-provoking lines: "It's funny – we all got our tags and we come on different roads"; Ira Gerard's energetic character from Des Plaines – Go-to-Hell Kitty – who explosively crashes onto the stage as Roxie's headline-status competitor in Act Two. She doesn't read the news – she makes it! And Yizleibis Barreto is a heart-tugger as Moonshine Maggie, an inmate the headlines and law fail because she's not as fashionable or as rich or speaks English as well as the other inmates.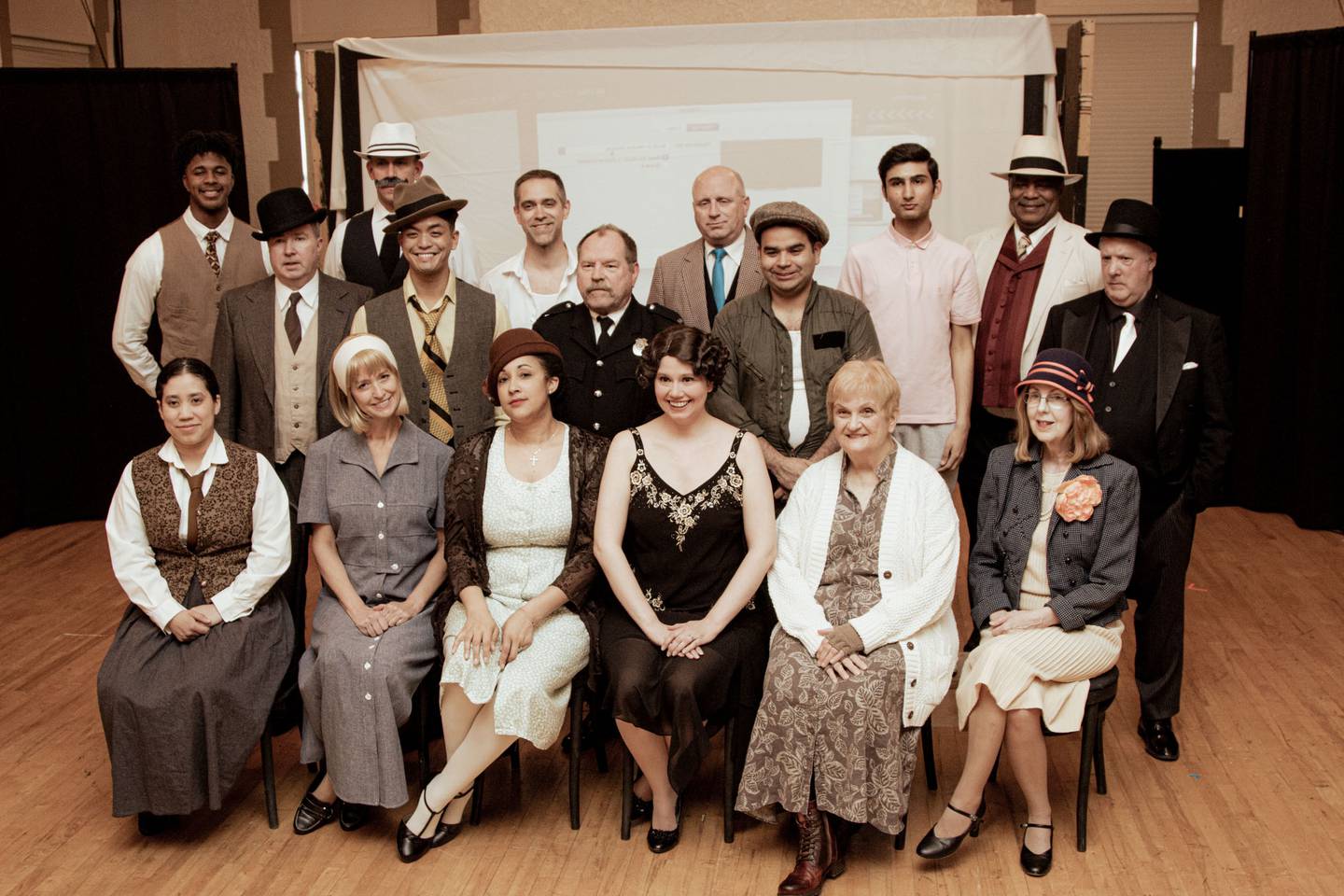 A very supportive ensemble portrays various roles: Dwight Brown (bailiff), Larry Green (judge/coroner), Eileen Mitchell (a pushover and sincere Mary Sunshine), Kamari McNeal (officer, reporter) Ken Craig (Sgt. Murdock), Kim Green (the fashionable Velma) and Cindi Brown (Widow Casely).
As with many an opening night, there were complications, particularly with timing, projections and sound. Despite its length, "Chicago, The Play" has the potential of being a very entertaining souvenir of Chicago in the 1920s, while providing an understanding of what makes the headlines – the strength and truth of journalism and what the public devours – certainly an interesting parallel to today's times and media. Watkins and her "Chicago, The Play" are pretty much overshadowed and forgotten today, but it's well worth the trip to Elgin to experience the origins of a true story tailor-made for the stage.
[The show, which runs two hours and 50 minutes with one intermission, uses flashes of light and is rated PG-13 for adult language, themes and suggestions of violence.]
• Regina Belt-Daniels is a retired Reading Recovery and special education teacher who loves to direct and act; when not traveling with her husband, she can be found onstage, backstage or writing theater reviews somewhere.
IF YOU GO
WHAT: "Chicago, The Play"
WHERE: Elgin Art Showcase, eighth floor, 164 Division St., Elgin
WHEN: Through May 21
COST: $20, $18 for seniors and students
INFORMATION: 847-741-0532, www.elgin-Theatre.org, tickets@inil.com