The audience was determined to celebrate its return to live theater. After 16 months of being shuttered with a dimmed marquee, the Paramount Theatre in Aurora came roaring back with its Midwest regional premiere of the Broadway musical "Kinky Boots."
The orchestra was cheered, the welcome-back-thank-you speech was cheered, the scenery was cheered, every actor and ensemble member as they entered that stage was cheered, and you know what? That audience was right; Paramount's "Kinky Boots" is a spectacular, dazzling production totally deserving of each accolade.
You might remember "Kinky Boots" from its 2012 Chicago premiere at the Bank of America Theatre. With book by Harvey Fierstein and music and lyrics by Cyndi Lauper, it seemed destined for greatness despite lukewarm reviews. On Broadway, it garnered 13 nominations and won 6 Tonys (beating the favored "Matilda"), including Best Musical, Best Original Score, and Best Actor. Based on the 2005 British film, "Kinky Boots" was mostly inspired by true events. It's a flashy, sassy, brassy story about acceptance, recognition of who you are, and empowerment of the individual.
The story? Charlie Price inherits his father's legacy, the almost bankrupt Price and Son shoe factory in Northampton. He forms an unlikely partnership – after a daring pub rescue – with a cabaret performer/drag queen named Lola to produce an unheard of line of high-heeled boots to save the business. Price and Son shoes are good quality, capable of lasting a lifetime, but are neither stylish nor cheap. And Lola needs boots that are red, and in a feminine style that can support a man's weight. It's all the sales-niche suggestion of factory worker Lauren that starts the ball rolling – or should I say heels?
I doubt I've ever seen such a hard-working, energetic and multi-talented cast; all 35 can act and sing – and some execute flips, splits and gymnastic moves that defy my comprehension. Nor do I think I possess enough superlatives in my vocabulary to describe the controlled fervor on that stage.
Director Trent Stork and conductor and Music Director Kory Danielson, combined with the amazing choreographers Michael George and Isaiah Silvia-Chandley, are a formidable team. Factor in the clever scenic designs of Kevin Depinet and Christopher Rhoton, gorgeous costumes by Ryan Park, wigs and makeup by Katie Cordts, and lighting by Greg Hofmann, and you've got the creative team of theater dreams.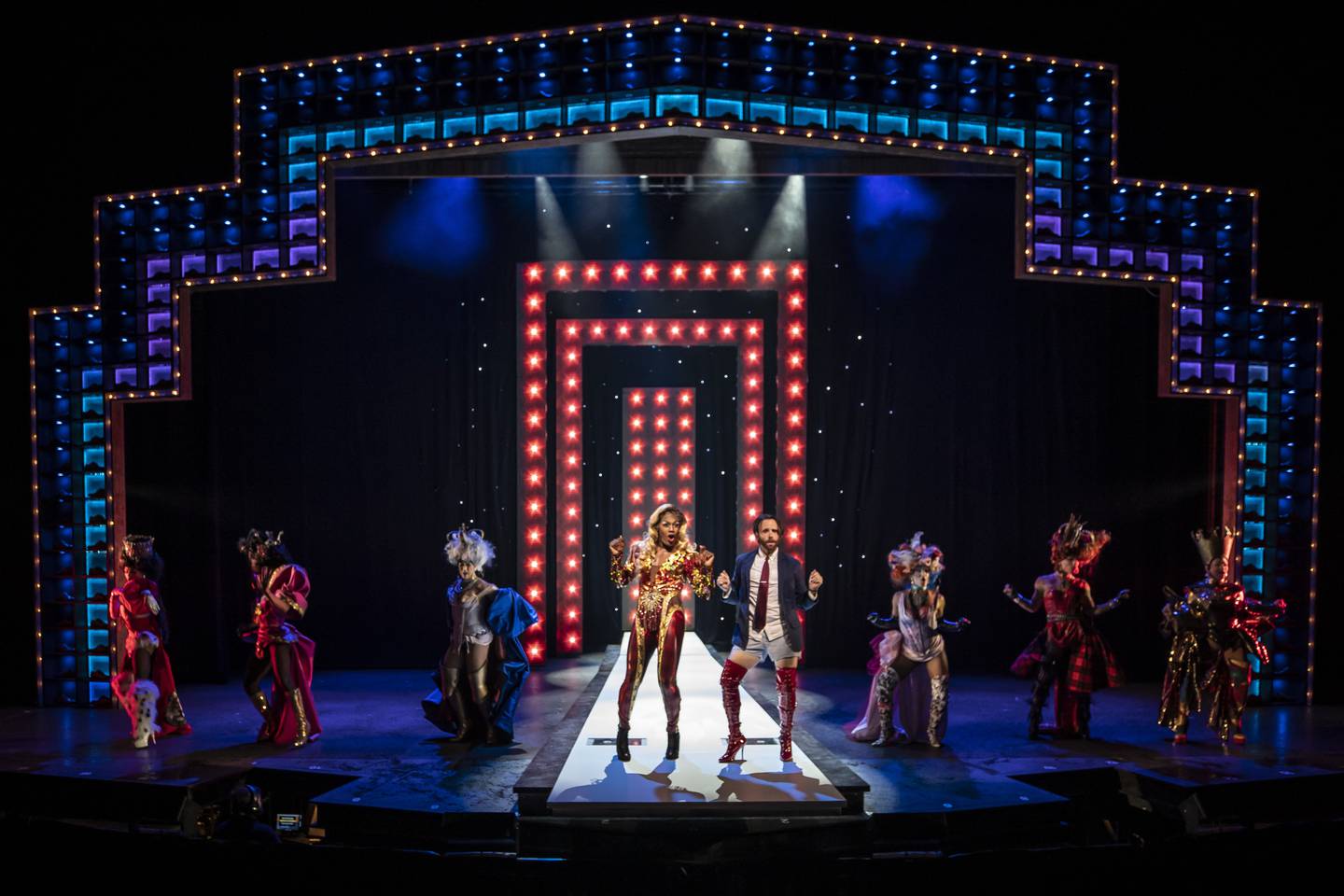 Both Devin DeSantis as Charlie, and Michael Wordly as Lola are brilliant, powerful, uplifting and extremely magnetic actors. Their hearts are in their portrayals; they drive the show, and like their interwoven character stories, it's hard to separate these two mega talents. They've got chemistry and a home on that stage. Listen to the especially poignant "Not My Father's Son," and tell me differently. Now I can't imagine anyone else doing their roles, and I've seen "Kinky Boots" as the movie and onstage in London.
Emilie Lynn is the perfect, posh, snobby London fiancée Nicola, and Sara Reinecke is the adorable, bubbly and often comedic Lauren, who sings "The History of Wrong Guys" – but guess who gets the guy. Mark Lancaster is the divisive macho man Don, who makes a surprising change, and Mark David Kaplan is a wonderful, not-so-meek but very devoted assistant George.
But just wait until the much anticipated Angels fly on. They are incredible anytime onstage, but especially when they strut the Milan catwalk in crowns and regal attire: Terrell Armstrong, Anthony Avino, Matthew Bettencourt, Christopher John Kelley, Anthony Sullivan Jr. and J Tyler Whitmer.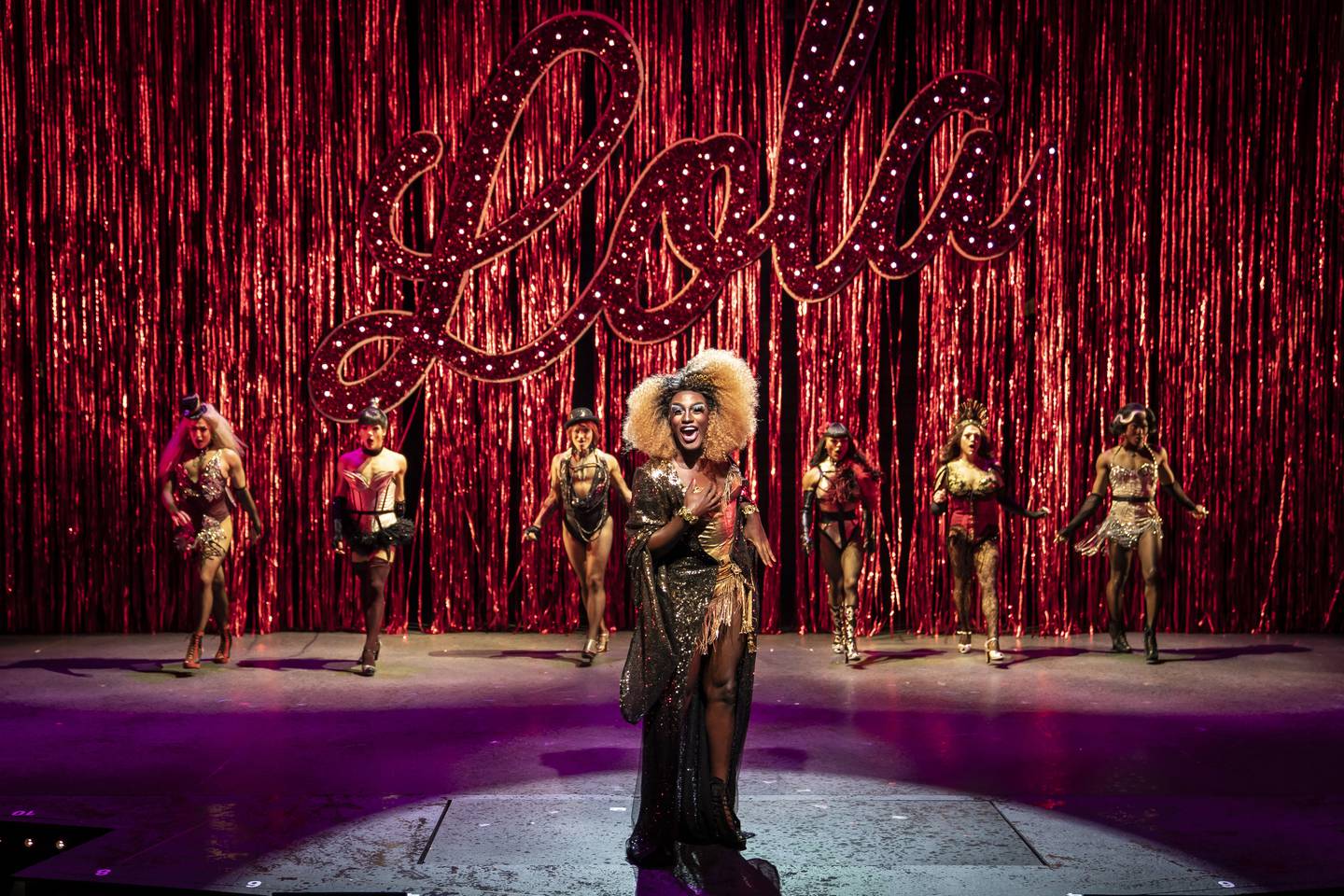 So all the elements are there, my theater and musical loving friends. Stunning, enjoyable entertainment with stellar performances that make you forget the outside world for at least a few hours. And after the immediate roar of the standing ovation that pulls you to your feet with no effort after the closing number "Raise You Up/Just Be," you'll leave the Paramount with a big smile behind that required mask.
[Note to readers: The show has adult content and runs two and a half hours. For entry, the Paramount Theatre requires proof of vaccination and that people wear a mask at all times.]
• Regina Belt-Daniels was delighted to be in the company of a live audience once again. Since the first grade, she has been involved in hundreds of theatrical productions in many capacities. She currently serves on the boards of RCLPC Theater and It's Showtime.
IF YOU GO
WHAT: 'Kinky Boots'
WHERE: Paramount Theatre, 23 E. Galena Blvd., Aurora
WHEN: Through Oct. 17
COST: $36 to $74
INFORMATION: 630-896-6666, paramountaurora.com