Candidates for mayor of Joliet drew sharp contrasts between themselves at times during the final forum on Tuesday a week before the election.
Several questions in the forum organized by the Cathedral Area Preservation Association zeroed in on major controversies of the last four years: turnover among police chiefs, a revolving door at the city manager's office, and strife at city hall.
The three candidates for mayor – Mayor Bob O'Dekirk, Terry D'Arcy and Tycee Bell – met one more time at the Joliet Public Library before the April 4 election.
"Let the police department run the police department," D'Arcy said in response to the question of turnover and suggested there may have been interference from city managers leading to four chiefs in five years. "We need some stability. I have to say that Chief (William) Evans seems to be a pretty good chief."
His comment drew a harsh response from O'Dekirk.
"The idea that the police run themselves is insane," O'Dekirk said. "Any police department in the United States has civilian oversight."
O'Dekirk then pointed to the recent city inspector general report alleging that former Chief Al Roechner and former Deputy Chief Marc Reid conspired with others to file a false police report to discredit the mayor in 2020.
"This is the biggest scandal that's come to Joliet in my lifetime," O'Dekirk said.
Bell said residents feel left out in the police controversies and they have been "an eye opener for me as well."
"It's all starting to be a bit of a whirlwind in Joliet, and we need to get back on track," Bell said.
Another question focused on the future of City Manager James Capparelli, whose contract expires in June.
"I would sit down and reassess with the council any contract that comes up," Bell said.
D'Arcy said he expects there to be new council members after the election, and there would likely be a review of the city manager position.
"We need to make sure that that person works with the leadership of the city," D'Arcy said, adding that he was "sure the current city manager will be able to reapply for his position."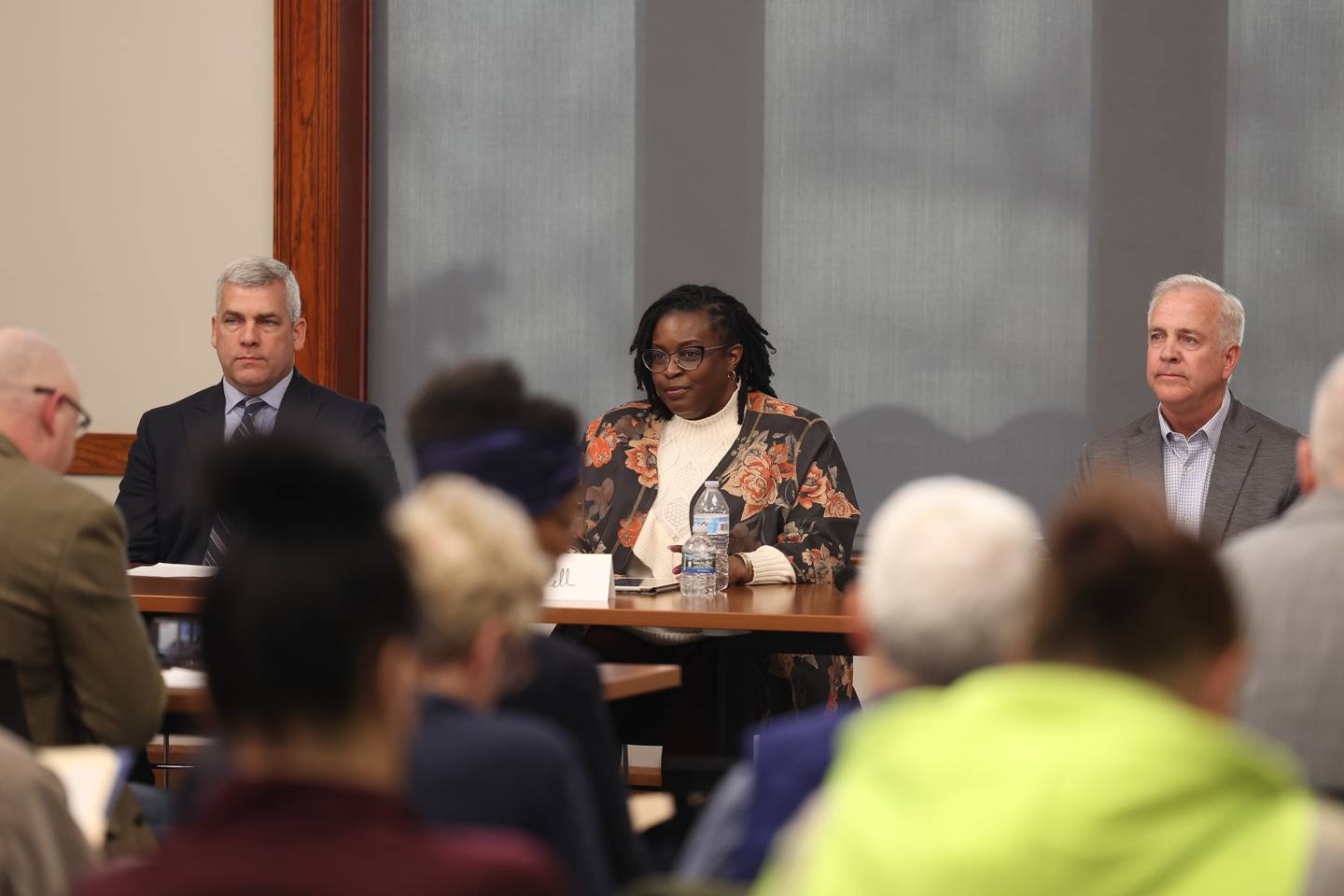 O'Dekirk pointed to the removal of Marty Shanahan as interim city manager by a divided council in 2019, when he supported Shanahan for the job.
"It really put the city into a freefall," O'Dekirk said.
He voiced support for Capparelli.
"Mr. Capparelli has been brought in. He's absolutely stabilized what's happening with the city," O'Dekirk said.
In response to a question about the appearance in the media of "internal turmoil" in city government, O'Dekirk said, "For the most part, that has come to an end thankfully."
But he said some issues need to be addressed even it they "may be scandalous" or "make for a bad headline."
Bell said, "I like to take the high road and stick to policy."
"I really believe you need stability," D'Arcy said. "But you need a good leader who can weather all the storms."