OTTAWA – The funny thing was, Grace Carroll hardly looked winded.
Sure, her hair pulled up in a bun was a little askew, and her cheeks were bright pink against her pale skin from exertion, but she looked as if she could have gone another quarter doing the exact same thing.
But for the work she did in the four quarters she played against La Salle-Peru on Wednesday, she deserved the rest of the night off.
The Ottawa senior leader was on top of her game, pouring in a team-best 20 points while adding five rebounds and an exhaustive yet solid effort at the opposite end of the floor against La Salle-Peru all-stater Brooklyn Ficek.
Along with the rest of Ottawa's stellar defensive night, those aspects helped the Pirates come away from the Kingman Gym encounter with a 50-28 Interstate 8 Conference victory.
Ficek took Cavaliers scoring honors with 19 points that included sinking 4 of 7 3-pointers, but at least three of those shots were from 5-plus feet past the arc.
Meanwhile, the home team limited the rest of the Cavs to chilly 2-of-20 shooting from the field and allowed no other player more than the three points each recorded by Kaylee Abens and Emma Garretson as it improved to 6-2 on the season.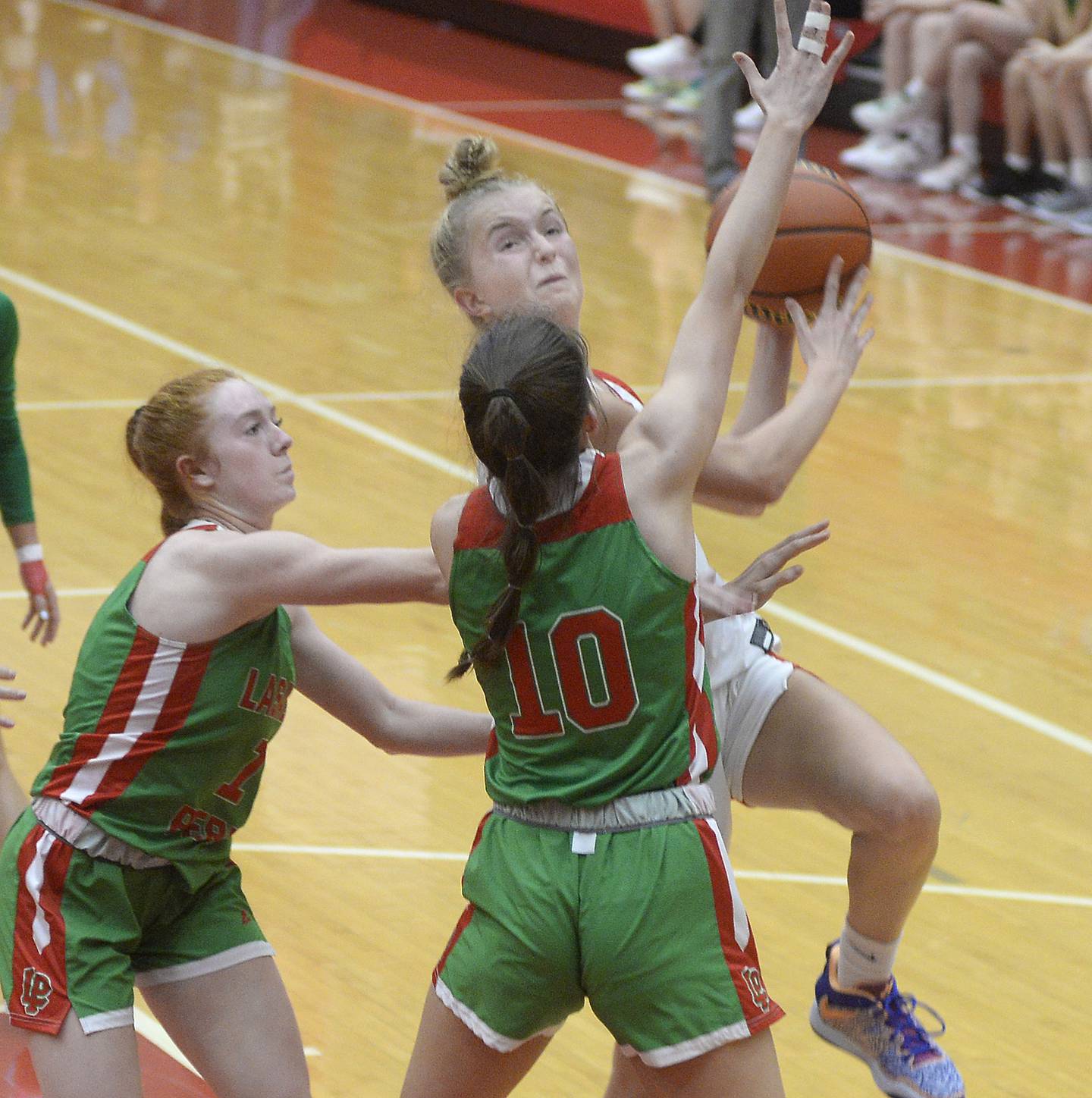 "What Grace did on both ends of the floor tonight was amazing," Ottawa coach Brent Moore said. "Face-guarding Ficek at one end the entire game and then scoring 20 at the other end, having enough legs to put the ball in the basket, be a leader and close the game out for us tonight.
"Off the ball, especially in the second half, I felt we were a little bit more engaged into where their high ballscreen was getting set, we were up in the gaps and pinching on Brooklyn and forcing someone else to have to beat us. We did an excellent job flying out to shooters, attacking the glass and limiting them to one shot at their end. … We were concerned about rebounding, as we don't have the size we've had, but credit the girls for the job they did on the boards tonight.
"With these girls working as hard as they do, it makes it that much more fun."
After a first quarter in which the teams tested each other slowly, the Pirates extended a slim 12-11 lead with a game-changing surge of defense and solid perimeter shooting over the next 15 game minutes. They closed out the first half by scoring 13 of the last 16 points, including a 3 and a deuce by Marlie Orlandi and a Carroll putback with 1:27 to go, then got a pair of treys and two free throws from Carroll to net 11 of the first 14 points of the third period.
All told, the 24-6 burst carried the hosts from a one-point margin to a 35-17 advantage with 2:02 left in the third period.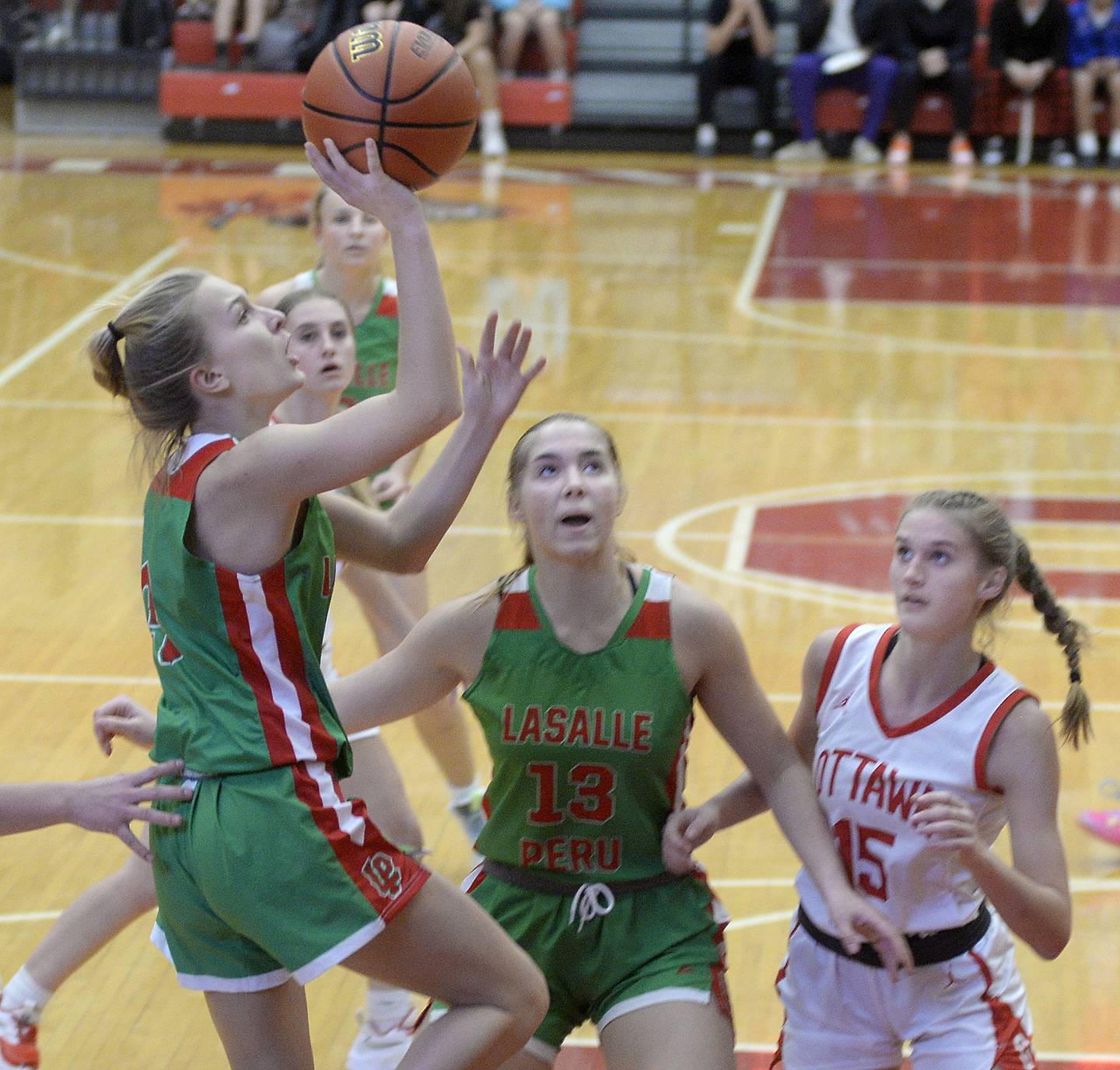 "Looking at the book, if Brooklyn is scoring 19 of 28 points and no one else is drawing iron or getting to the free-throw line, it's pretty easy to run a double [team] at her. She needs some help," said L-P coach Adam Spencer, his team now 3-5.
"Our girls don't have a lot of basketball experience, and it kind of shows. … In every game we've lost, it's because we don't finish possessions. There's the offensive rebound/kickout 3, there's a 50/50 ball that we don't get because two of our girls crash into each other, we drop a rebound, stuff like that is going wrong for us right now. We're shooting ourselves in the foot, and those things will turn a 5-0 run into an 8-0 run, and things snowball.
"Things like that will happen, but we can't get down when they do. We have to shake that next bad thing off instead of trying to hurry down and fire up a shot to try and get it back."