La Salle-Peru High School teacher Carol Navarro has taken her science lab outdoors this semester.
While COVID-19 restrictions have brought change to the routine school day, teachers are adjusting from more traditional education methods to give students mask breaks and to keep their interest.
Navarro has facilitated a unit that includes a lab comparing living and non-living things.
For this lab, students went outdoors and found five living and non-living things. The students then had to determine which category they would fall into before discussing them with the class.
"We have reinstated more hand-on activities as best we can with the COVID restrictions," Navarro said. "Students really like being able to do some activities this fall."
During the nice weather the Illinois Valley has had during the beginning of the 2021 school year, La Salle-Peru teachers have incorporated more out-of-the-box teachings into their regular curriculum.
From outdoor lessons to special guests, teachers have tried to turn a less-than-ideal situation into one that encourages learning and takes the focus off of having to wear a mask.
La Salle-Peru High history teacher Troy Woods said he is catering his teaching to his students at the time, and COVID has opened more opportunities at the beginning of this year.
"I am always looking for ways to improve, update or expand on my lessons," Woods said. "Every year, how I teach changes depending on my students, classes and the classroom I am teaching in. This year with COVID, I am taking advantage of L-P's beautiful campus and nice weather by getting outside whenever it works with a lesson."
Art instructor Julie Jenkins has taken her students outdoors for photo safaris to explore a range of possibilities in their photography lessons.
She also has taken her Advanced Placement Art and Design students outside to draw, sketch and collaborate in a relaxed setting.
"Getting out of the classroom creates an opportunity for students to engage in an open environment that may feel more relaxed and conducive to sharing," Jenkins said. "I think that providing a variety of learning opportunities will help to ensure all students will have the ability to succeed. I also believe that interacting with nature is a benefit to our overall mental health."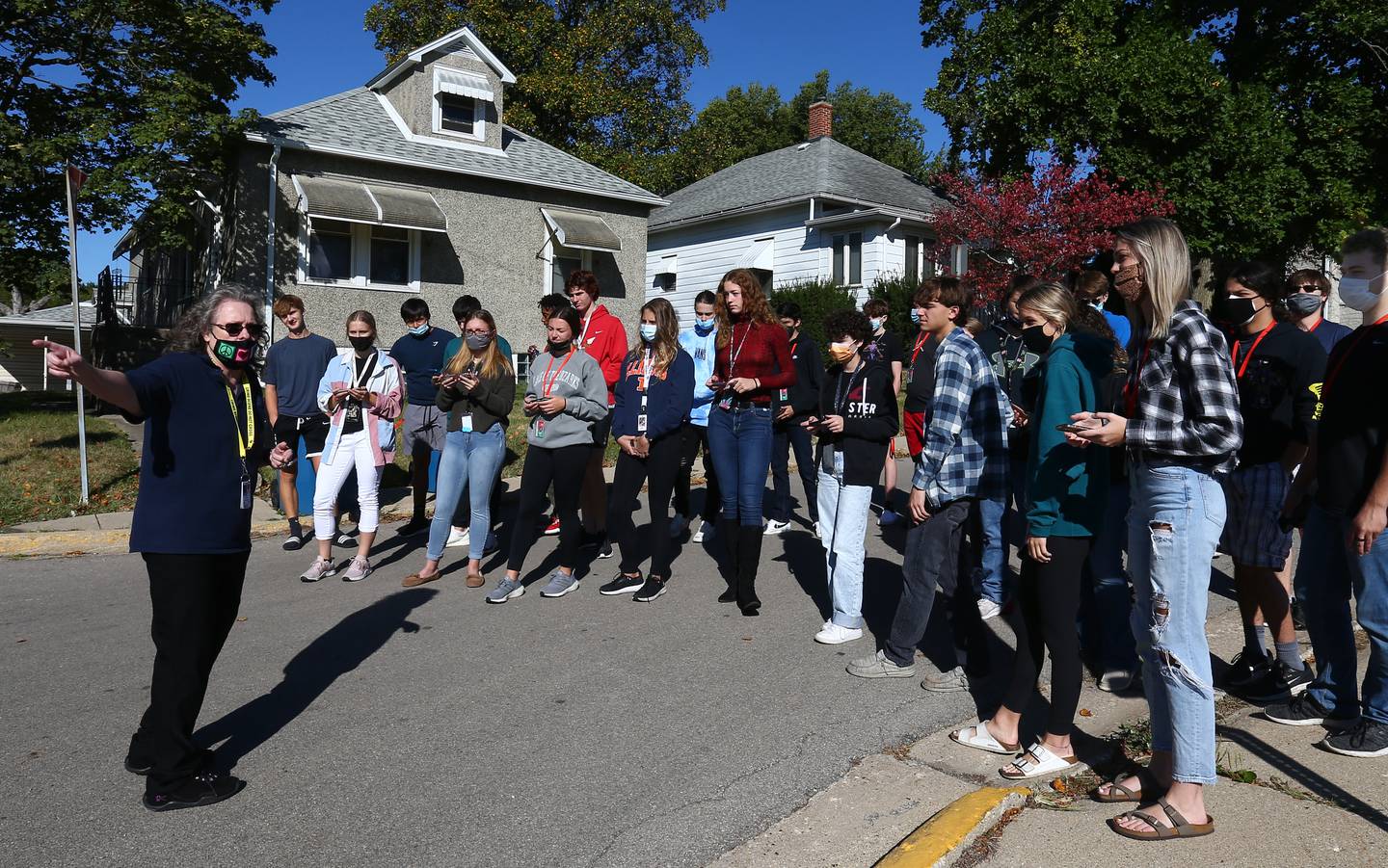 Woods, Navarro and Jenkins all mentioned they have found themselves increasing the amount of outdoor classes to not only take advantage of the nice weather, but also to give their students an opportunity to have a break from masks.
"We've encouraged all of the classes," said La Salle-Peru High Superintendent Steven Wrobleski. "If you're doing an English class or doing anything nature related, or even not, we encourage them to take advantage of the outdoor environment where we can all take our masks off."
While to some schools, implementing outdoor education lessons may require the teacher to jump through hoops, L-P teachers said the administration has been supportive and it doesn't require more effort than a regular lesson.
"It has been pretty easy," Woods said. "La Salle-Peru administration is very open and accommodating to teachers who want to try new things. L-P has a big beautiful campus so there is lots of space available to do an outside lesson or activity."
Some educators said the hardest part of outdoor lessons is letting the security know where they will be.
"The lessons we have done outside have required no more planning than a normal lesson indoors," Jenkins said. "In my experience, the students don't really seem bothered by the masks, but some enjoy a break and breath of fresh air while outside, some continue to wear them."
While some students feel more comfortable continuing to wear their masks outdoors, some students look forward to getting a break during their daily schedules.
"Kids look forward to the days I say 'We are going outside,' " Woods said. "I think it is important to get kids excited about learning. So I would say it's very important."
Jenkins mentioned students have begged to go back outside and continually ask when they will be able to have an outdoor lesson again.
"Anytime you can give the students a voice in how we go about learning, it tends to be more successful," Jenkins said. "So, I do think it is important to break things up and have moments like these to help build rapport, strengthen relationships and work together toward a common goal."
While the mandates can be a nuisance, Wrobleski said teachers are glad to have students in the building.
"First and foremost our teachers are thrilled that we are full day, five days a week," Wrobleski said. "Even though we've had to deal with a number of COVID changes and updates; and it's been hard and frustrating for many of them, there is a level of optimism that we are here."
After seeing success early on in the fall semester, many teachers look forward to continuing this recent trend for as long as the weather allows.
"We are hoping to go outside in an upcoming unit on classification of living things and ecology," Navarro said. "Hope the weather cooperates. The students do like going outside and getting fresh air and this does allow them to have a mask break and so do we."