As a boy, Jake Jakielski was puzzled by something he heard every day around the house.
"When I was younger, my mom used to ask me 'what's the buzz?' when I would come home from school. I didn't know what she was talking about," the Marseilles resident said.
Lately, Jakielski has been hearing that line again, all the time. "What's the Buzz" is one of the songs featured in the musical "Jesus Christ Superstar," which will debut next week at Stage 212 in La Salle. Jakielski plays the title role.
In addition to the rock opera musical marking the return of a familiar phrase for Jakielski, it also marks the return of performances at Stage 212′s Manahan Centre, which hasn't mounted a production since February, 2020, when theater work was shut down by the emergence of the COVID-19 virus.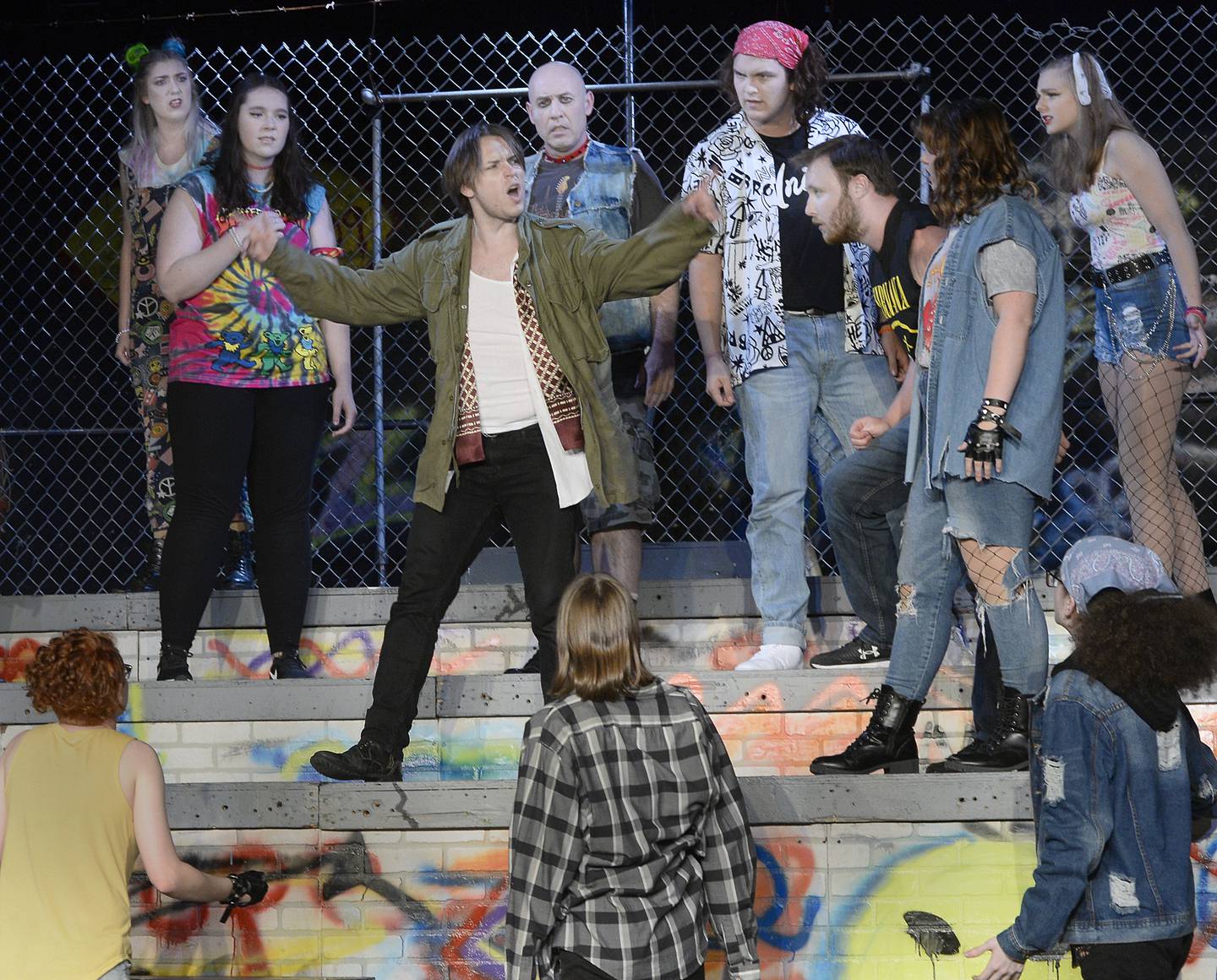 "Bringing everyone back to the stage is exciting," said Traci Tomasson, of Oglesby, producer for the Andrew Lloyd Webber and Tim Rice, which was first presented and Broadway in 1970 and since has been made into a major movie and performed all over the world.
"People know this show and they take it to heart," said Oglesby's Reid Tomasson, the musical director and Traci's son.
Is Jakielski feeling pressure in playing the savior of mankind?
"Oh, it is. Very much so," Jakielski said with a laugh.
A graduate of Illinois Valley Community College and Illinois State University, he prepared for the show by taking voice lessons and tried to avoid being influenced by previous actors who tackled the role.
"I watched a whole bunch of performances of people who played him. It's pretty easy to be a copy," Jakielski said.
"Jesus Christ Superstar" features sensitive material and intense sequences, including physical violence. It is recommended for ages 12 and up.
Loosely based on the Gospel's account of the last week of Jesus's life, "Superstar" explores the psychology of the characters, focusing on the character of Judas in particular. Contemporary attitudes, sensibilities, and slang pervade the rock lyrics, and ironic allusions to modern life are scattered throughout.
Varna's Mark Fulkerson, a Streator native, portrays Judas. He was attracted to the rock opera's music and story, the role of Judas in particular.
"The Bible portrays him in black and white. The show delves into what he is doing in his heart," Fulkerson said.
How much of the show is about religion?
"It is and it isn't. It doesn't dive into being a religious retelling. It allows people to question whether he is (the son of God) or not," Reid Tomasson said.
Fulkerson noted audience members "can take their own questions away with them."
The rock opera originally was going to be staged outdoors on First Street, in front of Manahan Centre. The state of Illinois' pandemic guidelines were changed, allowing "Jesus Christ Superstar" to be moved indoors to the theater.
"It's going to be so helpful to not worry about the heat, the rain, sounded. Thankfully, we will be all inside," Traci Tomasson said.
So what's the buzz about the new production of "Jesus Christ Superstar," last presented by Stage 212 in 1990? Reid Tomasson said it is comparable to other hit shows of recent years.
"A lot of people say 'Jesus Christ Superstar' was the 'Rent' of its era, and they say 'Rent' was the 'Hamilton' of its era," he said.
Back on the big stage
Featured in the cast are Jake Jakielski as Jesus, Mark Fulkerson as Judas, Ashley Hurst as Mary, Kevin Alleman as Pilate, Mark Nowakowski as Caiaphas, Megan Cullinan as Annas, Nora Maier as Peter, Bob Philip as Simon and Dan McKenzie as Herod.
Also featured in a variety of ensemble roles are Isaac Alvarado, Serena Armstrong, Kylie Atkins, Andrew Beer, Emily Boes, Claire Brousseau, Emma Frost, Jon Graham, Makayla Heller, Andrea Imsland, Kelly Johnson, Mike Maier, Robert Malerk, Melanie Maskel, PJ Olsen, Hanna Pohar, Courtney Ries, Reid Rynke, Adrian Silva, Zoe Starkey, Jim Struck, Griffin Tabor, Alexis Trammel and Krysten Walowski.
Production staff includes director/choreographer/costumer Reid Tomasson, producer/costumer Traci Tomasson, music director Megan Cullinan, stage manager Perla Escatel, choreographer Hanna Pohar, set designer/construction coordinator Cory Tomasson, sound coordinator Andrew Paden, lighting coordinator Yvette Lucas, and stage crew Ella Johns, Haevin Britt, Allesyn Wilke and Nick Hancock.
"Jesus Christ Superstar" will be presented Monday through Saturday, July 26 to 31 and Sunday, Aug. 1 (two performances) at Stage 212′s Manahan Centre, 700 First St., La Salle. Performances will be indoors, not outdoors as previously advertised, and will begin 6:30 p.m. except the Sunday matinee, which will start at 2 p.m.
Tickets are available at $20 each, and can be purchased by visiting the box office 4 to 6 p.m. Monday and 9 a.m. to noon Saturday, or by calling 815-224-3025 during the same hours. Tickets also can be be purchased online at stage212.org. A limited number of socially distanced seats are available for unvaccinated patrons by calling the box office. Stage 212 will be following IDPH guidelines for Phase 5 for all performances.