A teacher marched the girls into a Waltham School restroom, but not for an embarrassing lesson in hygiene or adolescence. This was 1951 and the birds-and-bees talks were held strictly at home.
No, the teacher had to show the girls how to flush a toilet and run a faucet. Waltham School had just been opened, replacing nine one-room schoolhouses in rural Utica, and many of the students had never seen indoor plumbing before.
"I just remember thinking, 'Oh, they don't need to be teaching me this,'" recalled Phyllis (Clement) Radcliff, a third-grader when the school opened in early 1951. "I'm sure for a lot of people it was a one-time experience for them to see flush toilets."
The old Waltham School comes down soon and Radcliff is a little "sad and nostalgic" about the razing of where she learned her three Rs. The Waltham Elementary School District now runs a centrally located facility on Route 178, which emptied the district's two aged school buildings.
Although the school board found a taker for its south building – that will become Utica's municipal complex – the board figured it'd be easier to sell the cleared land on North 33rd Road, so the original Waltham School has a date with the wrecking ball.
The decision prompted Waltham's inaugural students to swap tales of moving out of tiny schoolhouses and into Waltham School when it opened in early 1951. Small by today's standards – three classrooms, an office and gymnasium – Waltham School seemed huge to rural students.
"We were all just a bunch of farm kids and we'd never seen anything so big in our life," said Dave Wilson, who doesn't remember the boys getting taught how to use the commode. "And the lockers? Nobody knew what they were for."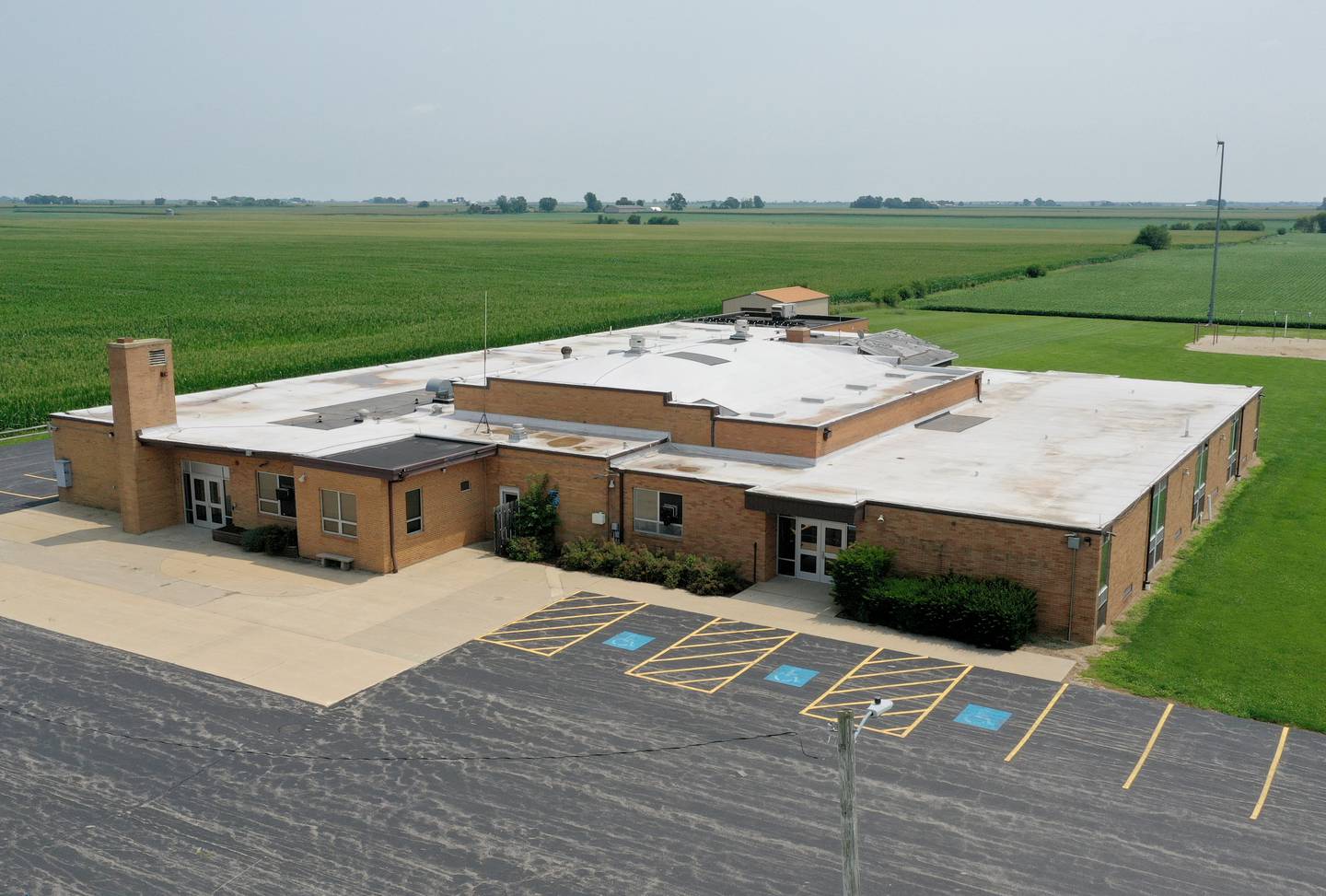 Wilson remembered that emptying nine schoolhouses produced vast surplus materials that exceeded Waltham's storage space. All the extras were stuffed into steamer trunks left in the hallways, lined up nearly end-to-end. A few boys thought it'd be fun to see who could leap from trunk to trunk without touching the floor.
"The teachers would get all excited and holler," Wilson said. "It was quite an experience, really."
Joyce Anderson, another third grader on move-in day, said Waltham provided experiences that simply weren't available in the one-room setting. Waltham had a phone for sick kids to call home. A music teacher came in to teach piano and accordion. There were even movies; the projector was rolled into the hallway because the classrooms had picture windows too big to darken.
"It was almost overwhelming at first," Anderson said.
An adjustment it was, but the students adapted quickly. Radcliff said the new classrooms were warmer in the winter months than any of the rural schoolhouses had been.
Ron Chalus was excited to ride his first bus to school – "There were no buses for the one-room schoolhouses," he said – and to be able to play basketball in a heated gym, which opened the door to games (and rivalries) with Dimmick and Wallace schools.
"It was kind of nice playing sports in school for the first time," said Chalus, who still meets annually with classmates for memories and laughs over dinner.
Waltham School might have seemed state-of-the-art to the farm kids, but Radcliff remembered a design flaw that thwarted the students' directional sense.
Above the blackboards were pulldown maps so teachers could give lessons in U.S. geography. The trouble was, the chalkboards all were mounted on the south walls, which meant the maps suggested California lay to the east and New York City to the west. For years, Radcliff needed a moment to get her proper bearings – but it wasn't just her.
"I thought maybe I was the only one who had the problem," Anderson laughed.