CICERO – Noble/Butler star Xamiya Walton pushed the ball to half court and heaved a game-tying shot attempt.
The ball sailed on target toward the hoop.
Just after the buzzer sounded, the ball clanged off the front of the rim.
Fieldcrest senior Ella Goodrich jumped up and down at midcourt, teammate Carolyn Megow leapt into her arms as the other three Knights on the floor mobbed them and the FHS players and coaches poured off the bench.
The Knights had rallied from a seven-point fourth quarter deficit then hung on to win 43-40 in the Class 2A Morton College Supersectional, punching a ticket to the IHSA State Tournament for the first time in school history.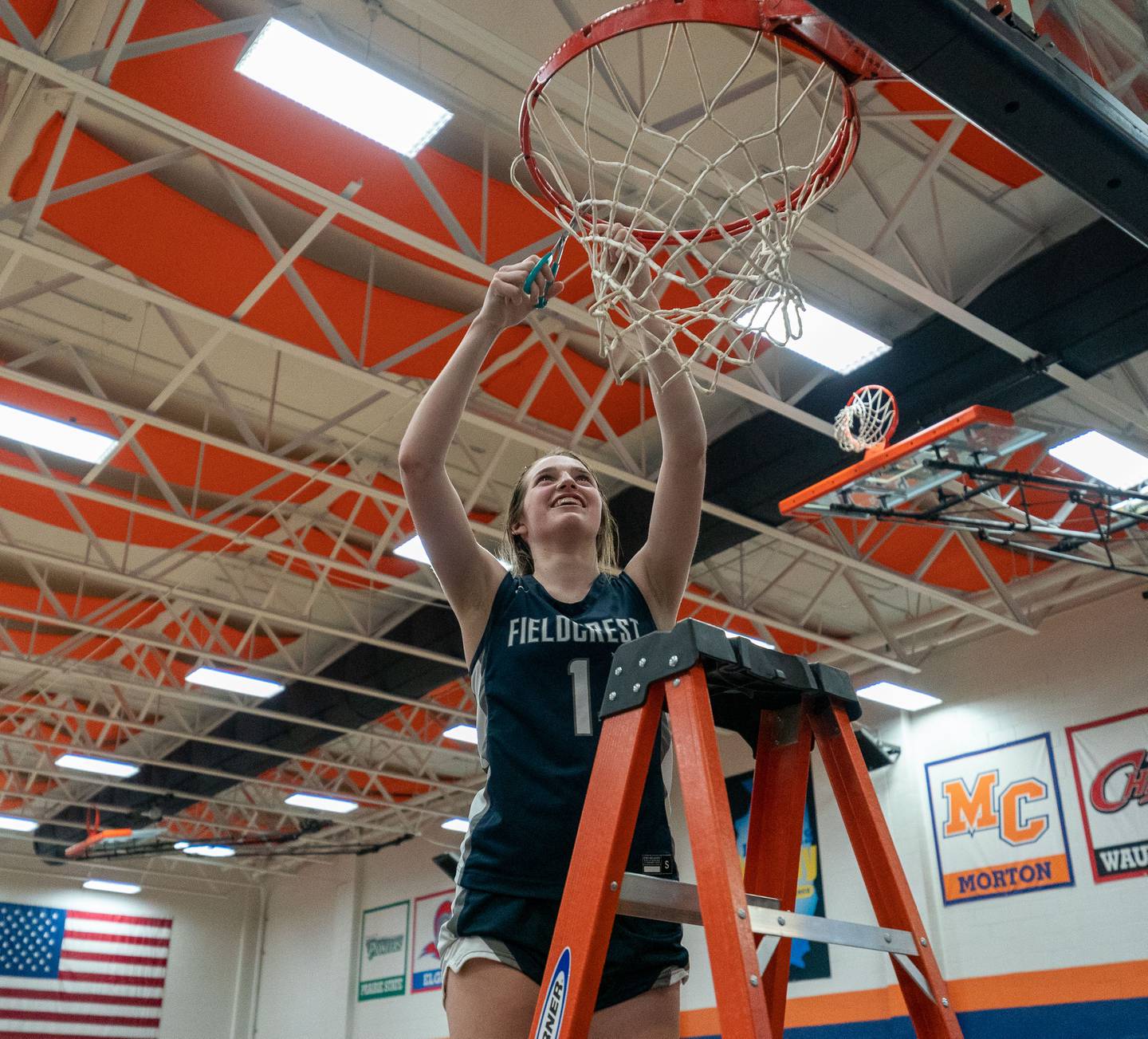 "My heart sank and I got chills through my body," Goodrich said about the moment the final shot missed. "We have worked so hard. My team has done so much, and we put our whole hearts into that game. I'm so proud of us."
Fieldcrest (34-2) will play Winnebago (34-2), the No. 1 ranked team in the final Associated Press poll, in the state semifinals at 4:15 p.m. Thursday at Redbird Arena in Normal.
"It's really amazing," FHS sophomore Kaitlyn White said. "It's a great opportunity. We made it this far, and we knew that we could push even farther and we did. We didn't give up. There was a time we were down and we just kept pushing our hardest, and we got here."
After leading, 21-18, at halftime, the Knights went cold in the third quarter – suffering through a 5:13 stretch without a field goal – and trailed by as many as seven points, facing a 32-27 deficit going to the fourth quarter.
The Lynx went back up by seven on a fadeaway jumper by Walton to start the fourth, and then the Knights put together a run.
Megow split a pair of free throws and scored on an assist from White, Ashlyn May drained a 3-pointer and Haley Carver knocked down a pair of free throws with 2:49 left to pull Fieldcrest within a point at 38-37 with 2:49 left.
"They just don't quit," Fieldcrest coach Mitch Neally said. "That's the mindset we had. I told them all postseason, you're going to face adversity. It's going to happen. How are you going to overcome that? And we definitely faced it. We made some big shots. I couldn't be more proud."
With a little over a minute left, White dribbled in from the right wing, pulled up at the elbow and hit a jumper to put the Knights ahead, 39-38.
"I saw an open spot and just went for it," White said. "I didn't think it was going in. It was really amazing. After that, we just kept going on defense, and that's what won the game."
After Noble/Butler was whistled for a travel, Goodrich was fouled and went to the line having made only three of her first 10 attempts from the charity stripe.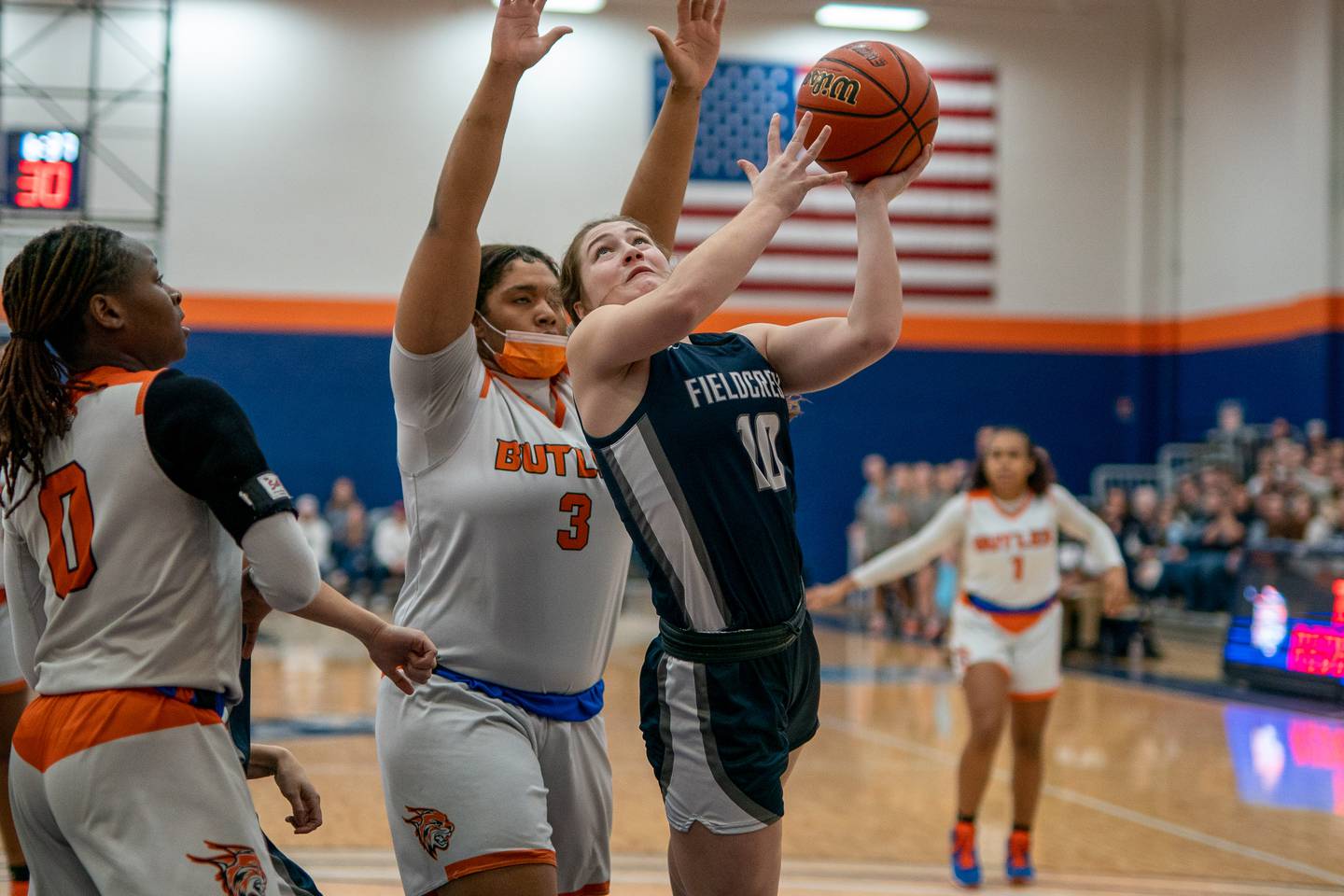 But with 52.1 seconds left, Fieldcrest's lone senior starter knocked down both for a 41-38 lead.
"I hadn't been hitting my free throws all night, then I finally made two, and it felt so good," Goodrich said.
May stole the ball on Noble/Butler's next possession and split a pair of free throws, and after Camille Jackson made a pair of free throws with 6.6 seconds left to pull the Lynx within 42-40, White split a pair with 4 seconds remaining.
"It feels amazing," May said. "We're the first basketball team [at Fieldcrest] to ever do this. It honestly hasn't sunk in yet."
Goodrich led the Knights with 11 points to go with eight rebounds, while White, Megow and May scored 10 points each.
Walton scored 27 points for the Lynx, who only had three players score in the game.
"This team has all the confidence in the world in each other," Neally said. "That gave us the win tonight. They have three D-I players. We have five girls who play team basketball, and team basketball won this game.
"We played good defense. We had a good game plan. The only times they got beat were by Class 3A and Class 4A teams. I think we showed how a small public school can come out here and play great defense, play as a team and get this win.
"They might have D-I talent, but we have D-I heart. I think in the end it shows on the scoreboard that heart wins over talent.
"That's what these girls played with tonight, and they never, ever quit."