La SALLE — The La Salle-Peru boys and girls basketball teams both pulled away from Plano on Friday to win their Interstate 8 Conference openers.
In the girls game, L-P led by two points at halftime before dominating the second half to win 57-29.
"We're happy with it," L-P coach Adam Spencer said. "We haven't played a great game yet. We need to start a little win streak to get the mood right.
"We have Ottawa on Wednesday, so we have a couple days to figure it out."
For the L-P boys, Nathan Boudreau hit a 3-pointer just before halftime, and Seth Adams drained a 3 to start the third quarter to extend the Cavaliers' lead to double digits as they rolled to a 54-29 victory.
"It's always nice to get the first [conference win] out of the way, but we know there's a lot of work to do and there's a long way to go," L-P coach Jim Cherveny said.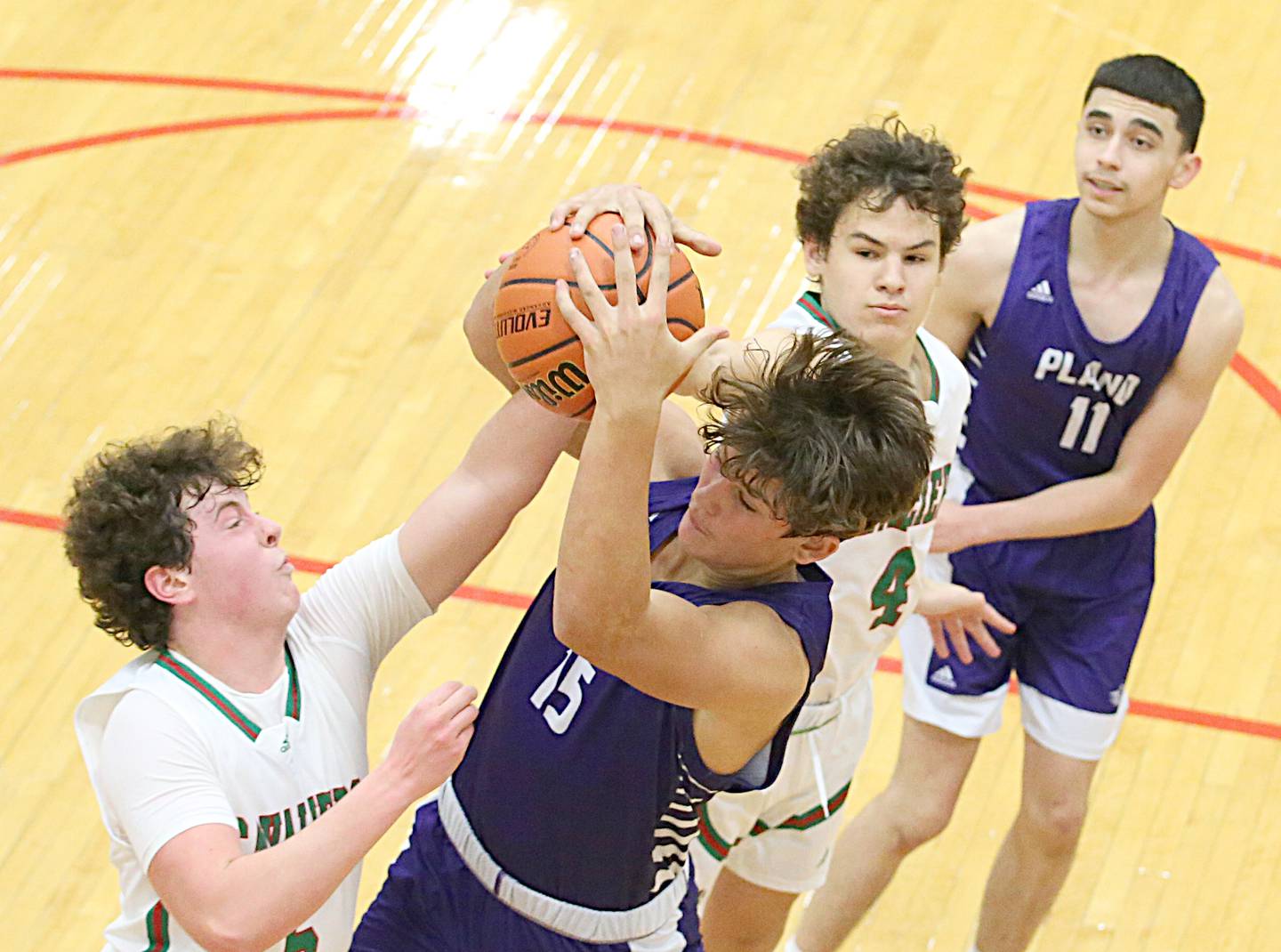 BOYS: La Salle-Peru 54, Plano 29
Boudreau's 3-pointer gave the Cavs a 29-20 lead at halftime before L-P scored the first seven points of the third quarter.
A 3-pointer by Adams, a jumper by Adams and a post bucket by Josh Senica on an assist by London Cabrera pushed L-P's lead to 36-20.
The Cavs outscored Plano 17-2 in the third quarter to build a 46-22 lead.
"We came out with great intensity," Cherveny said. "I don't think there was anything special, we just played together. I thought we got up in passing lanes and got some deflections. I thought our defense started our offense tonight."
Josh Senica led the Cavs with 17 points – 13 in the first half – while Adams had 16 points.
Although Senica did the bulk of his damage in the paint, the Cavs also knocked down six 3-pointers with three by Adams and one each from Boudreau, Cabrera and Jack Jereb.
"We have to play inside-out," said Adams, who stayed after practice Thursday to work on being more fluid in his shot. "When we play inside-out, it opens up the shots for everyone around the arc. It helps us succeed when we can get the ball down in the post."
The Cavs (4-2, 1-0 I8) built a 16-10 lead after the first quarter behind seven points from Senica and a buzzer-beater 3 by Adams.
"I thought we played a full 32 minutes," Cherveny said. "We were physical. I love that through the paint we made guys work for shots, and we made guys work for rebounds. It was a really great team effort.
"I thought Brendan Boudreau had a big 3 and gave us a big momentum swing. Josh is just a physical presence down low who is very skilled and had a big impact on the game. Seth stayed after practice [Thursday] and worked on his jump shot by himself. When you see a kid putting that much time and effort in, you're just glad that it's rewarding for him."
Eric Cano drained three 3-pointers and scored 11 points to lead the Reapers (1-5, 0-1), while Davione Stamps added seven points.
"I thought we were really competitive in the first half," Plano coach Kyle Kee said. "We're just really struggling to score. When we get open looks, we're not shooting it very well. Senica is such a tough kid. A tough matchup. We're not able to get the ball in the lane.
"Like it's been all year, they're playing hard. We're getting after it. We're just making too many mistakes."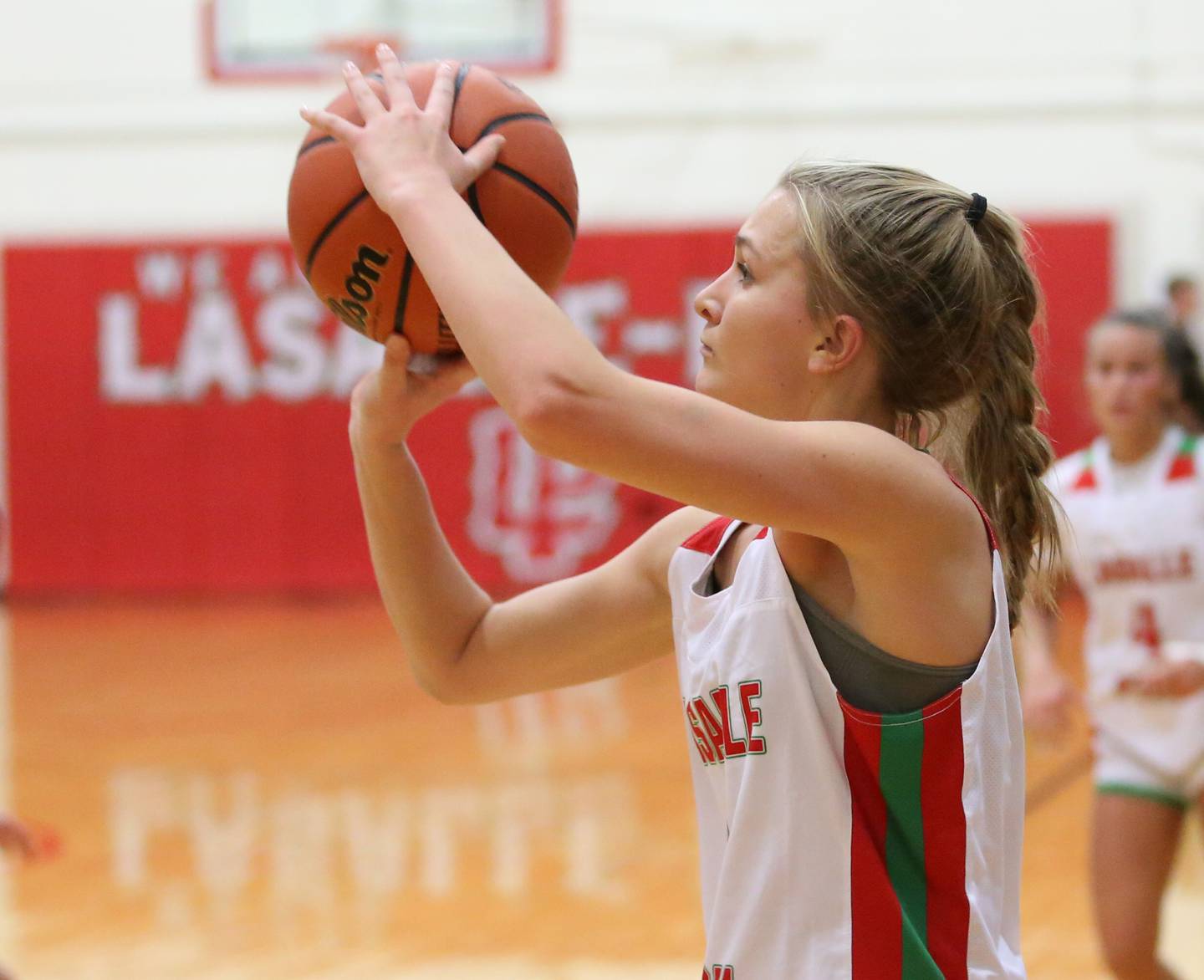 GIRLS: La Salle-Peru 57, Plano 29
The first time the Cavs played the Reapers in the Somonauk Breakout, L-P cruised to a 52-point victory.
In that game the Cavs jumped to a big lead early, but Friday saw Plano shoot the ball better and switch to a man defense to keep the game close in the first half.
L-P led 16-12 after the first quarter and 27-25 at halftime.
However, the Cavs started the second half strong with back-to-back buckets down low by Olivia Shetterly – on assists from Brooklyn Ficek and Addison Duttlinger – to spark a 19-2 quarter.
"We played better in the second half," Spencer said. "We played them once before. Maybe we were a little lax. We had a couple communication things. In the second half, we picked up the intensity defensively, and we made a couple layups. We missed eight or nine in the first half."
Plano's Mikayla Walls scored a post bucket with 7:17 left in the third quarter. The Reapers didn't score again until 36 seconds remained in the game.
"We saw their entries in the first half, and that's what we talked about [at halftime]," Spencer said. "If they're dribbling right, they're going to go dribble handoff, and we can jump that and we can switch that. Out of bounds plays, we switched a little bit. It helps when you talk when you're playing defense. Our transition defense got way better."
Ficek led all scorers with 19 points for L-P (3-4, 1-0), while Duttlinger scored 14 points and Shetterly added 12 in what Spencer called her best game of the season so far.
Josie Larson led the Reapers (3-3, 0-1) with nine points, while Walls added seven.
"I thought we had a great first half," Plano coach Tristan Spivey said. "That was some of the best basketball we've played. The second half, we're the type of team where once we go down, we're not at that point where we can keep competing. We kind of get down on ourselves. That's something we're working on.
"[In the first half], we played really, really hard defense. We were crashing the boards. We have a few people who we're trying to get the ball, and we're preaching every day to do your own role to the best of your ability. I felt our girls did a good job of that the first half."