PEORIA — The St. Bede Bruins got down 1-0 in the first inning of Friday's IHSA Class 1A state semifinal game against Goreville.
Senior catcher Bella Pinter rallied her team and made sure they got back up.
The Bruins scored three runs in the fourth inning on RBI hits by Madelyn Torrance and Pinter and a bunt hit by Lily Bosnich. They added another run on a run-scoring hit by Emma Slingsby in the sixth, and that was more than enough for junior ace Ella Hermes to send the Bruins into their first state championship game with a 4-1 win.
"We knew we were going to get scored on. These teams in the top four, you're going to have to bust your butt. To come back and keep up the energy the whole game and stay up ... I'm just so excited. I can't wait til tomorrow," Pinter said.
St. Bede coach Shawn Sons said it was a typical St. Bede victory.
"We started off slow again, but [we] don't get excited," he said. "After the first inning when they scored their run, the first thing Bella Pinter said, 'Hey, guys, we knew they were going to score. it doesn't mean anything,' " he said.
The Bruins (25-7) will face two-time defending state champion Glasford Illini Bluffs (25-5) in Saturday's title game at 11:30 a.m. at the Louisville Sports Complex. The Tigers beat LeRoy in Friday's second semifinal 10-0 in five innings.
"Oh my gosh. This means everything. These girls, I love them so much. To be the first St. Bede team to ever win a state tournament game is just so important," Pinter said.
"This feels great.," Stoudt said. "It's a relief knowing we came down here and did our thing, and now we're going to the championship. In our last huddle there, I said, 'Three outs to history, girls. Let's go.'
"It's nice to know we're going to be in St. Bede history forever."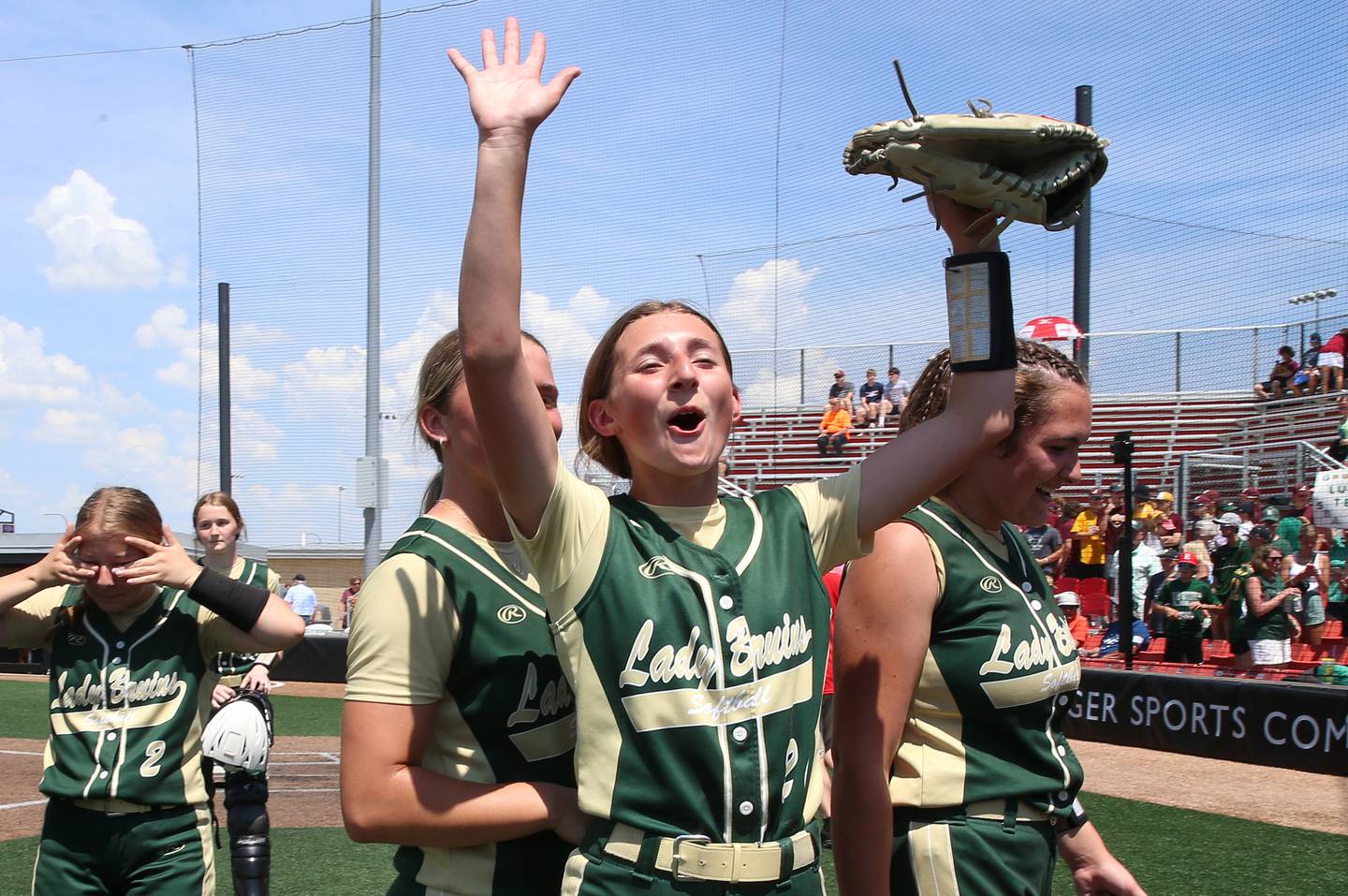 [ Photo store: St. Bede vs. Goreville Class 1A state softball ]
Torrance said she is confident about Saturday's title game.
"I knew it. I felt it in my bones. Our team, we are electric. We have this team chemistry, and I know we're going to the state championship and we're going to win," she said.
Stoudt got the Bruins' rally going in the fourth when her smash was bobbled by Goreville second baseman Elizabeth Trainor. Stoudt stole second and scored on an RBI hit to the right side by Torrance to tie the game at 1.
Torrance followed Stoudt's path home by stealing second and scoring on a nearly identical hit by Pinter to give the Bruins their first lead of the game at 2-1.
"Someone needed to get it going. I wanted to go up there, and it happened, and we became alive," Torrance said. "I was looking outside, all low, and I love those pitches. Outside corner, let's see how far we can take it."
Sons said it took the Bruins a while to get their offense going. Making adjustments at the plate against Goreville pitcher Reese Ray (6 H, 5 K) helped.
"She was going away, away, away. [I] told the girls, 'You've got to toe the line. Get way up in the box. If she wants to feed that to you, away from the right-handers, go with it.' Finally, we were able to barrel up some up balls," Sons said.
"Clutch hits by Madelyn and Bella. That's the thing, too. Some of the film we watched, there wasn't many people who barreled up on this girl. She's a really good pitcher. I thought we put the ball in play hard at times.
"Huge hits from key girls. Top of the lineup, bottom of the lineup, middle of the lineup. Everybody contributed, and it's just a fantastic win.
At the same time, Sons was ready to execute some of the Bruins' trademark small ball when needed.
"I told the girls, if we get some runners on, we're going to get them over. ..... Speed kills, man, speed kills," he said.
Tessa Dugosh reached on a sacrifice bunt when the throw to first was dropped by Trainor. Bosnich, who raced to three state track medals last month, beat out a bunt hit, scoring courtesy runner Quinn McClain to make it 3-1.
"We knew we were going to have to use that. With the speed we have, it's just inevitable," Stoudt said.
In the sixth, Bosnich showed off her power with a one-hopper over the fence in straight-away center field. Slingsby followed with a slap single for an insurance run at 4-1.
Gorevile scored its lone run in the first when Bri Suits scored on a hit by Goreville pitcher Reese Ray.
Hermes was in charge the rest of the way, allowing just two more hits and two walks with nine strikeouts.
"Ella definitely dealt today. She did great," Stoudt said.
Torrance said she knew Hermes would finish strong.
"Ella, I love her to death," Torrance said. "She comes in clutch every game. Her curveball is insane. I swear it moves six inches across the plate. She's incredible."
"Rick Pyszka did a heckuva job calling the pitches, and for Ella to go seven innings in this heat to hit the spots, I thought she was as strong at the end of the game as the beginning," Sons said.
The only thing left for the Bruins to add to their history-making season is to win the 1A state championship.
"I told them when we hosted and won the sectional, 'You've just made history. That's the first time we've done that at St. Bede,' " Sons said. "I told the girls last night, 'We made it. Everything from here on is icing on the cake. Relax. Do what we know what to do, and you might make history again.'
"And that's exactly what they did. It's never been done to play for a state championship. It's all to them."