OTTAWA – After a delay of better than 48 hours because of inclement weather Saturday, the finals of the Class 1A Ottawa Boys Tennis Sectional finally got underway Monday afternoon at the Henderson-Guenther Tennis Facility.
Metamora easily captured the sectional championship plaque, amassing 35 points to that of second-place Streator (16) and third-place Princeton (14).
Ottawa (12) finished fourth with La Salle-Peru (10) fifth and Mendota (8) sixth in the 10-team field. St. Bede, Morris and Pontiac tied for seventh place with four points each, while Coal City did not score.
Overall, six area competitors qualified for the state tournament, which starts Thursday at Hersey in Arlington Heights as well as surrounding area courts. Final individual and team seeds will be determined by the IHSA on Tuesday.
Streator senior Davey Rashid provided the best area finish, placing second in singles after defeating Metamora's Hudson Shaw in the semifinals, 6-3, 6-0, before falling to Metamora standout Alexander Schroff, 7-6 (7-2), in a tense first-set tiebreaker and then losing, 6-1, after being hampered by a shoulder strain.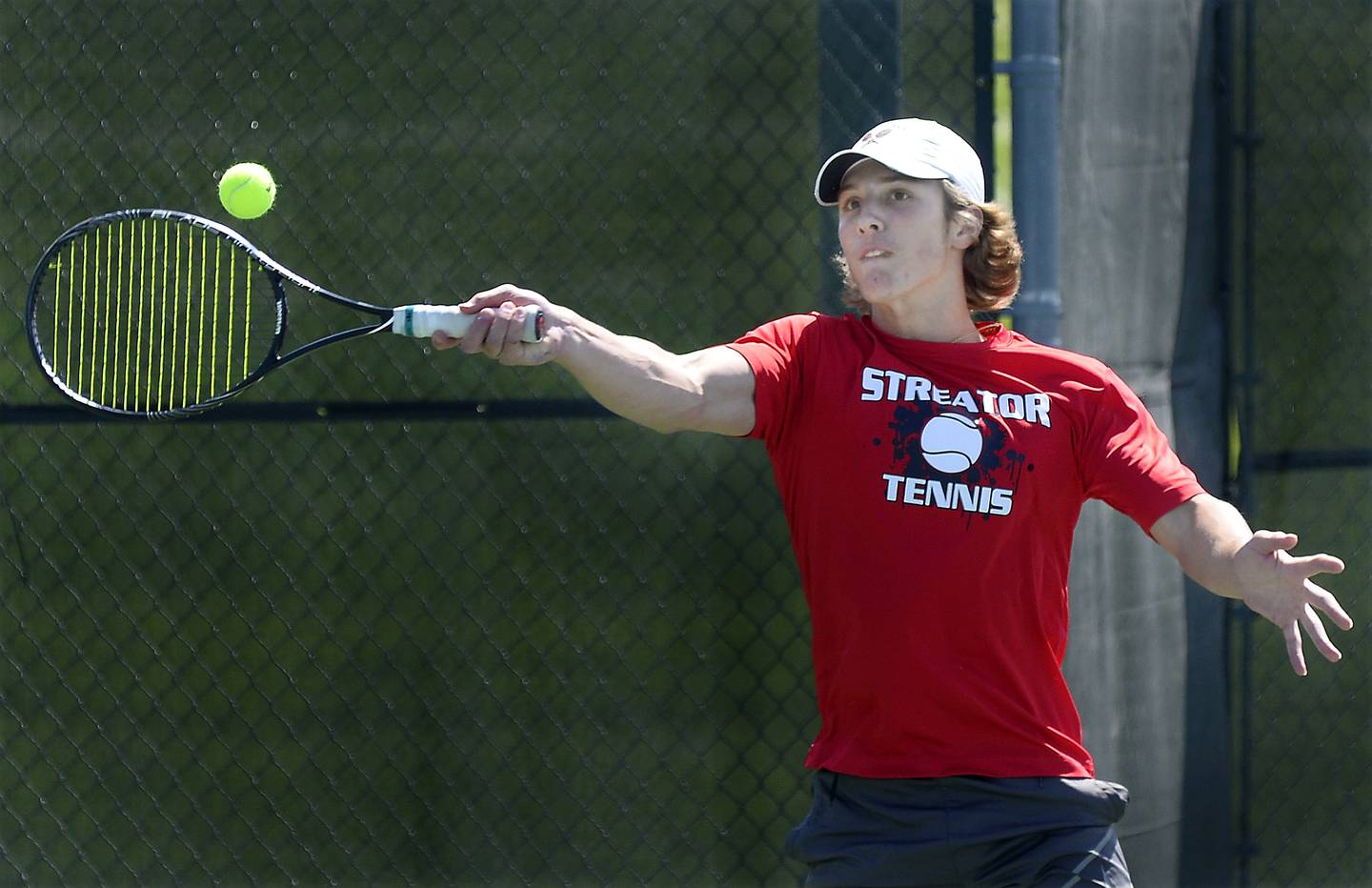 "My shoulder was bothering me, but I had a chance in the first set, and I was ahead 5-4 with the serve," Rashid said. "I always hold my serve, but I didn't this time and lost in the tiebreaker. I experienced some pain and tried to get into the second set but never could.
"Hopefully, I can feel better going to state. I got one win there last year, and making the second day is very hard, but that's my goal moving forward later this week."
Princeton sophomore Tyson Phillips will be making his first trip to state even though he lost his semifinal match to Schroff, 6-2, 6-1, before dropping the third-place contest to Shaw, 6-4, 6-4.
"I learned some good things today even though I lost twice," Phillips said. "I'm so happy that I'm going to state as a sophomore. To win a match there would be cool. I've thought about getting to this point in my mind, and to have it actually happen is really special."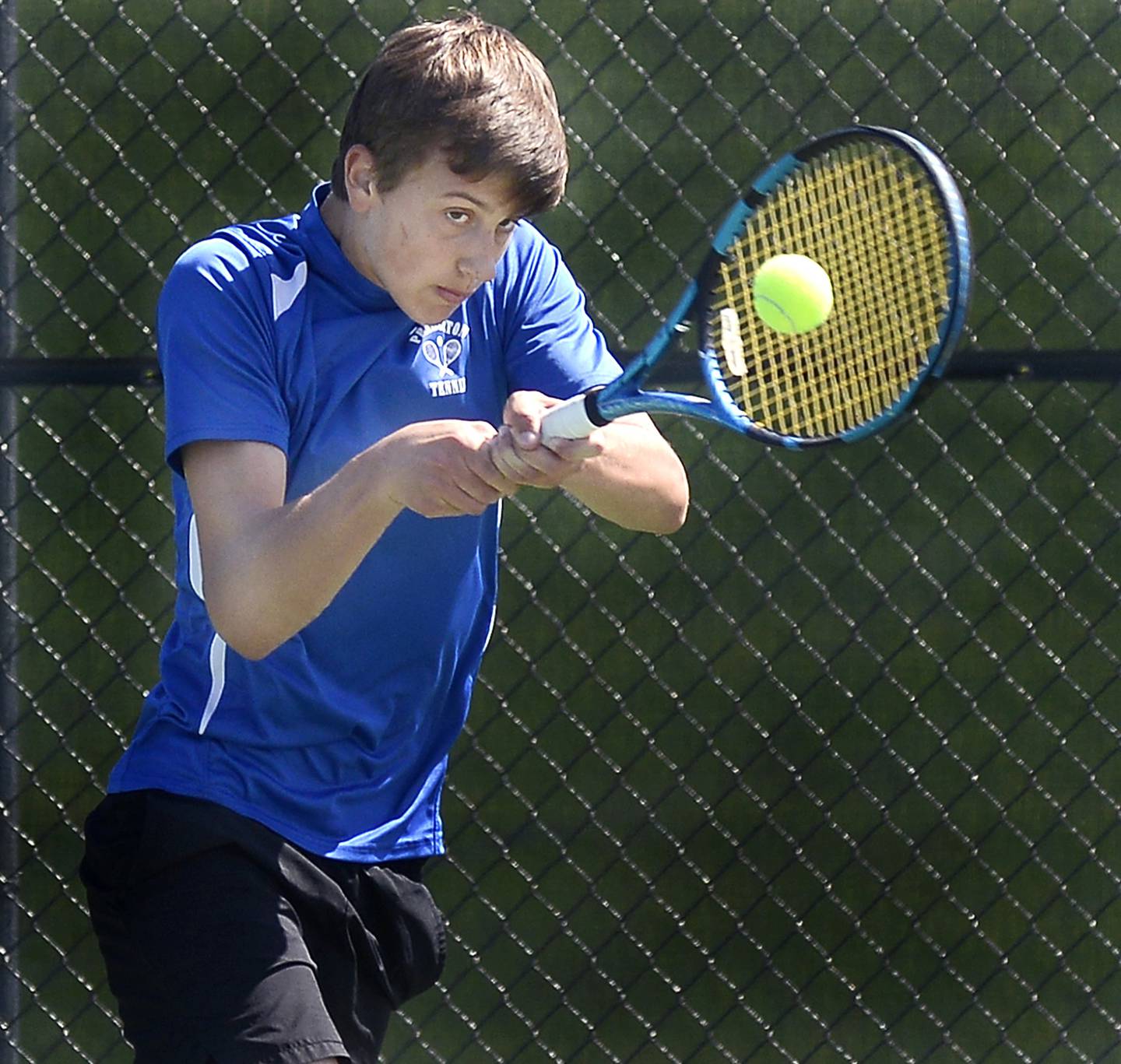 In doubles, the La Salle-Peru duo of senior Joe Pohar and sophomore Andrew Bollis reached state after losing in the semifinals, 6-4, 6-2, to eventual sectional champs Nate Geurink and Griffin Hammond of Metamora. Pohar and Bollis then bested the Mendota senior combo team of Logan Brandner and Andrew Stamberger, 6-4, 6-4, to close their sectional day, grabbing the third-place medallions.
For Pohar, it will be his first trip to state after being able to overcome Brandner and Stamberger in the rubber match.
"We stayed fired up against them the whole match, stuck to our mechanics and never let up," Pohar said. "We lost to them the first time we played, beat them the second time, and now we got the third time, so it feels really good to win the series against them going into state."
Bollis will be making his second appearance at state after his first as a freshman last year in doubles with a different partner.
"This is our first year together, and going to state was so much fun as a freshman, I can't wait to experience it again, this time with Joe," Bollis said. "We'll be competing with the best players in our class, and I can't wait to get there and hopefully get some wins."
Despite the two losses on the day, Brandner and Stamberger were encouraged by their performance and will be making a return to state as doubles teammates.
"It was pretty rough for us after we skipped Saturday, because we were really ready to go even though the weather was bad," Stamberger said. "The two-day delay I think hurt us, but we're still going to state again, so that's incredible."
Brandner concurred with his courtmate.
"I felt we were better prepared on Saturday, but we came in today, tried our best, and now we'll see what we can do at state," Brandner said. "We didn't make it to the second day last season, so our goal is to get there and then to win two games against Chicago Latin if we meet them again, because they beat us last year."
Only the top four singles players and doubles teams advanced out of Friday's opening rounds to Monday's finals.