Peru police officer Brad Jones was promoted to sergeant, said Peru Police Chief Sarah Raymond at Monday's City Council meeting.
Jones began his career with the Mendota Police Department in 2001 as a part-time officer and 911 dispatcher, and became a full-time officer in 2003.
He joined the Peru Police Department in 2007 and worked in the patrol division before working with the Tri-County Drug Enforcement Narcotics Team, a regional drug task force.
Raymond said Jones served as the lead detective in the first in-house narcotics unit, Specials Investigations Unit, since its inception in 2012.
"During his tenure, he seized large quantities of illegal drugs and nearly $1 million in currency," Raymond said. "The unit also produced a large number of felony drug arrests in our city."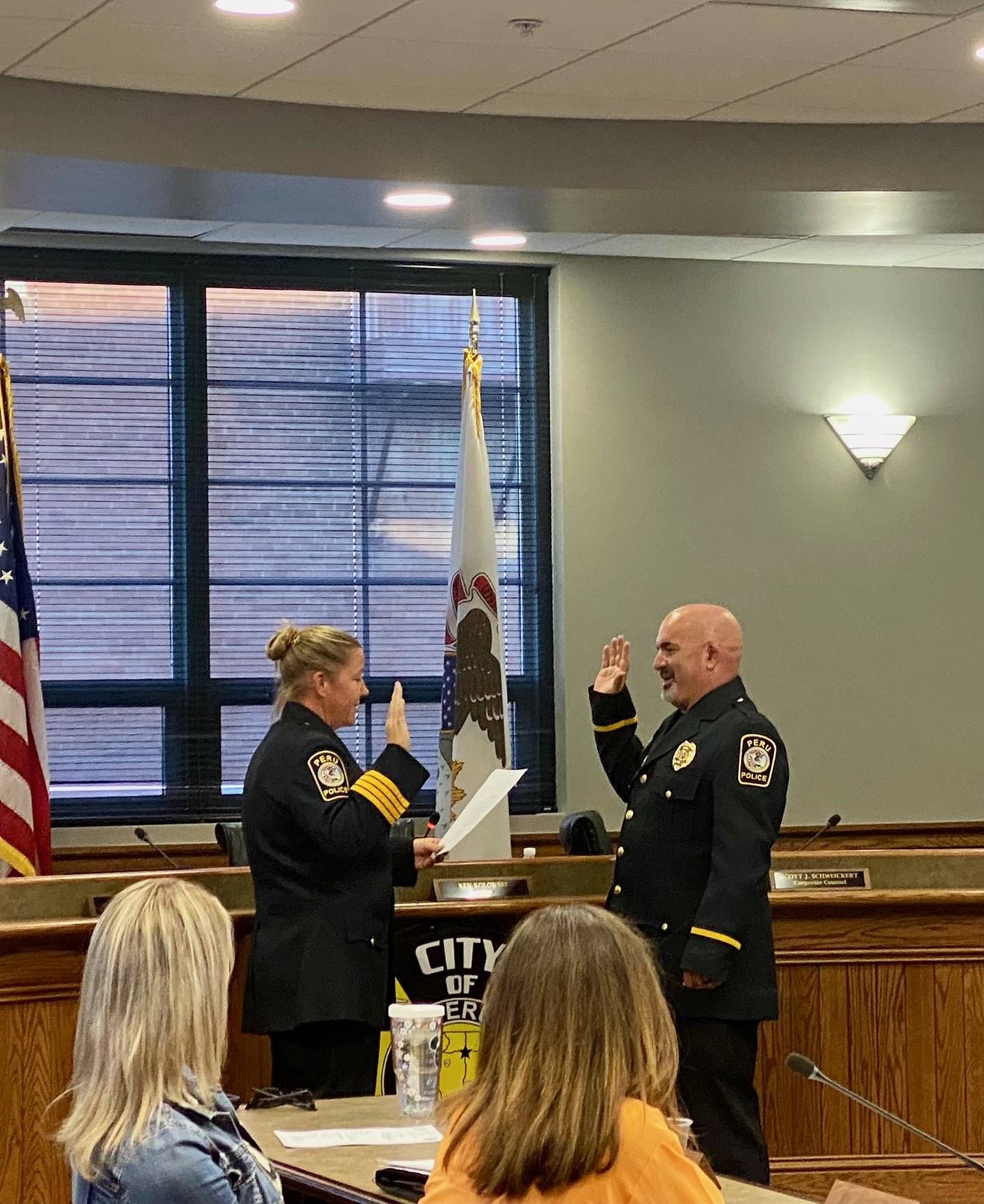 "He has the ability to teach them all of the knowledge he has obtained during the course of his impressive career. I have no doubt the leadership he possesses will reflect greatly on this police department and this city and I am honored to promote him to sergeant."

—  Peru Police Chief Sarah Raymond said about newly-promoted police Sgt. Brad Jones
Former Peru Police Chief and Lieutenant of Administrative Services Doug Bernabei said he believes Jones's work ethic is second to none.
"I think he has made Peru a much better and safer community with his work and I'm ecstatic to watch him get promoted to sergeant [Monday night]," he said.
Jones said the promotion meant a lot to him as it has been something he has been working toward and looked forward to continuing to work with the department.
"I love the people I work with the most. They make my day worth coming into," he said.
Raymond said "more impressive" than Jones's arrests records is his ability to mentor other officers.
"He has the ability to teach them all of the knowledge he has obtained during the course of his impressive career," she said. "I have no doubt the leadership he possesses will reflect greatly on this police department and this city and I am honored to promote him to sergeant."