A judge has given the city of La Salle the OK to clear the remains of a downtown building that collapsed suddenly July 19.
Monday, attorneys appeared for what was expected to be a contested hearing between city officials and Marcus D. Williams, who owns the former tavern at First and Tonti streets in La Salle. The rear half of the building collapsed last week and the front half was quickly demolished.
The Monday hearing never took place. Instead, attorneys for both sides held a series of closed-door conferences and then emerged with a signed order from La Salle County Circuit Judge Troy D. Holland. The demolition is subject to state law and not city code.
In the order, Holland wrote Williams had failed to make repairs in the time allotted by the court. Holland also wrote the site is "abandoned, dangerous and unsafe in its present condition" and authorized the city to complete the demolition.
"It's going to get cleaned up," said Bill Hintz, attorney for client Williams, who was not present in court Monday and who has not publicly commented on the collapse.
A status hearing is set for Friday, Sept. 17, before Holland.
Jacob Frost, attorney for the city, said the city will seek bids for clearing the remains of the building. The working presumption is Williams will remit the costs of the debris removal; but those costs and Williams' ability to pay have yet to be determined.
It was noted during the ensuing discussions workers will presume the building has asbestos and take steps to contain the release of any particulate.
No injuries were reported when a portion of building collapsed late morning July 19, prompting authorities to close off a two-block area. (The collapse did, however, damage a neighboring structure.)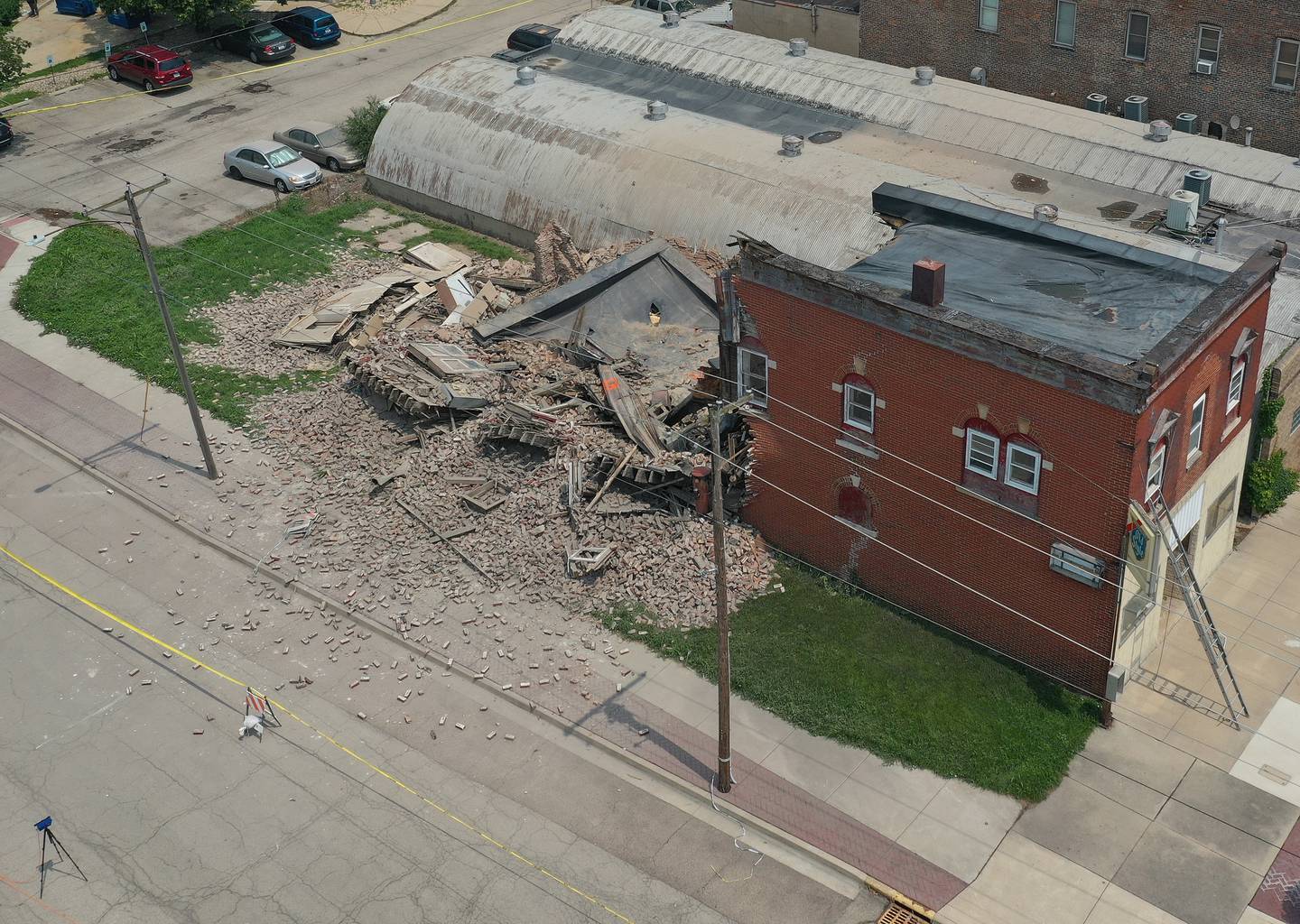 The building was described as a long-vacated tavern – Little El's in the 1950s and First Street Pub in the '70s – that city officials had been actively trying to declare abandoned and to tear down. Williams purchased it in a tax sale.
"The building department with the city, we've been in litigation with him (the owner) over this building for 2½ years now," City Building Inspector Andy Bacidore said at the time. "COVID delayed some of that stuff but we are still in litigation. We felt the building was unsafe and as recently as a month ago we noticed some bricks popping out."