DWIGHT — As urgently and suddenly as the Putnam County Panthers rallied from a double-digit fourth-quarter deficit to tie Friday's Class 1A Dwight Regional championship game with 2 minutes, 14 seconds remaining, so too did the Serena Huskers resume control.
Tanner Faivre's nifty take to the basket with 67 seconds remaining gave Serena back an advantage it had held nearly all night. Then the Huskers survived two potential game-tying Panthers' 3-pointers in the final seconds to secure the regional title 49-46 and move on to Tuesday's 7 p.m. Putnam County Sectional semifinal against CICS/Ellison.
"I've been able to see [Putnam County] against a lot of teams where they were down, and they never call it quits, they keep coming. ..." Serena coach Dain Twait said. "We've been starting well all year. We've got to figure out how to come out [stronger] from halftime and how to finish in the fourth quarter.
"But we did enough to win this. We've lost so many close games. I believe that helped us finish this thing off even though it wasn't pretty."
Putnam County (26-8) received 14 points from Austin Mattingly, 12 points and nine rebounds courtesy of big man Jackson McDonald, 10 points, seven assists and seven rebounds from Andrew Pyszka and seven points off the hands of Wyatt Grimshaw. The Panthers shot 36.2% (17 of 47) from the field.
Despite cooling down after that 7 of 12 first quarter to finish at 40.4% (19 of 47) for the game, Serena (25-8) was strong offensively led by Faivre's 17 points, a 12-point, 15-rebound double-double from Richie Armour, nine points and three steals from Camden Figgins, six Hunter Staton points and five assists from Braxton Hart.
Both teams finished with 29 rebounds and nine turnovers.
"The end of the season, a regional championship, this is what we prepared for. We knew we just had to come out as strong as possible."

—  Serena senior Camden Figgins
Prior to Faivre's driving winner and the ensuing Faivre-from-Hart transition score and Richie Armour free throws with 10.8 seconds remaining that left Putnam County with no choice but to launch the desperation 3s trying to tie, the Panthers had finally caught up with 2:14 left at 43-43 on a Wyatt Grimshaw turnaround layup.
PC had trailed for the entirety of the second and third quarters prior to that — including 29-23 at halftime and 41-30 entering the fourth — thanks to a hot Serena start that saw the Huskers drain their first five shot attempts, with Figgins starting 4 for 4 and scoring all nine of his points in the opening quarter.
"Even before the season, we were preparing for this game," Figgins said. "The end of the season, a regional championship, this is what we prepared for. We knew we just had to come out as strong as possible, and I knew that being a senior leader, I had to take over pretty much at the beginning and facilitate the team.
"There are a whole bunch of emotions right now, but I'm extremely happy the team put it together and put a banner on the wall."
While it felt as if Serena was controlling the action, the scoreboard belied that feeling. The Panthers continued to get a stop and hit a shot to keep the Huskers lead from ballooning out of reach, its highest at nine points (26-17) on an Armour putback of his own miss just past midway through the second quarter and 11 points (41-30) when Armour added a short jumper in the lane just ahead of the third-period horn.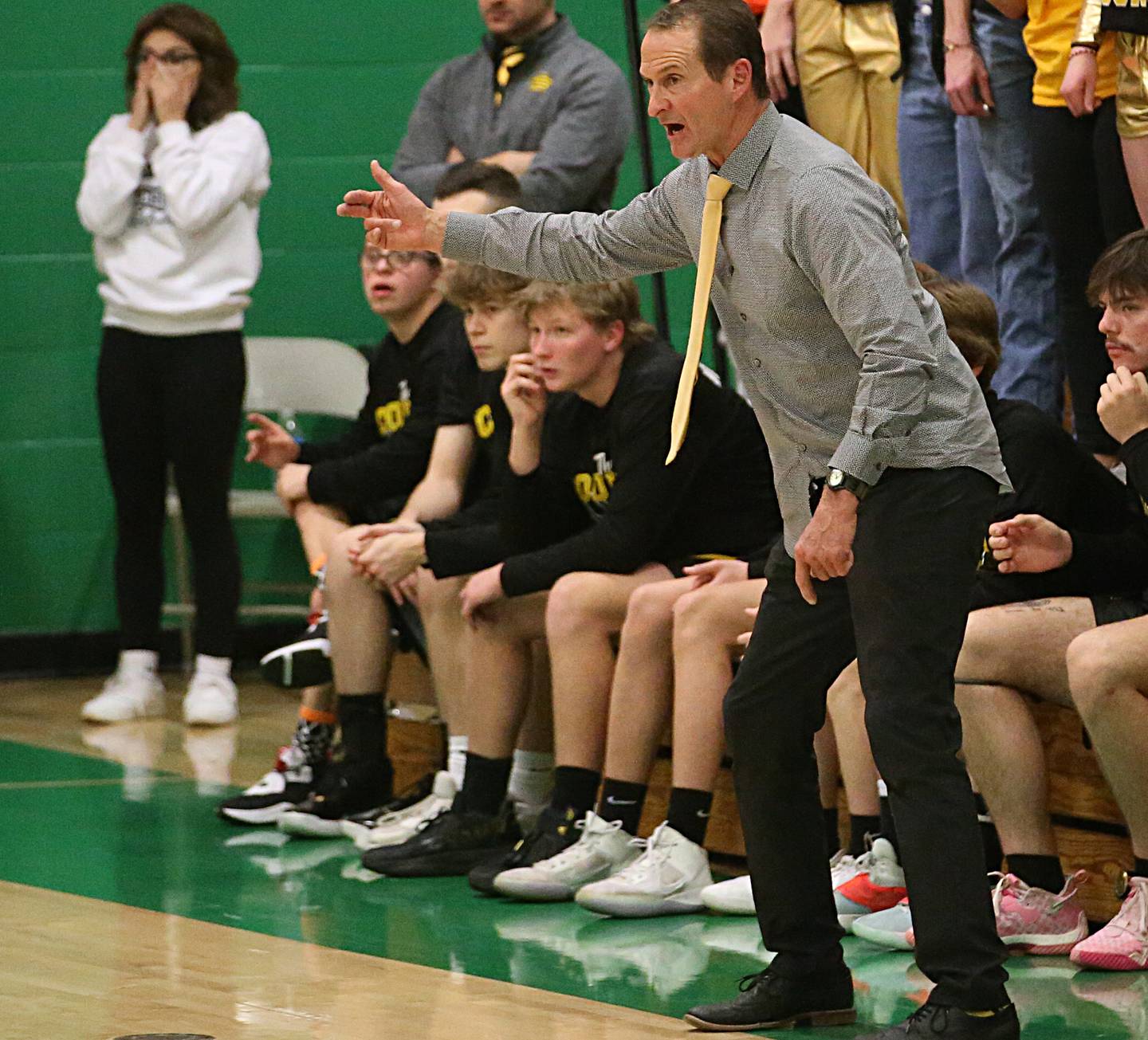 Putnam County began its fourth-quarter rally right away with a Pyszka steal and layup to open the last period. What followed were three consecutive 3s — off the hands of McDonald, Grimshaw and Pyszka — for the Panthers offset by just one Carson Baker 2 for Serena, setting up Grimshaw's game-tying basket with 2:15 remaining and then the Huskers' regional-winning response.
"We battled," said PC coach Harold Fay. "We just dug a little too much of a hole early, and it takes a lot of energy to come out of something like that. I'm damned proud. We just couldn't get it done tonight.
"We made some mistakes on defense, and rebounding and not taking care of the ball, that's been our downfall all year. Unfortunately, that comes back to bite you in the biscuit."