Country singer Luke Combs' song "When It Rains It Pours" is about a three-week lucky streak – from winning a hundred bucks on a scratch-off ticket to a four-day, three-night beach vacation in Panama – that a man has after his girlfriend dumps him.
The Serena girls basketball team, led by point guard and country music fan Katie Baker, had a streak of its own this past season, winning 29 consecutive games on its way to an IHSA State Finals berth and fourth-place finish, but luck had very little to do with it.
Baker, the lone senior on the team, closed out her career in a Huskers uniform averaging an area-best 17.2 points a game, along with 3.8 rebounds, 5.3 assists and 5.8 steals in helping her team win regional, sectional and supersectional championships while finishing 33-4.
For her efforts, she was named to both the Associated Press and Illinois Basketball Coaches Association Class 1A All-State First Teams, voted to the All-Little Ten Conference squad for the fourth time and earned all-tournament honors at the Falcon-Irish Thanksgiving and Amboy Holiday tournaments.
She has also been selected as The Times 2022 Girls Basketball Player of the Year.
"We had a very hard-working team this year that really matured as the season went along," said Baker, who will be playing at Culver-Stockton College next season. "We had some younger girls on the team, and I felt we looked pretty rough at the beginning of the season, but we always talked about how everyone has a role, and if we all filled that role we'd be a tough team.
"To be honest, I wish my role would have been not having to score as much, because that's not really the player I feel I am, but I think every girl on this team accepted their role and worked to be the best in it as they could be.
"I feel that's why we had the season we had."
Baker, who finished as the program's all-time leading scorer with 1,680 points, also had 540 rebounds, 558 assists and 511 steals, said it was after falling to Ottawa at the end of November that the season really started to click for her and the team.
"For me it was kind of like, 'Who's next?' or 'Who is next to check off the list?' and I know that probably sounds arrogant, but it was just that we started playing really well after losing to Ottawa, and I think we all just expected to win every game from there on out. We felt like if we played to our capabilities it was going to take a really good team to beat us."
Serena captured the LTC Tournament and regular-season titles on its home floor with Baker posting 26 points and six steals against Somonauk in the tourney, then posting a triple-double of 26 points with 10 assists and 11 steals against IMSA to clinch a third straight championship.
From there Baker and the Huskers rolled in the postseason, with a regional title at Midland, sectional title at Hinckley-Big Rock and winning the supersectional with a 12-point win over Ridgeview at home on Al Stegman Court.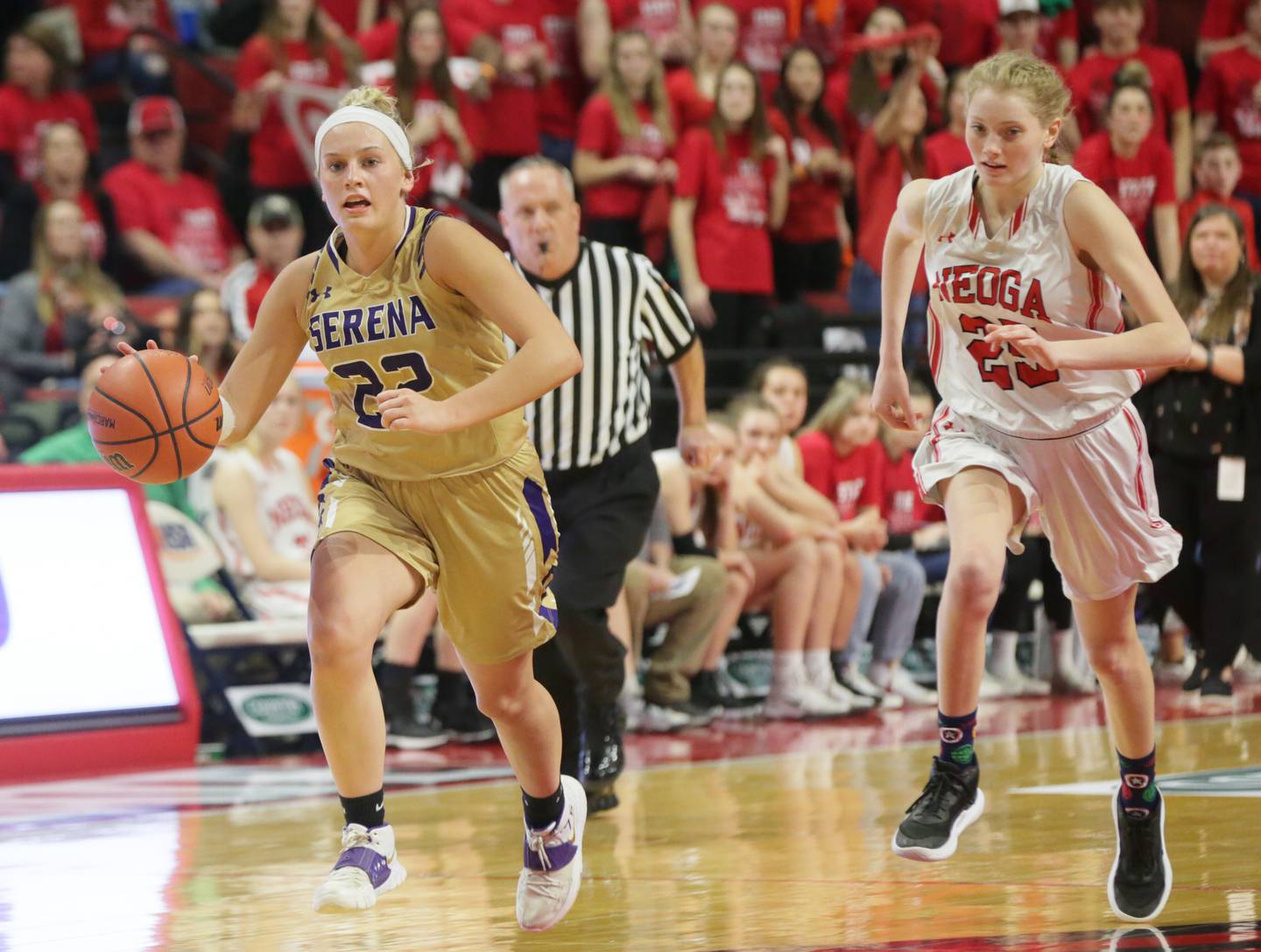 "I told so many people that [the win over IMSA] wasn't going to be my last home game," Baker said. "So when we beat Newark in the sectional final to have a chance to come back home and play for a chance to go to state, it was like a weight lifted off my shoulders. I'll remember the supersectional almost as much as state.
"Everyone was here, it was loud, and the atmosphere was incredible."
The Huskers struggled in Normal, falling to Galena in the semifinals, then to Neoga in the third-place game, but Baker said it was the experience rather than the outcomes she'll remember the most.
"The games at state were frustrating for sure, but it was an amazing day regardless," Baker said. "I'll just remember running on the floor at Redbird the first time and thinking, 'Wow, we're here,' and looking at our crowd and thinking, 'Wow, they're here.' At the end of the day, we finished fourth at state and reached a goal we had set from the start of the year.
"To be able to talk about all the things this team accomplished and that my last two games were at the state finals is something I will always be proud of."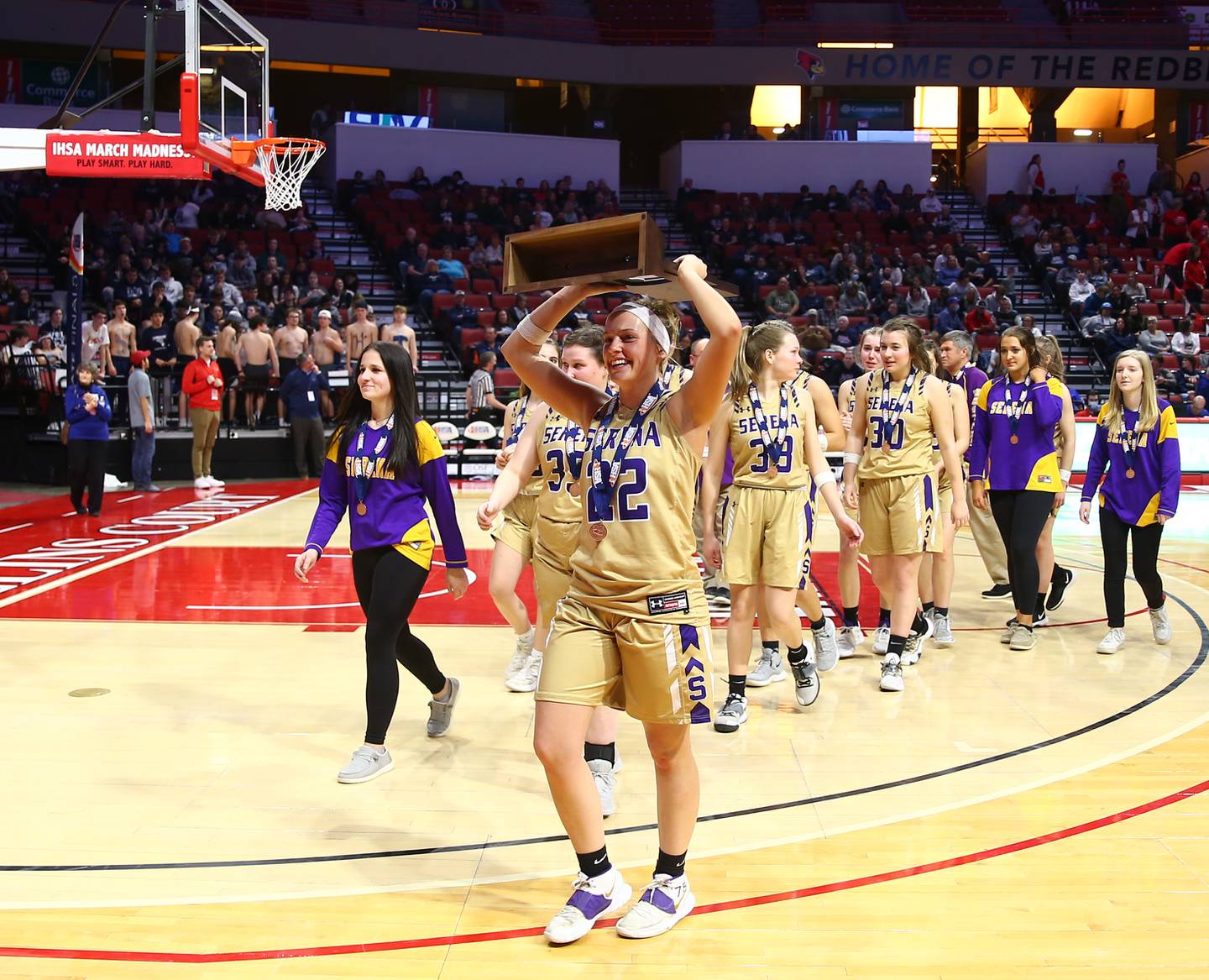 Serena coach Jim Jobst said there has been a big reason that his teams over the past four years have set the bar higher each season.
"It's not a mistake that as she got better over her four years, including this season, our team has gotten better," Jobst said. "She was the only senior this season, and we set some lofty team goals, but Katie handled everything like she always does as the great leader she is.
"She has always been a lead-by-example type of player and a great teammate, but this year she took everything she did to another level, and that carried over to the team reaching the goals that it did."