NORMAL — The Serena girls basketball team had a bad day on the court Thursday, but didn't allow that to make them lose sight of the bigger picture:
The Huskers had a great season.
Serena fell 45-23 to Neoga in the Class 1A IHSA State Finals held on the campus of Illinois State University in Redbird Arena, finishing a day in which the Huskers — who had lost only twice in the regular season and not since late November — dropped their final two contests of the season to finish the season 33-4.
"You know, [getting to state] means everything. It was a goal we set early on, the girls have worked hard for it. For the town, the school, the community, them [the players], it means everything."

—  Serena girls basketball coach Jim Jobst
The Little Ten Conference champions quite simply had a really bad day putting the ball in the basket. Following a state semifinal loss to Galena in which the Huskers were limited to one first-half point, Serena against Neoga shot a freezing cold 15.9% (7-of-44) from the field and was held to single-digit scoring in each and every quarter.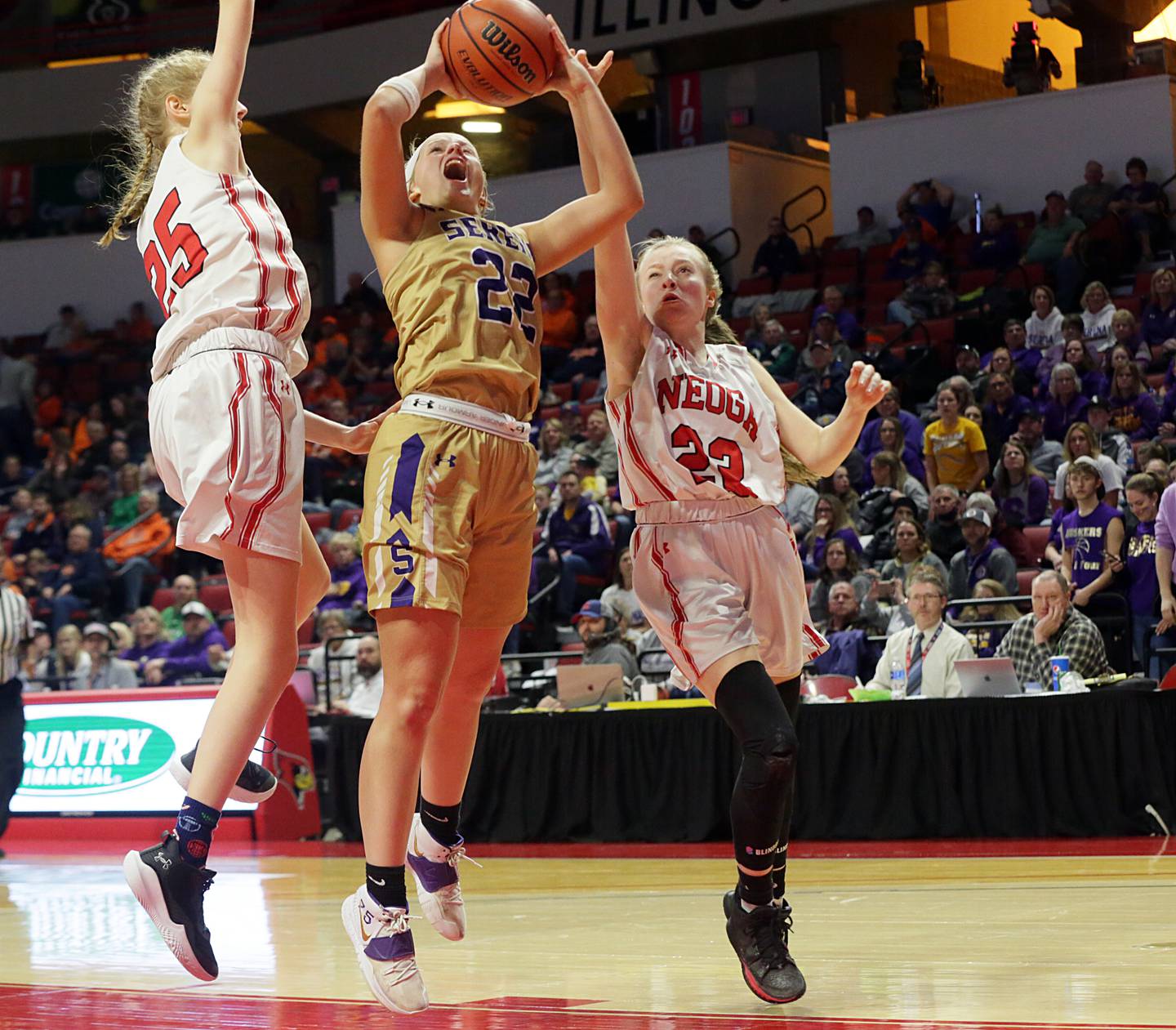 "Offensively, we struggled today," Huskers coach Jim Jobst said. "I thought this game we had a lot more energy and intensity [than the semifinal], but, yeah, we struggled shooting.
"But it's just great to be here. We'll live with that. You have a bad day, you have a bad day."
Jobst then added, gesturing to the IHSA State Finals fourth-place trophy in front of him:
"We've got one of these."
Like their semifinal game earlier in the day, the Huskers never led against Neoga.
The Indians (29-8) raced out to a 16-6 advantage after one quarter and 22-13 at halftime before putting the contest away in the third quarter, outscoring Serena a dozen points to just two to run the lead to 34-15. Sydney Richards (16 points, 10 rebounds, two blocked shots), Haylee Campbell (11 points, 16 rebounds) and Avery Fearday (nine points, six assists) spearheaded a Neoga offense which shot 37.8% (17-of-45) from the field — not fabulous, but plenty to pull away from the shot-struggling Huskers.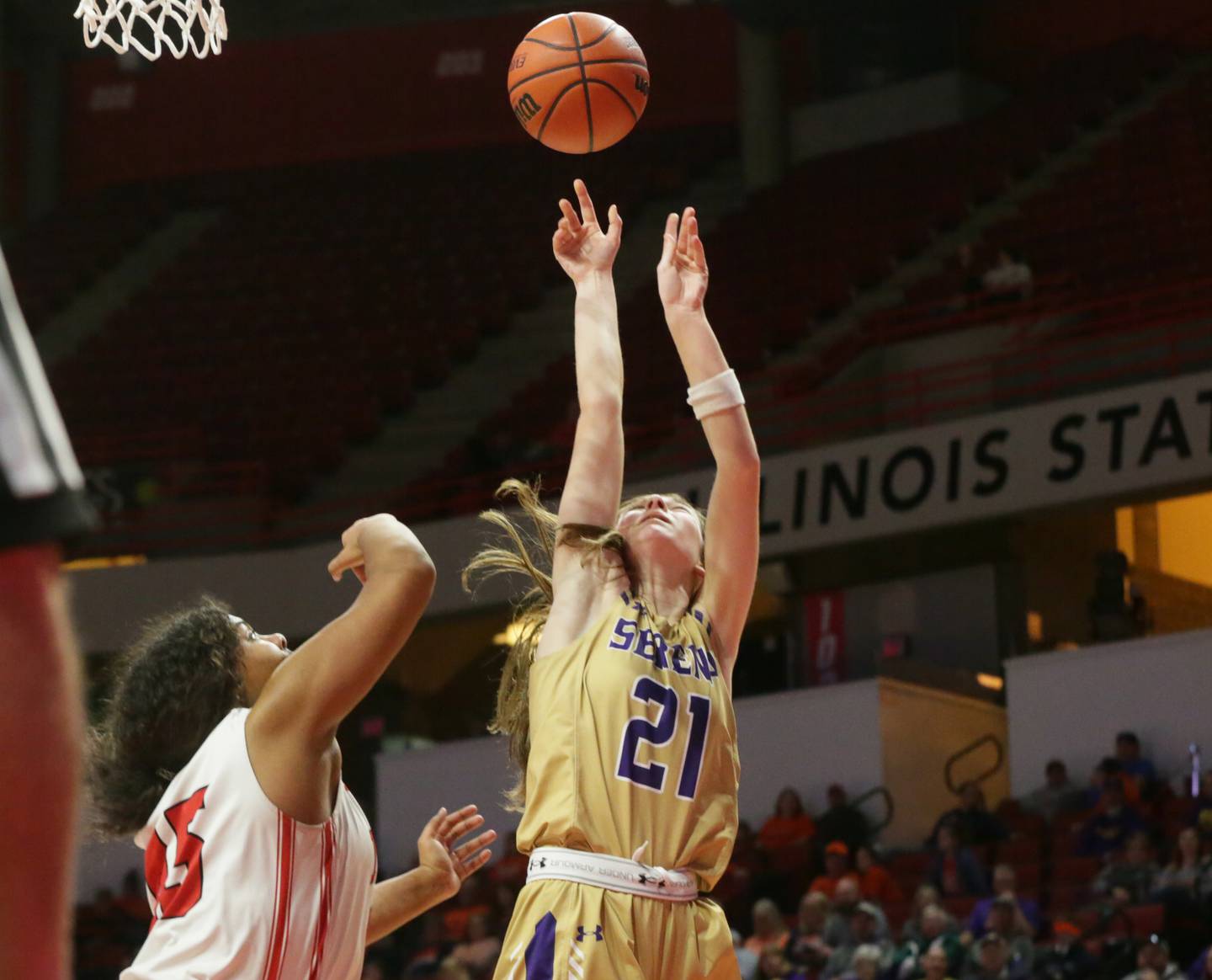 "We knew we could come out and compete with these guys, and we wanted to finish our season with a win," Neoga coach Kim Romack said. "It's a great day for our seniors. It's a great thing for our program."
Associated Press All-State First Teamer Katie Baker — the lone senior on the Huskers roster — scored eight points in her high school finale, shadowed by Neoga lockdown defender Sydney Hakman. Jenna Setchell and Makayla McNally (11 rebounds) each added four points and are two of four Serena starters eligible to return next season as the Huskers look to follow up their Class 1A fourth-place finish.
"You know, [getting to state] means everything," Jobst said. "It was a goal we set early on, the girls have worked hard for it. For the town, the school, the community, them [the players], it means everything."
"This whole season," Baker said, "has been about playing hard and getting here and achieving our goals. I think we achieved every goal we had. We had a fun year. ...
"The support we had from the community over the regionals, the sectionals, the super-sectional, both these games, it's been awesome. It's been my favorite part, I think, seeing everybody coming together."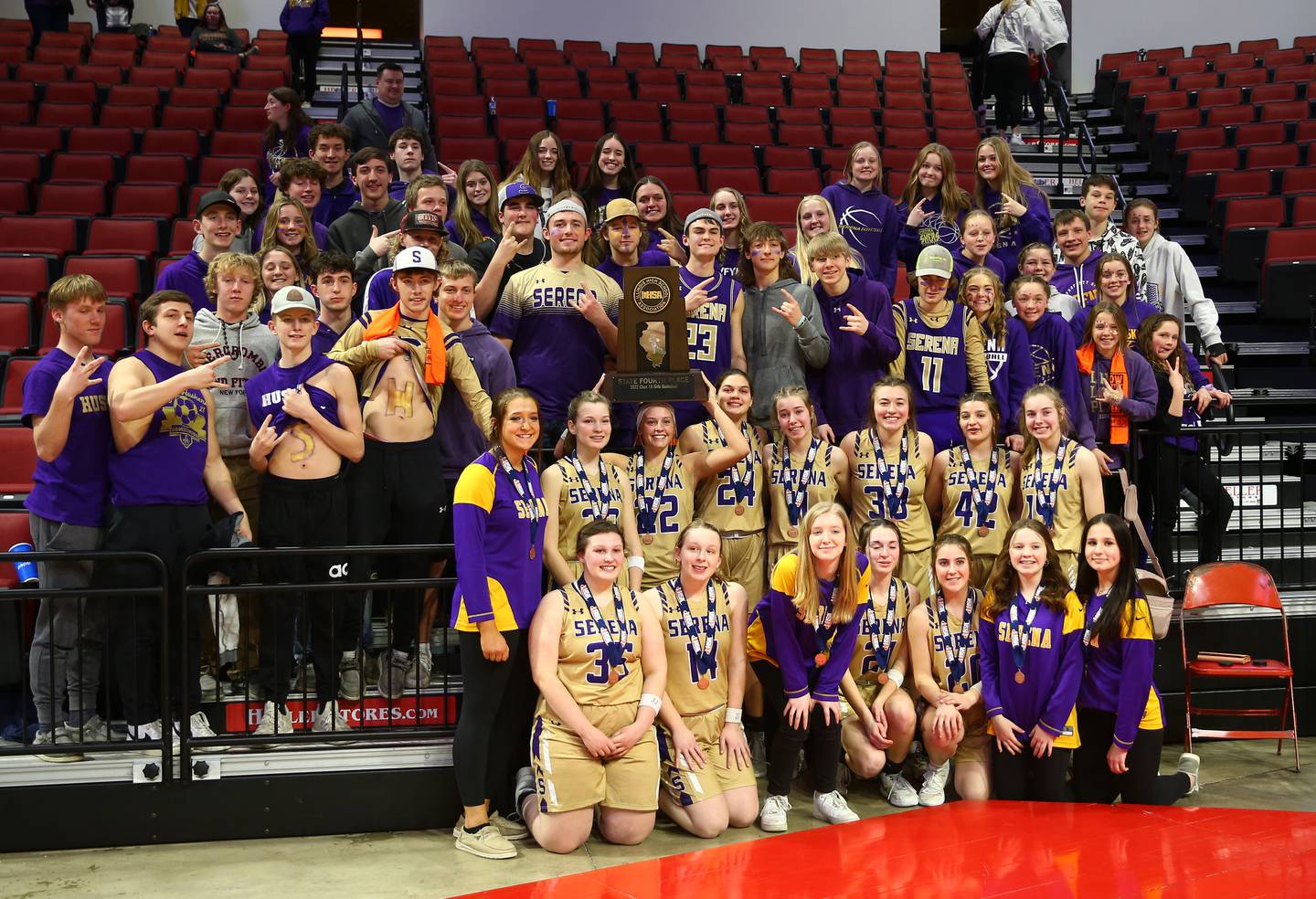 Class 1A State Finals
Third-place game
At Redbird Arena, Normal
Neoga 45, Serena 23
SERENA (23) — Cole 1-5 0-0 2, McNally 1-4 2-4 4, Baker 1-18 6-6 8, Twait 1-6 1-2 3, Setchell 2-9 0-0 4, J. Mahler 0-1 0-0 0, Glade 0-0 0-0 0, Linder 1-1 0-0 2, M. Mahler 0-0 0-0 0, Britt 0-0 0-0 0, Brennan 0-0 0-0 0. Totals 7-44 9-12 23.
NEOGA (45) — Hakman 1-3 0-0 3, S. Richards 7-13 2-2 16, Fearday 3-8 1-2 9, Moore 1-4 1-2 3, Campbell 5-13 1-1 11, B. Richards 0-1 0-0 0, Worman 0-2 1-2 1, Sampson 0-1 2-4 2, McKinney 0-0 0-0 0, O'Dell 0-0 0-0 0, Osborn 0-0 0-0 0. Totals 17-45 8-13 45.
Serena (33-4) 6 7 2 8 — 23
Neoga (29-8) 16 6 12 11 — 45
3-point goals — Serena 0-4 (Baker 0-2, Setchell 0-2); Neoga 3-8 (Hakman 1-2, Fearday 2-4, Moore 0-2). Rebounds — Serena 31 (McNally 11, Twait 6, Baker 5); Neoga 37 (Campbell 16, S. Richards 10). Assists — Serena 4 (4 players with 1 each); Neoga 9 (Fearday 6). Steals — Serena 5 (McNally 2, Setchell 2); Neoga 10 (Fearday 5). Blocks — Serena 3 (Baker 3); Neoga 4 (S. Richards 2). Turnovers — Serena 15, Neoga 12. Total fouls (none fouled out) — Serena 16, Neoga 11.