SERENA – Serena senior Katie Baker took the last few dribbles she'll ever take in a Huskers uniform on Al Stegman Court as the final seconds ticked off the clock in Monday's Class 1A Serena Supersectional.
However, it won't be the last dribbles she takes this season, as the Huskers will continue a remarkable season after a 46-34 victory over Ridgeview to send them to Class 1A's Final Four in Normal.
"This is amazing. I don't even know how to explain it, but it's the best feeling in the world."

—  Serena's Reese Cole
Serena built a 16-point lead against Ridgeview midway into the third quarter only to see the Mustangs claw back to within five with about five minutes to play. But from there, a pair of steals and five consecutive points by Baker gave the momentum back to the hosts.
The Huskers (33-2) now face Galena, a 53-25 winner over Chicago Hope Academy at the Hoffman Estates Supersectional, at 11:45 a.m. Thursday at Redbird Arena. Ridgeview finishes the season 25-9.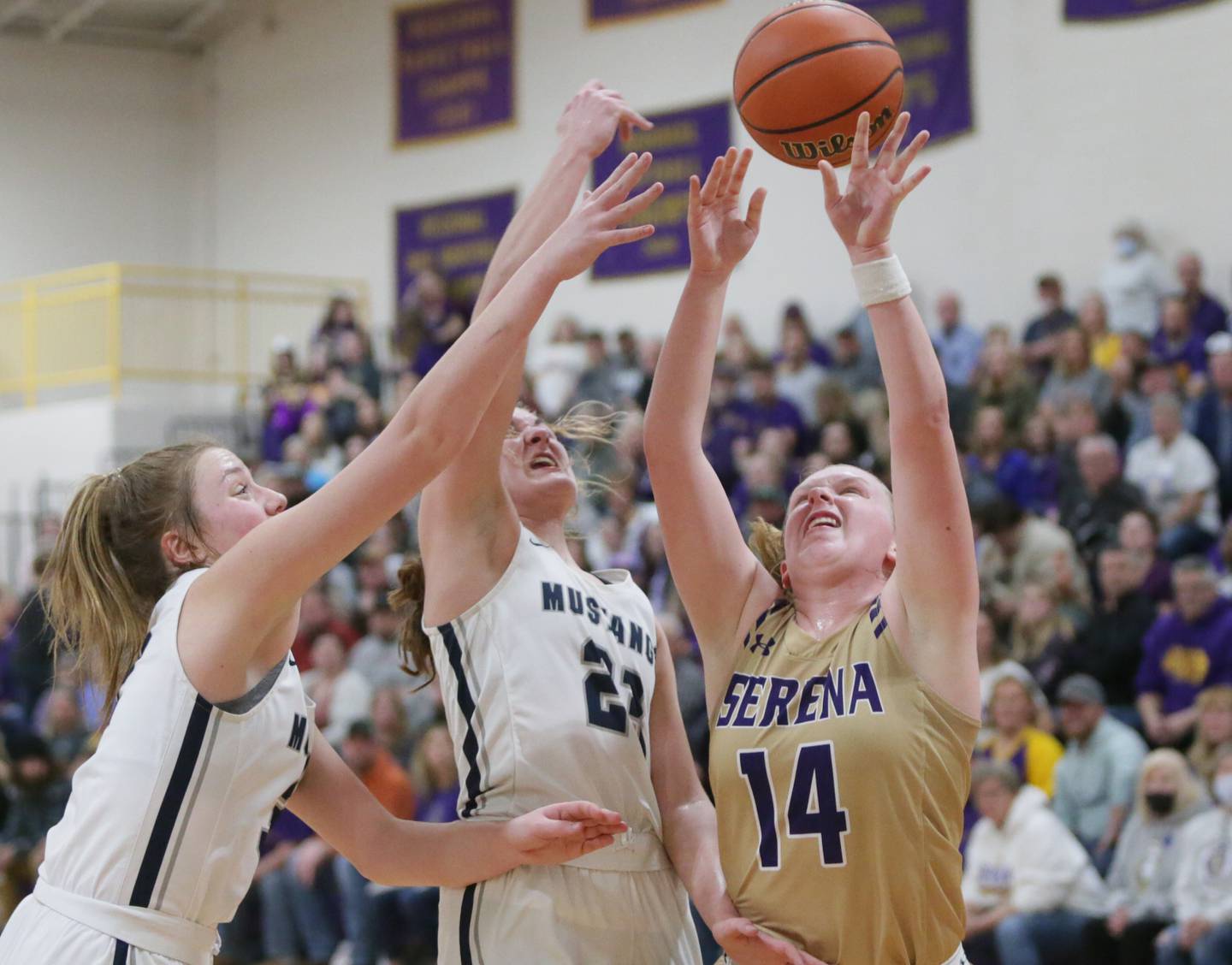 Serena, which forced 17 of Ridgeview's 28 turnovers with its 1-2-2, full-court press in the first half, saw Baker finish with a game-high 18 points and seven steals. Junior forward Reese Cole added 11 points and four rebounds. Jenna Setchell had seven points; Paisley Twait six points, eight rebounds and three steals; and Makayla McNally four points, five rebounds and two assists.
"This is amazing," Cole said. "I don't even know how to explain it, but it's the best feeling in the world.
"We have really good communication with each other in our press. We are always letting each other know what's going. But I think the biggest reason our press works so well is trust. We all trust that the other four are going to be in the right spots, and we trust that if the other team gets by, there will always be someone there to take that spot.
"Trust is not only a big factor on our defense, it's a big part of everything we do."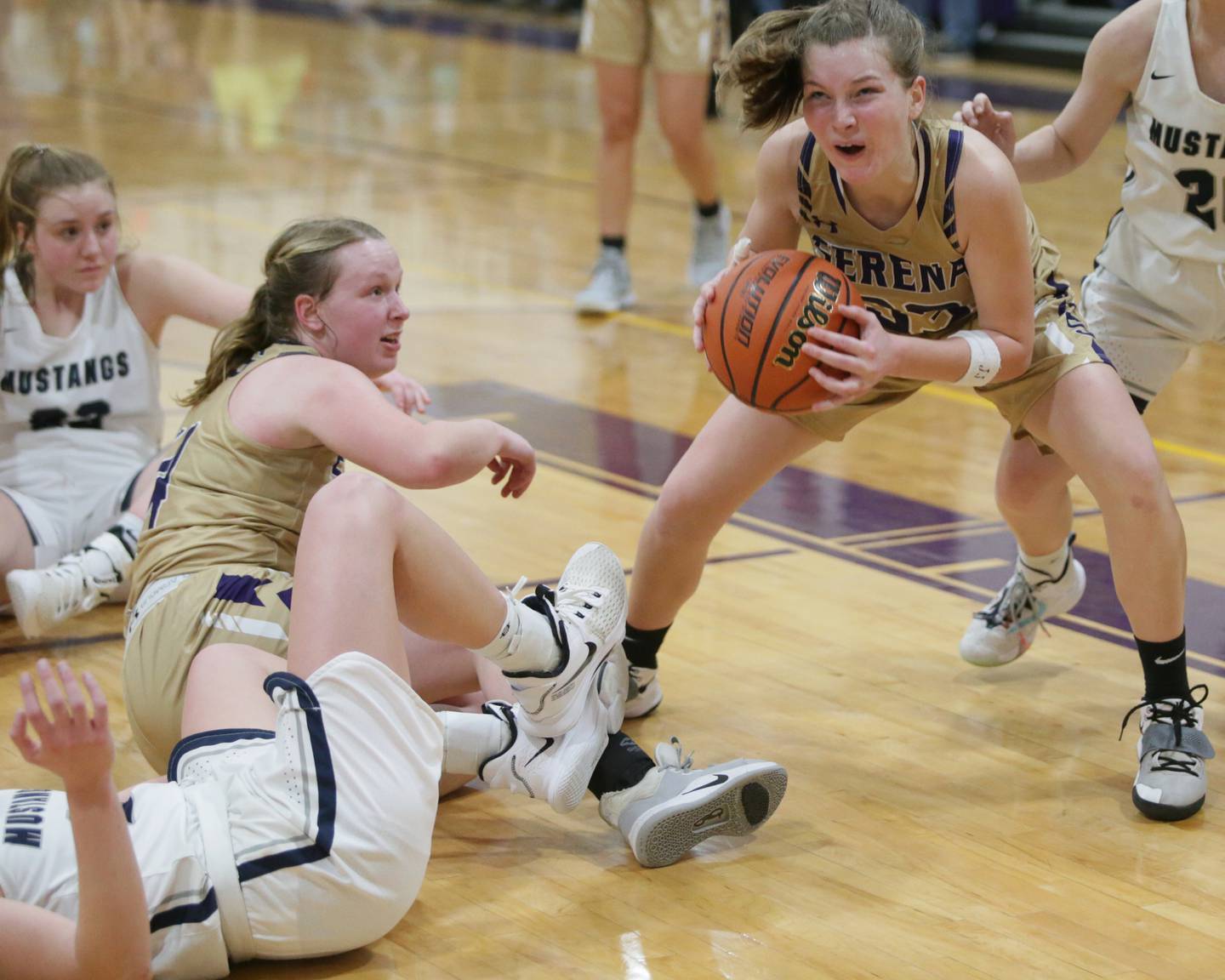 Serena led 12-8 after the first quarter, 24-12 at halftime and 32-16 with 4:35 left in the third after Twait's steal off the press turned into a layup.
"Three years ago when we went to this press, we weren't a very big team, but we were fast," Serena coach Jim Jobst said. "The last couple of seasons it continued to be a successful part of what we do, and this year it has been really good.
"The big thing for me using the press isn't so much getting steals and breakaways – they're nice – but to hopefully wear the other team down. I felt like tonight, usually you wear teams out mentally, but tonight I thought we did physically.
"The girls were everywhere tonight and did a really good job of making Ridgeview have to work that much extra harder to get the ball across half court on every possession."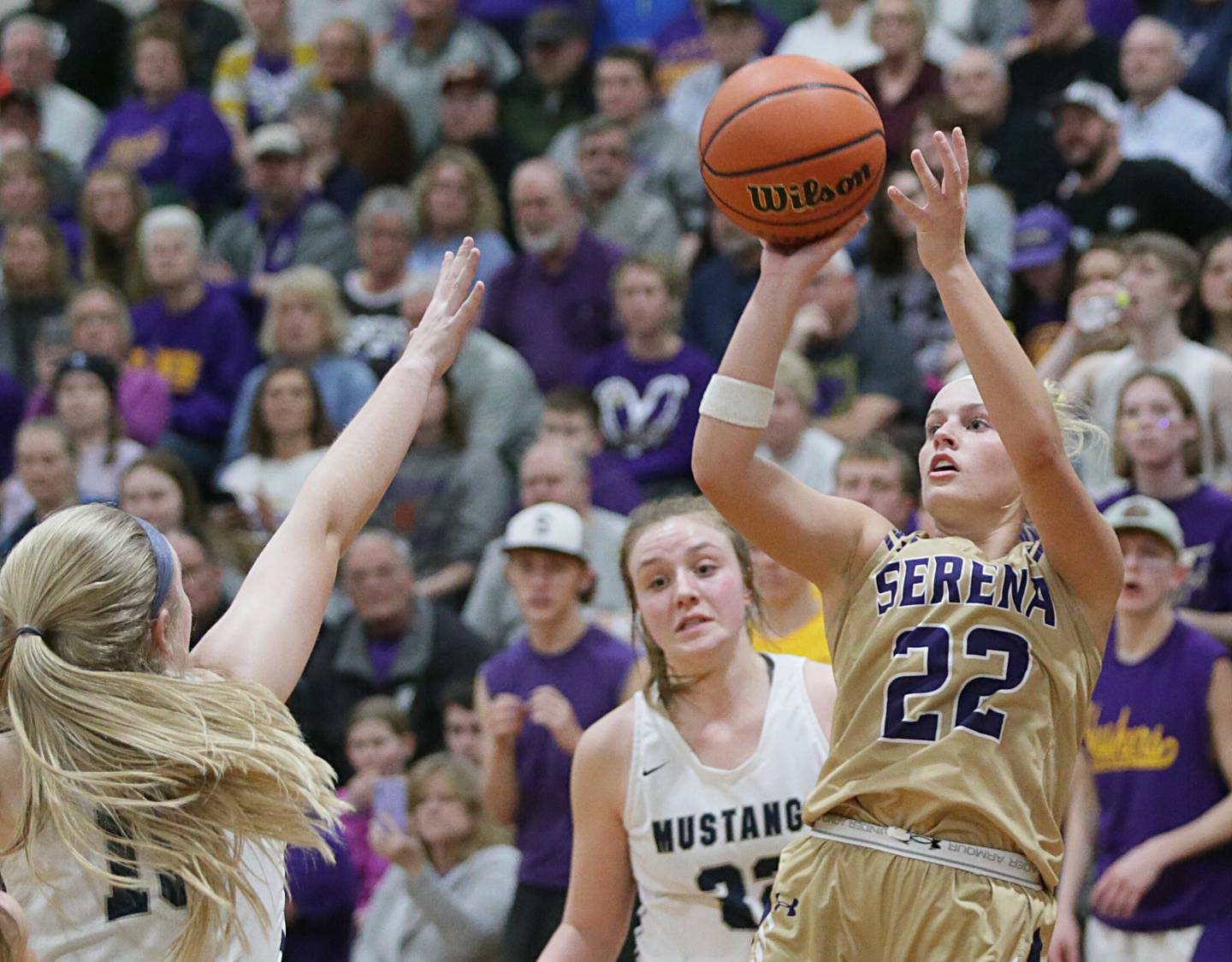 The Huskers led 35-23 heading to the fourth, but four of Peyton Rinkenberger's team-best 14 points and a 3-pointer by Annalyn Harper made it 35-30 and forced Serena to use a timeout.
"Coming out of that timeout, I told my teammates, 'Relax, calm down, we just need to play our game and we'll be fine,' " Baker said. "I have trust in all my teammates as well as myself. I just knew if we could respond with a basket or two, we'd be fine, and that's what happened."
Baker picked up a steal on the next Mustangs possession, was fouled and made both free throws. Then on Ridgeview's next possession, the all-stater stole the ball and went coast to coast for a three-point play to but her team back up double digits with about four minutes to go.
"Those two plays were big, and I think it settled everyone down," Jobst said. "I saw a couple panicked looks in the timeout before those two plays, but those two steals by Katie and five straight points pushed the lead back to 10 and, I think, took a little pressure off everyone."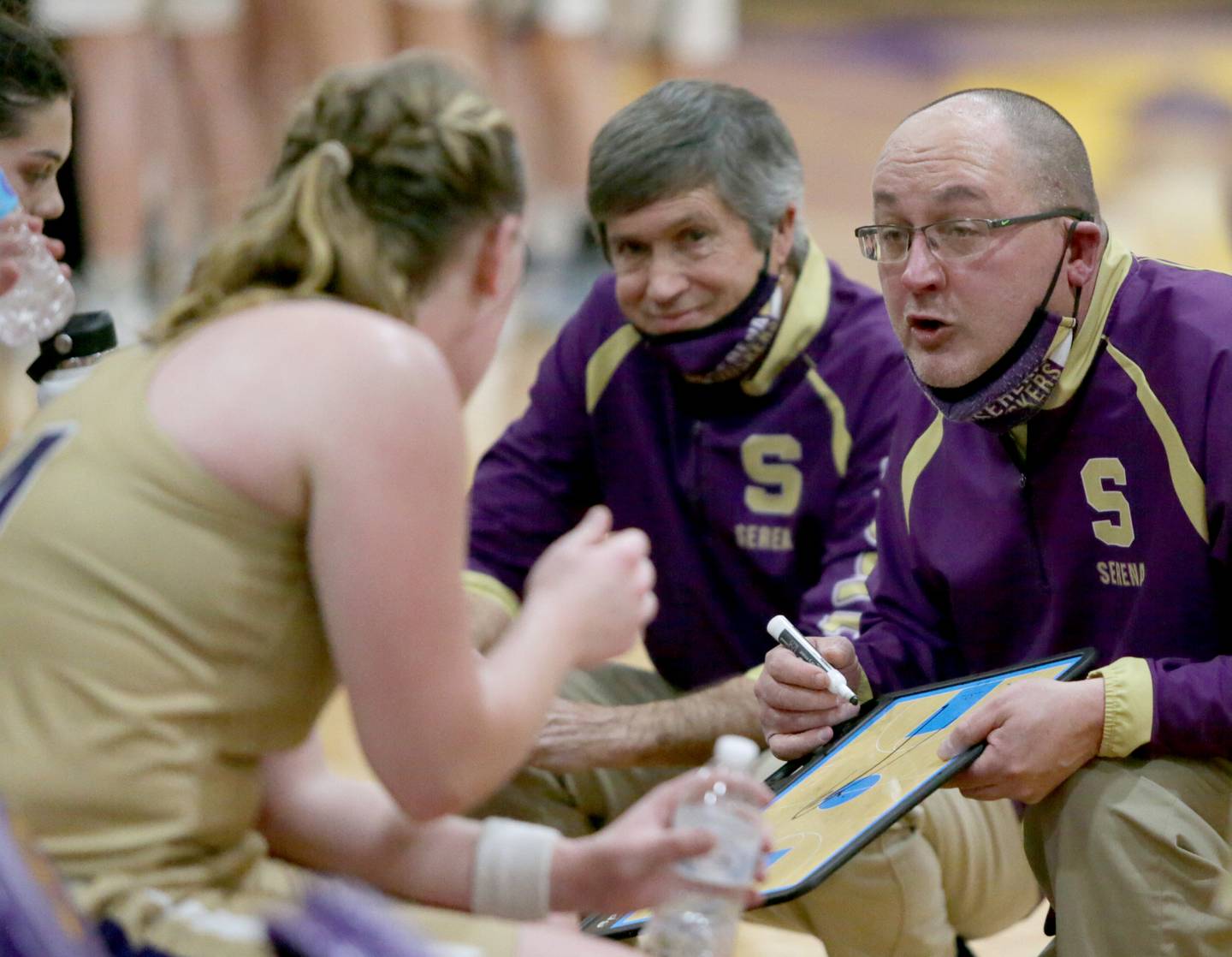 Ridgeview coach Scot Ghere said there was one key coming into the game in his eyes.
"We knew their press was either going to make us or break us," Ghere said. "The press really got to us in the first half, and they were able to build up a 16-point lead midway into the third quarter with it. I thought we settled down and handled it better late in the third/early in the fourth and were able to cut the lead to five. But from there we just weren't able to quite get to them.
"They are a really good ballclub."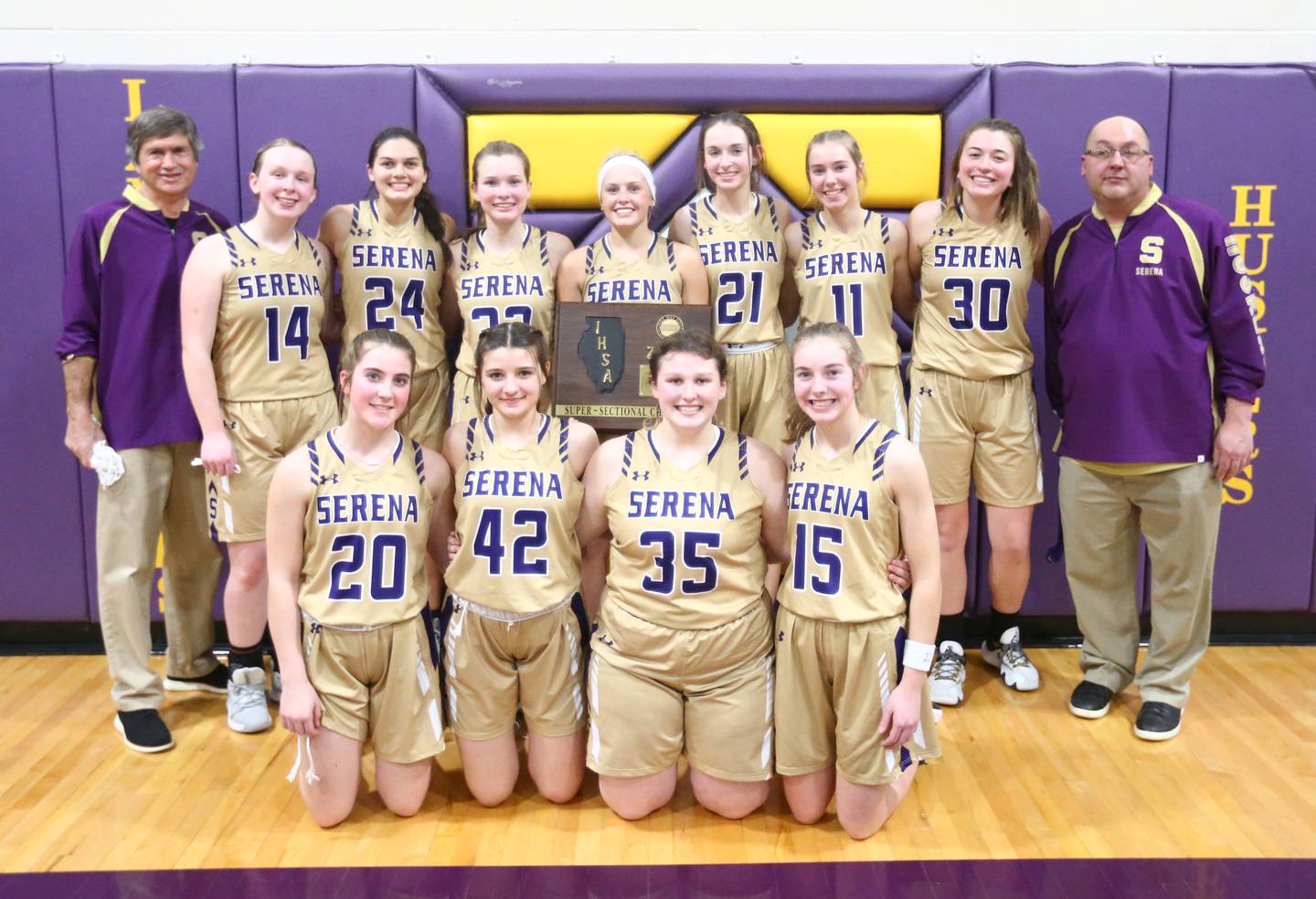 Class 1A Serena Supersectional
At Serena
Serena 46, Ridgeview 34
SERENA (46) — Cole 4-9 3-8 11, McNally 2-7 0-0 4, Baker 5-15 7-8 18, Twait 2-5 2-6 6, Setchell 2-8 2-6 7, Linder 0-0 0-0 0, J. Mahler 0-0 0-0 0. Totals 15-44 14-28 46.
RIDGEVIEW (34) — Rinkenberger 6-10 1-4 14, Harper 1-3 2-2 5, Stevens 4-6 0-0 8, Wesson 0-3 1-2 1, Donaldson 0-0 0-0 0, Erwin 1-3 0-0 2, Johnson 2-3 0-0 4, Landau 0-1 0-0 0, Wissmiller 0-0 0-0 0. Totals 14-29 4-8 34.
Serena (33-2) 12 12 11 11 — 46
Ridgeview (25-9) 8 4 11 11 — 34
3-point goals — Serena 2-6 (Baker 1-1, Setchell 1-5); Ridgeview 2-5 (Rinkenberger 1-2, Harper 1-1, Wesson 0-1, Johnson 0-1). Rebounds — Serena 23 (Twait 8, McNally 5, Cole 4); Ridgeview 27 (Donaldson 8, Stevens 5, Erwin 5). Assists — Serena 7 (McNally 3); Ridgeview 5 (Rinkenberger 3). Steals — Serena 13 (Baker 7); Ridgeview 5 (Rinkenberger 2). Blocks — Serena 0; Ridgeview 2 (Stevens 1, Donaldson 1). Turnovers — Serena 12, Ridgeview 28. Total fouls (fouled out) — Serena 10 (none); Ridgeview 18 (Rinkenberger).