The Penguin Plunge was handed a brisk, cold and intermittently snowy afternoon for its in-person return.
For most events, that's a bad thing.
For the Penguin Plunge, however, it adds to the experience.
The cold weather didn't stop anyone from jumping into the lake north of Ottawa at Skydive Chicago. A couple of men even stripped to just a Speedo to take a chilly dip. The cold didn't scare anyone as the 14 teams making up 100 plungers at Skydive Chicago came together to raise more than $52,000 and counting. Donations will be accepted to March 1.
"The water was cold but I'd do it again every time," said Sherri Countryman, who handled some of the hosting duties while also participating as a jumper. "I think about the kids and what they've gone through. This is nothing compared to that."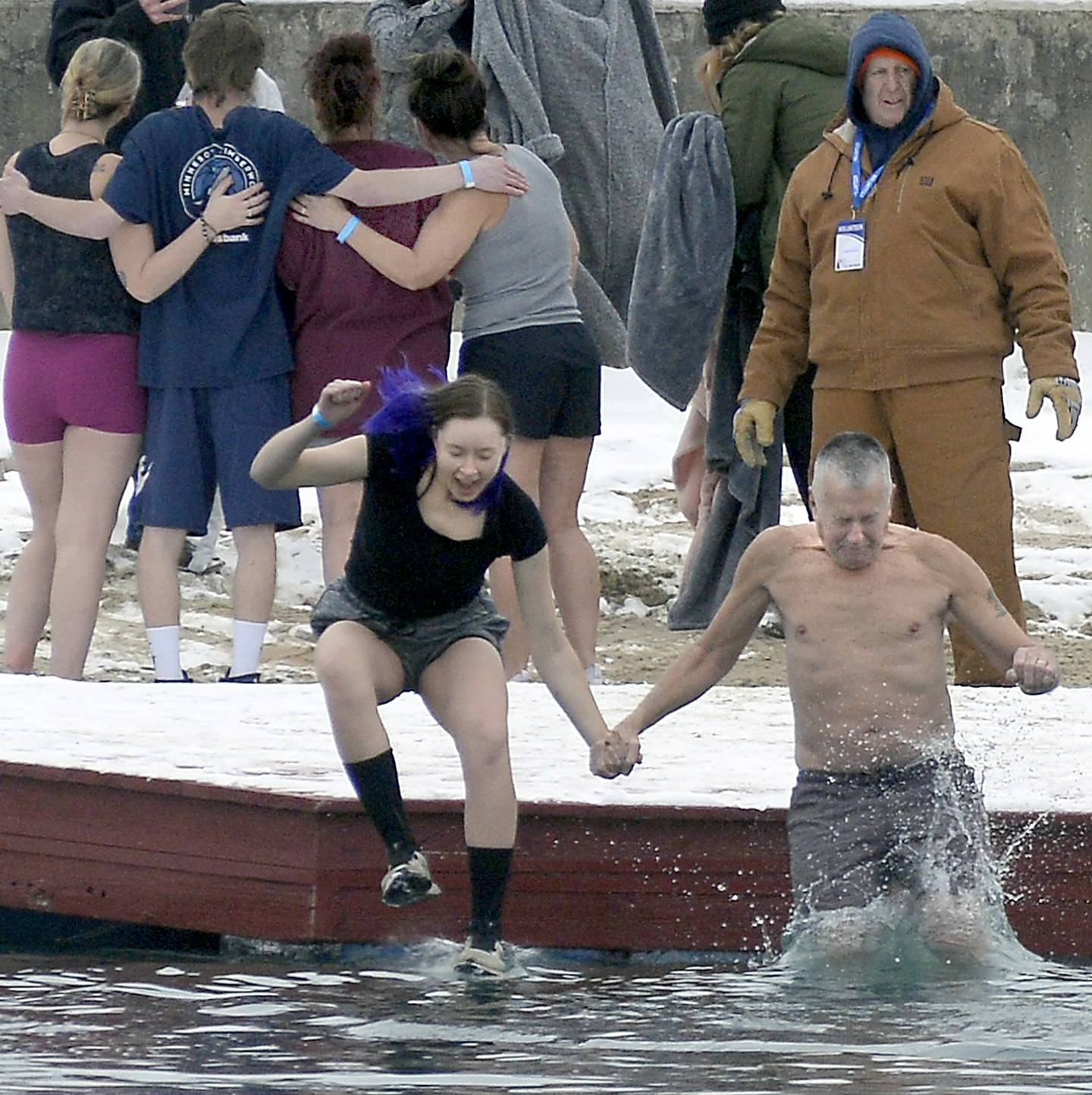 It's all done for Make-a-Wish Illinois, an organization that grants the wishes of children in need. Gift Officer Ashley White said the organization has granted more than 500 wishes for children in Illinois within the last year. There are 1,600 children on the waiting list, five of whom live within the Ottawa area. To donate go to http://site.wish.org/penguinplunge23
"Make-a-Wish is wonderful. They took care of everything when our family needed it. We hadn't smiled or laughed that much as a family, just the four of us, since his diagnosis. The family support has been amazing."

—  Jennifer Van Gelder, of Seneca
One of those Make-A-Wish children is Parker Van Gelder of Seneca, who received his wish last fall in the form of a trip to Disney World in Florida with his mother Jennifer, his father Brian and his brother Colton. Brian led a team of his own this year, Parker's Penguins.
Jennifer took the stage to share her family's story with the rest of the plungers.
"In 2018, Parker was diagnosed with a brain tumor," Jennifer said. "As a parent, that's the last thing you're thinking about and the last thing you want to admit is that it's critical. In 2019, Parker was referred by someone at the hospital, and in 2020, we went to the Polar Plunge while awaiting approval."
Jennifer said that's when her family met White, and his wish granters. While delayed because of the pandemic, the Van Gelders were received their trip to Disney in 2022.
"Make-a-Wish is wonderful," Jennifer said. "They took care of everything when our family needed it. We hadn't smiled or laughed that much as a family, just the four of us, since his diagnosis. The family support has been amazing."
The Penguin Plunge was founded by Linda Johnston, who remains involved, though Make-a-Wish Illinois has taken the reigns in putting on the fundraiser.
Johnston said she started volunteering with Make-a-Wish when her oldest daughter left for college and she was told she needed a hobby.
"You know, I get so many hugs and 'thank yous' but they don't know what they do for me, as well," Johnston said. "The day I was diagnosed with cancer, I was on my way to a celebration for a wish child who was going to be leaving for the rainforest in Hawaii the next day. I looked at this little guy and I thought about everything he endured in that last year. I knew I could do it, then."
Johnston said she has so many stories from her time as a wish granter these children changed her life.
The Penguin Plunge had many repeat teams from previous years, including Team Francisco, which participated nearly every year except the first. In a previous year, they held the distinction of gathering 30 jumpers. This year, they crossed their goal of raising more than $10,000 for Make-a-Wish.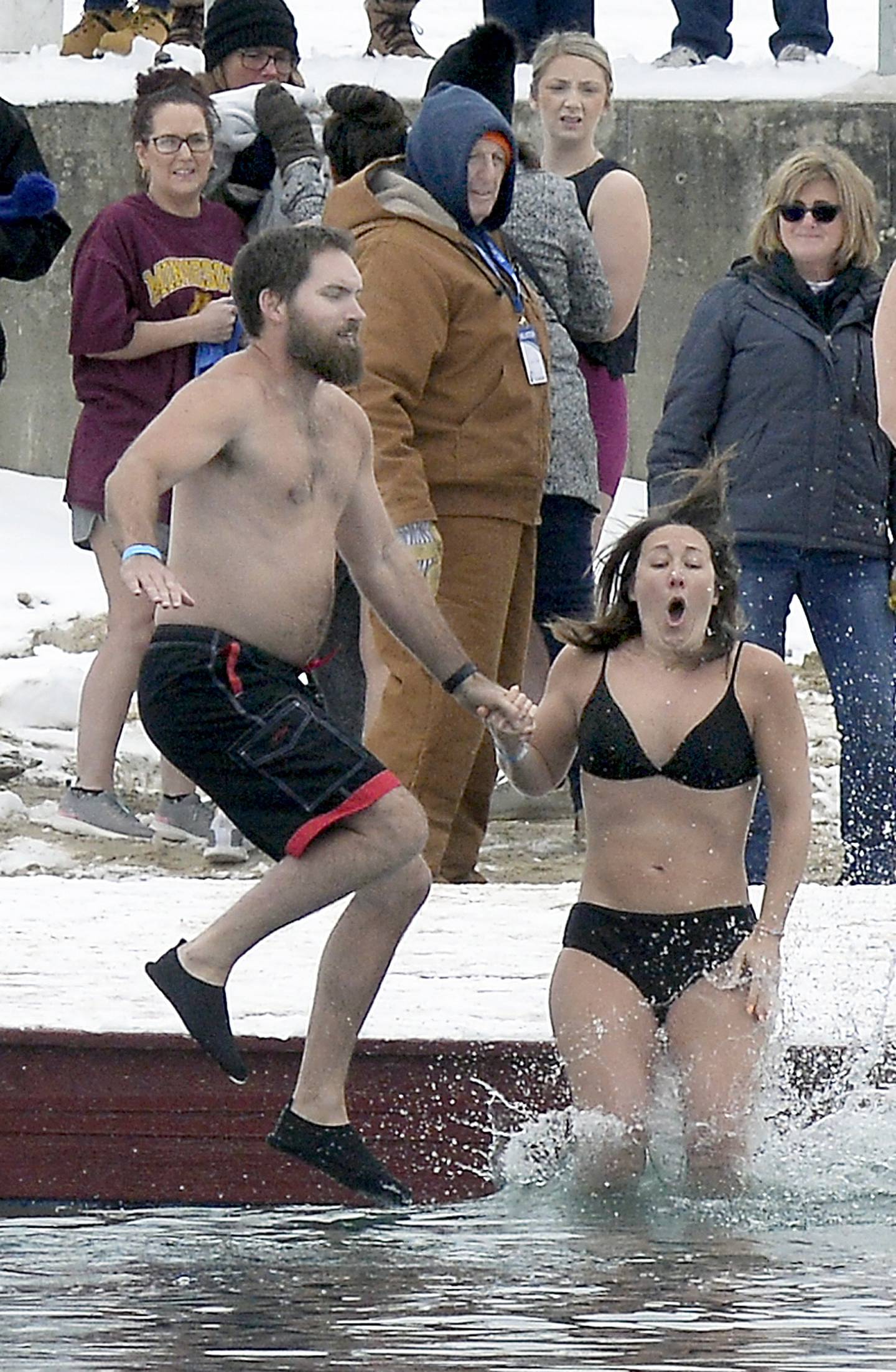 This year's Penguin Plunge was sponsored by the Illinois Valley Contractors Association, Tito's Handmade Vodka, Vactor Manufacturing, Team Francisco, OSF Healthcare and Constellation Energy. Vactor, Constellation Energy and Tangled Roots Brewery all fielded teams to take a dip in the cold.
Make-a-Wish Illinois also is looking for volunteer wish granters to help children in need to receive their wish, as there is a high need. Anyone interested can get more information by going to illinois.wish.org and selecting "Ways to Help Us" from the drop-down bar at the top of the page.
"It was truly inspirational to be among all of our incredible donors, sponsors, plungers and wish families," White said. "This community is like no other. People rally around our wish families and each other to support their friends and neighbors. Linda Johnson founded this event, and we are truly honored she has passed the baton to Make-A-Wish to continue it forward. Linda is still apart of the event, and we are so thrilled to start this next chapter of Penguin Plunge."
A thank you party is planned at Tangled Roots in Ottawa, and the date is to be determined the first week of March. The Ottawa and Wallace fire departments were on-scene to ensure the safety of the divers.
White thanked Ottawa Mayor Dan Aussem for helping with last minute logistical items, Starved Rock Yacht Club for donating the bubblers and Skydive Chicago for hosting the event. Tangled Roots served beverages, and The Cheese Shop and Dominos handled food. Music was played by Ryan Wotherspoon from Studio E16, and Sherri Countryman was the emcee.