WHEATON – Macy Pomatto never imagined she would get to play softball this season.
What she did May 3? Beyond the stuff of dreams.
Pomatto, a Wheaton North junior, had MPFL reconstruction surgery on her knee in January, an injury from basketball that's nagged her for three years. She wasn't supposed to play softball this spring, that is until she saw her surgeon two weeks ago.
"He said I was looking great," Pomatto said. "I'm three months ahead."
Pomatto returned to games last week, just hitting, and had only eight at-bats going into the May 3 game against St. Charles North. She provided an unforgettable moment with her bat.
With no one out in the bottom of the eighth, Pomatto slugged a walk-off grand slam, rallying the Falcons to a 7-3 win over St. Charles North and into a first-place tie in the loss column atop the DuKane Conference.
"It's surreal, honestly. It's amazing," Pomatto said. "I really didn't even think I would play. The fact that I had that moment, with my team, that's something you dream about."
Reagan Crosthwaite slugged her program record-tying 10th homer of the season for Wheaton North (17-5, 6-1), which is 13-1 over its last 14 games and won in walk-off fashion for the second consecutive day. Winning pitcher Erin Metz struck out nine, scattering nine hits.
Pomatto hit her first homer of the year May 2 in a 13-12 walk-off winner over Glenbard West on Reese Johnson's two-run homer.
Hitting a walk-off against defending Class 4A champion St. Charles North took the cake.
"Our coaches told us we had the talent. We just had to show it. And we really showed it today," Pomatto said. "We know we have the talent to beat anybody."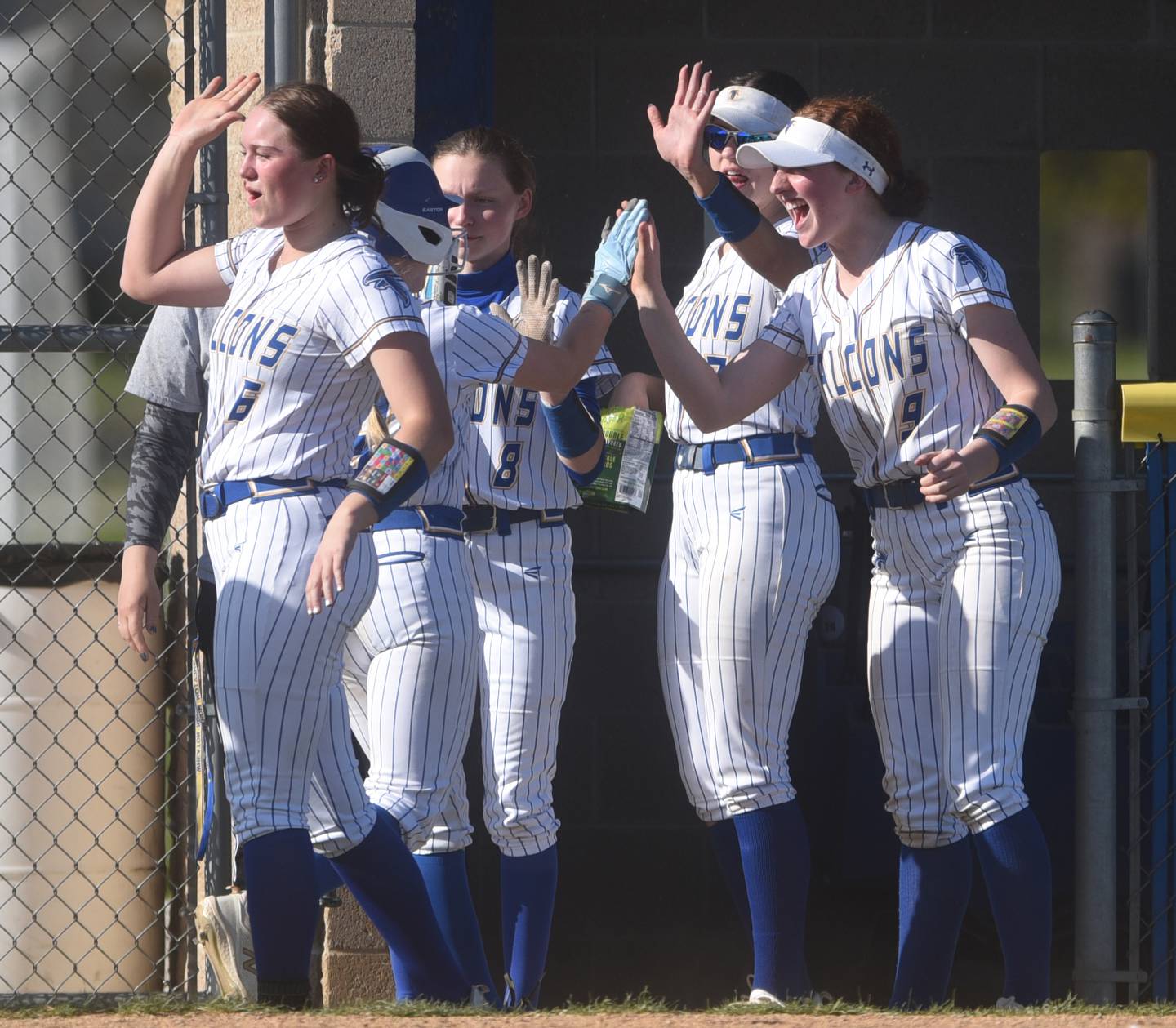 Pomatto, who reached base three times May 3, scored ahead of Crosthwaite's homer in the fifth that tied it 3-3.
Pomatto came to the plate in the eighth with the bases loaded after two St. Charles North errors and an intentional walk.
"I was shaking," Pomatto said.
Pomatto had the entire Wheaton North dugout shaking when she drove a high fly that cleared the fence in right-center, clearing the bases in front of her.
"I was just like, 'I need to do my job.' I just wanted to make contact, just a fly ball to get the runner in," Pomatto said. "But that home run is pretty great, too."
Crosthwaite said it's pretty great to have Pomatto back, even if only as a hitter.
"It's so exciting," Crosthwaite said. "I remember when we heard that Macy was coming back, Metz started crying because she was so excited. Her bat in the lineup is very important."
Pomatto said it's definitely different not playing defense, and she's still finding her role on the bench while her teammates are in the field. But she's finding her way.
"I'm figuring what I have to do to help the team in any way I can," she said. "I just go up with the mindset that I'm going to hit the ball hard."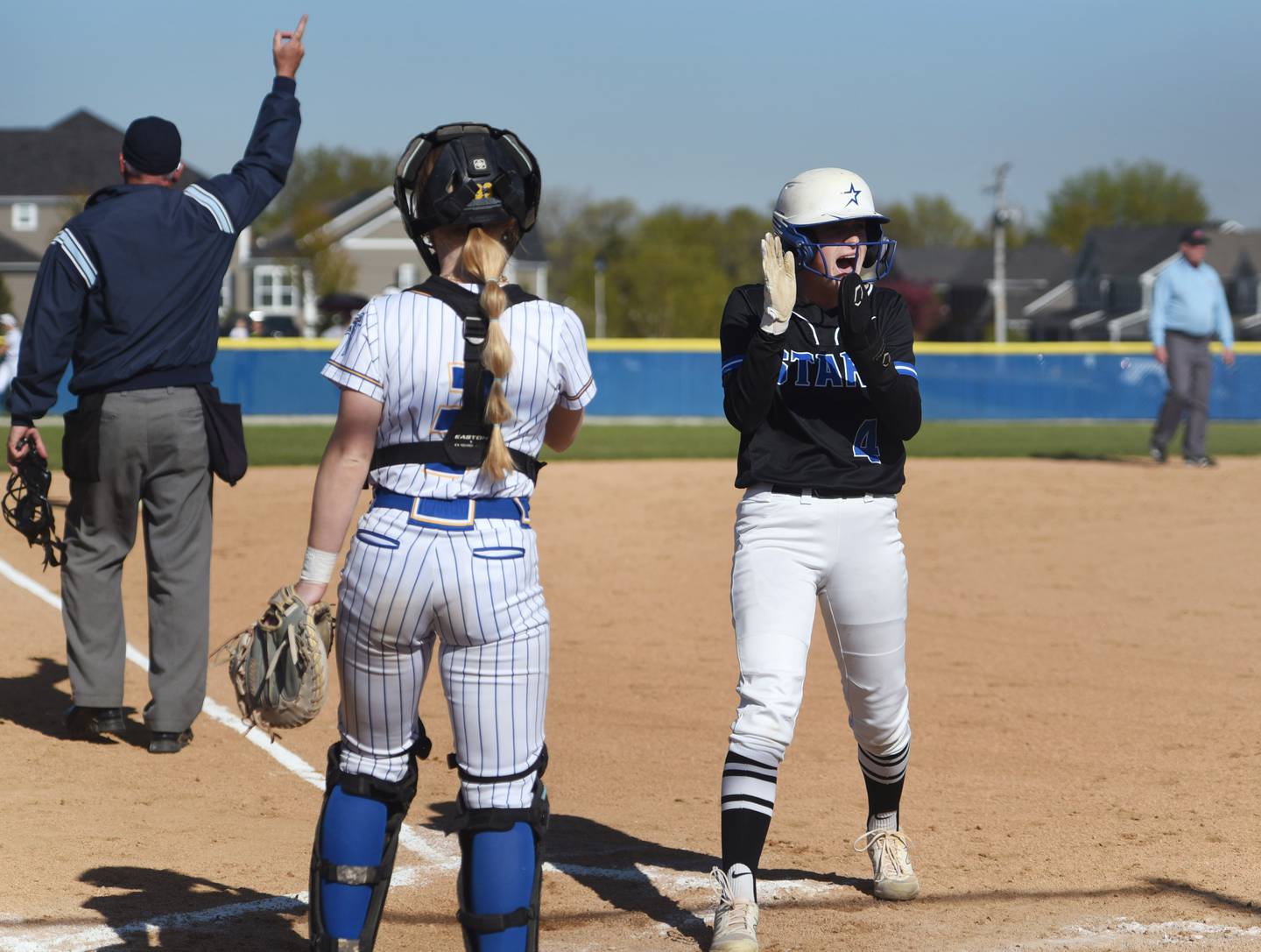 Maddie Hernandez hit a two-run homer in the first to stake St. Charles North (14-2, 7-1) to a 2-0 lead. She was robbed of a second homer by Wheaton North's Makayla Grantz in the third. Julia Larson, who was 4-for-4, doubled and scored on Hernandez's homer and singled in Leigh Vande Hei in the third for a 3-1 lead.
But the North Stars were shut out the rest of the way by Metz. And they committed three uncharacteristic errors, the last two setting the stage for Pomatto's heroics.
"We made more mistakes today than we did total in the first 15 games, I'm not exaggerating," St. Charles North coach Tom Poulin said. "That's not how we play. Wheaton North played a great game, [Metz] pitched well, they battled and had timely hitting. Too many free bases."
Poulin's team had its 12-game win streak snapped, but felt the timing could be worse. Playoffs start in three weeks.
"It's a good time for this," Poulin said. "This game will make us better going forward."
Crosthwaite's homer, an opposite-field line drive to right, tied Ellie Hubbard for Wheaton North's single-season record.
"I never imagined that this would happen. It's crazy. It did not feel real," Crosthwaite said. "My other at-bat, I was thinking a little too much. But I just thought I'm going to play it straight up, be aggressive."