DOWNERS GROVE – Maxwell Haack has known Downers Grove North basketball since before he could even walk.
His dad, James Haack, was the Trojans' head coach from 2001-2007 and has been an assistant since. The elder Haack won a regional title as head coach at Downers Grove North in 2002, but that's a memory his son would only know of second-hand.
He'll never forget this night.
With the Trojans' home gym bursting at the seams, a jam-packed student section decked out in purple, Haack was one of the heroes that helped continue a storybook season.
The 6-foot senior guard scored a team-high 19 points, with three critical baskets in the fourth quarter as the Trojans held off Proviso East 73-62 to win the Class 4A Downers Grove North Regional championship.
"It's awesome," Haack said. "My dad has been with this program [as an assistant] since I was two years old, so being able to watch the process and being able to play here now and take home a regional championship is an amazing feeling. The atmosphere, the crowd, they were with us the whole time. To win this in front of our fans, it's a dream."
Owen Thulin added 13 points and eight rebounds, Jack Stanton 12 points and Jacob Bozeman 10 points and five rebounds for Downers Grove North (29-3), which advanced to face Young in a Tuesday sectional semifinal at Hinsdale Central. Jaloni Johnson scored 17 points, Bryce Coleman 12 and Emory Marshall 12 for Proviso (23-7).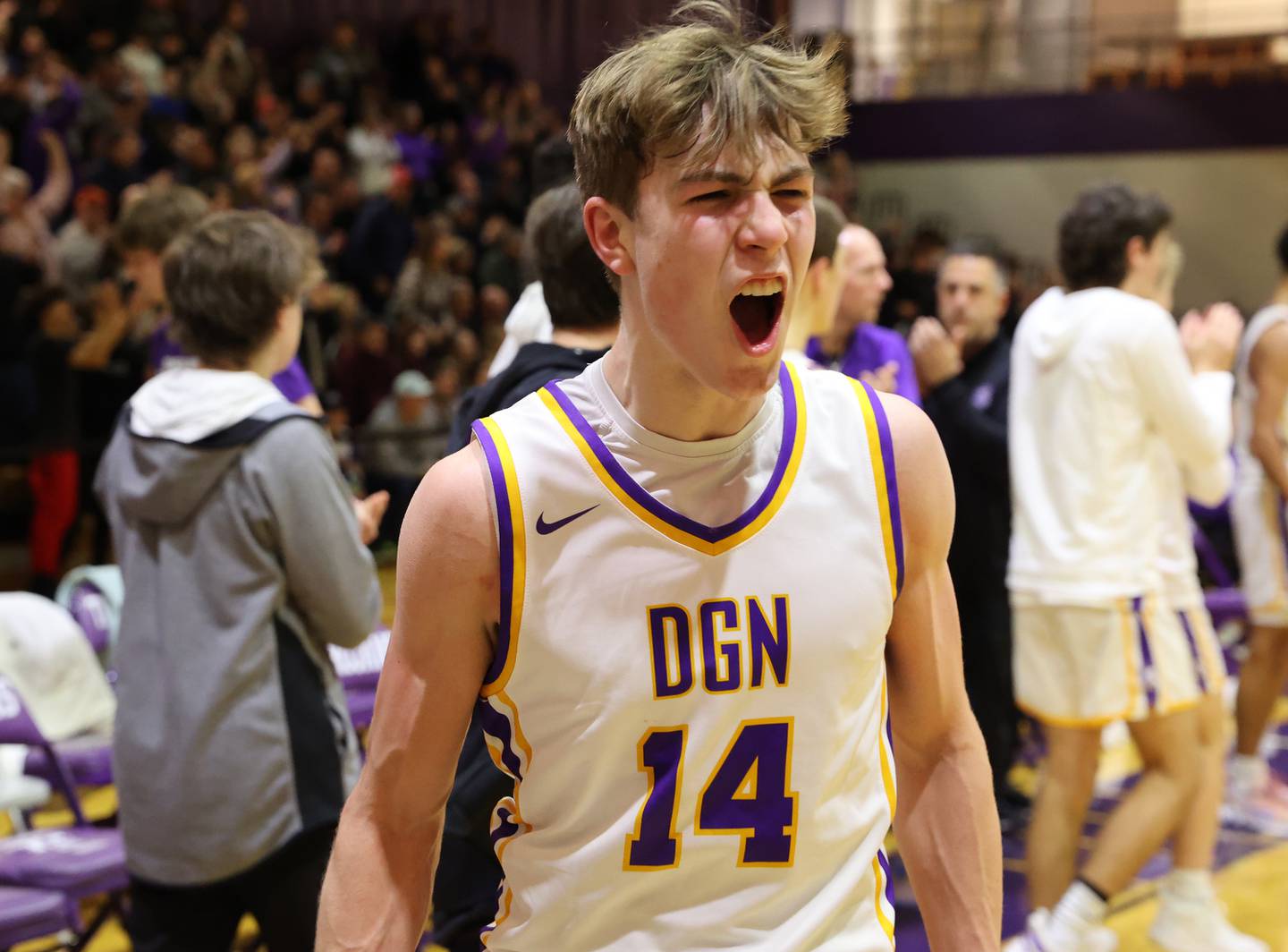 The sectional, regarded as the toughest in Class 4A, has become a West Suburban Silver party with Hinsdale Central and Lyons set to meet Wednesday.
And Downers Grove North is right in the middle of it.
The Trojans have not lost in seven weeks, winners of 16 in a row since, and have shattered the program win record. And added their second regional title since that 2002 team Friday.
"We're feeling good about where we're at," Downers Grove North coach Jim Thomas said. "Happy for these guys, on their home court, it's a special night to win a regional championship against a historic program and a very good Proviso East team."
The Trojans, which led 46-33 at half after a stunning 30-point second quarter, extended the margin to 14 on three occasions shortly after halftime.
But Proviso East dialed up fullcourt pressure to chip away. Downers Grove North was nursing a six-point lead with just over four minutes left when its leading scorer, Stanton, went to the bench with his fourth foul.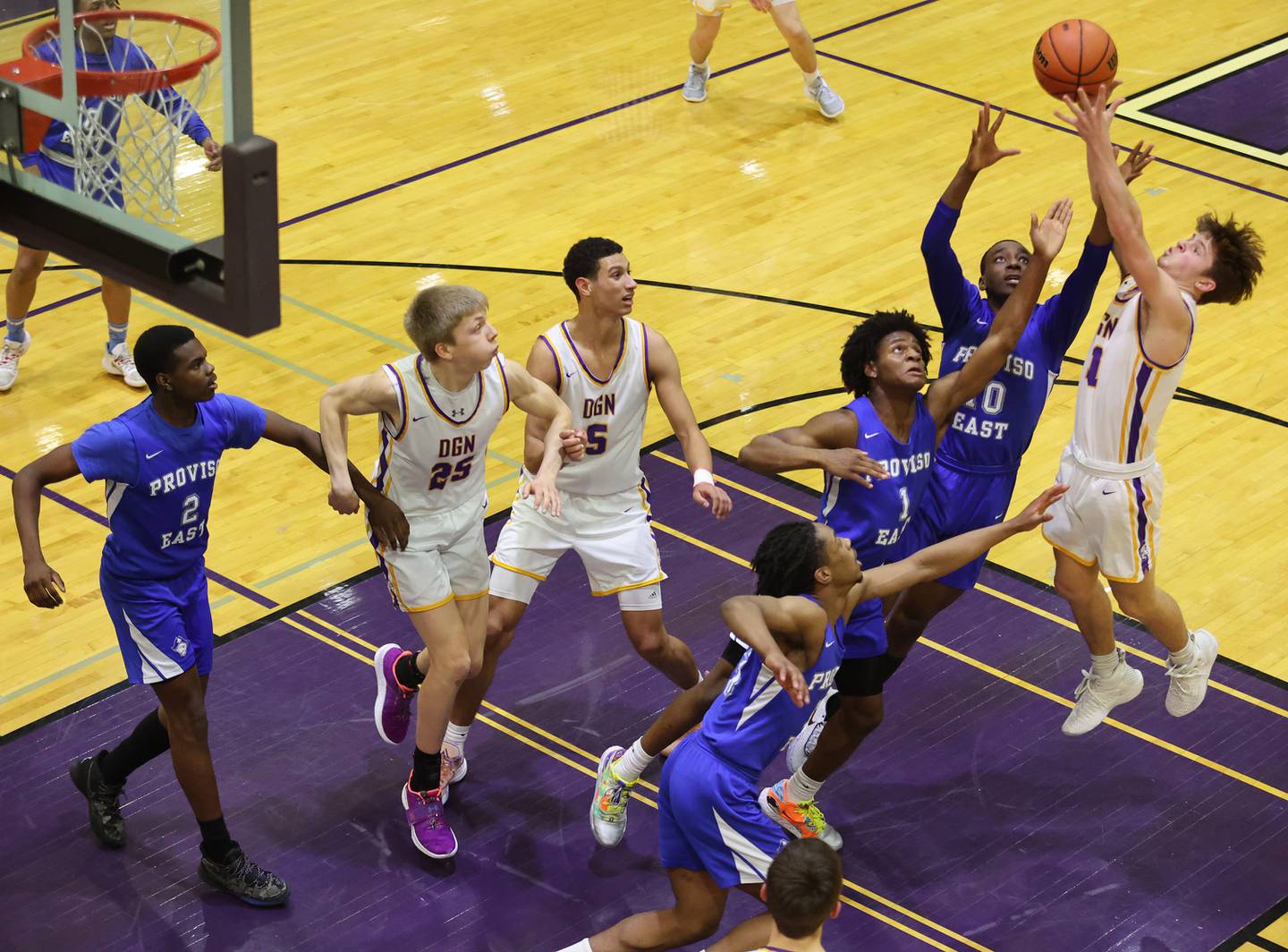 It set the stage for Haack's heroics. He scored on a driving runner off glass and split two free throws to stem the tide, then scored on another tough driving layup with 2:18 left to cap off a 7-0 run for a 69-56 lead.
"Jack's been one of our better players this entire year, we struggled with fouls, but the whole team needed to come together," Haack said. "That one play wasn't just me. That was a good screen by Bozeman to give me an open look. We just had to be a team."
No surprise to Thomas to see Haack come through in the clutch.
He's known the kid since he was 2 years old, and the father of four himself knows the apple doesn't fall far from the tree. Thomas' own young son, Wyatt, clutched the regional plaque in the celebration afterward.
"That's a prototypical coach's son, that's what those guys do," Thomas said. "They've seen it, they've heard it so long. It was Max tonight, but all of our guys have put themselves in situations where they are capable of doing that."
Indeed, it took a village to overcome early adversity.
Proviso East came out hot early, jumping ahead 10-4, and the slight early deficit was worsened when Stanton picked up his second foul less than four minutes in.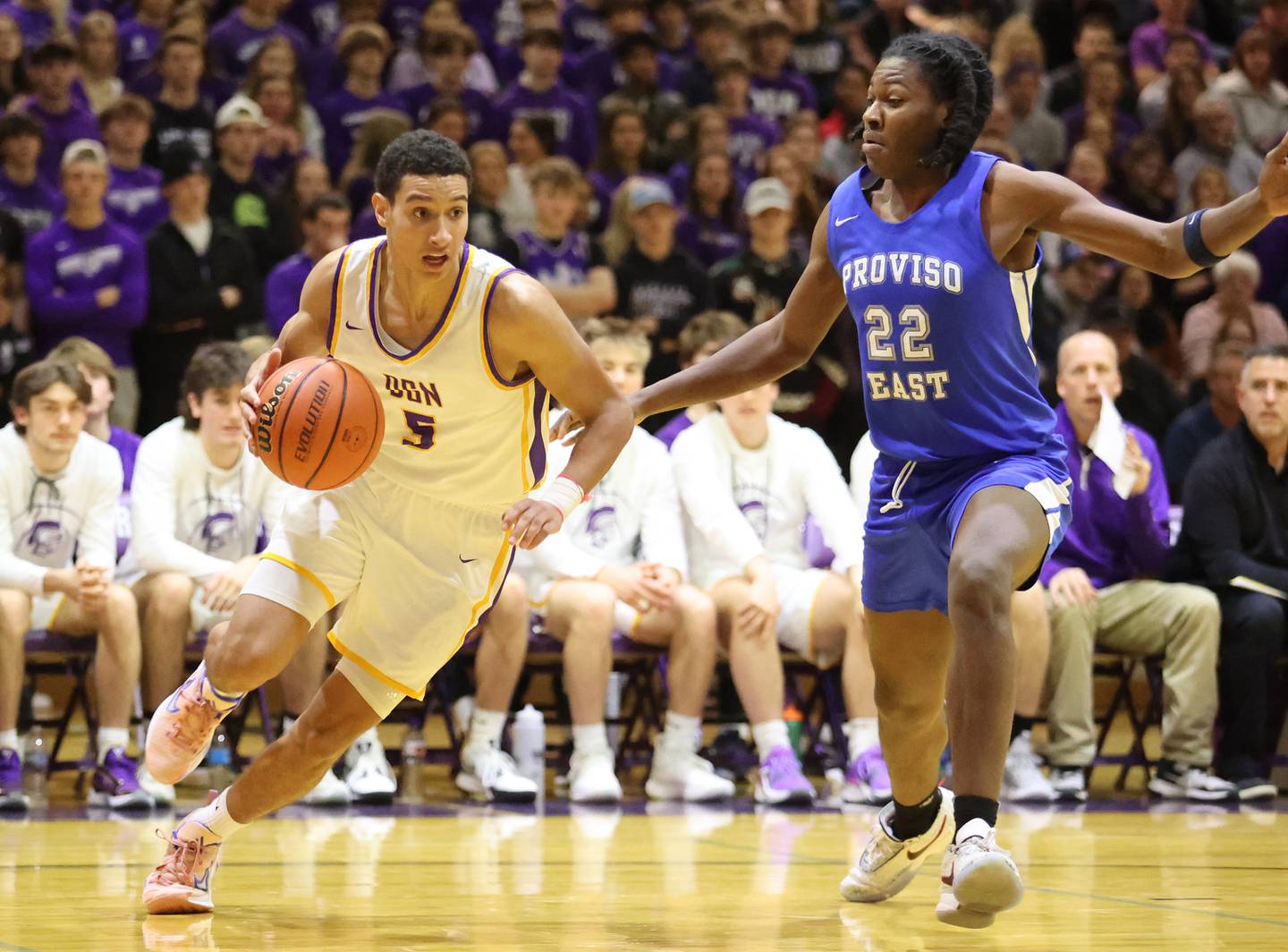 But the Trojans steadied the ship to settle into a 16-16 tie after a quarter, and took off in the second. Thulin's follow shot and steal and score started a string of seven straight points to start the second quarter, and the 5-foot-11 junior scored all 13 of his points in the Trojans' 30-point second quarter.
"Honestly I just fed off my teammates' energy and made winning plays," Thulin said.
That wasn't just his scoring. Thulin also handled the ball much of the way with Stanton out, and even skied for the eight rebounds among a tree of taller Proviso East opponents.
"That's just timing and reading the shot off the rim – like Dennis Rodman," Thulin said.
Haack added eight of his points in the second quarter, and hit two of the Trojans' six first-half 3-pointers. Downers Grove North shot 56% from the floor in the first half, and took five charges defensively as a team.
Finn Kramper added eight points with two of those 3s and George Wolkow nine rebounds.
"I don't think we played that great in the first quarter, the nerves of the regional championship kicked in," Haack said. "We just sat down and said we need to play our game."