YORKVILLE – Brooke Spychalski may only be a sophomore, but the Yorkville guard is no shrinking violet on the basketball court.
When she comes off the bench, the ball is going up.
"I'm just trying to take any opportunity I can get," Spychalski said. "I have the mentality that I'm going to score on anyone who is defending. That's what I did tonight."
Spychalski provided a big boost for the Foxes off the bench. She scored eight of her game-high 20 points in the first quarter and hit four of her team's 10 3-pointers in a 72-40 win Jan. 28 over visiting Oswego. The game was part of the 13th annual Hoops 4 Hope Communities vs. Cancer event hosted by Oswego and Yorkville high schools.
That kind of production is hardly new to Yorkville coach Kim Wensits. Spychalski also scored 20 points recently in a game against Minooka. She was an all-tournament selection at Rockford Boylan over Christmas.
On Saturday, her impact was immediate. Spychalski hit a jumper and back-to-back 3s in less than two minutes late in the first quarter.
"She loves to shoot, and you want that confidence, you want her knowing that she can come in and shoot whenever she wants. It's great," Wensits said. "She brings another element to the team when she is scoring like that. We're excited to have her and excited to see her continue to develop. She's been improving throughout the season and that's all you can ask for."
Ava Hendershott added 12 points and Alex Stewart had eight points and three steals for Yorkville (15-11, 6-6 Southwest Prairie Conference), which forced 17 turnovers in a choppy first half that also featured a combined 30 free throws to lead 40-19 at half. Spychalski's fourth 3-pointer, midway through the fourth quarter, triggered a running clock.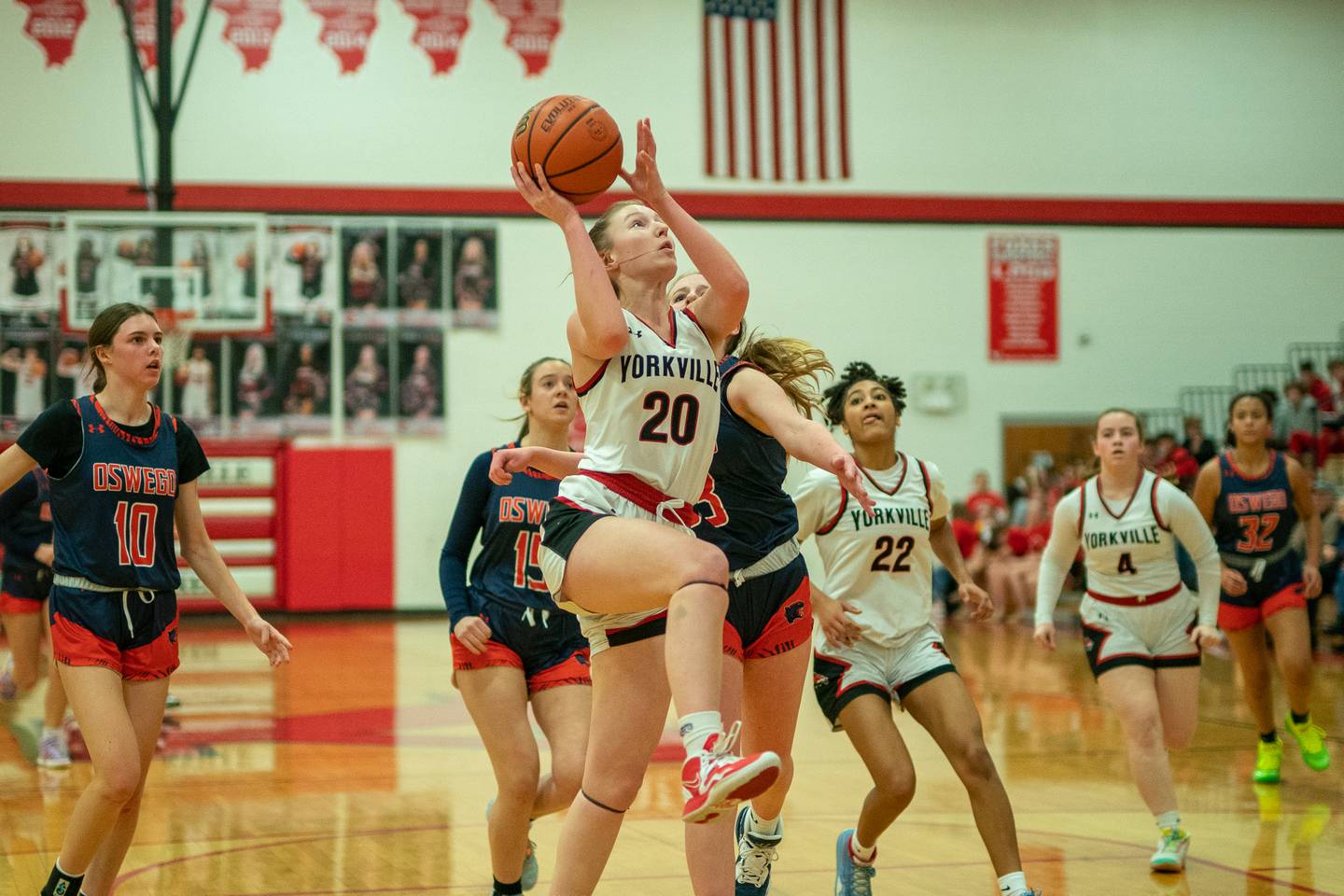 The Foxes bounced back well from a 56-53 loss to Plainfield North on Friday, Jan. 27. Yorkville has two losses by a combined five points to conference leader Plainfield. Still, with two wins this week the Foxes have their most victories since the 2017-2018 season.
"I really wanted to win this one," Spychalski said. "[Friday] was a tough loss."
Spychalski is one of a set of twins on Yorkville's roster, but they are very different types of players. Madi Spychalski is a post player who does most of her work in the paint. Shooting is Brooke's game, and always has been.
"Ever since I was younger I had a very good shot. It's just something that if I'm in the game it's going up," said Spychalski, who was an efficient 7 for 9 from the floor and made both her free throw attempts. "I've worked on it. Madi's always been a post. I've always been a guard."
Spychalski has played multiple roles for Wensits, who is not afraid to go deep into her bench with this particular Yorkville group. The Foxes played 11 girls in the first quarter alone Saturday.
"She's started for us a couple games. She is just whatever the situation is," Wensits said. "She will handle it and she's ready to play at any given point."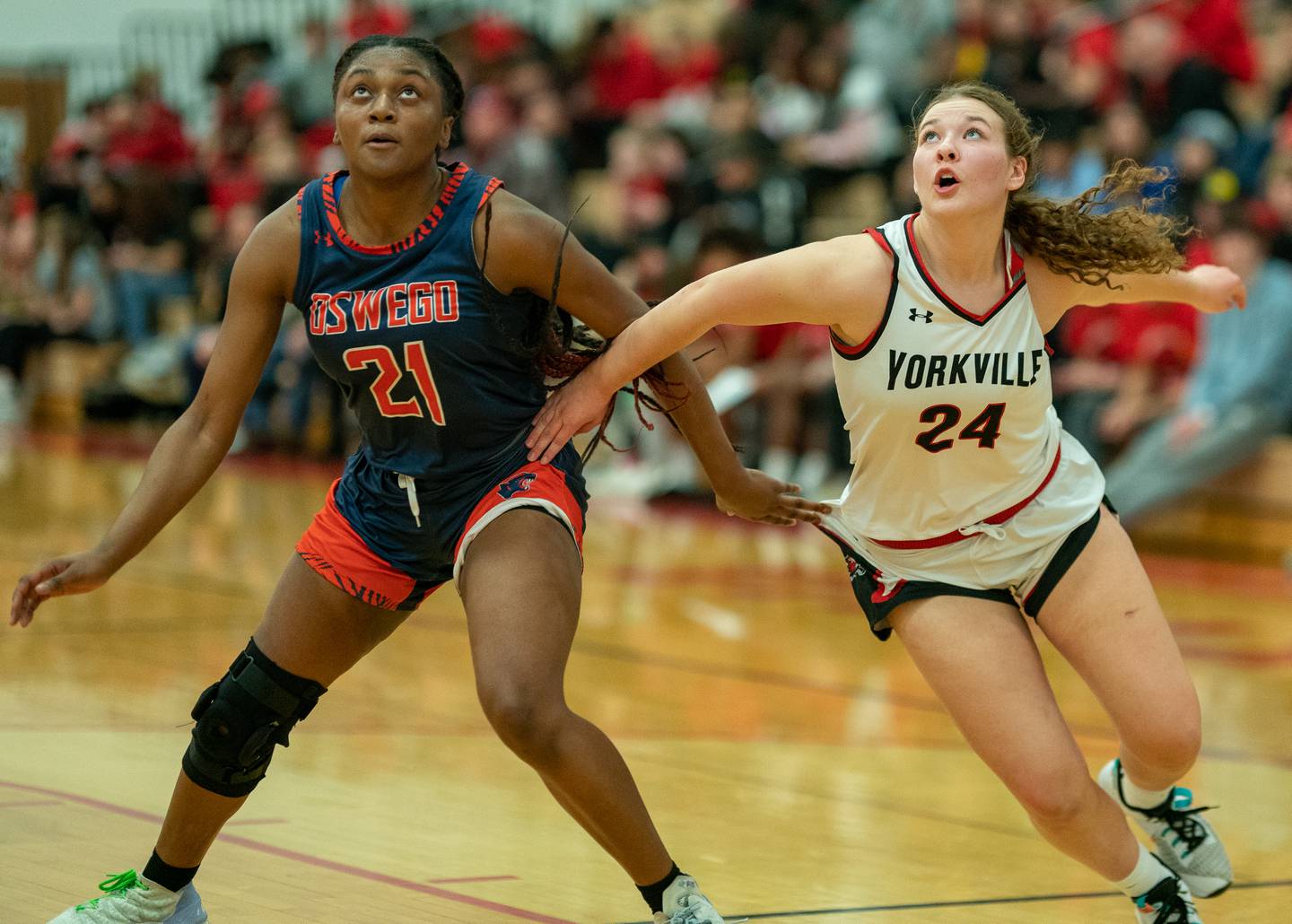 Kendall Fulton scored nine points and freshman Ashley Cook added seven for Oswego (6-21, 0-12). The Panthers played the first half without their catalyst, senior guard Anna Johnson, who landed on her wrist during a game against Minooka. A trainer before the game speculated that it could be fractured, but Johnson went for tests at an immediate care clinic and was diagnosed with just a sprain. She returned to score six points and grab four rebounds.
Either way, it was going to be tough going for an Oswego team that lost to Yorkville by 31 in December.
"Yorkville knocked down some shots, they outrebounded us. I told my girls during a timeout I didn't think we didn't play hard, but I think they played harder," Oswego coach Dave Lay said. "They're a solid team, and Kim is a great coach. She had them ready. We've been playing good defense lately and obviously it didn't look like it tonight. I just felt like they had an extra step on us."