Lowell Mathre is something of a celebrity in Newark, known as the community's local historian and for more than a half-century of service with the Newark Fire Protection District.
There's even a street sign designating a section of Main Street as the honorary Lowell Mathre Drive.
Mathre is credited with saving the one-room Fern Dell School building and the Illinois Midland Railway bell and whistle. He was instrumental in the restoration of the historic Fletcher Misner Blacksmith Shop after a fire.
Along with his late wife Uvanna, Mathre was considered a major force behind the creation of the Fern Dell Historic Association in 1985.
"He's got the answer, whether it's Newark, Lisbon or Millington history," Millington Museum's Bev Casey said.
Mathre is known for giving or loaning books and items of historical value to the museums in Millington and Newark, Casey said.
The Kendall County Historic Preservation Commission recently honored Mathre, 92, with an award for his lifetime of dedication to the field of historic preservation.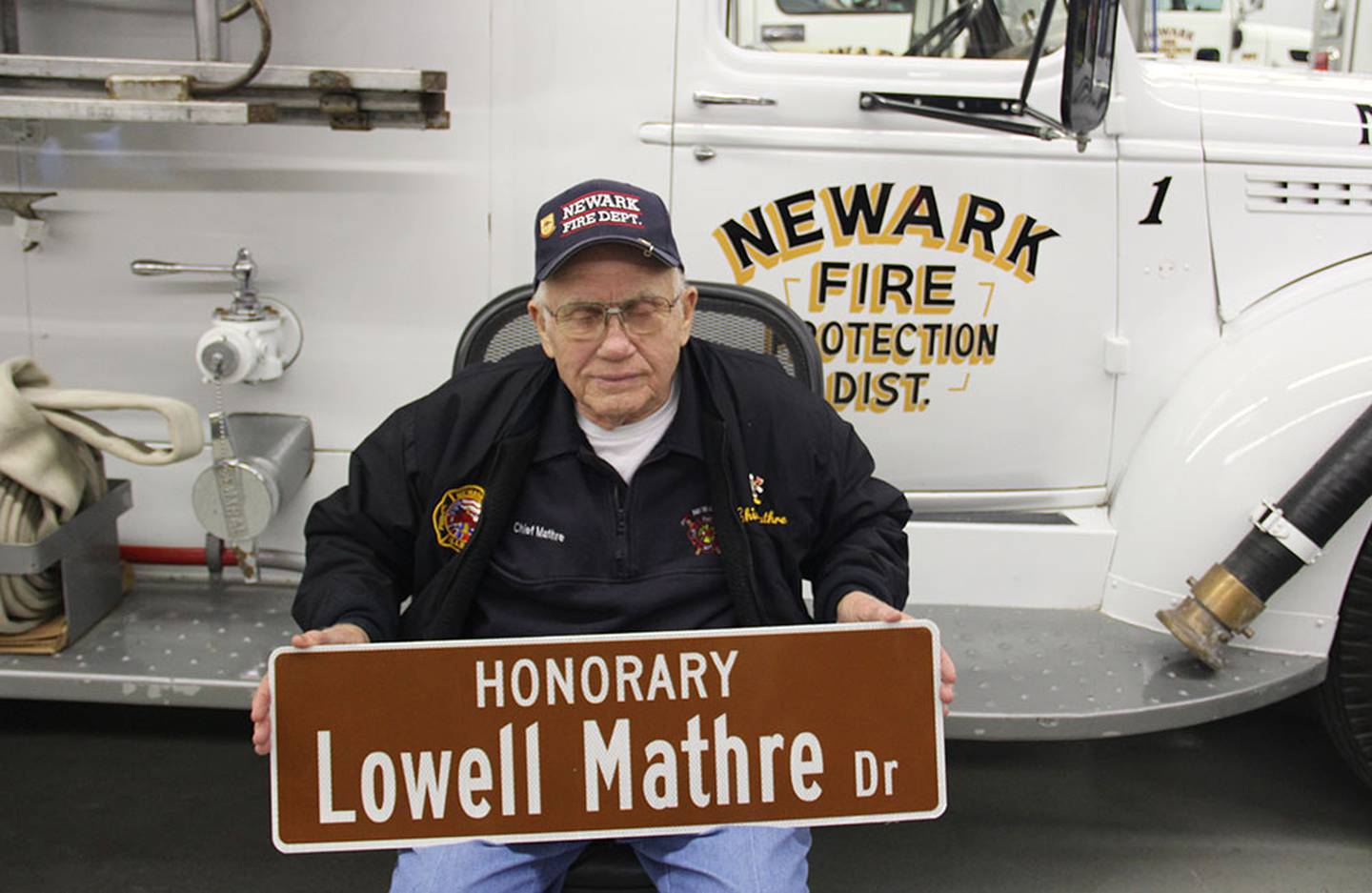 Born in Helmar, Mathre moved to Newark at the age of 10 and went into business with his father and brothers as carpenters.
After serving in the U.S. Air Force, Mathre worked at Caterpillar in Kendall County for 23 years.
He joined the Newark Volunteer Fire Department in 1953 and became fire chief in 1958. He was chief for three years and then another chief served for two years.
Mathre became chief again in 1963 and held the position until 2012. He continued working for the department until 2021.
Casey of the Millington Museum calls Lowell the "go-to-guy" for local history.
When the Illinois Midland Railway book was being written, Mathre assisted with photographs and remembrances, Casey said.
Mathre rescued the railway's bell, whistle and other items from the junkyard and made sure that a wagon that had been used by the railway was preserved and displayed in a downtown Newark park.