OSWEGO – Dave Lay got an early wake-up call in June to the commitment level of his Oswego girls basketball team.
The second-year coach typically tells his girls that he will arrive at 7:15 a.m. for 8 a.m. practice. What that means is Lay is walking in the door before 7 a.m.
These days, it's not uncommon for nine to 10 girls to already be in the gym waiting for Lay to get up shots. They were even early risers after playing six games over two days at the Morris Shootout.
"The work ethic of this year's team is off the charts, unlike anything I've ever seen before."

—  Dave Lay, Oswego girls basketball coach
"The work ethic of this year's team is off the charts, unlike anything I've ever seen before," Lay said. "We have girls here before 7, we had practice at 10, and I come back later to drop off concessions for our shootout and I have girls back in getting up shots."
That dedication, and a young core has Lay optimistic that brighter days are on the horizon after a 6-26 finish last season.
Oswego's results in June suggest that improvement could be coming soon.
The Panthers beat DeKalb, Plainfield Central and Metea Valley at their Oswego Shootout on June 30 to wrap up a 16-7 June schedule. Oswego reached the final at the Reed-Custer Shootout, losing to Coal City by two, played three games at East Aurora and participated in an event at Morris. Oswego beat DeKalb twice and also defeated a traditionally strong Ottawa program.
"Really happy with the way we have played defense and our tenacity," Lay said. "We're young, but I think we're doing a lot of good things and improving the way we want to. We're showing progress. I'm excited about the direction we're headed."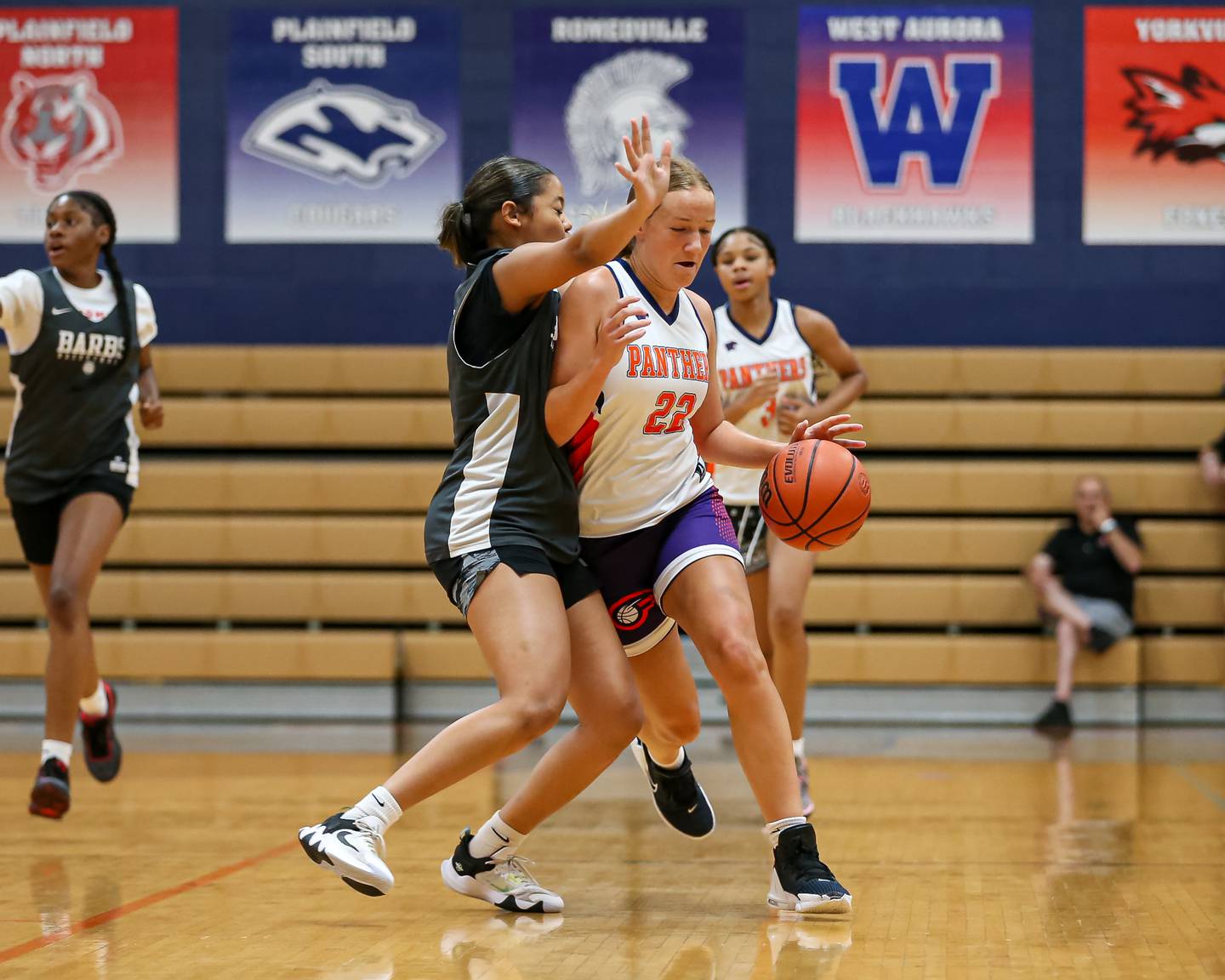 Oswego was very young in Lay's first season, and will be again.
By the postseason last year, the Panthers were starting three freshmen. One of those, 5-foot-9-inch guard Ahlivia East, was Oswego's leading scorer. Post player Kendall Grant and Peyton Johnson – the younger sister of graduated guard and soccer star Anna Johnson – are two others of what could be eight sophomores on the Oswego varsity roster.
"We're very young, but we move the ball well and we have a high basketball IQ," Lay said. "Peyton Johnson, like Anna, has the same instincts as a sophomore. We saw last year's freshman class was loaded and we thought was our ticket to be really good."
Oswego won the three games at its shootout even with East not there because of a softball commitment.
"When she is here, our offense runs better," Lay said. "She can attack."
Oswego indeed struggled at times offensively in its win over DeKalb. But, like last year, the Panthers' calling card will be their defense, and it showed against the Barbs.
"They have wholeheartedly bought in," Lay said. "We've had numerous coaches and refs compliment us this summer on how hard we play defense. We're not a drop-dead shooting team, and you saw it. Even when we move the ball well and get clean looks sometimes we are off. Defense is something we can bring every day and the girls have really bought into that and credit to them."
Lay has worked to help make Oswego more efficient on the offensive end, and his girls have followed his lead. Oswego started a 10,000-shot club this summer, and girls routinely are are in the gym early and late working toward that goal.
"They're motivated to attain that," Lay said. "As a coach you can have all the hopes and dreams we want, but if you don't have girls who are motivated and share those dreams with you it's not going to matter. I do think I have girls who are equally as motivated."