PLAINFIELD – Camden Bonney and the Oswego East golf team were discussing conference championship banners in the school gymnasium on the bus ride home from Minooka on Monday when he brought up an important point.
"He said, 'There's no number up there for golf. We got to get a number up there,'" Wolves coach Jim Vera said. "He said, 'Let's get a number.'"
That number is going on the wall now.
Bonney fired a 1-under-par 70 for a three-shot win at Wedgewood Golf Course to earn medalist honors, and a senior-laden Oswego East group took home the program's first Southwest Prairie Conference championship.
"It's great to get one," said Bonney, a senior and four-year varsity golfer. "We were super close last year, we probably should have had it last year, so this feels great."
Oswego East finished with a 310 total, 15 shots clear of defending SPC champ Plainfield North and West Aurora. Minooka, Yorkville and Oswego all shot 333. Oswego East's Gavin Hjelle, last year's conference medalist, shot a 74 for third place behind Bonney and Plainfield North's Tanner Daugherty, who shot a 73.
Oswego East was second last year and third in regionals, and it's been a steady rise for a hardworking senior group. Hjelle is another four-year varsity golfer, and fellow senior Michael Hugelier is in his third year.
It's hard for Vera not to get emotional about a group who has been with him for so long.
"They deserve this. They got what they deserved," Vera said. "They deserved to be conference champions because they worked their tails off. Golf is all they do, it's all they talk about. Cam and Gavin and Mike, they are done at school at 1 p.m. every day and they go to Bolingbrook to work on golf before matches. That should be their legacy, is conference champions."
Daugherty took home the conferences' Player of the Year honor, which is based on a combination of dual season points and tournament points. His 48.5 points edged Bonney's 47.5. It was an individual honor Daugherty gladly accepted despite Plainfield North coming up short as a team.
The Tigers had beaten Oswego East by two strokes on their home course in a dual meet a week ago, the Wolves' only SPC dual loss.
"It means the world," Daugherty said. "I wish we would have won for the team as a team, especially since we went undefeated in duals, but it's good."
Daugherty overcame a rough start Tuesday with a solid round of 73 with 16 pars and two bogeys.
"Started kind of slow, I had a couple rough bogeys, missed a 2- or 3-footer, but then I ended up shooting even par on the back," he said. "One hole, par 5, I ended up chipping in for par, one of the craziest par saves of my life. That got me going."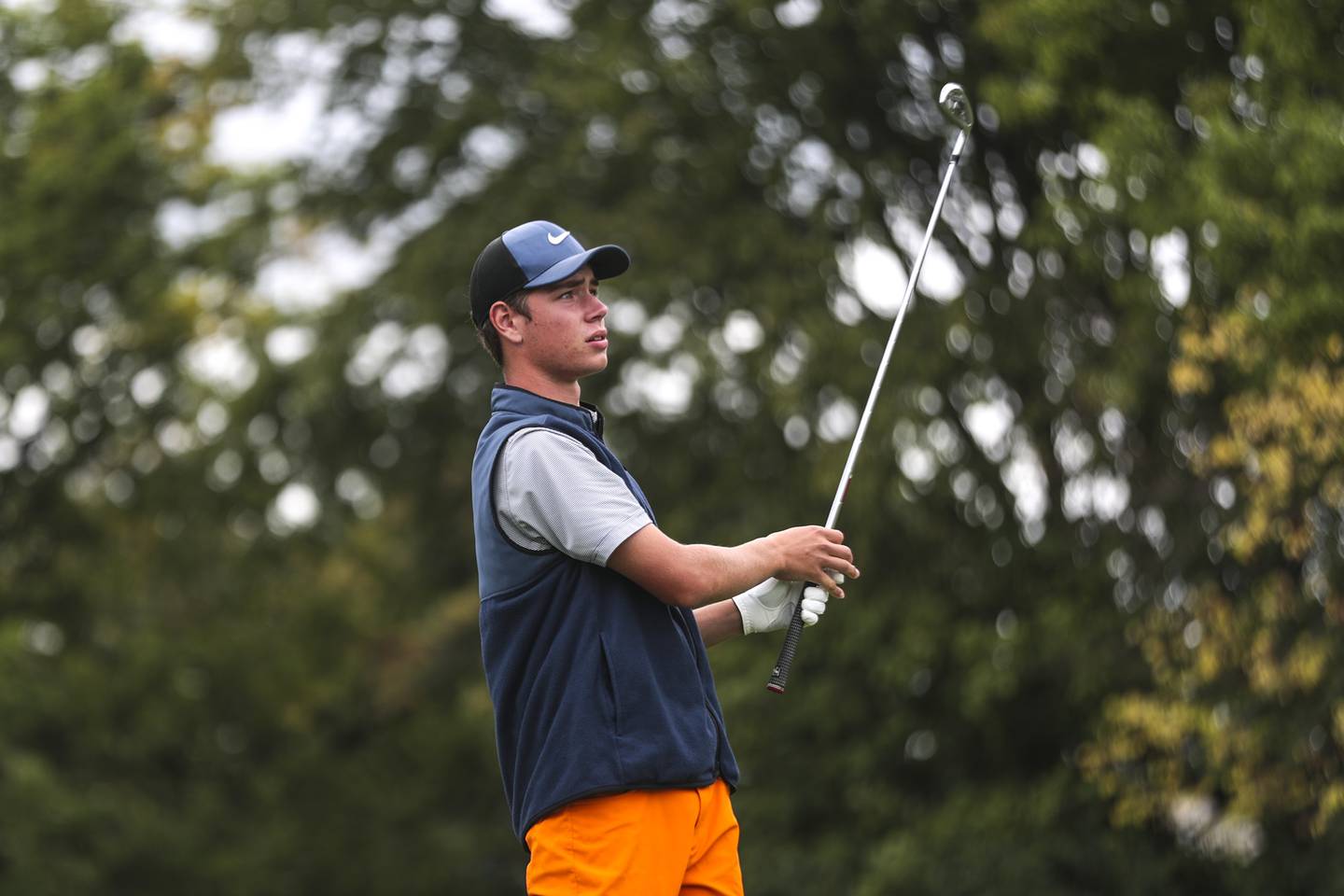 Bonney had played Wedgewood only once before but shrugged it off as "not too hard" with pretty ideal conditions.
"I got up and down for par when I needed to, got the putts when they needed to be made," Bonney said. "It was a pretty boring day. A lot of pars and a couple birdies, but boring is good. Getting pars, it's just a lot of practice. Practice after practice, repetition with shots."
Bonney follows Hjelle as SPC medalist from Oswego East in consecutive years.
"Cam has played phenomenally this year, he's played phenomenal for a while," Vera said. "For me it's a tremendous honor to coach two players, back-to-back champions, to win this tournament with two different guys. It shows why they are so good. They motivate each other."
Oswego's Jack Rimington and Yorkville's Ryan Waugh both shot 75 for fourth and fifth, respectively. Plainfield Central's Garrett Sigler was seventh (77), and Joliet Township's Lincoln Chizmark eighth (78), Chizmark's round highlighted by a hole-in-one.
"Today was a good day," Rimington said. "I got to play with my teammate Ty [Ahrens], that was really great. It was a grind today, the weather was tough the first few holes, but it got nice as the day wore on and we managed to play pretty well and make some putts."