As the girls basketball season nears tip off, here are previews of teams from around the Record Newspapers coverage area.
Coach: Jasmine Mitchell
Last season's record: 25-8, 6-1 Little Ten (second place)
Top returning players: Tess Carlson (jr., G), Brooklyn Hatteberg (sr., G), Addison Ness (jr., G), Kiara Wesseh (jr., G)
Top new players: Addison Long (jr., G), Olivia Smith (jr., F/C)
Worth noting: Many of the Norsemen who will dive for loose balls on the hardwood this winter, just finished digging balls headed their way to help the volleyball team finish 33-5. "Much of this program comes directly from volleyball season," Mitchell said. "So while they get little rest between seasons, they don't slow down when it comes to working hard on the court. I see a desire to grow, to learn, and the ability to push themselves and each other that could be just the recipe this teams needs to reach their goals." Wesseh, an all-conference selection a year ago, leads a strong group of returnees. "As we retain much of our speed and athleticism from last season, we expect to be fast but stronger in the half-court," Mitchell said. "We add height and size with our junior class and expect to succeed at any pace of the game." The Norsemen are ambitious and hungry after falling short in the Little Ten Conference tournament and falling to Serena in the sectional championship. "[We] seek to push past that post-season blockade and make it farther than any Newark girls basketball team has been since 2008," Mitchell said.
Coach: Dave Lay (2nd season)
Last season's record: 6-26, 0-16 Southwest Prairie Conference
Top returning players: Ashley Cook (so., G), Ahlivia East (so., F), Emily Mengerink (sr., G), Kaelyn Stager (sr., G)
Top new players: Kiyah Chavez (jr., F), Denaja Gaston (so., F), Kendall Grant (so., F), Peyton Johnson (so., G), Maggie Voller (jr., F)
Worth noting: The Panthers welcome back six players with varsity experience and it's a core group that Lay said has been highly competitive and supportive of each other in early season training. "They key will be how well we can play together and handle adversity throughout the season as we are young," Lay said. "At least five sophomores will see playing time." The Panthers will look to seniors like Mengerink and Stager for leadership and to avenge a winless conference campaign last winter. "We hope to be competitive in every game within the SPC this year," Lay said. "That is easier said than done, because we know that every night will present a different challenge. We will respect every program that we play and take it a game at a time, looking to get better each day." A daunting schedule with six games away from home to start the season includes a Kenwood squad that won 30 games, a Naperville Central team that went 23-11 and Benet, which lost in the Class 4A title game last March.
Coach: Abe Carretto (13th season)
Last season's record: 7-22, 6-10 Southwest Prairie Conference
Top returning players: Aubrey Lamberti (so., G), Maggie Lewandowski (jr., G), Desiree Merritt (so., G), Ava Valek (sr., C)
Top new players: Jessica LeClair (jr., G), Layla Martin (jr., F), Addie Parks (jr., G), Emily Tran (jr., G), Ava Tyburski (jr., G), Lillie VanDyke (so., F), Cassie VanMeter (jr., F), Brooke White (jr., G)
Worth noting: The Wolves have a lot of depth, scoring options and speed. Lamberti (6 ppg, 5 rpg), Lewandowski (12 ppg), Merritt (6.5 ppg, 3 rpg) and Valek (4 ppg, 5 rpg) return to the starting lineup, while sophomore Nicole Warbinski, junior Myela Dart and senior Anna Tran return after being sparks off the bench a season ago. "Our speed and ability to push the ball in transition will be a key factor in our offense," Carretto said. "We will be pressuring teams to utilize our quickness on the defensive end." The Wolves will still be young with only two seniors, with nine juniors and four sophomores. "We expect to be a better team in the conference by moving from the lower end of the standings to one of the top teams," Carretto said. "A concern of mine is that we have to maintain some physicality along with our speed. If we can do that, this team will be one of the tougher teams in the area as we have a lot of offensive threats on the court."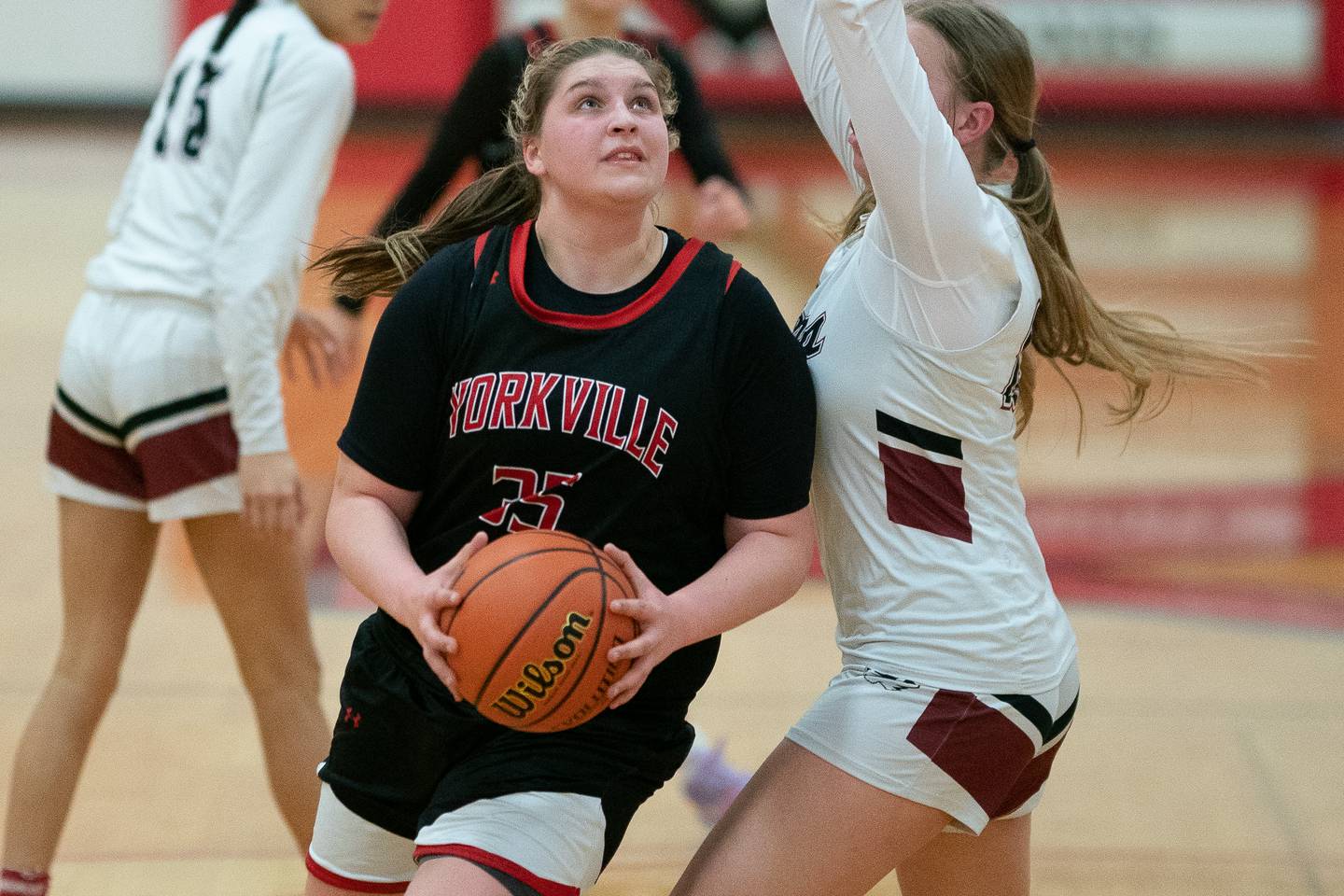 Parkview Christian
Coach: Kayla Linden (4th season)
Last season's record: 30-3, 8-0 Illinois Christian
Top returning players: Izzy Dreisilker (sr., G), Jasmine Fruland (so., G), Emily Howard (sr., C), Gracie Lambes (sr., G), Ruth Oudyn (so., G)
Top new players: Elizabeth Bean (fr., G), Abby Carlyle (fr., F), Evelyn Klimek (8th grade, G), Chilah Mackie (fr., F), Tessa New (8th grade, G), Alison Ocampo (fr., G), Reagan Seaborg (fr., G), Harper VanDenend (so., G)
Worth noting: With five players returning, including Lambes (64 three-pointers, 16 ppg, 6.2 apg and 5 rpg a game) the Falcons are expecting another strong season. "We are going to be different than last season, but we will still be good," Linden said. "Our seniors are ready to step up to plate and score for us. As we get the younger girls some experience and confidence, they will help us out too." Howard (8.3 ppg, 6.5 rpg) and Carlyle provide some power in the paint while the addition of eighth graders and freshmen is significant as the Falcons are going to need quality minutes from its newcomers. "Our top five girls are a strong unit and play well together," Linden said. "We gained some great talent in the freshmen and look forward to them helping us out." The Falcons will compete in the Midwest Christian School Championship tournament as well as the Christian School National Tournament in Ohio this season.
Coach: Tristan Spivey (2nd season)
Last season's record: 9-23, 1-13 Interstate Eight
Top returning players: Josie Larson (jr., G)
Top new players: Irene Isitt (jr., F), Jadyn Long (so., G), Aleksa Martinez (sr., G), Chloe Rowe (fr., F), Sanai Young (jr., G)
Worth noting: The Reapers will be young with Larson (9 ppg, 6 rpg) the lone varsity player returning for a program that had seven seniors in their rotation last winter. Spivey is hopeful that with girls battling for spots and a hunger for success will expedite the process of getting acclimated to the speed of varsity play. "It will take them some time to adjust to this and begin making good basketball decisions," Spivey said. "This is something that we as a staff will have to be patient with as the girls improve throughout the year." The Reapers expect to win more games than they lose this year, which is something they haven't done since the 2018-19 season. "We are joining a new conference this season, the Kishwaukee River Conference," Spivey said. "And we want to have a successful year competing against the new competition. We are looking forward to an exciting season for the girls and our program overall."
Coach: Steve Treptow (1st season)
Last season's record: 13-21, 5-9 Interstate Eight
Top returning players: Hannah Treptow (jr., G)
Top new players: Kayden Corneils (so., G), Peyton Dudzik (sr., F), Johanna Freemon (sr., F), Bailey Frieders (so., G), Mia Geltz, (jr., G), Ivye Isenogle (sr., F)
Worth noting: Jim Schmidt departed after a brief one year as head coach at Sandwich and Treptow takes over a program that lost seven players to graduation and only returns a single player with significant varsity experience. That's his daughter, 5-foot-10 junior Hannah Treptow, who was an all-conference pick. Under Treptow's system of play, Sandwich will be playing fast, up-tempo basketball with aggressive defense. It helps that this year's roster includes a mix of sophomores, juniors and seniors who are around the same size and interchangeable. Treptow expects them to play hard and compete against everyone. While the team doesn't have a ton of experience, there's a senior presence with Dudzik, Freemon, Isenogle and Julia Meyers looking to make the most of their final season. A strong start could prove beneficial. Last season, Sandwich was just 1-6 in its first seven games but finished strong with its only victories against teams with winning records (Hinckley-Big Rock and Wheaton Academy) coming in February.
Coach: Kim Wensits (8th season)
Last season's record: 19-13, 10-4 Southwest Prairie Conferece (second place)
Top returning players: Lainey Gussman (jr., G), Aliesha Peterson (sr., G), Brooke Spychalski (jr., G), Madi Spychalski (jr., F/C), Makenzie Sweeney (sr., G)
Top new players: Macie Jones (so., G), Sydney McCabe (so., G), Bella Phillips (jr., G)
Worth noting: The Foxes are shooting for another winning season which would be their first back-to-back winning seasons since the 2016-2017 and 2017-2018 teams. They've got good reason to believe that they'll be doing a lot of winning since they have a lot coming back including the Spychalski twins (Brooke, 7.1 ppg) and Madi (4.8 ppg, 4.4 rpg). Their top returnees feature three players with two years of varsity experience already. "We are going to look to run and be aggressive," Wensits said. "These girls have played a lot of basketball together and that will help them tremendously. They love to compete and have great energy." Being able to score consistently is a chief concern for Wensits whose team averaged 51 points per game last year. The Foxes will need to lockdown defensively especially when the ball isn't dropping through the net on the other end.
Yorkville Christian
Coach: Dr. Jeff Schutt (2nd season)
Last season's record: 11-11
Top returning players: Grace Allgood (jr., G), Danielle Bulson (jr., G)
Top new players: Payton Wallin (so., G)
Worth noting: The program made nice strides a season ago, going from a 7-18 season in their debut in 2021 to a .500 campaign last winter. The team only lost one senior from last year, but numbers have been crucial for a team that isn't blessed with countless athletes like many bigger schools. Allgood (15.3 ppg, 2.9 spg) and Bulson (14.7 ppg, 9.1 rpg, 4.1 apg and 3.1 spg) are coming off big seasons. Wallin, a Newark transfer, won't be eligible to play until the second semester but will be a huge addition, alleviating some of the pressure off of Bulson's ball-handling responsibilities. Guard play will be strong but the Mustangs lack size. Sarah Keeler is the loner other junior on a 11-player roster that includes three freshmen, five sophomores and no seniors.