Like many kids from this state, Jason Jakstys grew up watching University of Illinois basketball. His dad is even from Champaign.
It was always a dream to wear the orange and blue.
"Really, the only time college sports were on our TV was when Illinois was playing, so we followed them pretty closely," Jakstys said.
It's safe to say the family will be following the Illini a little closer now.
Jakstys, Yorkville's 6-foot-10 rising senior, announced his verbal commitment to Illinois on Sunday evening. Jakstys, ranked the No. 7 senior in Illinois and No. 47 power forward in the country by 247Sports, saw his recruitment take off this spring and summer after leading Yorkville to a record-setting season as a junior.
He chose Illinois from nine scholarship offers including Illinois State, Drake and Indiana State. Jakstys is Illinois' second commitment in the Class of 2024, joining Thornton's Morez Johnson.
"I'm super excited, and so is my family," Jakstys said. "Illinois seemed like the perfect fit for me. They have an amazing coaching staff as well as guys on the team."
Jakstys had not held a Division I offer until Illinois State in February. But he's since emerged as one of the state's hottest prospects. He had been on Illinois' radar for several months, visiting the school in January. The Illini extended an offer in June after seeing him play at the Riverside-Brookfield Shootout.
"It was huge, since it was my first high major offer," Jakstys said. "I continued building a great relationship with all the coaches as the time went on."
Jakstys as a junior averaged 11.5 points and 8.0 rebounds per game, helping lead Yorkville to a program record-tying 26 wins.
And the best could be yet to come.
Yorkville coach John Holakovsky said that Jakstys this summer exploded with confidence, playing with his high school team and Breakaway Basketball AAU team. Jakstys only made nine 3-pointers as a junior, but that's just one area Holakovsky has noticed his game develop.
"He can shoot it, he can drive it, he's handling the ball more. He can run to the rim and finish and he keeps developing as a good 3-point shooter," Holakovsky said. "I think he can be a very good college 3-point shooter. He has a little bit of everything in his game. Something enticing to Illinois is the improvement that Jason keeps making."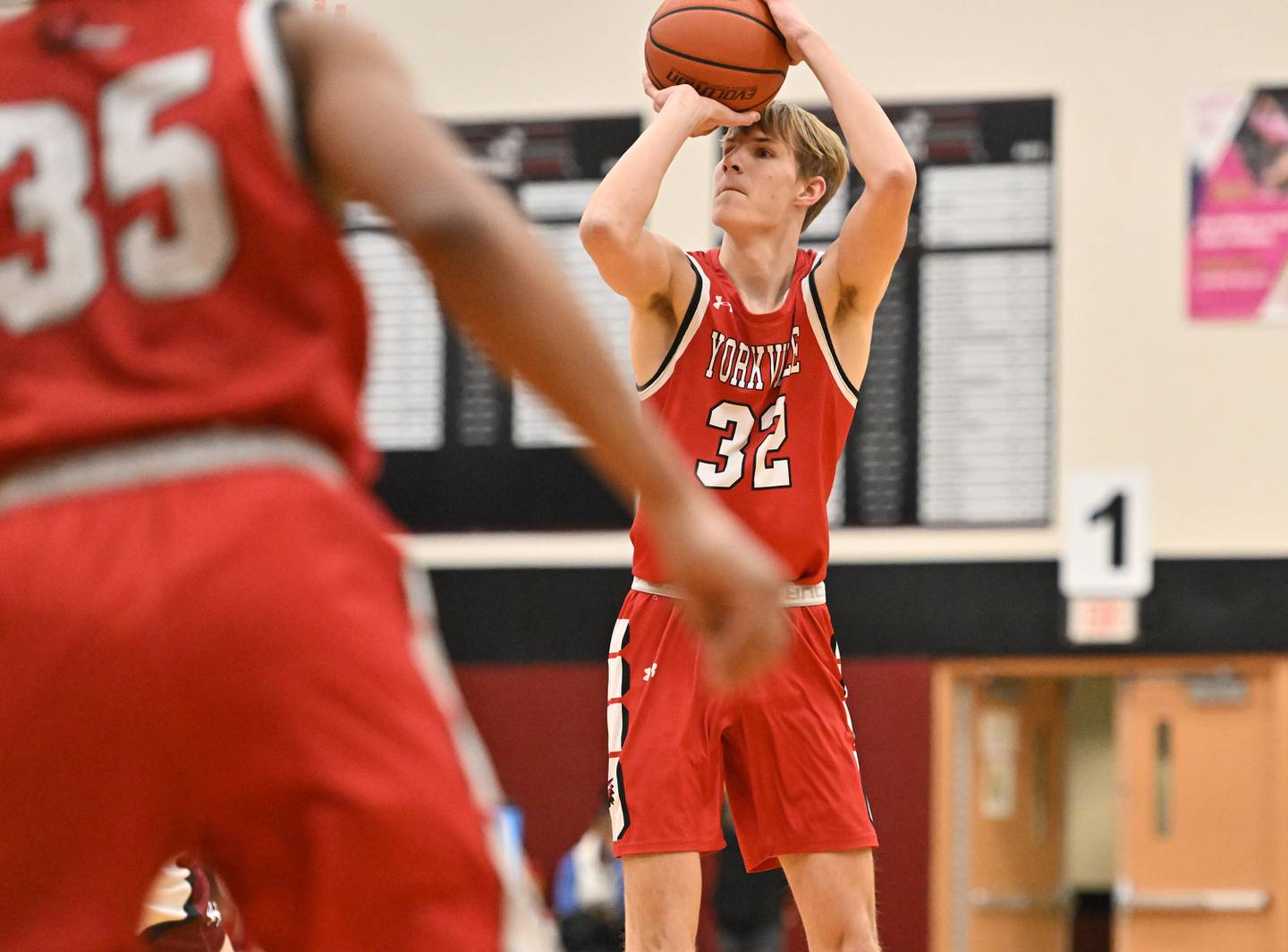 Jakstys said Illinois envisions him as a player who can be a "stretch-four" type with his perimeter shooting ability.
"They are looking to use me on the outside as a 3-point threat," Jakstys said. "That way, we can space the floor for easier drives."
To Holakovsky, heading into his fourth season at Yorkville, this has all come full circle. He recalled being told by a colleague when he interviewed for the position that he had to get the Foxes' job because he had an incoming freshman who was going to be a Division I player, and Holakovsky had to coach him.
That all became a reality this year to Jakstys.
"Last few months have been really fun," Jakstys said. "I realized I can play at such a high level while playing AAU against some of the best competition in the nation."
"The sky is the limit for him, I think," Holakovsky said. "Every time I see him play I think 'Geez he got so much better.' Anytime you see him play in the open gym you think 'Man, he's getting better and better.' He works really hard on his own, skills training, shooting, working out with his dad. He puts in the time to be really good."
Jakstys' college decision certainly raises the Yorkville program's profile.
Almost every player returns from a junior-heavy Foxes' team from last season, led by Jakstys. Yorkville has been invited to play at the When Sides Collide Shootout in January at Benet, arguably the most high-profile shootout on the basketball calendar. The Foxes are returning to the Jack Tosh Holiday Classic in December at York, perhaps the state's best Christmas tournament.
"It's exciting and great for our program," Holakovsky said. "Illinois has a huge following. ... My phone explodes with Illini nation. That will give us more attention that not just Jason committed but being committed to Illinois in our state. I think it will drive a lot of people to our games."