Jason Jakstys is starting to turn some heads in the college basketball world.
By now, the Yorkville rising senior is accustomed to being the center of the attention in his school, according to his coach, John Holakovsky.
Early in his junior season, Holakovsky said he talked extensively with the 6-foot, 10-inch Jakstys about his possible impact on the program.
"He was drawing a lot of attention in our school, the hallways and the community," Holakovsky said.
"It meant a lot because I have received the opportunity to play for a school that I grew up watching."

—  Jason Jakstys, Yorkville senior
Jakstys, who became a budding prospect after averaging 11.5 points and 8.0 rebounds to lead the Foxes to a 26-6 record and program record for wins last season, is rapidly becoming a player to watch because of his vast potential. Illinois coach Brad Underwood ignited Jakstys' recruiting by offering him a scholarship last week. In total, Jakstys has 11 offers, but the Illini marked his first Power Five Conference offer.
"It meant a lot because I have received the opportunity to play for a school that I grew up watching," Jakstys said. "It was also my first high-major offer. I have been talking to Illinois for a bit, but I was still surprised."
Holakovsky said Jakstys separates himself from other players because of his high ceiling.
"Jason is a really good player," Holakovsky said. "Jason has been our top guy carrying us. He's gotten so much better every year. Every time you watch him play, whether it's his 3-point shooting, driving to the basket, blocking shots, there's constant improvement in his game. He's constantly growing and improving. He's still figuring out his body and getting strong."
"At 6-10, he can bring the ball down the court in transition. There's a lot of diversity in his game and the sky is the limit for him. Last year motivated him a lot. He was one of our leaders last year, even though he was not a senior."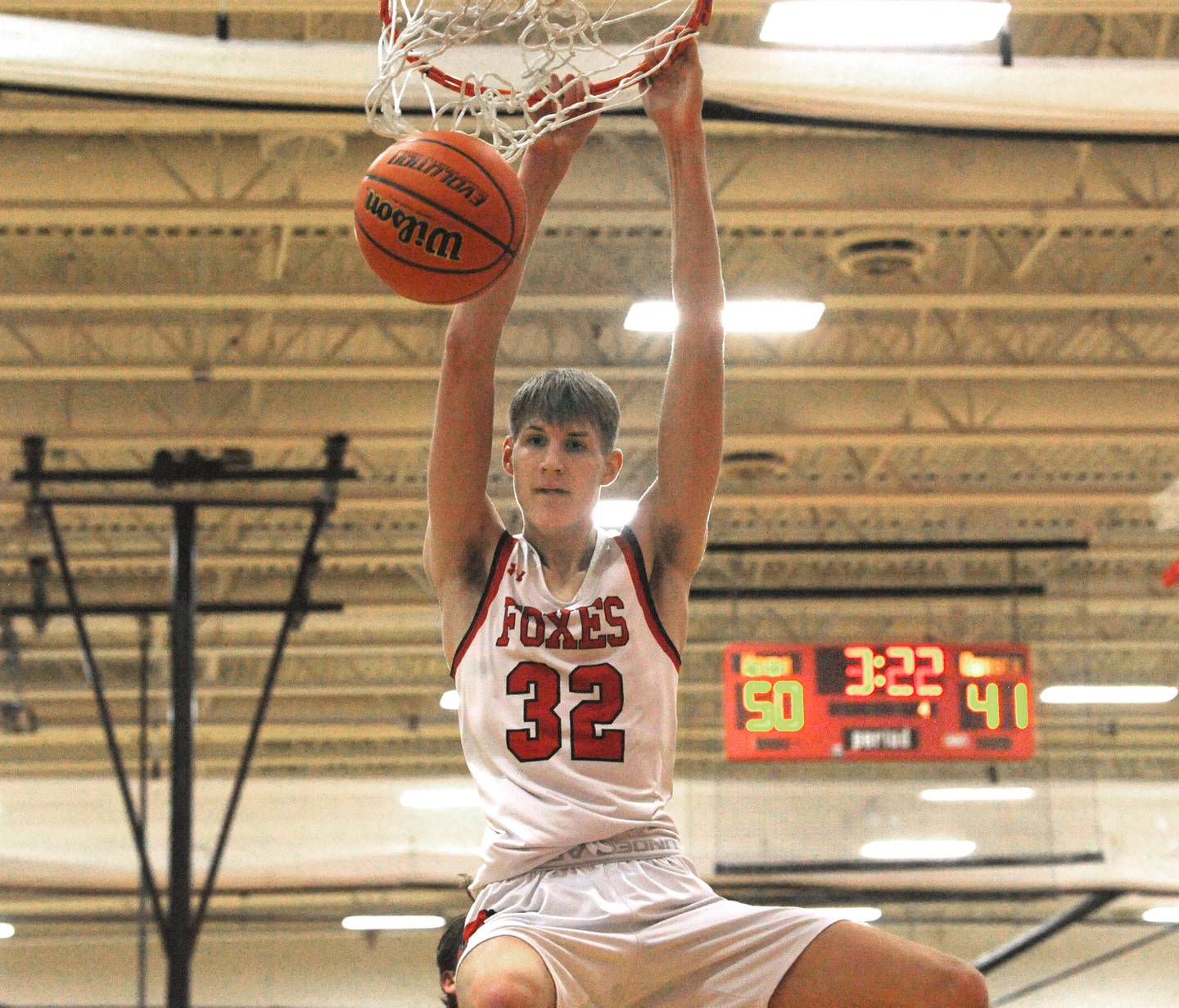 Six months ago, Jakstys was a rail-thin player with upside but his solid showing at the prestigious Jack Tosh Holiday Classic turned some heads. In the tourney, Jakstys averaged 13.8 points and 9 rebounds and shot 56% from the field to lead the Foxes to a 3-1 record. He was named to the all-tournament team.
Jakstys said he pushed himself in the spring to become a well-rounded player capable of impacting a game on many levels.
"I've worked a lot on my conditioning to stay in the games longer, shooting the three and ballhandling," Jakstys said. "I was doing something basically every day to get better. I'm just trying to keep getting better and expose myself to more college coaches."
Holakovsky said Jatstys benefitted from Yorkville playing in several competitive shootouts this June for the first time in several seasons. Yorkville went 3-1 at the Riverside-Brookfield Shootout and 2-2 at the Romeoville Shootout.
"He knows he's only got about 10 months left being high school basketball player," he said. "After that, his attention turns to college basketball. We have to take this all in and maximize it and reach our potential as a team."